At Winemakers Loft in Prosser, enjoy tasting experiences from a hub of family-owned wineries with distinct ties to estate vineyards in the Horse Heaven Hills and Wahluke Slope AVAs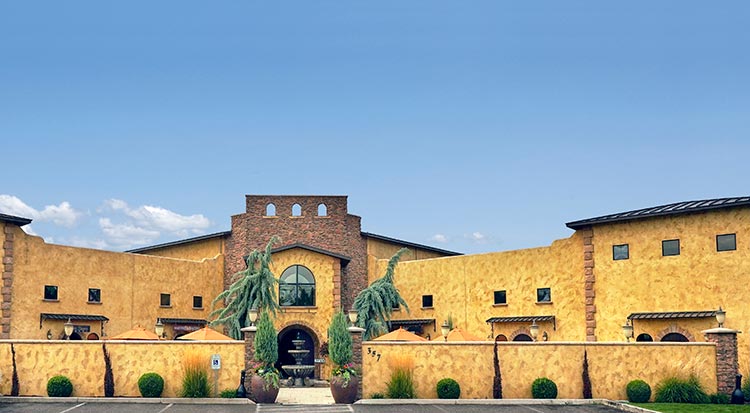 Written by Molly Allen & Photographed by Colby Kuschatka
Wine reviews by editor John Vitale
AN AFTERNOON of wine tasting often means having to coordinate driving from one tasting room to the next, but Winemakers Loft boasts four boutique wineries all within steps of each other. The hub is part of the Vintner's Village wine complex offering easy access from Interstate 82 in the quaint town of Prosser. Here, vintners serve up the opportunity for a full day of wine tasting in one location, eliminating the need to even consider getting back in the car throughout the afternoon.
Walking through the front entryway of the Winemakers Loft, visitors are greeted with stunning Mediterranean style architecture, a lovely patio, lush, green grass and a large fountain. Signs hang above the tasting room doors, noting each of the family-owned wineries with strong ties to the surrounding Horse Heaven Hills and Wahluke Slope AVAs.
Each owner started in the vineyard but later developed the desire to start making wine on their own, and the Winemakers Loft has helped play a role in their success as they've had access to shared harvesting and winemaking equipment along the way. Visitors are encouraged to pop in and out of each tasting room, or to bring a glass of their favorite red or white out to the common patio area to soak up the sunshine.
Coyote Canyon Winery
The labor involved in tending a vineyard is certainly not a foreign concept for Mike Andrews, who owns Coyote Canyon Winery with his wife Marti. The Andrews family has been farming in the Horse Heaven hills for generations, but it wasn't until 1994 that they established a vineyard with their first plantings of Cabernet Sauvignon. Picking up tips here and there from the many wineries he was selling his grapes to, Mike Andrews decided it was time for the vineyard to come full circle—and started producing wines from his Coyote Canyon Vineyard in 2004. The winery moved its production and tasting room to the Winemakers Loft in 2007 as one of the original tenants, and Andrews says it was a great decision for the business.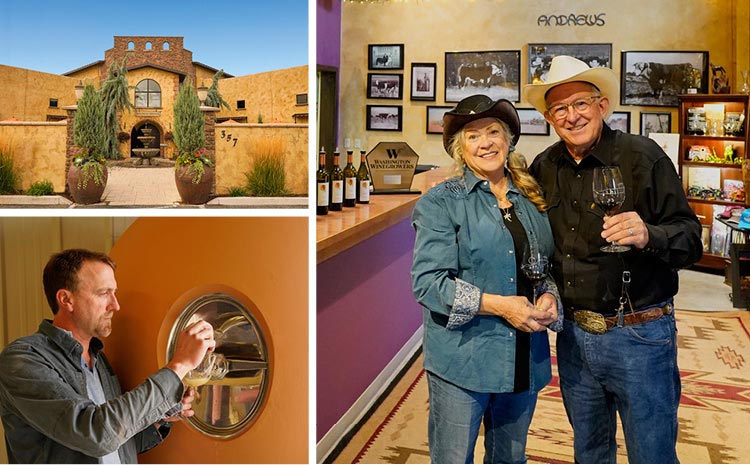 "It was a new, exciting area and we knew it would draw traffic," he said. "And at the time, it was more economical to start small and then build our way up." Andrews' goal was to build a brand for Coyote Canyon Winery before investing in a building, gaining recognition and accolades along the way.
Andrews says their emphasis has always been on Cabernet, but micro-climates in the vineyard allow for much more variety. "We like to pinpoint sections of the vineyard and highlight the microclimates in our wines by showcasing different varieties of grapes," he says.
Veteran winemaker Justin Michaud has put in seven vintages with Coyote Canyon and works on-site at The Loft. "It's a fun spot next to other shops, which makes for a big draw," says Mike Andrews. "And it's unique. During almost any visit, our guests get to see and speak with the owner and winemaker."
---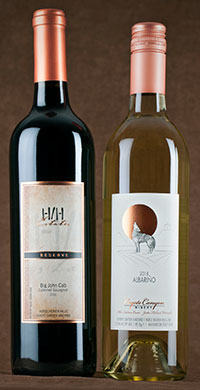 H/H Estates 2016 Big John Cabernet Sauvignon Reserve, $42

Editor's Choice – Outstanding (91-94 pts.)

Poignant balance defines the rich red and black fruit intertwined with savory accents of forest floor. The flavors gain momentum and complexity, with tertiary notes of plump currant, cocoa and graphite. Refined tannins lengthen the sophisticated finish.
Coyote Canyon 2018 Albarino, $20
Editor's Choice – Outstanding (91-94 pts.)
Flavors of tropical fruit, citrus and florality highlight this headturner, loaded with ample key lime, pineapple, beeswax and jasmine notes. Saline minerality crests on the balanced finish. Fermented in a combination of stainless and concrete tanks for added texture.
---
Martinez & Martinez Winery
Owners Monica and Drew Martinez say they owe their success to the opportunities found at the Winemakers Loft. The winery harvested its first ton of grapes in 2005, making 50 cases of wine. Today, that number has increased to 2,500 cases thanks to the ability to lease a combined tasting room and production area. "Being small, this has helped us a lot to be here. We started selling wine in 2007 and didn't open our first tasting room until 2009, but we couldn't have done it without this space," says Drew Martinez. "We did this with no loans, and we self-distribute. We wouldn't have had the capital to start winemaking otherwise."
But the Martinez' involvement in wine goes much further back to 1981, when Drew's father, Sergio Martinez, planted three acres of Cabernet Sauvignon in the Horse Heaven Hills. "I grew up in the very heart of it," says Drew Martinez. "My dad was initially on the migrant work side of things. Eventually, I told my dad, why don't we start making our own wines?"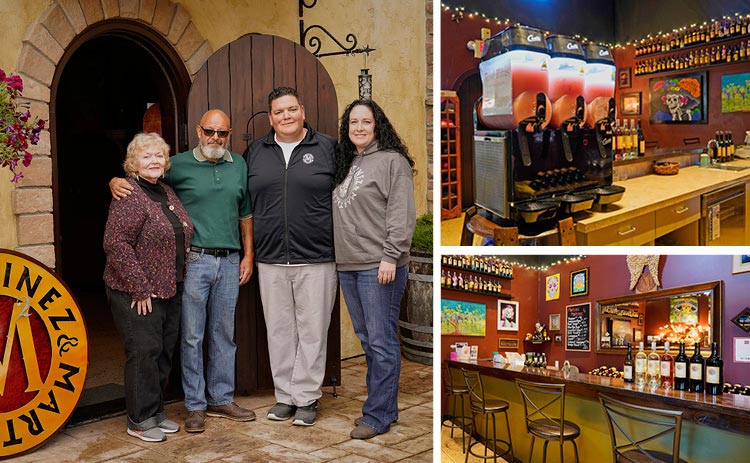 The Martinez family used to sell the grapes from their Phinny Hill Vineyard, but today they are using everything they harvest, along with grapes from other Washington vineyards. And that is certainly something they celebrate in their wines. "Part of our goal is to show all of the hard work that goes on in the vineyard through our wines," says Martinez. According to Martinez, the winery mainly showcases reds, but the real draw every time someone visits the tasting room is a glass of their Rosérita slushie with a red wine topper, a secret family recipe.
---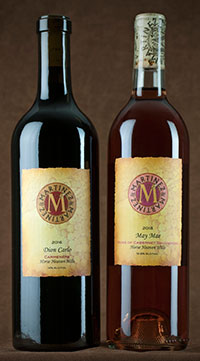 Martinez & Martinez 2016 Dion Carlo Carmenére, $40

Editor's Choice – Outstanding (91-94 pts.)

This lithe and complex red wine delivers ample peppery notes accented with capsicum, cigar spice box, cherry and red currant flavors. Finely tuned with balanced acidity and smooth tannins that roll through the herbaceous and minerally-lined finish.
Martinez & Martinez 2018 May Mae Rosé 
of Cabernet Sauvignon, $22
Editor's Choice – Outstanding (91-94 pts.)
Pink coral in hue, this version is unabashedly fruity and floral, offering pretty aromas of wild strawberry and honeysuckle that echo on the slightly viscous palate, supported by juicy red plum and refreshing citrus.
---
 Ginkgo Forest Winery
Walking into the Ginkgo Forest Winery tasting room, guests are welcomed by a sleek, modern tasting bar with plenty of seating. Owner Mike Thiede operates tasting rooms in Mattawa and Tacoma as well, but he specifically moved into this space in 2017 to be a part of the growth in popularity of the Vintner's Village.
"Everyone was coming here, and we wanted to be where more people could see us," says Thiede. "Having other tasting rooms around us was more of a draw, and it has helped to get our name out."
Thiede spent most of his career doing environmental research at Hanford before retiring and starting in winemaking. "I worked days, and then I would come home and farm at night," he says. Thiede's vineyard sits on the Wahluke Slope, with a focus on reds. According to Thiede, the vineyard boasts 15 varietals, with only two of them being whites.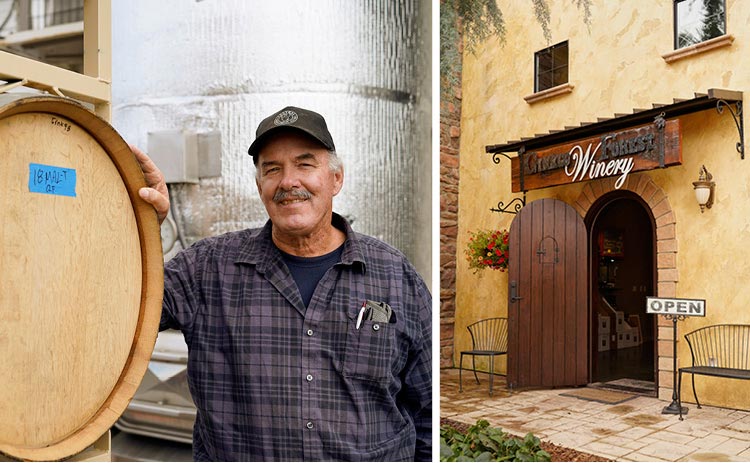 "I've always liked experimenting and I have a background in it," Thiede says. "I've always found it interesting to look at things such as plant stress or how to increase our percentage of organically grown grapes." That research has paid off. Within another year, Thiede says 75 percent of his vineyard will be organically grown.
While Ginkgo Forest is mostly known for reds, their Port-style dessert wines are a draw as well, offering a sweeter tasting option for those visiting the Loft.
---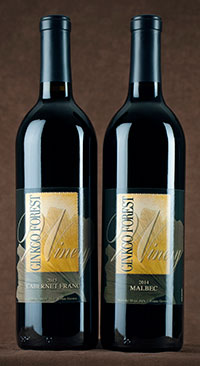 Ginkgo Forest Winery 2013 Cabernet Franc, $25

Editor's Choice – Excellent (90 pts.)

Plush and round, this red wine has developed with age, exhibiting vibrant fruit-forward flavors of mixed berries, pie cherry, tobacco and hints of smoke and earth. Well-burnished tannins unfurl on the finish.
Ginkgo Forest Winery 2014 Malbec, $25
Editor's Choice – Excellent (90 pts.)
Ripe, fresh and juicy, with steeped notes of plum, cherry and pomegranate flavors that cruise along, tethered to an undertow of loam, graphite, savory herbs and a flickering of tar 
and scorched earth notes that gather on the firm finish.
---
McKinley Springs Winery
After years of tending to grapes in their family vineyard, the idea for McKinley Springs Winery was born. According to owner Sandy Rowell, the winemaking venture all started when a winery client had given up their vineyard contract. "We thought it was a good time to play on our own," she says. "And we had winemakers James and Poppie Mantone from Syncline Winery come in to teach us."
McKinley Springs began making wines in 2002, and Sandy and her husband Doug opened a tasting room and production facility on their family farm in the Horse Heaven Hills AVA, but later realized they needed a location with more visibility. "We wanted to be sure we'd have more foot traffic, and this space gives people more options to walk through," says Rowell. "The village as a whole draws a lot of people, and that's what we wanted."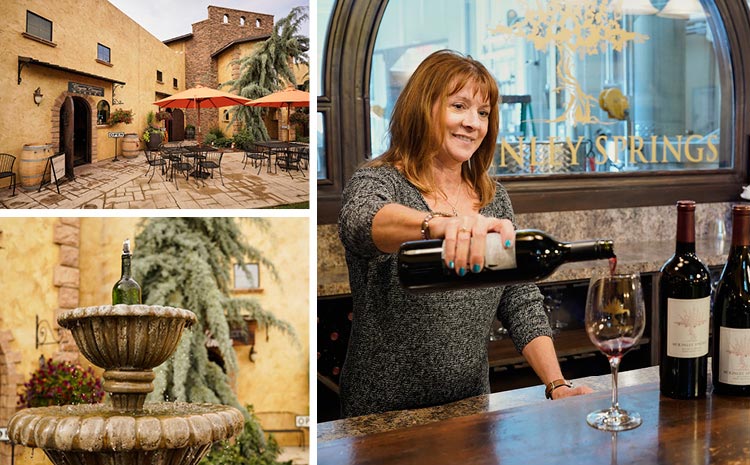 Today, Sandy heads up the tasting room, while Doug serves as the winemaker. Her brother, Rob Andrews, still heads up operations in the vineyard making it truly a family driven affair. And with over 70 years of farming in the Horse Heaven Hills under their belts, along with almost 40 years of vineyard experience, the passion for growing grapes and making great wines shows through in every aspect of this fourth-generation family business.
---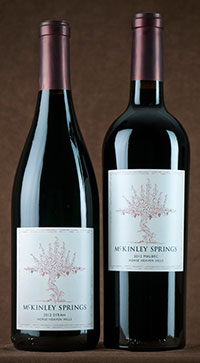 McKinley Springs 2012 Horse Heaven Hills Syrah, $28

Editor's Choice – Excellent (88-90 pts.)

Touts aromas of cured meat, violet, plum, peppercorn and sweet pipe tobacco. Smooth and brightly structured, the palate is filled with red cherry, blackberry, white stone fruit and vanilla bean, finishing with leather and wet stone.
McKinley Springs 2012 Horse Heaven Hills Malbec, $26
Editor's Choice – Excellent (88-90 pts.)
Silky, smooth and medium in body, offering bright flavors of blackberry, dark plum, vanilla and baking spice threaded with savory details of sandalwood and tobacco. The fruit is nicely balanced on the spiced finish.
---
The Winemakers Loft has been a boost for these vineyard growers and family-owned wineries hoping to expand their footprint. It's a space for wine lovers and for collaboration, and the winery owners embrace its mission to the fullest. Winemakers Loft hosts an annual summer outdoor concert series, Lounging at the Loft, from July through September, along with an annual Food Truck Rally to benefit hospice care every April. Each of the owners lend a hand in setting up entertainment or planning these events, just as they play a role in drawing wine enthusiasts into this unique wine hub for a memorable afternoon of wine tasting.
Go Tasting!
Winemakers Loft
357 Port Ave, Prosser
Open daily 11am-5pm from Spring to Fall.
Winter hours may vary; contact individual wineries for tasting room hours
Follow Winemakers Loft on Facebook at: https://www.facebook.com/WinemakersLoft/