Inspired by Europe's grand winery estates, Rocky Pond Winery expands into a major destination, complete with a vineyard amphitheater for weddings and concerts. On the horizon is an event pavilion, luxe cave tours, spa and casitas.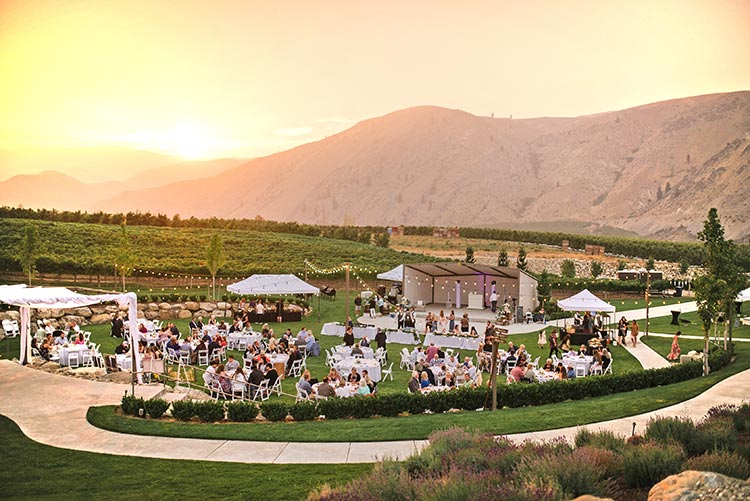 DAVID AND MICHELLE DUFENHORST, owners of Rocky Pond Winery, like the way the world looks from a bicycle. The couple spent ten years bike touring through numerous wine regions in Europe with DuVine Cycling and Adventure Tour Co.
"The very first trip that got us all jazzed up was Tuscany," recalls David. "We visited wineries that have been in the same family for 600 years and after that first trip and subsequent ones, Michelle and I decided we needed to come back and find a cool place to create a legacy for our kids."
"From a bike, you get into the fabric of the small towns," says Michelle. "It's the sights and smells and sounds that you don't get from a car; a sensory experience." One could argue that's the reason to be in the wine business.
It was Michelle who introduced David to the sleepy, small town of Orondo, Wash. where they built a family home and planted their first vineyards on the eastern banks of the Columbia River just south of Lake Chelan around 2011. "The first time I came over here, I didn't really like the landscape—I'm a pine-tree mountain guy and it seemed stark, not that interesting," recalls David. "But the more we came over here, the more we fell in love with it."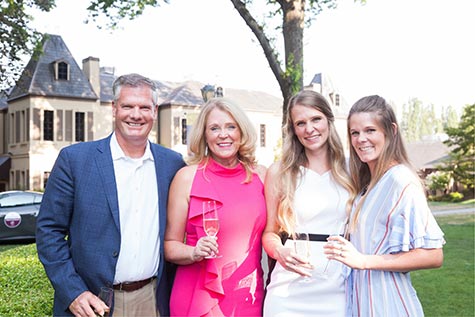 Moving Mountains
David knows a thing or two about moving dirt. The Boise native has been in the real estate business for over 30 years. Nowadays, both David and Michelle are heat-seeking missiles focused on Rocky Pond's meteoric growth as a unique wine-based destination in Orondo. Multi-pronged directives include additional vineyard plantings, new wine production facility (completed in late 2019), and plans for a luxe "wine cave" tasting experience, not to mention expansion of the booming wedding, concert and private event venue. Close by, David is also developing a residential "wine community" surrounded by vineyards and panoramic river views.
Initially it all began with a 30-acre purchase the Dufenhorst's made near Orondo. Roughly half of the land was once a fruit orchard that the former owners had mostly pulled out. The rest was completely barren save for scrub and massive rocks and boulders left from the ancient Missoula floods. The Dufenhorsts did keep the 50-year-old pear orchard on the property, and may someday use it for a pear brandy or use pear liqueur as the dosage for their sparkling wine.
"Working this property made my last job look easy," says Michelle, a former physical therapist. David, Michelle and their team moved countless rocks to make way for Double D Vineyard and the surrounding grounds, with the largest boulders averaging five tons apiece.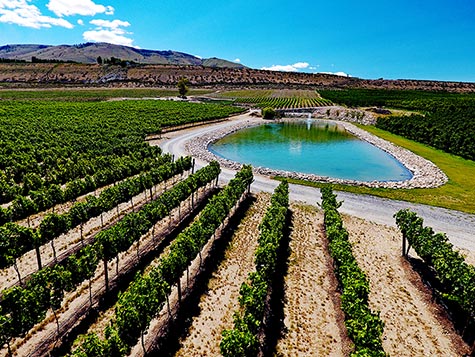 And yes, there is a pond—1.1 million gallons pumped from the river—that adds a focal point for the wedding and event venue. "The Pond" hosted its third season of summer concert series this year; the tasting room in downtown Lake Chelan hosts live music every Thursday evening. A row of Sauvignon Blanc was recently pulled out to provide an in-the-vines dining and rehearsal dinner experience for weddings while overlooking the pond.
The Dufenhorst's plans to expand the wedding venue are impressive. Michelle and their architects from SKB have designed a 5,000-square-foot wedding pavilion and future plans include a conference center with a spa and casitas. In 2020 a "varietal garden" will be planted where guests can walk through rows of every grape varietal the winery grows, and then be able to taste the wines from a gazebo centered within the garden.
"We got the idea after visiting Concha y Toro in Chile," says Michelle. "It provides such a great educational experience."
Between vines is a private air strip should one choose to visit Rocky Pond by plane.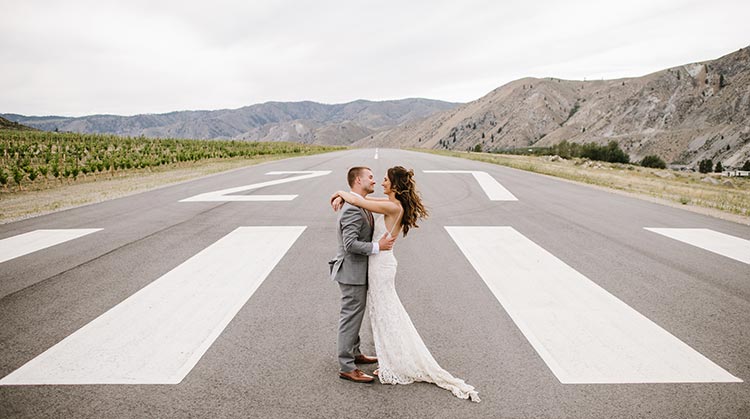 Lake Chelan Roots
Rocky Pond's estate wines caught attention from critics early on with the first releases made in Prosser by Ron Bunnell, founder of The Bunnell Family Cellar and former winemaker at Chateau St. Michelle. As Rocky Pond expanded, the Dufenhorsts felt it needed a full-time winemaker who could also be heavily involved with their three vineyard sites: Double D in Orondo, Clos CheValle along the south shore of Lake Chelan, and the new Rocky Reach Vineyard. That's when they brought on winemaker Shane Collins, formerly of Tsillan Cellars.
Collins is a Lake Chelan native whose roots run deep in the area. A fourth-generation orchardist, his family grew grapes for Welch's and grew apples on his grandfather's farm. "I'm a farmer at heart and I still consider that my job," says Collins. At Rocky Pond, he is also responsible for selling wine grapes and finds that his background in agriculture, and involvement on the vineyard side, makes winemakers more comfortable buying fruit. "They know that our team is farming everything to my standard for winemaking," says Collins.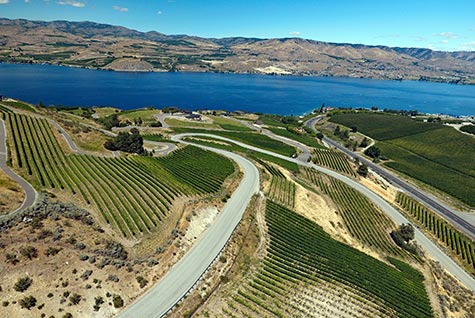 Supplementing the winemaking from Woodinville is Jonathan "Kaz" Kaczmarek, who earned a degree in finance and worked for David in the business world prior to taking on a dual role at Rocky Pond as business manager/winemaker. Kaz was formerly the winemaker at Soos Creek Wine Cellars in Seattle. In addition to his managerial duties, he handles limited production and certain wine club releases for Rocky Pond.
New AVA Petition
Rocky Pond and neighboring Pierre Family Vineyards have co-sponsored a petition to establish a new AVA (American Viticultural Area) for what they are calling Rocky Reach, proposing over 32,000 acres to be included in the canyon along the Columbia River at the base of the eastern slopes of the Cascade Range. With many other petitions lined up in the national queue, it will probably take several years before Rocky Reach is granted official AVA status by the federal government.
Rocky Reach Estates
The Dufenhorst's dream included creating their own grand wine estate and they found it in Rocky Reach Estates, a wine-lifestyle subdivision named after the proposed AVA. Set on 52 acres south of Double D Vineyard, the development includes six one-acre home lots surrounded by vineyards and orchards overlooking a stunning canyon across the Columbia River. Already 15 acres of Cabernet Sauvignon, Malbec and Cabernet Franc have been planted at the newer Rocky Reach Vineyard with plans to continue to expand. David and Michelle fell in love with Carménère while in Chile, so that's next on the list.
A boat dock on the Columbia River is approved and under construction. Several boat slips will be reserved for winery guests, and tours will be by appointment. The concept is for guests to pull their boat up, get picked up in a golf cart and brought up the hill for a two-hour tour with tastings and food pairings. Tours will include barrel sampling—the conference room will have glass roll-up doors that open to the production area. The barrel room will be located in the wine cave scheduled for construction in 2020.
"There's something about being around a barrel that never gets old," says Michelle. "It's the curiosity, the intrigue."
Tours will also include time in the cave. "We've been in lots of caves, some in Napa and many in Europe," says David. "The cool setting is good for the wines and then we'll put in a big table with candles; it will be a very special experience."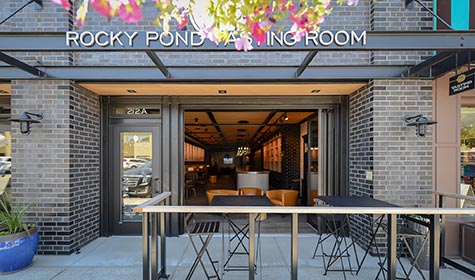 Though touring and tasting at the vineyard is by appointment, you can sample Rocky Pond wines at their chic Rocky Pond tasting room in downtown Chelan. Michelle is currently designing a new and larger tasting room that will open in downtown Woodinville sometime in early 2020 that will replace their existing space in the Woodinville Warehouse District.
Legacy In The Works
Rocky Pond started with the idea of creating a family legacy. Michelle and David's youngest daughter Danielle, was married on the property. She recently received her viticulture certificate from Washington State University and the Dufenhorsts have hopes that she'll become part of the team. Their other daughter, Cydnee (pronounced Sydney) works as a nurse in Seattle but spends her free time helping the family with Rocky Pond events. "You never know, she may join her sister someday," Michelle says, smiling.
Article written by Kirsten Telander
Editor's Top Picks: Rocky Pond Winery
Wine reviews by editor John Vitale

Recommended releases from Rocky Pond:
Rocky Pond 2016 Double D Vineyard La Domestique, $39
Editor's Choice – Outstanding (91-94 pts.)
Crafted in a Right Bank Bordeaux style, this red wine is defined by its mature and elegant expressions of espresso, bakers chocolate, gravel and rock accents that meld with black plum, dark cherry and red currant flavors. The tannins are integrated on the refined, well-sculpted finish. –JV
Merlot, Cabernet Sauvignon, Malbec
Rocky Pond 2017 Double D Vineyard Stratastone, $35
Editor's Choice – Outstanding (91-94 pts.)
Dark juicy fruit expands on the energetic mouthfeel, broadly layered with expressive red plum and raspberry, spiced with black pepper and tea leaf. A mix of black currant, anise and rocky minerality emerge on the finish, flexing with firm tannins.
 –JV
Grenache, Syrah, Mourvedre
Rocky Pond 2017 Clos CheValle Vineyard Syrah, $39
Editor's Choice – Outstanding (91-94 pts.)
A gorgeous brace of acidity punctuates core flavors of wild berries, graham and black pepper underscored with earthy shadings of black olive, briar, cocoa, tea leaf and granite. Finishes long, with grippy mouthfeel and ample concentration. –JV
Rocky Pond 2016 Domaine CheValle Sparkling Wine, $46
Editor's Choice – Outstanding (91-94 pts.)
Crafted from a blend of Chardonnay, Pinot Noir and Pinot Meunier from Clos CheValle Vineyard, this vivacious estate bubbly is sleek and stylish, flowing with fine beads that dance with racy minerality and notable accents of Meyer lemon, pear and apple. Slightly creamy on the long, yeasty finish. –JV
Rocky Pond 2018 Rosé of Pinot Noir, $24
Editor's Choice – Outstanding (91-94 pts.)
A crisp and refined style, with a lean stony frame encompassing zippy flavors of lemon-lime citrus, watermelon rind, cranberry, wild strawberry and floral undertones of white roses. Exudes elegance. Sourced from Clos CheValle Vineyard. –JV
Rocky Pond 2018 Double D Vineyard DuVine White Wine, $20
Editor's Choice – Excellent (90 pts.)
This lovely and vibrant white wine glides across the palate with minerally, well-meshed flavors of white peach, pink grapefruit, yellow apple and pear. A fresh edge of melon citrus flashes across the pleasing, off-dry finish. –JV
Tour & Taste at Rocky Pond
Chelan Tasting Room
212 E Woodin Ave, Chelan
(509) 888-6335
Woodinville Tasting Room
19501 144th Ave NE, Suite B600, Woodinville
(425) 949-9044
Book a Wine Tasting Appointment or Private Event
(425) 949-9044