With the Tucker family's 100-plus years of wheat farming and winemaker Chuck Reininger's mountaineering background, their passion for discovery is at the heart of Reininger and Helix wines
THEY told me I was crazy," says Chuck Reininger, founder and winemaker for Reininger Winery. He's referring to Walla Walla's first group of winemakers reacting to his decision to dedicate Reininger to all Walla Walla Valley fruit. As the 10th bonded winery in the Valley, he would be the first. "They were absolutely right," Chuck says laughing, at the same time noting he was well aware of the arctic fronts that hit Walla Walla and can compromise a vintage—2004, for example, was a doozy.
It was Chuck's wife, Tracy Tucker, who introduced him to Walla Walla where she grew up. The Tucker family is steeped in the Valley's history. Tracy's ancestors came through the Oregon Trail and homesteaded in Helix, Oregon just south of Walla Walla to dry farm wheat. While working as a mountaineering guide on Mt. Rainier, Chuck would make visits to the Valley with Tracy starting in 1983 when the most action downtown was a blowing tumbleweed. But Chuck, an avid student of geology and history, was smitten. With soil.
"I would not be a winemaker had I not learned about the geology and the Floods," he says while holding a copy of the book Cataclysms on the Columbia by John Eliot Allen and Marjorie Burns, which details the history of what is now referred to as the Missoula Floods. "It wasn't the study of wine—this is what made me fall in love with wine. It was the process and the understanding of terroir before I even heard the word."
Shackteau Reininger
After relocating to Walla Walla in 1992, Chuck worked at Waterbrook under the tutelage of Eric Rindal, the historic winery's founder and former owner. Chuck started home winemaking before he and Tracy took the risk to launch a commercial winery. They purchased a modest shed, nicknamed "Shackteau Reininger," in Walla Walla's airport district (the first winery out there) and opened their doors in 1997 with a lineup of Bordeaux-centric wines sourced from some of the Valley's most revered vineyards including Seven Hills and Pepper Bridge.
As Reininger evolved, Chuck felt that some of the varietals he was working with in blends deserved a single varietal bottling—Malbec, Carménère and Petit Verdot for example. "I realized our customer wasn't familiar with these varietals," he says. "They exhibit such incredible character here in our Valley and I wanted people to experience how they manifest themselves on their own."
Another major part of the evolution was partnering with Tracy's parents, Ronnie and Terry Tucker, and brothers, Kelly and Jay Tucker in 2003, allowing the winery to launch two other brands, Helix and CPR (Charles Phillip Reininger).
The Shackteau couldn't accommodate the growth and the group purchased eight pastoral acres west of town that housed two potato sheds. An extensive remodel resulted in a 15,000-square-foot tasting room and production facility.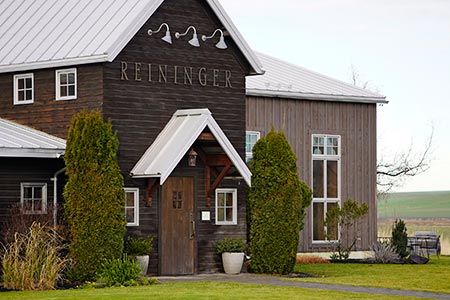 No Italian Villa
"We talk about terroir in our culture and we wanted to reflect that in our winery," says Chuck. "We were intent that it reflected our agricultural history and expressed the story of Walla Walla and our lives here—no French château or Italian villa."
The board and batten siding was sourced locally and kilned, creating a timeless farmhouse look, and the windows in front were inspired by the old, wooden mechanical houses on top of grain elevators. The wood floors are from the sideboards of the potato shed and the tasting bar top is columnar basalt, which is the foundation of the soil in the valley. There are two sets of vines below the counter, one representing Reininger and one from Stillwater Creek Vineyard to represent the Columbia Valley, which are woven between barrel staves from their very first vintage in 1997.
Helix, the name a nod to the original farmstead, gave the family the opportunity to showcase the distinctive terroir of the Columbia Valley, using growers that have a strong earth connection. Partner and general manager Kelly Tucker and his wife, Ann, have a lot of history in the AVA; both worked at Hogue for a number of years.
As with the Reininger brand, Helix offers a number of limited production, single varietal bottlings. "By having Columbia Valley-only vineyards and Walla Walla Valley-only vineyards, our customer's education and experience is greatly enhanced," says Ann, who serves as marketing director. "We can compare and contrast single varietals side by side."
"Helix is really about agricultural adventure," adds Abbie Clark, marketing and events manager. "It is made with the same care, quality and consistency as Reininger—it is not a second tier."
The CPR wines, the winery's special projects label, add another layer to the experience. "They are special lots that are just exceptional," says Chuck.
Today, the winery boasts 25 different products with only seven actually distributed. Reininger remains a boutique producer despite the large portfolio, making approximately 5,000 cases in 2018 between the three brands. Having so many wines available only through the tasting room and wine clubs is part of their major emphasis on Reininger's direct-to-consumer (DTC) program. "We put a lot of our energy and focus on DTC early on because we saw the handwriting on the wall in terms of the consolidation going on with distributors and it was affecting us," says Ann. "Thank goodness we got on that train early because that part of the business is well defined for us."
Terroir Culture
The primary focus with consumers is providing education, not surprising given Chuck's passion for geology. "I like to call it wine growing, not grape growing," says Chuck. "It's more of a farming attitude." Chuck refers to the cultural aspect of terroir.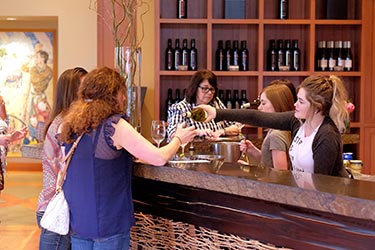 "The cultural experience is intense in Walla Walla. How we influence each other towards growing fruit and making wine is huge and when winemakers started in this valley, they set the bar so high," says Chuck. "The cultural aspect of terroir is just as important as the physical—the French are very in tune with this."
Chuck's winemaking has always been informed more from intuition and artistry, and he credits Rindal back in his days at Waterbrook for backing up his creativity with the technical side. Chuck's winemaking style is in tune to the Reininger and Tucker families' deep connection to the natural world and profound respect for the land. This in mind, he relies on really listening to the fruit to dictate his oak program.
"I try to be very judicious so I don't ever let the oak override the character of the fruit," Chuck says. "Each varietal is vintage dependent regarding how much oak you can use on it."
Chuck also pays careful attention to particular blocks of fruit and how they evolve. "I have a tendency to blend later so that I can learn about a particular block and how it progresses with time."
New Look For Helix Wines
The brands continue to evolve and in 2019, Helix has introduced a new label design geared to more carefully educating consumers regarding their honor of agriculture.
The Helix wines, both classic and reserve lines, now have vineyard designate stamps on the front labels with a map on the back label that pinpoints the vineyard location and AVA, among other geological references. Further, the labels are not uniform but rather describe the specific winemaking practices and vineyard sources for each wine.
Reininger continues to be truly family owned and operated and represents six generations of honoring the land. "We have great respect for the heritage that preceded us," says Ann, "and we are all hands on deck."
"And still speaking to one another," Kelly adds, laughing.
With the Tuckers' 100-plus years of Pacific Northwest wheat farming and Chuck's mountaineering background, it's fitting that Chuck concludes: "At the end of the day, our passion is in the adventure of discovery."
Written by Kirsten Telander
Photographs by Colby Kuschatka
Editor's Top Picks

Recommended releases from the family's three labels of Reininger, CPR and Helix

Reininger 2016 Walla Walla Valley Syrah, $52
Editor's Choice – Outstanding (91-94 pts.)
This plush red is full of creamy black and blue-tinged fruit, supported by fresh acidity and exotic flavors of rosemary, cardamom, espresso and streaks of orange citrus. Concentrated tannins firm up on the well-spiced finish, revealing lingering notes of cherry pit and dark earth. –JV
Reininger 2016 Walla Walla Valley Carménère, $58|
Editor's Choice – Outstanding (91-94 pts.)

A confluence of dark fruit wafts through the enticing nose, expertly balanced with spice and earth notes. The velvety mouthfeel delivers stunning refined flavors of black raspberry and plum intricately threaded with herbaceous garden pepper, loamy earth and white peppercorn, leather and vanilla notes swirl through the complex and well-focused finish. –JV
CPR Red Wine, Fourth Edition (NV), $90
Editor's Choice – Extraordinary (95-100 pts.)

This leaps from the glass with aromas of red and black fruit, polished rock and warm spice. Gorgeously sculpted, the powerful structure is flanked by firm tannins that meld with a concentrated core of raspberry, violet, plum, blackberry and red currant flavors, with flashes of graphite. The rich flavors ripple with bold spice notes that last indefinitely on the concentrated finish. –JV
Helix 2015 Cabernet Franc, $44
Editor's Choice – Outstanding (91-94 pts.)

There's a delightful interplay between the wine's lively structure and smooth mouthfeel, loaded with pureed red berry fruit, plum and currant flavors backed with cedar box and savory herbs. Delicate sweet tannins and lengthy spice notes grace the finish. –JV
Helix 2015 SoRhô Wahluke Slope AVA, $42
Editor's Choice – Outstanding (91-94 pts.)

Rich, plump and earthy in style, offering savory overtones of crushed rock, violet, peppercorn and tar densely intertwined with high-toned red fruit flavors of pomegranate and steeped plum. Underbrush, loam and mineral notes are embedded in the deep finish. Grenache blended with co-fermented Mourvedre and Cinsault. –JV
Helix 2016 Sangiovese, $25
Editor's Choice – Excellent (90 pts.)

Savory and smoothly built, with bright flavors of pie cherry, red currant and violet draped over rustic expressions of dried herbs, loamy soil, tomato leaf and spice notes. Fine tannins lend grip to the vibrant finish. –JV
Tour & Taste
Walla Walla Tasting Room
5858 Old Hwy. 12, Walla Walla, WA
April-October: Open daily 10am-6pm
November-March: Open daily 10am-5pm 
Ph: (509) 522-1994
Spokane Helix Tasting Room 

824 W Sprague Ave, Spokane, WA
Open Thur-Sat 1-8pm and Sun-Wed 1-6pm