Jacob Williams Winery has kept a focus on crafting wines from grapes grown in and around the magnificent Columbia River Gorge region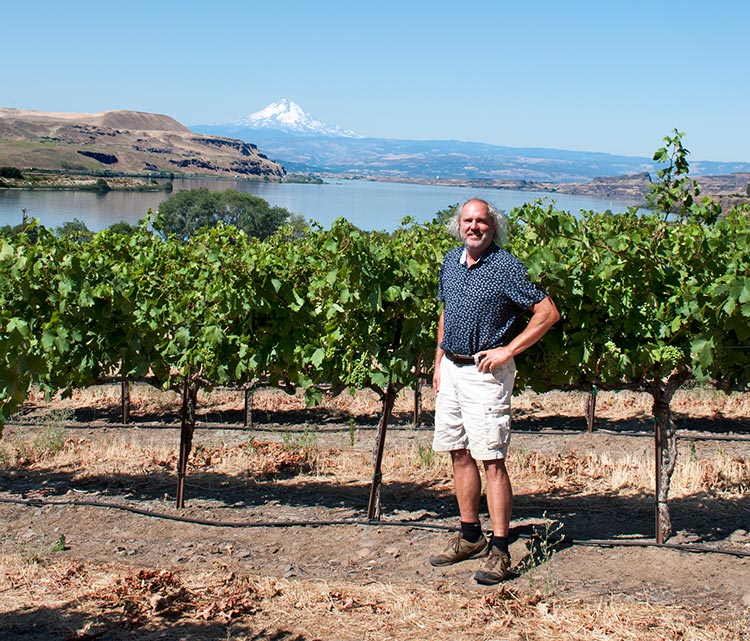 Written by Kirsten Telander & photographed by John Vitale
I'M a time person. Like, seriously. Running even five minutes late can throw me into cringe-worthy hysteria. So, when I hit road construction on my way to interview the folks at Jacob Williams Winery in Wishram, Wash. just east and across the Columbia River from the Dalles, Oregon, I could've used a glass of their wine.
As I walked in to greet the crew—late—there was a chill-factor vibe that can't be bottled. My yoga practice kicked in and suddenly The Gorge felt to me like the land of namaste, that ancient Sanskrit greeting of respect uttered at every yoga class, which loosely interpreted means: I bow to you. Known as the windsurfing capital of the world, the area has no shortage of organic-conscious outdoor enthusiasts with New Age tendencies. Jacob Williams' owner and operator, Brad Gearhart, despite his crazy work schedule, is tanned and all smiles as if just done with a windsurf session; general manager Crystal Borup and tasting room manager, Regina Busse, in fact met at a yoga studio and both instruct; newcomer winemaker Peter Cushman, who has been spotted at a local yoga studio, looks nerd-meets-hipster in a good way.  Namaste.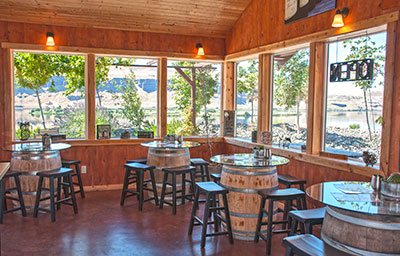 The good energy in the room could well be attributed to the fact that the "office" has one of the most stunning vistas the area has to offer: vineyards, orchards, dramatic basalt cliffs, the Columbia River and a postcard view of Mt Hood.
Changes In The Cellar
"We've been slowly growing every year since I've been here," says Borup, who's been managing the winery for seven years. "But this year has been really great for us and we went to a full team almost overnight which is a blessing."
"She [Crystal] kind of did it all for a long time," admits Gearhart. "We're growing with demand and have seen a big increase over the last year and now I have this solid team, which is exciting."
The latest addition is winemaker Peter Cushman who came on board last year when veteran winemaker John Haw stepped away. "I have great respect for John and the wines he's made here, and we have a big, loyal wine club so I'm not trying to shake everything up," Cushman says. "But I'll be exploring some new varieties and a couple new vineyards."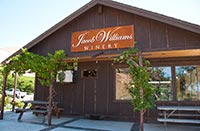 "We have a baseline expectation with consistency that has grown our brand," says Gearhart.  "Still, it's exciting to have some changes in the cellar on the horizon." The first is a Proprietor's Reserve Blend—Cushman's brainchild—a premium red, his first release made from Petit Verdot, Merlot and Syrah.
Cushman, a third-generation winemaker, was introduced to the wine world early on. "Since I was tiny kid, I loved going to the winery and driving the forklift with my dad, checking out the riddling racks, riding my bike around the vineyard," recalls Peter, whose father, Rich, is the longtime winemaker at Viento in Hood River.
Peter's first hands-on experience with wine was at Walnut City Wine Works in McMinnville while in high school. He second-guessed making a career out of it and entered a pre-med program at the University of Oregon. About halfway through the program, he had a change of heart. "I was working at Territorial Vineyards in Eugene and thought this is way more fun than hanging out in cadaver labs," says Cushman laughing. "It was all perspective." After graduation, he assisted his father at Viento and worked for Mt. Hood Winery before joining Jacob Williams in 2017.
The World Of Wine In 40 Miles
Cushman and Gearhart are simpatico in that they both swear by grapes grown in and around the Gorge region and the winery sources approximately 95% of its fruit locally.
"I love everything about using fruit from this area," Gearhart says, echoing the coining of the Columbia Gorge region as the world of wine in 40 miles. "We're not restrained by variety, it's all here."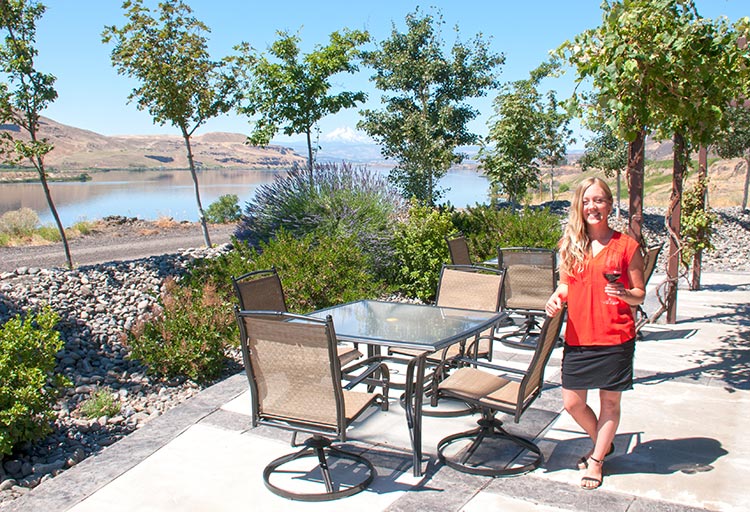 "There are so many different micro-climates here," Cushman adds, noting the rapid changes in heat and moisture moving east to west and elevation differences. "As a winemaker, it's really fun."
Jacob Williams focuses mostly on Bordeaux varietals but also makes a Zinfandel, which grows on the property, and a Barbera. "Italian varietals do really well here," says Cushman. "I have a personal attachment to them."
Despite the recent surge in sales at Jacob Williams, the wine business hasn't always been a love fest—Gearhart's success has been hard fought.  Brad got his start in winemaking in 2003 at Dry Hollow (a partnership with his former college roommate, Eric Nisley) making wine from Nisley's Hi-Valley Vineyard in the Dalles. "There are incredible world-class Merlot and Syrah grapes in that vineyard," says Gearhart.
Sweat Equity…In Phases
In 2007, Brad left Dry Hollow to launch Jacob Williams, named after his two sons. In the beginning, Gearhart kept his business sustainable, buying used equipment, which he shared with other wineries at a warehouse in Hood River. He opened a modest tasting room across the river in Lyle, where his kids and dad, Len, helped out when needed. "Back in the day, Jake and Will would crochet hats and sell them," Gearhart recalls laughing. Of course they did. Namaste.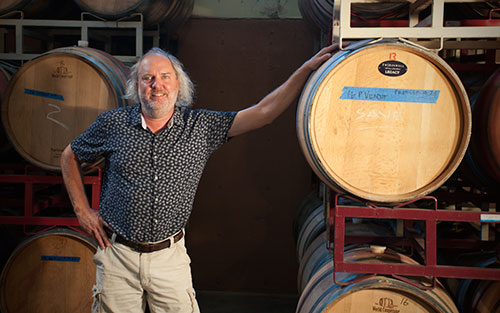 But soon, Gearhart wanted to have everything on one site and found land right off the highway perfectly situated between Cascade Cliffs and Maryhill Winery. That was in 2008 when the economy went south, especially for Gearhart, a general contractor. "There was no new construction," he says. "There was no funding—banks were going out of business."
He burned through savings and served as a consultant for other wineries to keep the Jacob Williams dream alive. He made sure to just grow Jacob Williams with demand.
"We fought and got through it while still making great wine," Gearhart says. Part of powering through was building the new facility in phases. The first structure, which served as the original tasting room is now a wine club member lounge, used for winery events, and is available to rent out for birthdays, anniversaries and such. Phase two included the addition of the current tasting room, with a wraparound patio perfect for picnics. The winery also has small bites available for purchase.
"We want people to really enjoy the space, buy a bottle, sit outside, chat with other people," says Borup. "Just really absorb where they're at—those are our repeat customers." The winery is perched above Avery Park, which has river access and free camping, drawing visitors from Portland and Vancouver in particular.
In the works is a large new production space, which sits behind the current fermentation and case goods area. "We've made sure to not grow too big too quickly so we don't lose quality or personality," says Gearhart, whose current production is roughly 3,500 cases.
Aside from the tasting room outlet, the wines are distributed locally and will soon be expanding distribution in Seattle and Portland.
Ode To The Gorge Grape
Jacob Williams' loyal wine club also helped them ride out the shift in the economy with members that joined back in the Dry Hollow days 15 years ago. "Our wine club is our baby," says Crystal.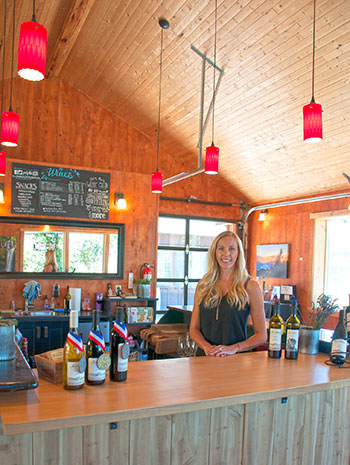 "We roll out the red carpet for our members," stresses Regina Busse, who tends to the hospitality side of the tasting room. "They're part of our family." In addition to deep discounts, members receive priority for new vintages, invitations to exclusive wine club parties, tours, winemaker's dinners, barbecues and more.
Jacob Williams also hosts a number of popular events open to the public (free for club members) wine education classes, wine dinners, wine and food pairings, cooking demos, and library tastings, to name a few.
With their best year ever in the books, the winery is looking to extend the days they are open. They are a dog friendly establishment—in fact, the Sadie Red Vintner's Blend is named after the loyal winery dog, Brad's 11-year-old black lab. You might also get a visit from the winery cat, Rosé.
Jacob Williams' ode to the Gorge grape is unequivocal. Brad Gearhart could serve as an unofficial ambassador for the region. He's even taken his wine down to symposiums in Sonoma (where his sister lives) and industry folks are gob-smacked to find out the fruit is from the Gorge area. "They were just blown away," says Brad. "The Gorge is still off the map in the big picture and I think that's kind of cool."  Namaste.
Editor's Top Picks: Jacob Williams Winery

Recommended releases:
Jacob Williams 2014 Merlot, $28
Editor's Choice – Outstanding (91-94 pts.)
Sourced from nearby Dry Hollow Vineyard, this version is supple and smooth, with expressive blackberry, black cherry and bits of dried cranberry flavors infused with clove and tobacco notes, coconut shavings and savory herbs. Finishes with fine tannins and bold barrel spice. –JV

Jacob Williams 2017 Celilo Vineyard Gewürztraminer, $26
Editor's Choice – Outstanding (91-94 pts.)
Sourced from 40-year-old vines, this white wine is rich and elegant, with floral aromas of jasmine and honeysuckle that lead to expressive, full flavors of Golden Delicious apple, poached pear, Mandarin orange peel, and crushed pebbles laced with delicate ginger spice notes that linger on the finish. –JV
Jacob Williams 2015 Syrah, $30
Editor's Choice – Outstanding (91-94 pts.)
Lush and velvety in structure, with fine, firm tannins and a rich core of boysenberry and black cherry cobbler, black currant paste and ganache, deftly layered with caramel, tea, and pronounced notes of warm peppercorn spice. Mineral notes add depth to the broad, textured finish. –JV
Jacob Williams 2017 Sauvignon Blanc, $22
Editor's Choice – Outstanding (91-94 pts.)
Crafted in a New Zealand style, this gem is laser focused and juicy, bursting with lemon grass, grapefruit and lime zest set on a sleek, clean-cut frame. White pepper spice and grassy notes echo on the herbaceous, mineral-driven finish. –JV
Jacob Williams Sadie Red (NV), $22
Editor's Choice – Excellent (90 pts.)
This value-driven signature red blend is named after the family's winery dog. Aromatics of dark fruit, tobacco and mesquite unfurl on the bold palate with a complex mix of plum, black and red berries, and cranberry flavors intermingled with cedar box, caramel and spice notes. –JV
Jacob Williams Winery 2016 Zinfandel, $30
Editor's Choice – Outstanding (91-94 pts.)
Sourced from Gunkel Vineyard, known as "Boulder's End Vineyard," this red wine is brawny and muscular, sporting floral lavender, black olive and bittersweet chocolate accents that adorn a wave of velvety blue fruit streaked with iron minerality. Plump and full flavored, this hedonistic version offers peppercorn and dried sage notes on the smoky finish. –JV
Tour & Taste at Jacob Williams Winery
3 Avery Road, Wishram
Phone: 541-645-0462

jacobwilliamswinery.com