An interview with Craig and Vicki Leuthold, the visionaries behind Maryhill Winery that produces a prolific lineup of 65 different wines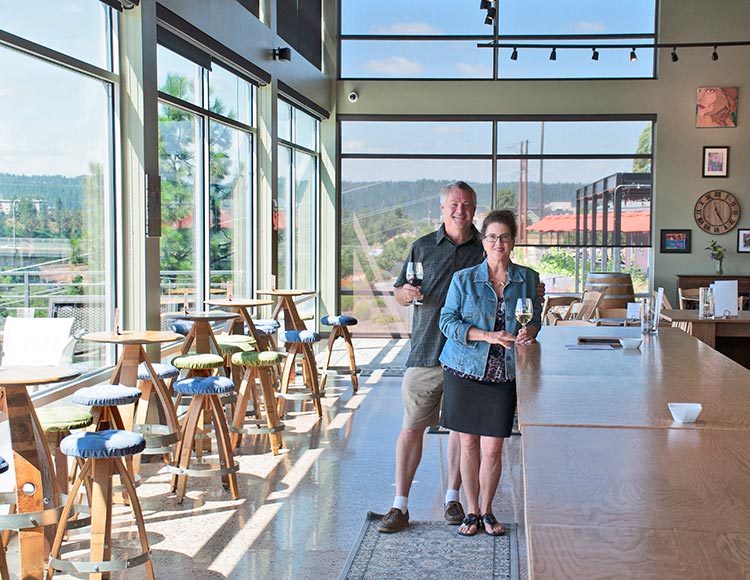 Written and photographed by John Vitale
MARYHILL is a household name among wine drinkers young and old in the Pacific Northwest. From a fledgling startup in 1999, owners Craig and Vicki Leuthold have tenaciously steered the winery into a brand distributed in more than 20 states. Between Maryhill Winery's three distinct tiers—classic series, proprietor's reserve series, and the thrilling collection of small-lot wines from their terroir-driven vineyard series—they currently produce a total of 65 different wines, a feat unmatched by any other Washington winery.
In late 2017 Maryhill opened a 5,000-square-foot tasting room in Spokane's fashionable Kendall Yards community where floor-to-ceiling glass walls show off territorial downtown and Spokane River views. The flagship winery is still in Goldendale (less than a mile from the historic Maryhill Museum in the Columbia River Gorge National Scenic Area) where 75,000 visitors a year come to taste wine, take vineyard and cellar tours, toss bocce balls, enjoy picnicking, and generally soak up sunshine and spectacular vistas.
A third tasting room opened in April 2019 on the vibrant waterfront development in Vancouver, Wash. that reconnects 35 acres along the Columbia River to the city's historic core.  And a fourth tasting room opened in February 2020 in the Hollywood District of Woodinville. With many plates spinning adroitly, the Leutholds continue to invest heavily in their hugely popular wine clubs.
Vicki grew up in Hawaii on the island of Oahu where her father was in real estate, later migrating to the Northwest with her family in the 1970's. Craig, born in Seattle, met Vicki during the time he attended Washington State University through her brother, a college friend. Craig moved to Spokane upon finishing college in 1983, where they have resided since, when not traveling extensively for work.
Prior to starting up Maryhill, the Leutholds had high-powered business careers. He worked for a Fortune 200 company selling plastics raw materials throughout Northwest states and she was a maverick in the beverage industry, operating an office coffee service with more than 500 clients. Needless to say, both were savvy in branding, sales and marketing.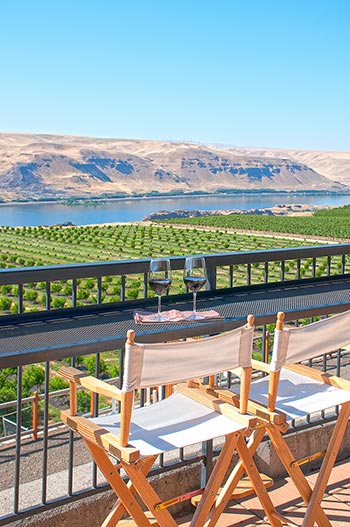 I sat down with Craig and Vicki at their urban tasting room in Kendall Yards to discuss their early roots in the wine industry and challenges they have faced along the way. During the interview, it was apparent the dynamic husband and wife team are "joined at the hip" so to speak, in terms of sharing a common vision and direction for the winery.
Was there a precursor that led to your wine journey?
Craig: We had a couple 'aha' moments. The first one was a trip that we made through the Napa Valley and visited V. Sattui winery in Saint Helena. Today, V. Sattui sells 50,000 cases direct to consumer. They don't have distribution; they don't have any wholesale to speak of except for a few Bay area restaurants. And they have this gigantic deli you walk into that's almost mind boggling, like a Whole Foods place, and outdoor picnic area. It was the only place where you could buy a glass or bottle of wine in Napa and sit outside, because they were grandfathered in before the laws were passed—now of course, everybody can—but there was about a two-decade period where they were the only ones.
Vicki: This was early '80's, it was really agri-tourism still—before Napa had become Disneyland for adults. We thought it was fascinating because you're growing this agricultural product and turning it into this incredibly happy-use end product. We were drinking Lambrusco at the time, so we discovered real wine.
(Both laugh.)
What was the other 'aha' moment?
Craig: In the late '80's, we became board members of the North Idaho Enological Society. By then Vicki and I already had a real interest in wine. We were starting to experiment with it; we made a trip through eastern Washington and visited wineries. In those days, there were thirty or so, and they weren't clustered like they are today. Through the Society, we met distributors and winemakers. Eventually I became president and Vicki became the program director. So we booked tastings and got to meet all the people involved in the business. And it just fascinated us. Everybody we met loved what they did. We recognized that a whole lot of people in the world are unhappy at work. They can't wait for Friday because they don't like what they do. Now we are blessed to have something that we love and we're passionate about.
Vicki: Our involvement with the Society lasted through the late '90's.
Craig: We left that position literally when we started thinking about Cascade Cliffs winery.
How were you involved in Cascade Cliffs Winery?
Craig: Robert Lorkowski and I worked together originally at Fiber Chem and then he left to work somewhere else. In 1997 he approached us and said, I'm going to buy a winery in the Columbia Gorge, would you like to invest in it? So Vicki and I and another couple from here in Spokane put up the money to make a down payment on the winery.
Vicki: They had only five acres planted at the time. So the next two springs we started planting out the whole rest of the vineyard.
Craig: Yep, and that was kind of a way for us to get our feet wet without quitting our day jobs. My job changed dramatically when the company went through some really big transitions. The bean counters took over running the company instead of the marketing and sales people. As a consequence, the changes alienated customers and made it harder to do business. I decided I had to make a change. It was actually an epiphany moment.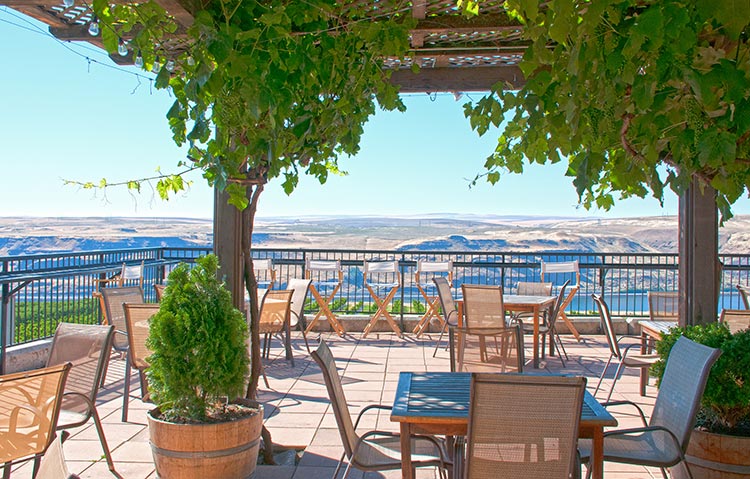 Is that when you started talking about launching your own winery?
Vicki: Yes, within a couple of years we decided we wanted to quit those day jobs and put all our eggs in one basket. My business coffee service repped all the independent roasters—I was the second one in the country to have an outside relationship with Starbucks in this Northwest area. The business had about 500-600 clients at the time, but I'd been doing this 22 years, and when we wanted to change directions I sat everyone down and said look, we're positioning the company to sell. Two of those employees came to me and said, what do you think about selling to us? I said, it's more valuable to you than anybody else out there, and they took it to a whole new level.
How did your earlier Napa trip influence your business plan for Maryhill?
Vicki: We saw that wineries here [in Washington] weren't really establishing a relationship with their customers—you'd go spend 15 minutes tasting some wine, they'd extract some money off your card and then off you'd go…
Craig: …it was more of a lifestyle choice than a business.
Vicki: And then after this Sattui trip [in Napa] we realized, look, we could make this happen because that's how you make a relationship with your customer, right? You spend more time with them: you have music, you have games to play, you provide a place to picnic, all these things to offer customers. And we knew Cascade Cliffs wasn't going to be that for us because it was more of a lifestyle approach, so we knew we wanted to do our own thing and we started looking from that point forward.
So when you first opened in 2001 did your business model include those ideas?
Craig: Yes, as a "destination winery." Sattui was actually part of that thread we pulled on. We actually reached out to Dario Sattui and he sent us some ideas about what he thought we should do and how he had done his direct-to-consumer modeling.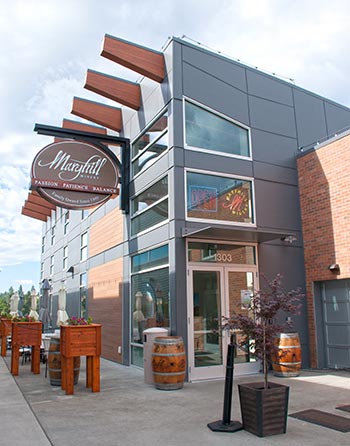 What is Maryhill's annual production and how many wines do you make?
Craig: About 75,000 cases, it's varied up and down over the years. We make 65 different wines and work with 35 different varietals. We want to be a showcase for what Washington is capable of producing. We want consumers that come in to have something for everybody—from your sweet Muscat Canelli to your Gewürz to your big, bold reds. Where else can you do seven different appellations of Cabernet or six different appellations of Syrah in one place? We do horizontal tastings all the time where we allow the opening of five or six bottles in wine club type settings, and allow people to taste all of them at one time. It really gives you a sense of terroir. That selection is what, for me, defines Maryhill more than anything else. Eight of the state's fourteen appellations are represented in the wines in our tasting room.
Your winemaker, Richard Batchelor, recently won his second "Winemaker of the Year" trophy at the annual Indy International Wine Competition. How involved do you get in the actual winemaking?
Vicki: The palate and the talent [for winemaking] is absolutely Richard. We help with blending trials and tasting trials. We will just guide the direction and the style of the wine we want to see out there because we are the sales people behind it. But Richard and his team are really the ones creating it all.
Craig: I originally handled vineyard selections—it's almost exclusively Richard now. He's holding our growers accountable in a way that we've never had with our winemakers before.
Can you share about the new Vancouver, Wash. tasting room?
Vicki: It is a 4,890-square-foot tasting room near the Grant Street Pier, part of the brand new waterfront development. It is right on the river, and opened is Spring 2019.
Craig: The redeveloped waterfront will change Vancouver in a way few understand. It will put Vancouver on the map in a huge way. It is going to urbanize it and completely revitalize the downtown, which has been coming back the last five years.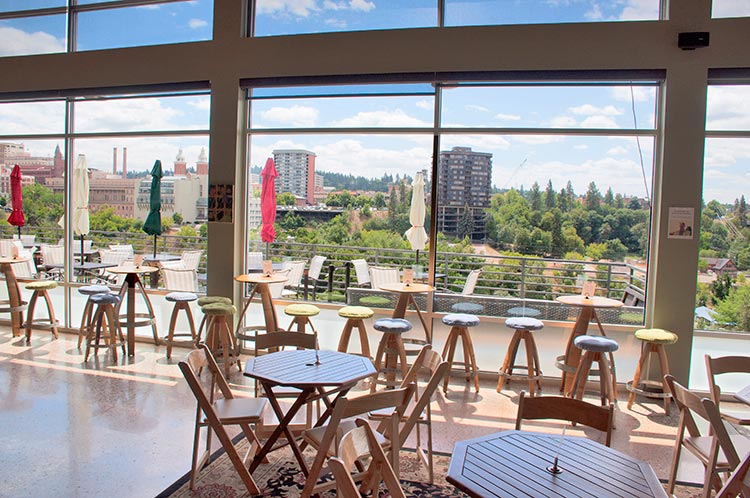 Biggest challenge you've faced?
Vicki: Growing this company has been the most challenging thing, for sure. And I think probably giving it so much. We have a tagline: Passion. Patience. Balance. And…we've got the passion…we've had the patience to work the business…it was balance that was probably the biggest challenge for us.
In the early days, we worked 24/7. We literally would be sitting up at one or two in the morning talking nothing but business and what to do next. We traveled fulltime just for business—it was all consuming, and so to get back that balance in our life was probably the most challenging after about 10 years of being just pure delved in. The last few years we made a commitment to do that and we've been making that happen.
Craig: And that was really more a matter of giving ourselves permission.
Vicki: That was probably the biggest challenge for me.
Craig: Especially for me.
I'm guessing you'll grow even more as a result of finding that balance.
Craig: I totally agree with you. As a matter of fact, even the big things don't bother me anymore because you realize you can overcome them.
Vicki: And we're finding that the more we step back, the truly great people we put in place are stepping in and really performing.

 Do you each have a favorite red or white wine?
Craig: I would say it's seasonal: right now, it would be the Albariño sourced from Otis Vineyard. And for me, an Albariño is really a red in white clothing. It's rich and complex. It has body, it has so much of what you appreciate about a red wine but it has that dry, crisp finish of a white. It might be my favorite wine of all time in terms of whites, and not just Maryhill. It's just beautifully structured.
In terms of reds, it's hard to pick. I'll qualify it to say I'm a Cab guy. I always gravitate towards Cabs; I love the richness and the full body and the fruit, with the integration of the oak. I would probably say that if I were going to pick a favorite one, it would be Clifton Hill Vineyard from the Wahluke Slope. I think it epitomizes the pinnacle of what Washington is capable of producing in Cab.

Vicki: The white is definitely the Albariño for me as well. For both of us. We call it our new shiny toy. This will be our third vintage now, and once we tried it the first time I could hardly drink any other white. I fell in love with it. It's rich and complex, but still nice, bright, crisp and fresh.
In terms of reds, I always thought I was a Bordeaux girl but since Richard has been making such phenomenal Rhône varieties, I feel like I'm a Rhône girl. The Marvell is definitely my upper favorite. And then I love our Les Collines Vineyard Syrah…
Did you always feel Maryhill would be a success?
Vicki: I always felt like it would be successful. We had a very clear business plan. The original business plan, by the way, was only 20,000 cases and it was going to be 100% direct to consumer. And we immediately discovered we can't be direct to consumer if we're that remote. So that changed. It always had to be fluid and changing.
Looking back, is there one thing that surprised you most about this epic winery journey?
Vicki: Probably the biggest surprise is the amount of success the winery has had, in terms of awareness—brand recognition of Washington wine in general. Just elevating the Washington scene, the fact we were able to affect that to some degree…even us, a little winery in Washington. That's been a mind-blowing thing to me. Neither of us had ever built a brand from scratch. And, seeing somebody buy the wine off the grocery store shelf for the first time, that was always a big thrill.
Craig: The realization that Maryhill Winery isn't us—it's an entity unto itself that will transcend us probably forever. That we are now shepherds of Maryhill, not necessarily the front people.
Visit & Taste at Maryhill Winery
In Goldendale
9774 Hwy 14, Goldendale, WA
Open daily 10am-6pm
Ph: (509) 773-1976
In Spokane
1303 W Summit Parkway, Suite 100, Spokane, WA
Open Sun-Thurs 12pm-8pm; 
Fri-Sat 12pm-9pm
Ph: (509) 443-3832
In Vancouver, WA
801 Waterfront Way, Suite 105, Vancouver, WA
Ph: (360) 450-6211
In Woodinville, WA
14810 NE 145th, Suite A, Woodinville, WA
Ph: (425) 481-7925