Winemaker Chris Gorman blazes new territory just outside of Woodinville in the town of Maltby, where a cluster of modern wineries promises to become a popular destination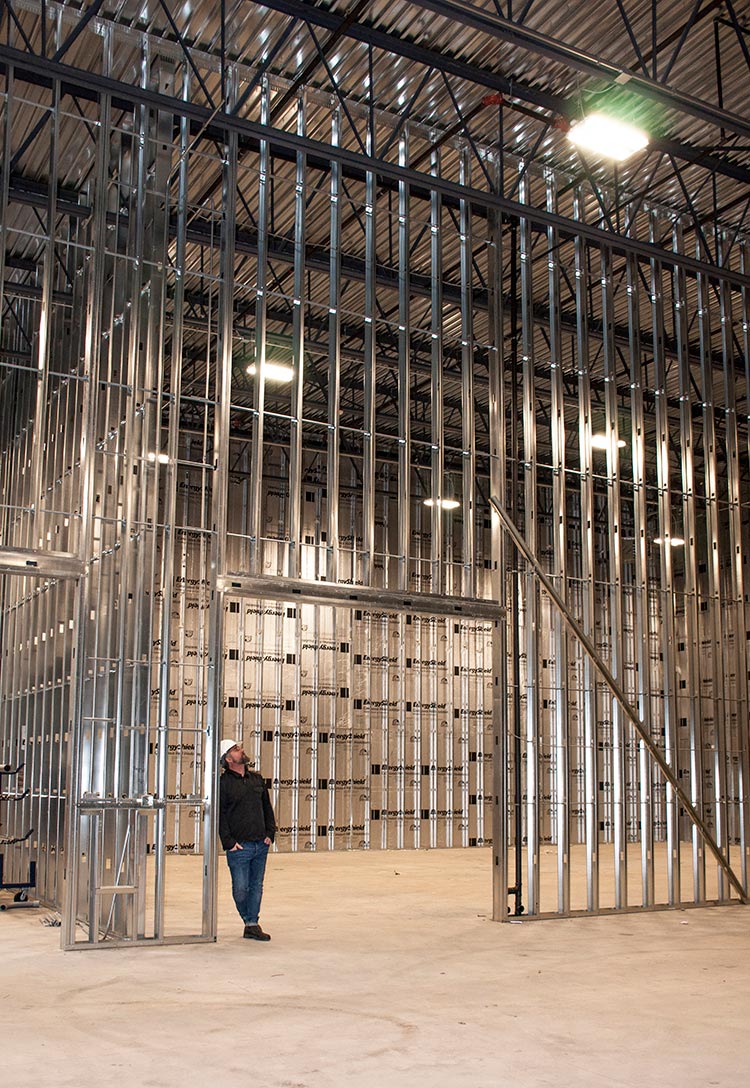 CHRIS GORMAN understood the ins and outs of selling great wine long before launching Gorman Winery in 2002. Fresh out of college he landed a job with one of the Seattle area's top wine distributors. Outwardly easygoing and a determined competitor, he quickly proved to be a natural in the industry. During a successful 16-year stint on the sales and distribution side, Gorman repped wines for prominent Pacific Northwest brands like L'Ecole No 41 and Dunham Cellars, making lasting friendships with winery owners along the way. When he hung out his own shingle this gave him an edge.
"It all clicked for me because I had access to a lot of great winemakers, from Marty Clubb at L'Ecole to Eric Dunham. If I ever wanted fruit or advice, it was a pretty good Rolodex to have," says Gorman.
Named the 2019 Honorary Vintner by the Auction of Washington Wines for his tireless commitment to crafting premium award-winning wines, the 50-year-old Gorman is a big-picture thinker with bold ideas. He is upping the ante this year and moving his entire wine production out of Woodinville to the nearby rural town of Maltby five miles away, where a sleek new 14,000-square-foot state-of-the-art winery will soon become his new headquarters. The move will double his current production space. Construction is expected to be completed by time for the 2019 harvest.
Gorman reports he will keep his current two Woodinville tasting rooms, with the potential of opening a third at the new Maltby location that includes 5,000-square-feet of event space. "We have enough room to drive four food trucks into our winery and hold an event," he says.
Gorman's New Neighbors
Sharing part of Gorman's building in Maltby will be J.P. Trodden, an artisan bourbon distillery run by Mark and Jennifer Nesheim, who were also seeking to expand production outside the confines of Woodinville. Directly behind Gorman's facility are yet two more equal sized 20,000-square-foot winery facilities also under construction. The new neighbors will include other familiar Woodinville faces: Guardian, JM Cellars, Two Vintners, Covington Cellars and Laterus Winery.
King County residents mostly know the small town of Maltby as the home of Flower World, one of the largest retail nurseries on the West Coast. Now, with a total of 60,000-square-feet of new construction built to exacting winery specs such as sloped floors, sustainable drainage, and an excessive amount of electricity and hot water pressure, Maltby is poised to become a winery destination. "It's a good friendly place to make wine," says Chris with eager excitement.
(Article continued below sidebar…)
Pop Q&A: Getting to Know Winemaker Chris Gorman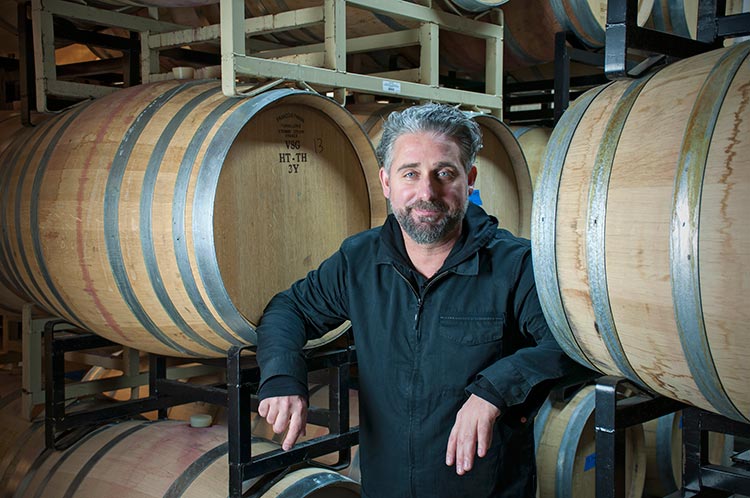 Is there a popular song title that sums up your life thus far? You've Got Another Thing Comin' by Judas Priest
Favorite rock band? Van Halen 
Top three musicians? Eddie Van Halen, Yngwie Malmsteen, Jimi Hendrix
Favorite vacation spot? Key West, Florida
Which person do you most admire? My dad
What is your greatest luxury? Being the boss
Favorite meal? Paella
Greatest achievement? My son, Zachary
What does your "happy place" look like? 
My kitchen—with a view of an 80" large screen TV and wall of guitars
Most treasured possession? 1960 Fender Stratocaster
Music on your phone this week? UFO, Thin Lizzy, Cat Stevens
Big break? A job with a wine distributor fresh out of college
Best advice received? Don't let a wishbone grow where a backbone should be
Wines you are most proud of? The ones that just sold out

Wow Factor
Gorman is constantly innovating, reinventing himself by building upon each successive brand. Up until 2011 his cult-like core premium wines sold between $30-$80. When the recession hit he noticed many consumers shifted to buying more wine but at lower price points. Seeing that the quickest growing wine segment was the $25-$30 category he came up with a clever new line of tasty red blends.
"So we started putting out The Devil You Know and The Devil You Don't Know at $32 and under, and that's grown to half of our wine sales," he says. His core wines such as Bully, Pixie, Evil Twin, and Zachary's Ladder account for the other half of red wine sales.
"We haven't changed our style to make lesser wines, we haven't bought lesser fruit to make less expensive wines, we've just done it," Chris says of his wines in the $25-$30 range. "We've brought in more fruit and if you make more wine, you can afford to take a little less on some things."
Then in 2012 his affection for world-class Chardonnay led him to start Ashan Cellars, a lineup of premium single vineyard versions that also includes a Columbia Valley version at a pocketbook-friendly price.
"You've got to stay relevant in this business," he says. "Our basic rule is don't put out any bad wine. That's the first way you're going to be irrelevant in this industry. If you're not producing good wines you're not challenging yourself."
Gorman has an intuitive touch for crafting wines with a delicious wow factor. His first wines were sourced from Kiona Vineyards in the Red Mountain AVA (American Viticultural Area). Though 80-90% of his reds today still come from this AVA, he does pull a portion from Dick Boushey's vineyard in the Yakima Valley, which he uses in his popular Zachary's Ladder red blend. "I feel it's a secret sauce. You throw one barrel into 30 and it's delicious. You don't need much and it doesn't change the appellation. It's like holy water," he says.
Room To Grow In Maltby
The move to Maltby increases Gorman's production capacity, giving the self-made veteran winemaker the room to continue growing. After 17 years it's a fact he admits still somewhat surprises him. "I had no idea we would see this kind of growth. We're not a rich guy winery. We started out of our own pocket and have grown slowly, and debt free."
Gorman says he has always followed the rule to not make more wine than one can sell. "It's always a great rule," he contends, and then adds with a wry chuckle, "I say that as we are ready to move into Maltby which is twice as big as where we are, and where we can truly produce twice as much wine."
He is geared up for the big move both figuratively and literally. "We are equipment whores," he shares. "We own everything and then sometimes duplicates—of presses, duplicate elevators, three pumps, three forklifts— and we're still a really small winery."
He also owns his own sales vans, a nod to lessons learned earlier in his career. In fact, Gorman's staff includes two sales reps and a driver, making his one of the best self-distributed wineries in the state, certainly in King County.
With six wineries and a distillery setting up shop in a few months, get ready for Passport to Maltby!
Written and photographed by John Vitale