Radiating with natural beauty and rural charm, the Puget Sound community of Bainbridge Island is home to seven artisan wineries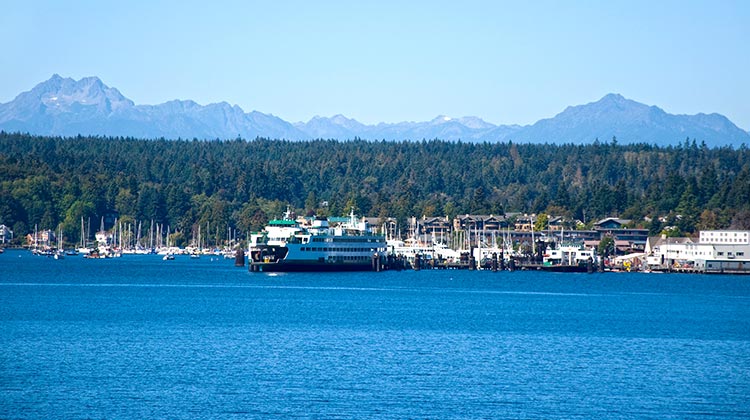 BAINBRIDGE ISLAND is a place many come to recharge and connect to nature's tranquility. This quiet, slow-paced island community sits nine miles from Seattle's waterfront directly across Puget Sound. In stark contrast to the city's hustle and congestion, the lush wooded island has been kept intentionally rural, dotted with small farms and offering pristine beaches, woodland trails and the famed 150-acre Bloedel Reserve, one of the top ten Japanese gardens in America.
Seven artisan wineries are tucked into charming corners of the island, two with estate vineyards, presenting a unique experience to de-stress in a beautiful environment and taste an incredibly wide spectrum of Washington wine.
Discover exciting wines from Puget Sound grown varieties like Siegerrebe and Müller-Thurgau to Walla Walla Cabernet Sauvignon, Yakima Valley sourced Chardonnay, and everything in between.
The island is easily accessible from Seattle by the jumbo-class ferryboats that crisscross Puget Sound's marine highways with hourly frequency, delivering visitors into the picturesque small-harbor town of Winslow. Or, drivers can head over the Agate Pass Bridge on State Route 305, the main road that links the island to the Kitsap Peninsula.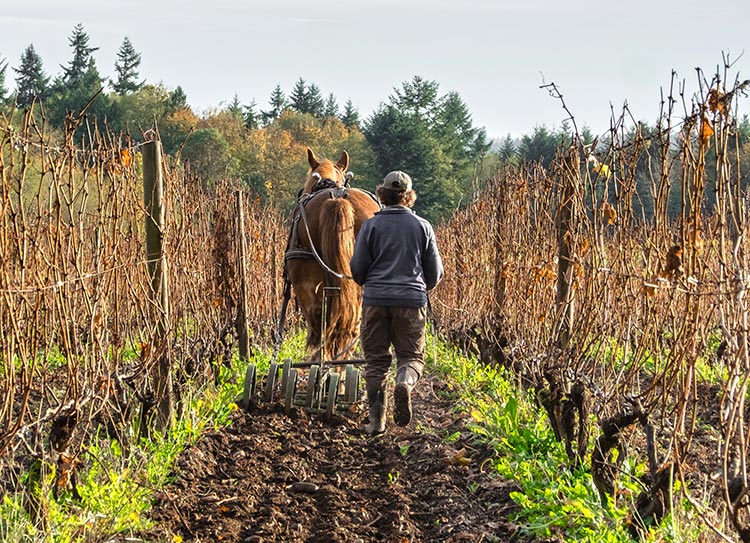 Pretty rows of old vine Müller-Thurgau line the East Day Road entrance leading to the island's oldest winery and vineyards.  Located amid sprawling farmlands with towering evergreens and views of the Olympic Mountains, Bainbridge Vineyards is run by a hardworking group of co-owners that includes former farm interns and community members.  Betsey Wittick, who holds a Masters degree in horticulture, is at the helm of the estate winery's operation.
"Plants have always been a special part of my life," says Betsey, who also grows 20-some kinds of garlic, 25 kinds of potatoes and 40 different kinds of peppers on her farm adjacent to the winery, when she's not tending the vineyard.
---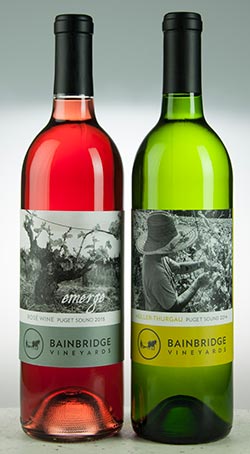 Bainbridge Vineyards 2014 Puget Sound Müller-Thurgau, $18

Editor's Choice — Outstanding

Originating from Thurgau, Switzerland, this grape is related to Riesling and is popular in the Puget Sound AVA and around the world. Fresh aromas of D'Anjou pear, citrus and clover open to juicy flavors of key lime tart, lemon juice and honeydew melon rind. This racy and crisp white wine finishes dry, with inflections of meadow grass and stony minerality. Pair with pork tenderloin, poultry dishes and sushi.
Bainbridge Vineyards 2014 Puget Sound Emerge Rosé, $20
Editor's Choice — Excellent
An appealing, unique blend of Zweigelt, Agria and Dunkelfelder varieties. Refreshing and appealing, with aromas and light-footed flavors of cranberry, raspberry and pomegranate inlaid with distinctive umami notes, dried herb sachet and savory spice. Pair with salads, turkey, pork or chicken dishes with light sauces.
---
Formerly known as Bainbridge Island Vineyards and Winery, the winery is steeped in history, having been founded in 1977 by wine grape-growing pioneers Gerard and JoAnn Bentryn. Gerard was the driving force behind the formation of the Puget Sound AVA in 1995.
"My interest in horticulture, local foods and wine, fits right into Gerard's original vision of being a totally estate-grown winery," says Betsey, who leased the farm property when the Bentryns retired, and later opened under the retooled brand of Bainbridge Vineyards.
Betsey concentrates on mostly dry white wines made exclusively from island-grown estate grapes. The certified organic vineyard is planted with carefully chosen European cooler-climate varieties that perform admirably in the Puget Sound, such as Seigerrebe, Madeleine Angevine and Pinot Noir. Betsey's interest in experimenting with new varieties has led to greater diversification in the vineyard. "Zweigelt is one we're expanding and I'm excited about it," she says. Zweigelt is the most popular red wine in Austria yet a relative newcomer to Washington.
Visitors are welcome to use the picnic table in the garden area and soak in the natural beauty of the farm. (Editor's note: inquire about the guided vineyard tour.)
Eleven Winery is the second-oldest winery on the island. Owner Matt Albee was on track to pursue a living as a professional bike racer in his late twenties when he decided to switch gears and become a winemaker. He landed an apprentice position at a California winery near his home in the Santa Cruz Mountains.
"I started helping out at harvest and immediately knew that's what I had to do for the rest of my life," says Matt. After three vintages, Matt and his wife moved back to the Pacific Northwest where they had both grown up, choosing Bainbridge Island as the ideal setting to raise a family. After their first son was born, Matt went commercial, crushing his first grapes in 2003.
---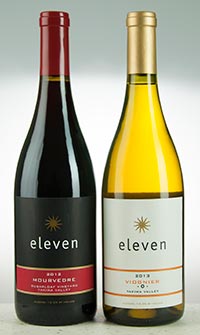 Eleven Winery 2012 Sugarloaf Vineyard Mourvèdre, $35

Editor's Choice — Outstanding

After one sip, you'll see why this lovely, complex varietal has become Matt Albee's favorite signature wine grape. Brambly aromas of black and red fruit, peppercorn, cigar box and anise introduce this elegant and polished red wine with burnished flavors of raspberry and blackberry jam, black pepper and licorice. Earth and game notes fold seamlessly into the long finish, balanced with ultra-fine tannins and well-heeled acidity.
Eleven Winery 2013 Yakima Valley Viognier-O, $40
Editor's Choice — Outstanding
Inspired by an ancient winemaking technique, the juice was allowed to ferment in contact with the skins, similar to red wines.
Deep gold in hue and swirling with floral aromas of orange blossom, honeysuckle and nectarine, this rich, textural, full-bodied version is built to impress, delivering plush palate flavors of orange slice and white pepper spice layered with delicate florality. Finishes long and focused.
---
"I ran a lot of spreadsheets before starting a winery, but had absolutely no idea what I was getting into," he says with a grin, though he has since built the winery to a successful level of 2,500 cases annually.
Eleven is named after the smallest cog in the back cluster of bicycle racing gears. "That's the gear you use when you're giving it everything you've got, which epitomizes my approach to winemaking," says Matt. He crafts a complex array of reds and whites, and lately he's been zeroing in on Mourvèdre, as well as Viognier, crafting distinctive single varietals out of both and using them as blending components, too.
You can taste the wines at two different island locations, each decorated with European-made pro racing bikes. The cozy storefront tasting room in Winslow near the ferry terminal is open daily, and the weekend-only tasting room at the main winery facility on Day Road offers live music amidst the cedars on Saturdays.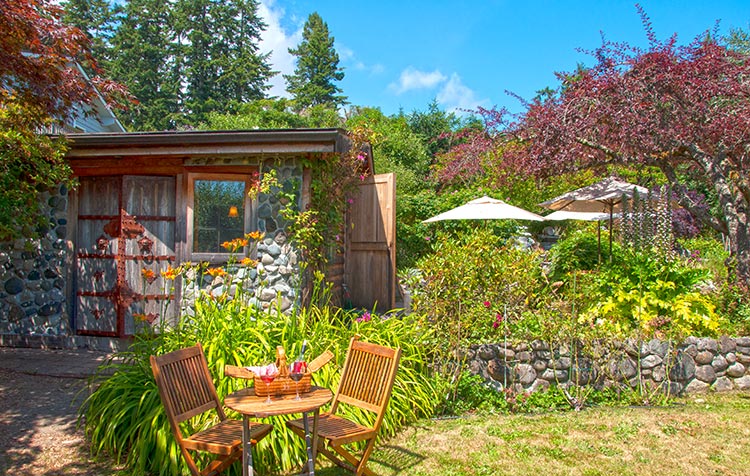 Deriving its name from the tiny island community of Rolling Bay, the ten-year-old winery is located three miles from downtown Winslow on a residential side street just off Manitou Beach Drive. Ensconced in a beautiful natural garden setting, the tasting room appears like a storybook cottage, constructed of hewn timber and stone masonry. Bordering the sprawling grassy lawn and brick-lined patio are abundant verdant green plants and ferns accented by Asiatic lilies, climbing pink roses and Japanese maples.
Open for tastings two weekends per month, it's common to find owner Alphonse de Klerk hanging out and socializing with visitors, some who pack a lunch and gather with friends around a massive log table under the dappled shade of a fruit tree. "It's a mixture of magic that comes together at the winery," says the gregarious winemaker who was born in the Netherlands. "It's not about any one thing—it's the blending of everything. Interacting with winery visitors is part of closing the loop when you make wine."
---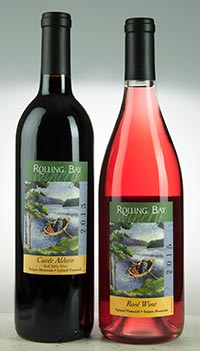 Rolling Bay Winery 2013 Upland Vineyards Cuvée Aldaro, $34

Editor's Choice — Outstanding

Old vine Cabernet planted in 1979 composes the majority of this smooth blend. Leading with aromas of warm stone, red and black fruit, tobacco, cedar and a whiff of smoke, this lush, refined red wine displays finessed layers of cassis, crushed pebble, blackberry, raspberry and hints of blueberry and red plum interwoven with a spicy complexity of granite, sage, clove and toast. Fine tannins grace the persistent finish.
Rolling Bay Winery 2015 Upland Vineyard Rosé, $22
Editor's Choice — Outstanding
This Rosé is made from 100% Grenache, with a beautiful pink hue resulting from 24 hours of grape skin contact. Citrusy aromas of strawberry, pastry and dried herbs lead to pure, clean flavors framed with  minerality layered with flavors of fresh-picked strawberry, white cherry, blood orange and rose petal. The prolonged finish is studded with earthy spice and crushed rock.
---
A commercial photographer by trade, Alphonse first started making wine as a hobbyist in 1986. He was on a photo shoot for Hogue Cellars and met their winemaker, Rob Griffin (today of Barnard Griffin), who invited Alphonse to come back the next day if he wanted to pick and take any wine grapes. "We picked 800 pounds the next day. My daughter, Camille, was eight months old," recalls Alphonse, adding that she recently attended his alma mater, the Northwest Wine Academy in Seattle.
Rolling Bay's signature wines are smooth, elegant red Bordeaux varietals and blends sourced predominantly from Upland Vineyards in eastern Washington from some of the older vines in the state. Check their website for weekend hours.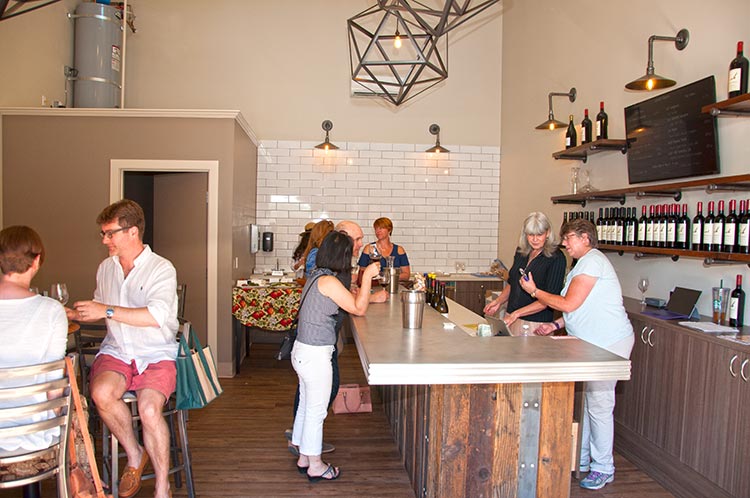 Emily Parsons is a self-proclaimed barrel geek. "I love to sniff the bung holes at trade shows," she says with a laugh. But she's serious when it comes to trials with oak barrels made from different forests, which impart different characteristics in the finished wines. "I am committed to using one-third new French oak for the wines each year," she explains.
Ever since she purchased Eagle Harbor Wine Co., Emily has been moving at hypersonic speed. Her latest achievement was the successful opening of a brand new winery facility and spacious tasting room in a business park on Three Tree Lane in Winslow. Designed in a rustic, industrial style featuring white subway tile, high ceilings and contemporary lighting, the centerpiece of the tasting room is a beautiful cast pewter countertop that stands atop reclaimed, milled antique wood. The winery also has a storefront tasting room close to the ferry terminal and shops downtown.
---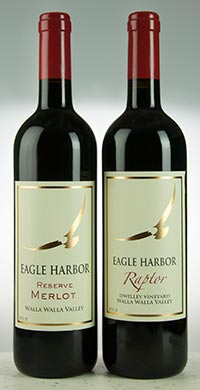 Eagle Harbor Wine Co. 2012 Walla Walla Valley Reserve Merlot, $60

Editor's Choice — Outstanding

Made from their finest barrel of Merlot from Dwelley Vineyard, this muscular, pure and intense red wine opens with aromas of mulberry, dark plum, black fruit, forest floor, graphite and dusky spice. Shimmering with densely packed flavors of blackberry, dark plum and spiced cherry and layered with bay leaf, cedar and savory herbs, there's a tangy iron edge to the finish that is bolstered by finely knit yet robust tannins. Shows remarkable focus from start to finish.
Eagle Harbor Wine Co. 2012 Walla Walla Valley Raptor, $45
Editor's Choice — Outstanding
A powerful Cabernet, aged in new French oak and selected from their top barrels. Rapturous aromas of briar, smoke, rock and dark red and black fruit lead to bold and rich flavors, exhibiting voluminous mouthfeel and deeply concentrated layers of molasses, coffee, leather, tobacco and spice framed over notes of dark cherry and dried plum. Hedonistic, with finely integrated tannins on the finish.
---
At a winemaker's dinner in 2009 Emily was introduced to Hugh Remash, who had established the winery over a decade ago. Being a longtime wine aficionado herself, Emily started working alongside Hugh at the winery, immersing herself in the entire process and augmenting her skills through wine classes at UC Davis. She jumped in with both feet a few years later and eventually bought the winery in 2014.
"Hugh is a great winemaker and I admire his winemaking style. I've been trying to learn everything I can from him and take what he's done and build on it," she says. "He will stay on for a while as consulting winemaker."
Emily has already upped production to about 1,800 cases with plans to increase it further, with a focus mostly on Cabernet, Merlot and other Bordeaux varietals. "I am passionate about wine and want to share that with the rest of the world and let them know that what we're doing here in Washington is world class."
Renaissance man Paul Bianchi is a vintner, a residential builder and architectural designer. He has dabbled in catering, worked in a bakery, a restaurant, and loves to cook. He admits he's a bit of a perfectionist, a trait reflected in his winemaking.
"You need a craftsman's approach to winemaking," Paul says. "If you start exploring different varietals and at first you don't craft it right, you come back and start hammering it out again—and make it correct." With 18 years of making wine under his craftsman's belt, the soft-spoken entreprenuer raises the bar with every succeeding vintage.
---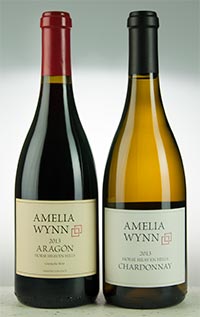 Amelia Wynn 2013 Six Prong Vineyard Aragon, $34

Editor's Choice — Outstanding

This Grenache Noir entices with seductive earth-tinged aromas of dark red fruit, gravel pit and rainforest. Elegant, smooth and ethereal, there's a beautiful savory edge to the dark fruit flavors of cherry and wild berries entwined with gorgeous accents of anise, fresh earth, wet stone, leather and spice.
Amelia Wynn 2013 Zephyr Ridge Chardonnay, $24
Editor's Choice — Outstanding
Leading with pretty notes of apple, grapefruit, lemon, lime blossom and warm spice notes, the hallmark trait of this wine is balance—delivering lovely creamy texture offset with poised acidity. Burgundian in style, offering nuanced layers of apple, lemon, honeydew melon and grapefruit interspersed with Marcona almond, fig and a brace of refreshing minerality on the finish.
---
What began as a home winemaking operation with two buddies, Paul made the leap to go commercial in 2008 to celebrate the birth of his fraternal twin grandchildren, Amelia and Wynn. In his quest to elevate the wines to their highest potential, Paul regularly seeks advice from industry consultants to keep on top of the latest advancements in winemaking.
The wine menu at Island Vintners, Amelia Wynn's co-op tasting room and wine bar in downtown Winslow, is impressive, offering over 20 wines by the bottle including selections from Fletcher Bay Winery. Amelia Wynn alone offers a prolific array of red and white wines, ranging from Bordeaux to Rhône to Tuscan styles.
Within easy walking distance from the ferry terminal, Island Vintners offers an intimate and relaxed bistro-style atmosphere with an enclosed outdoor deck with chairs and seating. They serve up a number of scrumptious Mediterranean appetizers, perfect to accompany a wine tasting session or enjoy over a bottle with friends. Try the assorted cheese platter with Prosciutto di Parma and Italian olives, or the mixed charcuterie with house-made fig jam, cornichons and Dijon mustard.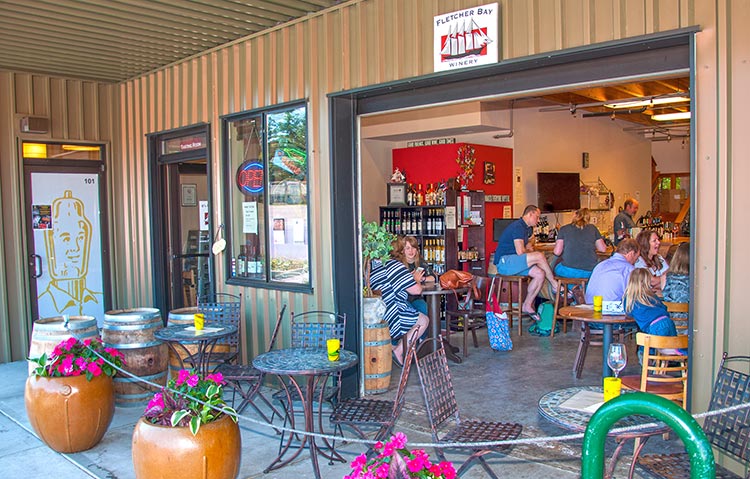 Bond trader Jim Wilford was looking for a hobby in his spare time when the winemaking bug hit. "I loved to drink red wine and go out to the wineries in Napa, Yakima and Walla Walla, so I felt that would be a good hobby," says the easygoing winemaker who recently retired from the trading business.
What commenced as a hobby in his three-car garage for several years in the Fletcher Bay neighborhood of the island, gave rise to a full-blown winery by 2008. The casual barrel-lined tasting room sits in Winslow's Copper Top business park, with an inviting outdoor covered patio and ample seating. Upstairs there's an intimate library loft, decorated with eclectic antiques and wooden ship model that give a nod to the Fletcher Bay Winery's nautical island theme.
A few of the wines are named after historic places on the island, such as Battle Point Red and Hidden Cove White.
---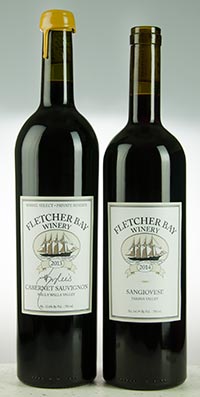 Fletcher Bay Winery 2013 Kylee's Cabernet Sauvignon Barrel Select, $42

Editor's Choice — Outstanding

A ravishing version blended with tiny amounts of Merlot and Cabernet Franc. Strikingly opulent with a beautiful, pillowy mouthfeel and exotic spice aromas of cardamom and clove mingled with tobacco and black fruit. Deeply concentrated flavors of cassis, dark plum, blackberry and blueberry are inlaid with alluring savory notes of leather, bittersweet chocolate, clove, sage and tarragon. Impressively balanced with finely-knit tannins on the long finish.
Fletcher Bay Winery 2014 Yakima Valley Sangiovese, $27
Editor's Choice — Outstanding
An beautiful red wine sourced from Crawford Vineyard in the Yakima Valley. Supple and lithe, with aromas of rose petal, dried red berry, spice and fresh herbs. There's an enchanting spiced cherry character interwoven with flavors of cranberry, dried red berries and coffee bean. Spiced red fruit notes echo through the finish with finesse and balance.
---
"I've always been heavy on the reds," Jim explains about his signature style of winemaking. "I like bold reds and make Cabs, Merlot, Tempranillo—a lot of the Bordeaux varietal blends." He dedicated his reserve Cabernet to his millennial customers, calling it "Kylee's Cabernet Sauvignon Barrel Select," named after a younger wine club member endowed with a super palate who would taste all ten barrels with Jim and select the two best for the reserve bottling.
The tasting room offers a respectable menu of meat and cheese plates, with many ingredients sourced locally, like the Crimson Cove wood-smoked salmon, Beecher's Marco Polo white cheddar with cracked peppercorns, and Yukon Jackson's dark chocolate truffles. Fletcher Bay wines can also be found inside the Island Vintners co-op tasting room in downtown Winslow.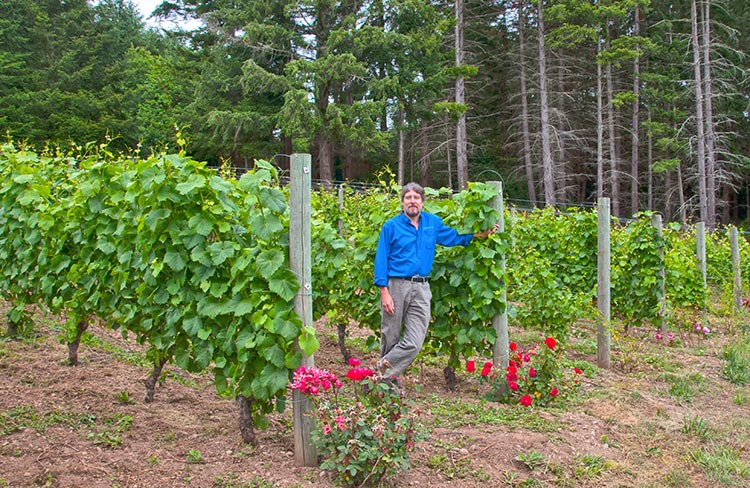 On less busy days, a tasting at Perennial Vintners is accompanied by a walking tour of the winery's estate vineyard, led by Mike Lempriere. He grows the grapes, makes the wine and runs the tasting room. The neat rows of vines sit on a pretty south-facing slope protected by tall pines, a living reminder from the past when the vineyard used to be a Christmas tree farm. The tours are delivered in friendly fashion and interjected with witty humor, as Mike enthusiastically shares his cultivated knowledge about cool-climate grapes that are being grown in the Puget Sound American Viticultural Area (AVA).
Winegrowers in the Puget Sound AVA are still discovering which varieties grow best and where. Mike has been keen on experimenting with grape varieties since first planting the vineyard in 2004, finding success with certain ones, like Madeleine Angevine and Siegerrebe, and replacing the ones that failed.
---
Perennial Vintners 2014 Siegerrebe, $25

Editor's Choice — Outstanding

This exotic estate-grown white wine is a cousin of the Gewürztraminer grape with lovely floral aromatics of rose petal, honey blossom, passion fruit and Tuscan melon. Floral and balanced on the palate, with off-dry flavors and medium palate weight. Rich, perfumed flavors of lychee, honeysuckle and roses evolve to lime and spice notes on the expressive finish.
Perennial Vintners 2014 Melon de Bourgogne, $24
Editor's Choice — Outstanding
The only bottling of this variety in the state, it's more commonly known as Muscadet in the Loire Valley, displaying gentle aromas of sea breeze, apple and citrusy notes. This crisp and bone dry wine exhibits delicate flavors of limestone, heirloom cider apple and oyster shell wrapped neatly in a layer of salinity, reminiscent of the seashore.
---
"Here on the west side of the Cascades, we're a cool growing climate—we don't have enough heat to ripen Cabernet and Merlot. That's why here, we have all these unusual varieties that you've never heard of, yet throughout the rest of the world they are known and in fact, renowned.
Winery visitors will have an opportunity to taste a dry white wine called Melon de Bourgogne, whose cool-climate bright fresh flavors are a heavenly match with seafood, especially oysters. "I am the only one in Washington producing Melon de Bourgogne," informs Mike. "It is called Muscadet in France where it is wildly popular."
Siegerrebe is another unique wine that Mike grows, with a bouquet of floral and citrusy notes. "It's a German wine grape derived from Gewürztraminer. I believe this is the earliest ripening grape in America," he says.
Come for the vineyard tour and stretch your wine taste buds beyond the ordinary.
Written by John and Adean Vitale
Taste & Tour on Bainbridge

Wine taste at area wineries listed at www.bainbridgewineries.com
Stay
Eagle Harbor Inn
You can easily walk from the inn to the ferry landing, and across the street is a waterfront trail, a coffeehouse, tavern and marina.
www.theeagleharborinn.com
Best Western
Comfortable, affordable rates and close to the center of town and ferry terminal.
www.bestwesternbainbridge.com
Play
Bloedel Reserve
Immerse yourself in nature Stroll 12 distinct gardens, ranging from a teeming bird marsh, to a velvely-soft Moss Garden, to an award-winning Japanese Garden.
www.bloedelreserve.org
Guided Kayak Tours
Enjoy some of the finest scenery in Puget Sound and view eagles, osprey, seals and harbor porpoises.
www.exoticaquaticsscuba.com
Looking for more activities in Kitsap County?
www.visitkitsap.com
Living History
Bainbridge Island Historical Museum
The island's Port Blakely Mill established in 1864 was once the largest sawmill in the world. Learn more this and other island history at the museum located ten minutes from the ferry landing.
www.bainbridgehistory.org
Bainbridge Island Japanese American Memorial
A must-see for history buffs, this memorial museum pays tribute to local Japanese families who were exiled and relocated to concentration camps during World War II.
www.bijac.org