With a legacy spanning over a half century, the iconic Columbia Winery in Woodinville continues to innovate, raising the bar with exemplary small-lot wines and exceptional guest experiences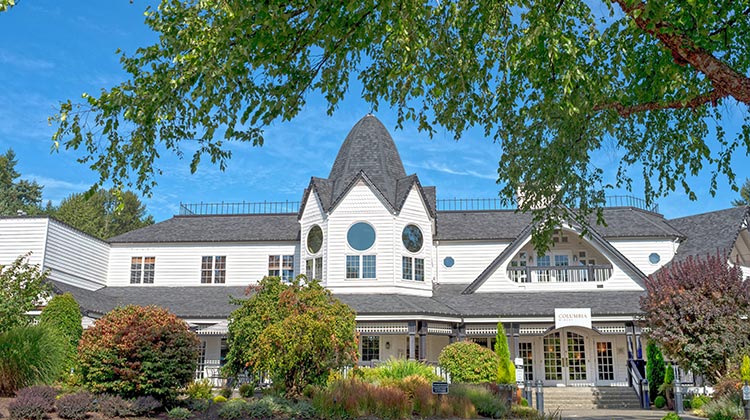 Reprinted from the Spring 2018 print issue of Washington Tasting Room magazine
THE YEAR WAS 1962. "Love Me Do" was playing on the radio, astronaut John Glenn was orbiting the earth, the world was mourning the death of Hollywood star Marilyn Monroe—and 10 friends began making wine in their Seattle garage. Made up of predominantly University of Washington professors, they would go on to form Associated Vintners, later named Columbia Winery. This visionary group was, quite probably, the first garagistes in Washington State, long before Bordeaux coined the term.
Today Columbia Winery is still a close-knit group. Over 55 years later, that close-knit group is part of the largest family-owned winery in the world, having been purchased by 
E. & J. Gallo in 2012.
As one of the anchors of Woodinville, Columbia Winery's reputation casts them as bigger than they actually are, thanks largely to the brand recognition that stems from their National Collection label—bottlings distributed directly from their Sunnyside, Wash. production facility to grocery stores and restaurants throughout the U.S.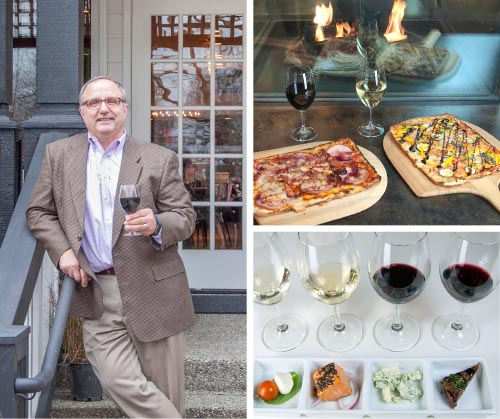 Visitors to Columbia's Woodinville location, however, are treated to small-lot wines under the Blend and AVA Series. According to general manager John Sportelli, these tasting room exclusives number no more than 9,400 cases in total. It is through these two craft series that Columbia Winery honors their legacy while continuing to be innovators in the wine world.
In The Beginning…
Columbia Winery had built a solid foundation for itself in the early days and bringing David Lake, Master of Wine, on as winemaker in 1979 only served to further secure their place as a premier Washington winery. His retirement in 2006 (and subsequent passing in 2009) left big shoes to fill. As Columbia's winemaker, Lake was the first to craft vineyard-designated Washington wines and pioneered 
Syrah, Cabernet Franc and Pinot Gris 
in the state.
Marching Into The Future
Winemaker Sean Hails came to Columbia Winery in 2012 (from the Central Valley region of California where he oversaw the Livingston facility for Gallo). Early in his career, his first foray into winemaking was in the Niagara region of Canada, where his experience with cool climate grapes there would come in handy when he began working with Washington-grown Riesling.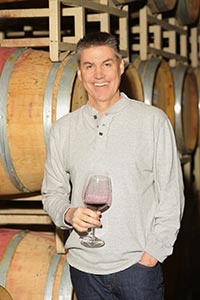 Hails is drawn to one lauded vineyard in particular for his AVA Series Riesling. "Two-Gun Vineyard has cobble all through it. I really honed it back to that one vineyard. From my time in Canada, Riesling was minerally and steely so when I got here, I thought, we need to do this here," says Hails. Indeed, this crisp white wine from the Ancient Lakes of Columbia Valley AVA (American Viticultural Area) is streaked with gorgeous limestone minerality and refreshing flavors of white peach and pear.
Other cool-climate correlations between Canada and Washington, such as early frost, have given Hails an opportunity to pull from the range of his winemaking background. "Mother nature throws in a little bit of fun once in a while, so my Canada experience is good," he says.
Having never met Lake, Hails gleans from stories he's heard about the winery's pioneer to find his own path while demonstrating reverence for his predecessor. Hails pushes the envelope of fruit expression and structure as he strives for layered wines that are full of flavor and tannin, leaning toward unctuous in the 2015 Malbec and 2014 Legacy Red Blend in particular. It is in that vein of boldness that he most resembles Lake. (Editor's note: see wine reviews below.)

In an industry that finds its footing by focusing on one varietal and mastering its nuances, Hails sees Washington's strength in the diversity of its AVAs. For him, the AVA Series is an ideal opportunity to showcase the sense of place embedded in the earth of the Wahluke Slope, Red Mountain and Horse Heaven Hills AVAs. This can be tasted in his small lots available in the tasting room via wines like his Cabernet Franc and Tempranillo from Horse Heaven Hills and Cabernet Sauvignon from Red Mountain.
"We do so many things so well in Washington," Hails says. "We have the dirt and the sun and the vineyard practices specific to our microclimates. We have everything we need."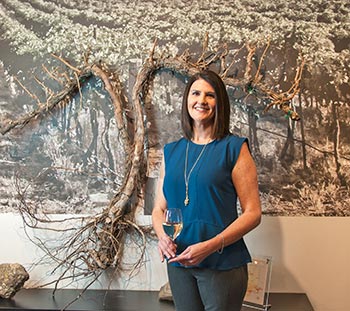 Bringing AVAs to Woodinville
While Hails places terroir in the bottle, another Columbia force strives to communicate it with guests at the winery. Resident wine educator Shelly Fitzgerald is heavily certified as a sommelier, specialist of wine, American wine expert and wine educator, among other things. But don't let the alphabet soup after her name intimidate you. She is excited, approachable, down-to-earth and an unstoppable cheerleader for Washington wine.
Among her responsibilities, Fitzgerald sees to it that the entire tasting room team has the knowledge to elevate every guest's experience.
The tasting room is set up to bring a bit of Eastern Washington to urban Woodinville. Thanks to Sportelli and his crafty side, some of that is literal, such as soil samples on display from every AVA they source grapes. And there's the 42-year-old Cabernet Sauvignon vine and root from Sagemoor Vineyards that graces the outdoor patio.
Fitzgerald also has a "scent station" set up in the tasting room with glass jars labeled with various contents, allowing guests to garner a deeper understanding of those curious wine descriptors like graphite and cardamom. Wine education classes, led by Fitzgerald, run the gamut from Wine Foundations to Exploring What's in the Glass, even an interactive Wine and Cheese Pairing.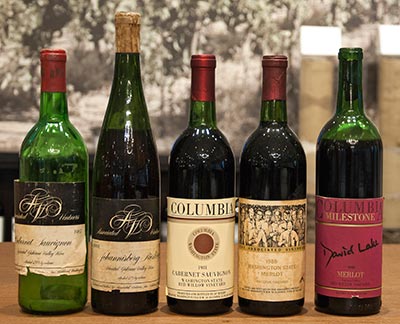 Foodies interested in taking the wine and food pairing concept to another level are encouraged to arrange a Seated Food and Wine Pairing held at an intimate community table behind the main tasting room bar. The onsite chef and Fitzgerald tag team to offer a balanced education and on-your-own experience with four wines and four culinary treats. For a tasting requiring no reservations, Sip and Savor is a new concept that pairs a small bite with each wine; or go with the tried-and-true custom flight of three glasses served on a spiral tier.
"Guests can order a flight of wine and then sit at a table with an order of flat bread. I think people like to do that when they've tasted through our wines and just want to come in to visit with friends," Fitzgerald says.
Sportelli adds that their long-standing flatbreads and Mediterranean spreads change seasonally to keep them flavor-driven, although there are a few favorites kept on rotation for returning customers.
Convivial Renovation
Emphasizing the conviviality of wine, Columbia Winery recently underwent a tasting room renovation complete with new furnishings, paint, countertops and flooring. A wall display of Columbia wines spans over 55 years of winemaking history and is an apt illustration of their progression. Designed as a home-away-from-home, the reinvigorated space plays host to Columbia's many events such as Corks & Canvas, Spring Barrel Release and Foodie Friday.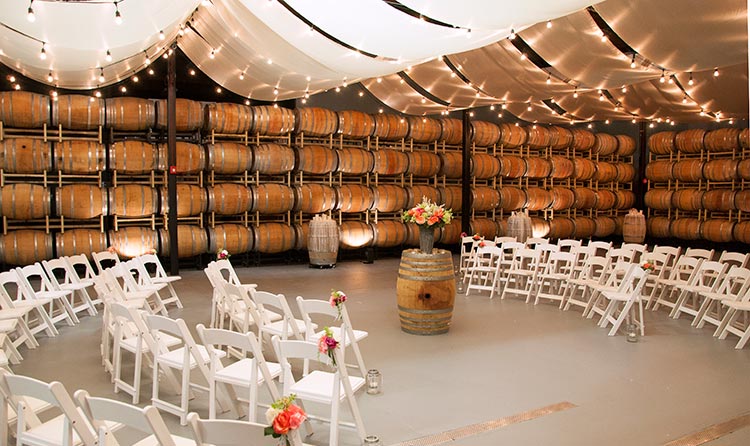 Last year Columbia Winery also completed an extensive renovation of their event and wedding space. The expansive kitchen has actually generated food for a group of over one thousand, but the formal event space can comfortably seat 225 people. It is the areas located throughout the building and grounds that give Columbia Winery its flexibility to host multiple gatherings simultaneously, depending on their individual size.
The peninsula is a grassy space out front that plays double duty as their Summer Music Series venue and a picturesque spot to tie the knot; the Barrel Room has an elegant ambiance all its own; and the outdoor side deck lends a casual feel to three-season celebrations.
At eight miles from downtown Bellevue and fourteen miles from downtown Seattle, Woodinville is "a short drive to a day away," as Sportelli puts it, affirming that Columbia Winery is a proud part of the early story of Washington wine. Their masculine and elegant reds over-deliver, their whites have a layered finish that continue to change in the glass, and their tasting room is the perfect spot for a wine adventure or a laid-back afternoon.
Written by Viki Eierdam & Photographed by John Vitale
Editor's Top Picks

---
Columbia Winery 2014 Legacy Red Blend, $48
Editor's Choice – Extraordinary (96-100 pts.)
Alluring aromas of red and black fruit mingled with tobacco lead the way into this silky sophisticated and refined Bordeaux-style blend. There's a seamless core of cassis, blackberry and steeped plum flavors draped over a veil of wet stone minerality and polished tannins that lend good grip to the supple mouthfeel. –JV
Columbia Winery 2015 Vision Red Blend, $42
Editor's Choice – Outstanding (91-95 pts.)
This Syrah-driven blend of Grenache (21%) and Mourvèdre (10%) is vibrant and richly complex, with powerful aromas and fruit flavors of black raspberry, boysenberry and pie cherry deftly layered with cappuccino, crushed gravel, spice notes and fine tannins. The overall intensity of the structure stays remarkably focused on the lasting finish. –JV
Columbia Winery 2016 Ancient Lakes of Columbia Valley Riesling, $26
Editor's Choice – Outstanding (91-95 pts.)
Aromas of white blossom, honeysuckle, pear and citrus notes introduce this crisp and tangy white wine. The palate is streaked with limestone minerality and refreshing overtones of white peach and pear. Lightly effervescent on the mid-palate, the juicy flavors combine neatly on the off-dry finish. –JV
Columbia Winery 2015 Horse Heaven Hills Cabernet Franc, $35
Editor's Choice – Outstanding (91-95 pts.)
With a rich, creamy mouthfeel and velvet texture, this harmonious red wine displays bold dark flavors of blackberry, currants and loamy earth with edges of vanilla bean and red bell pepper. The flavors evolve gracefully, finishing smooth, balanced and poised.
–JV
Columbia Winery 2015 Malbec, $35
Editor's Choice – Outstanding (91-95 pts.)
With enticing aromas of black and blue fruit, this Malbec is supple and generous; offering tightly knit flavors of black currant, blackberry, dark plum and graphite with subtle shades of violet and dried sage.
–JV
Columbia Winery 2016 Yakima Valley Chardonnay, $26
Editor's Choice – Outstanding (91-95 pts.)
Elegant and finessed with a creamy, silky mouthfeel that delivers harmonious flavors of melon, white nectarine and tropical fruit lined with toasty notes of almond and butterscotch hints. The well-defined structure carries gracefully through the finish.
–JV
Columbia Winery 2014 Red Mountain Cabernet Sauvignon, $42
Editor's Choice – Outstanding (91-95 pts.)
Powerful and structured, with a rapturous core of red and black fruit stretched out on a muscular frame of powdery fine tannins. The mouthfeel is elegant, gushing with fresh blackberry, red plum and red currant flavors layered with distinctive cocoa, spice and hints of light caramel on the concentrated finish. –JV
---
Visit & Taste
Columbia Winery
14030 NE 145th St, Woodinville
Open daily 11am-6pm
Ph: (425) 482-7490