On the cutting edge of winemaking for 40 years, veteran Brian Carter crafts the right blend of inspiration, knowledge and passion into every bottle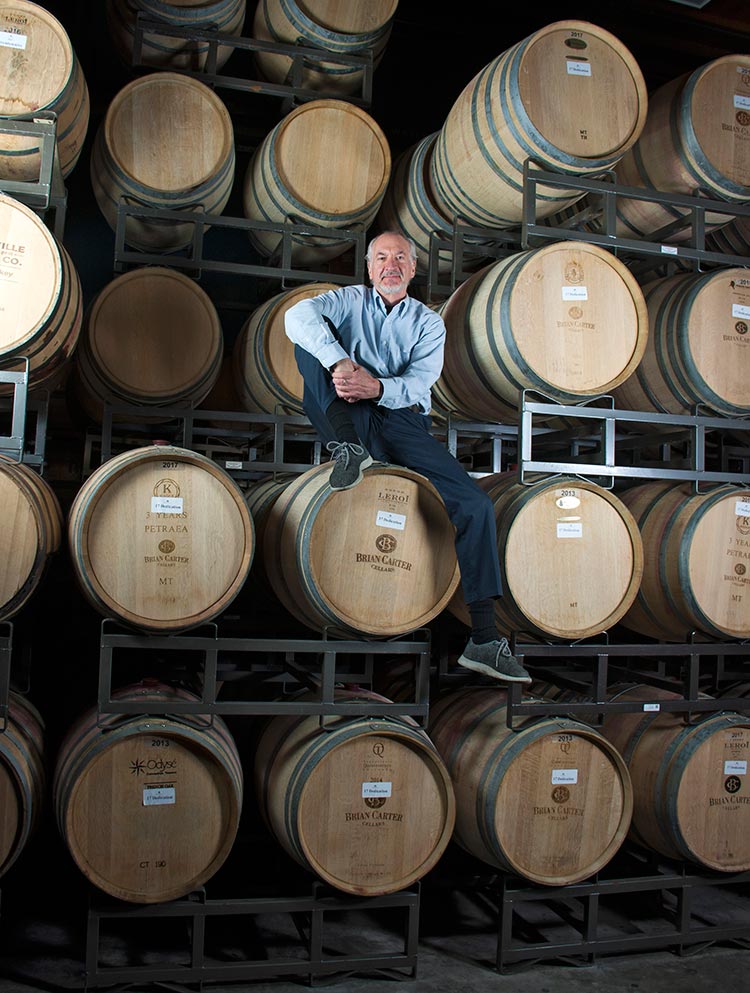 IT STARTED with a microscope. And some blackberries. Many moons ago, a curious science-minded 14-year-old Brian Carter wanted to check out what this yeast thing was all about. So, he started a fermentation with hand-picked blackberries, took a sample of the wine and behold—under the fragile lens were the little yeast. Countless harvests later, winemaker Brian Carter of Brian Carter Cellars in Woodinville reminisces, chuckling, "I've been having those yeast work for me ever since."
Little did he know that on that day, fermenting blackberries in his family kitchen in rural Corvallis, Oregon, a star would be born. If there were a Woodinville Walk of Fame, Brian Carter would perhaps be the first to receive his name embedded on a five-pointed terrazzo and brass celestial icon on the sidewalks of the Hollywood District—the first tasting room area in Woodinville.
Carter is celebrating his 40th year of making wines in Washington State and despite his astounding longevity, he is as relevant as ever and shows no signs of slowing down. To the contrary, he has exciting additions to his already burgeoning portfolio of wines, a new tasting room opening this summer in Vancouver, Washington, and plans for a new tasting room in Woodinville next year.
California Dreamin'
Carter studied microbiology at Oregon State University, with a wine education class thrown in for good measure. He recalls paying a visit to Oregon wine pioneer, David Lett around 1976, founder and winemaker at The Eyrie Vineyards in the Dundee Hills AVA. Lett, nicknamed Papa Pinot, was the first to cultivate Pinot Noir in Oregon—whose bottle of 1975 Eyrie Vineyards South Block Reserve landed Oregon on the world's Pinot Noir map. "David Lett was one of the first people to inspire me to become a winemaker after spending time with him," Carter says.
So, Carter enrolled in the Masters program in viticulture and enology at the much-lauded University of California at Davis, where Lett was an alumnus. Coincidentally, one of Carter's UC Davis classmates, David Lake, went on to work for a brief while at Eyrie Vineyards under Lett's direction. In 1978 Lake accepted a position as enologist at Associated Vintners in Woodinville (soon to be renamed Columbia Winery) where he rose to the position of chief winemaker, becoming a pioneer of single-vineyard designated wines in Washington State.
Around the same time in 1978, Carter worked crush at Mount Eden Vineyards, one of the original boutique California wineries in the Santa Cruz Mountains. Afterwards he worked for a stretch at the world-famous Chateau Montelena in the Napa Valley, most famous for winning the white wine section of the historic "Judgment of Paris" wine competition. Not a shabby start. But the Pacific Northwest beckoned. "I never really saw myself as a Californian and I liked the idea of being a bigger frog in a smaller pond," says Carter.
Early Scouting Trip To Washington
On a scouting trip to Washington in 1979, Carter again found inspiration, this time in the grapes being grown by Jerry Bookwalter at Sagemoor Vineyard and the wines being produced at Preston Cellars by winemaker Rob Griffin. He cites their work as reasons why he chose Washington over Oregon.
It was owner-winemaker Paul Thomas who brought Carter to Washington State to work at Thomas' eponymous Bellevue-based winery. That was in 1980, when there were only 17 wineries at the time. "I figured I could make a bigger impact," says Carter reflecting on his time in California. He had considered Oregon, but knew in his heart he didn't want to make Pinot Noir forever. "I also thought the potential to bring in 20 different varieties is just a lot more fun than just focusing on two or three, typical in the Willamette Valley."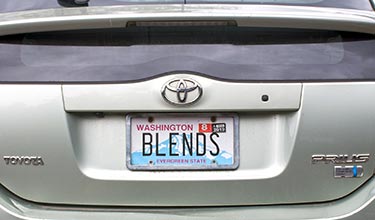 Carter quickly became a winemaker to watch. At a prominent competition in New York City, his 1983 Paul Thomas Cabernet was awarded first place, outshining former showstoppers including Quilceda Creek and Chateau Lafite-Rothschild. His rise in the wine world continued, attracting the attention of young wineries needing a consulting winemaker, among them McCrea Cellars, Hedges Family Cellars, Soos Creek, Silver Lake and others.
In 1997, while winemaker and co-owner at Apex, Brian made a small lot of his own wine, a Bordeaux-blend "Solesce," the name rhyming with impress. It certainly did, selling out quickly.
Bucking The Trend
Carter didn't originally set out to be a blender, but when he founded Brian Carter Cellars in 2004 with a tasting room to follow in 2006, he decided to open with the platform of showcasing his passion for blending, using an astounding number of premium vineyard sources.
"When I came to Washington, there was this whole single-varietal, single-vineyard movement," recalls Carter. "But I really wanted to have fun with blends with all the varieties I had 
access to."
Carter started his winery with classic European-style blends: the Byzance inspired by France's southern Rhône Valley; the Tuttorosso styled after Italy's famed Super Tuscan wines; the flagship Solesce an expression of Bordeaux; the Corrida a journey to the land of Tempranillo-based blends of Spain.
Pour It Forward
More recently, Carter introduced a Dedication Series of wines for those who have been icons in his life and in his Washington winemaking experience—blends "outside of the box" carefully crafted for whom the release is dedicated to. The first, The Ace, is a Cabernet Sauvignon and Syrah blend dedicated to Brian's grandfather, A.W. 'Nick' Carter. Nick learned to fly before driving and while stationed in France, was responsible for 17 air victories, receiving a Distinguished Service Cross.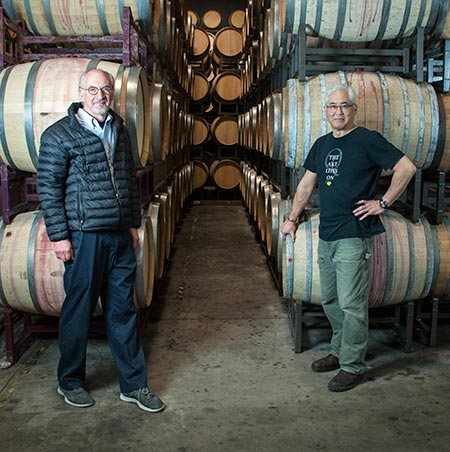 The second Dedication wine, Takahashi, is a Malbec-based Bordeaux blend dedicated to assistant winemaker, Robert Takahashi. "Robert has a particular fondness for Malbec and put this blend together," says Carter. "He's been an invaluable and loyal contributor to my brand for over ten years."
In the fall, Carter will release a Bandol style blend of Mourvèdre, Grenache and Cinsault in honor of his first Washington employer, Paul Thomas. "Paul really likes European wines," says Carter. "I gave him a bottle and fortunately he likes the wine," says Brian, laughing.
After breaking the "rules" with blends early on, Carter released ONE, a line of limited, ultra-premium single varietal, single vineyard wines. "These are exceptional lots of wine that 'escape' my passionate desire to blend," says Carter. "Some lots are so outstanding they actually defy blending."
He is about to release the next ONE—a Graciano—which wouldn't exist had he not suggested it be planted in one of his go-to vineyards, Upland. Not one for keeping still, Brian zips around in his Prius (the license plate appropriately reads "BLENDS") visiting with growers for the many vineyards he sources from, known for encouraging them to plant different varietals. Upland Vineyard on Snipes Mountain, considered the birthplace of the modern Washington wine industry, is a good example. Here Carter worked with grower Todd Newhouse when planting in Spanish and Portuguese varieties such as Tempranillo, Graciano, Touriga Nacional, Souzao and Tinto Cao.
Another 'escape' is Carter's work with Array Cellars in Woodinville. He, along with Takahashi, produces a series of 100% Chardonnay for Array—the goal to make Washington state Chardonnay which ranks with the best anywhere in the world. The wines are poured out of the Brian Carter Cellars tasting room.
What's For Dinner?
"Every winemaker gets asked on a daily basis what's your favorite wine? My answer is always well, it depends what I'm having for dinner, says Carter. "It's really about the food, it's not about the wine."
Carter is known for bringing food into the cellar while blending to help with the process—a rare roast beef, for example. "There's something about having that protein; it changes your perception of the tannins." Carter recently brought in oysters while blending the Oriana but will also take the wines he's blending home and have them with dinner.
"One bottle in 100 is a special bottle I'll build a meal around, not the other way around," Carter says.
With food in mind, all of Carter's tasting notes for the wines include thoughtful sensory-based pairings—a candlelit table in Italy with a zesty red sauce with the Tuttorosso, or plenty of sunshine, new friends and barbecued salmon with the Abracadabra Rosé, 
for example.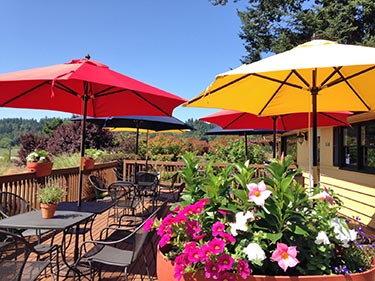 New Digs
Brian Carter Cellars will open a second location in 2019 at The Waterfront (a new development in Vancouver, WA) offering small bites to pair with the wines. By the end of the year, the new owners of what was the Woodinville Wine Village will break ground on The Farmstead, which will include a restaurant and hotel, and a new tasting room for Brian Carter Cellars and others.
Moving forward, as meticulous and exacting as Carter has been through the years with his winemaking, he is adamant about allowing his wines to evolve as his palate has changed over the years.
"Nobody's palate is static," says Carter. "I get to make the wines that I like, but I never get to make the same wines I made 15 years ago. The beauty is evolution."
Written by Kirsten Telander
Photographed by John Vitale
Editor's Top Picks: Brian Carter Cellars

Recommended releases from Brian Carter Cellars:
Brian Carter Cellars 2011 ONE Cabernet Sauvignon, $85
Editor's Choice – Extraordinary (95-100 pts.)
Distinctive and elegant, graced with powerful structure and aromas of cigar wrapper, dark fruit, iron and evergreen. Firm, finely-knit tannins reveal a muscular side balanced with rich, creamy expressions of cassis, steeped blackberry and a tinge of blue fruit. A wine of superb style and finesse, the suave finish rolls on and on. –JV
Single Varietal: The first in the ONE series, a single-varietal from E & E Shaw Vineyard
Pair with a rich cut of red meat, or enjoy with cheeses and salumi
Brian Carter Cellars 2013 Solesce, $65
Editor's Choice – Outstanding (91-94 pts.)
Latin for "sun and essence," this Left Bank Bordeaux varietal red wine is hearty and robust, bursting with cassis, blackberry, dark plum and violet flavors that build around notes of loamy earth, smoke and dried herbs. Richly textured and layered, revealing bold tannins on the complex finish. –JV
Blend: Cabernet Sauvignon, Merlot, Petit Verdot, Cabernet Franc, Malbec
Pair with filet mignon topped with Bordelaise sauce
Brian Carter Cellars 2013 Byzance, $38
Editor's Choice – Outstanding (91-94 pts.)
This Southern Rhône-style red blend is pure and elegant, scented with mesquite, dark berries and white pepper spice followed on the palate by tarry edges of blackberry, raspberry and delicate savory shades of dried herbes fines. Wonderfully structured, showing mineral and crushed rock accents on the drawn out finish. –JV
Blend: Grenache, Syrah, Mourvèdre, Counoise, Cinsault
Pair with a wide range of foods (Brian's favorite is a medium rare duck breast with cherry sauce)
Brian Carter Cellars 2013 Opulento, (375 ml.) $22
Editor's Choice – Outstanding (91-94 pts.)
Portugese for "opulent," this creamy, textured and ultra-rich Brandy fortified port-style dessert wine evolves with exotic aromas and flavors of dried red berries, Medjool dates, candied orange peel and Macadamia nut. Accents of ganache surface on the strikingly balanced, satisfying finish. –JV
Blend: Touriga Nacional, Souzao, Tinta Roriz (Tempranillo), Tinto Cao
Pair with your favorite dark chocolate dessert
Brian Carter Cellars 2013 Le Coursier, $40
Editor's Choice – Outstanding (91-94 pts.)
French for "steed or charger," this Right Bank Bordeaux-style red offers scintillating aromas of scorched earth (in the best way), graphite and dark fruit that are underscored by a wide range of wild berry, plum preserves, violet, coffee, smoke and spice flavors that meld in utter harmony on the lush palate. Structured, with fine tannins that support the finish. –JV
Blend: Merlot, Cabernet Sauvignon, Cabernet Franc, Malbec, Petit Verdot
Pair with flank steak marinated in red wine, garlic and soy sauce, then grilled to perfection
Brian Carter Cellars 2017 Oriana, $25
Editor's Choice – Outstanding (91-94 pts.)
Latin for "golden lady," this white wine enchants with fragrances of honeysuckle, white peach and warmed pine nuts that rise from the glass, echoing on the rich and generous mouthfeel joined by flavors of lemon oil, apricot, yellow apple and honeyed pear notes. Crisp, complex and balanced, there's deep purity to the flavors as they gain depth on the minerally-charged finish. –JV
Blend: Viognier, Roussanne, Riesling
Pair with many foods, from shellfish to Asian cuisine
Tour & Taste at Brian Carter Cellars
Woodinville Tasting Room
14419 Woodinville-Redmond
Road NE
Woodinville, WA
Open daily 12-5pm
PH: (425) 806-9463
Coming Soon
Watch for the new tasting room opening at the waterfront in Vancouver, WA