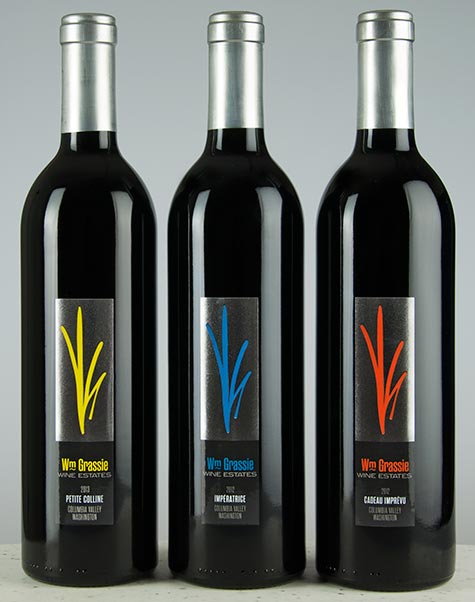 Bill Grassie began making a few hundred cases of wine in 2011 and has been accelerating production ever since.
"I have drank wine for a long time but I didn't necessary set out to start a winery," says Bill. "But I bought this property on five acres in Fall City, Wash. in 2007 and had this bare patch of land in the front yard. I couldn't figure out what to do with it, so I decided to plant a vineyard. Next thing you know, I figure I'm going to have grapes, so I should learn how to make wine."
A graduate of the Northwest Wine Academy at South Seattle Community College, Bill shares a tasting room with two other wineries in Woodinville's Warehouse District that are open for tastings from 1-5pm every weekend.
Bill's red wine blends articulate a sense of honesty that resonates through all the wines we reviewed below. Though still considered a "young winery" by some standards, William Grassie wines are mature and sophisticated, revealing the winemaker's depth of passion and commitment to his craft.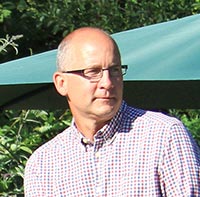 William Grassie Wine Estates 2012 Courageux, $42
Editor's Choice – Outstanding
Alcohol: 14.5%
The Cabernet-dominant Bordeaux varietal blend aged in barrel for 30 months. Vibrant and elegant, loaded with rich red currant, fresh-picked raspberry and violet flavors, layered with blueberry, mocha, caramel, dried herbs and spice. Well-integrated tannins blanket the smooth, balanced finish.
William Grassie Wine Estates 2012 Impératrice, $42
Editor's Choice – Outstanding
Alcohol: 14.7%
This Merlot, blended with a tiny splash of Cabernet Franc, has aromas of dusky red and black fruit, tobacco and sagebrush. Muscular, rich and bold, it's loaded with concentrated and expressive cherry and blackberry flavors with underpinnings of wet stone and baker's chocolate. Solidly built, with firm tannins and spice notes that linger on the lengthy finish.
William Grassie Wine Estates 2013 Petite Colline, $42
Editor's Choice – Outstanding
Alcohol: 14.1%
Sourced from Upland Vineyard, this Malbec aged for 33 months in oak displays pretty aromas of cigar box, black fruit and dark chocolate. Deft and structured, with finely tuned balance and plush black currant, dark cherry, leather, rose petal and bittersweet chocolate flavors. A swath of crushed granite sweeps through the earthy-laced finish.
William Grassie Wine Estates 2013 Libération, $39
Editor's Choice – Outstanding
Alcohol: 14.3%
Blended from two distinctive vineyards (Stillwater Creek and Les Collines), this Syrah opens with meaty aromas of dark red fruit and black pepper. Made in a style reminiscent of northern Rhone red wine, this version is silky, refined and earthy, showing restrained oak and seamless expressions of juicy raspberry, cherry, dark plum, floral tea and peppercorn flavors. Soft tannins glide along the smooth finish.
William Grassie Wine Estates 2012 Cadeau Imprévue, $24
Editor's Choice – Excellent
Alcohol: 14.4%
Leading with aromas of red and black fruit, violet and cedar shavings, this lithe, balanced and approachable red blend (57% Cabernet Sauvignon, 29% Merlot, 13% Syrah, 1% Cabernet Franc) displays firm tannins and wet stone minerality, flanked with bright cherry, black currant and plum skin flavors, there's an infusion of baker's chocolate on the finish.
Website: wmgrassiewines.com