Welcome Road is a boutique urban winery making about 700 cases of wine annually. In 2017 they moved from Woodinville to the laid-back neighborhood of West Seattle, where visitors will find a welcoming yet unpretentious, relaxing French ski lodge-inspired bar. Winemaker Leigh McMillan is a graduate of the WSU Enology program and works in marketing during the day, and co-owner Kristen Dorrity practices law.
"Our love of the outdoors and travels throughout France influences our approach to wine making," says Leigh. "We strive to make wines that are in the French tradition: true to the terroir and varietal, elegant with bold fruit flavors, earthy notes and silky tannins—wines that pair easily with all kinds of food."
They typically host events each month, including trivia nights, wine and food pairings, and even luaus and karaoke.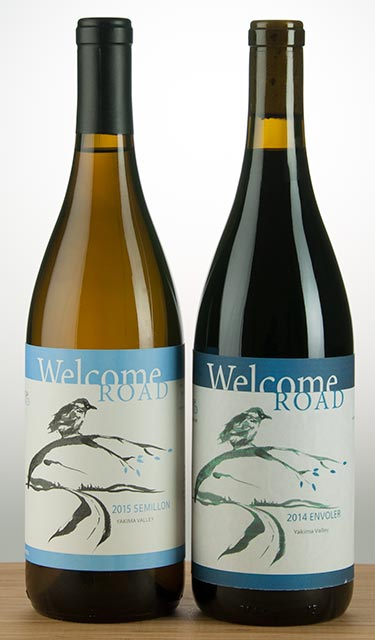 Leigh and Kristen source premium fruit from experienced grape-growers in Yakima Valley, including Dineen Family Vineyards and Two Mountain Vineyards. "We believe that Yakima Valley's arid climate, rocky landscape, and ample sunshine make for fantastic grape-growing conditions for our style of wine," explains Leigh. Their Envoler Cabernet Sauvignon and signature Semillon are both exquisite in their purity, depth and structure.
Visit: $5 tasting fee, refundable with bottle purchase, 3804 California Ave SW, Seattle, (206) 486-0788, www.welcomeroadwinery.com
Welcome Road 2014 Envoler Yakima Valley Cabernet Sauvignon, $32
Editor's Choice – Outstanding (91-95 pts.)
A truly beautiful version, leading with concentrated aromatics of blackberry, vanilla bean, caramel and graphie. This 100% Cabernet displays beautiful purity of Yakima Valley fruit, delivering a broad beam of blackberry and raspberry preserves, anise, tobacco and smoky earth flavors. Powdery tannins ease their way through the remarkably long finish.
Welcome Road 2015 Yakima Valley Semillon, $20
Editor's Choice – Outstanding (91-95 pts.)
Viscous in texture, this white wine was blended with a tiny amount of Chardonnay for extra structure. The honeyed aromas introduce a rich tapestry of white melon, honeysuckle and blanched almond flavors intertwined with mineral and crisp, citrusy notes of lemon mist. Pure, deeply concentrated and poised.