The Mercer family has been on the move in eastern Washington since the 1880s, where their pride of stewardship over their land has been evident in the family's rich history as ranchers, farmers, and wine grape growers.
The family's farm lands and vineyards are in the Horse Heaven Hills AVA, recognized as one of the state's top viticultural regions, and practically synonymous with the Mercer name; patriarch Don Mercer was the first to pioneer wine grape growing here in 1972. Today, under the vision and guidance of Rob and Brenda Mercer, along with Rob's brother, Will, the family continues to be a driving force in the wine industry.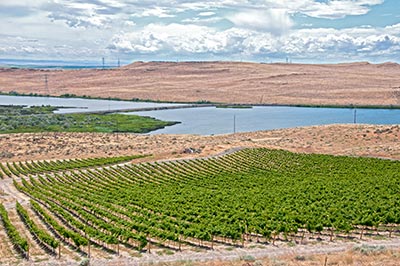 Their diligent approach to sustainable farming and conscientious vineyard practices has won widespread acclaim. "We practice farming with balance," explains Rob. "Every decision we make, every day of the year with regards to our agricultural practices incorporates balance.  There is always the possibility of adding too much or giving too little when nurturing a plant to produce its highest quality and most abundant fruit.  Balancing the care of the plant today with the care of the ecosystem that it thrives in from year to year always weighs heavily on our minds."
The winery produces three tiered brands: Mercer Canyons, Mercer Estates, and Mercer Reserve. You can find Mercer wines at many popular retail outlets or even better, join the wine club named after pioneer Carma Mercer, or sample through their lineup at one of two tasting rooms:
Winery & Tasting Room: 3100 Lee Rd, Prosser, WA
Georgetown Tasting Room: 6235 Airport Way South, Seattle, WA
Mercer Estates 2014 Reserve Syrah, $39.99
Editor's Choice – Outstanding
Production: 221 cases
Alcohol: 14.5%
Supple, rich and velvety, with expressive aromas and flavors of blueberry, blackberry and raspberry preserves framed over meaty bacon, fresh earth and herb notes. The flavors gain momentum on the remarkably focused finish lined with sleek tannins.
Mercer Estates 2014 Reserve Cabernet Sauvignon, $39.99
Editor's Choice – Outstanding
Production: 311 cases
Alcohol: 14.1%
Leading with aromas of dark red fruit, spice box and caramel, this powerful, open-textured red wine offers voluminous body and dusty, mouth-coating tannins. Deeply concentrated, with dark cherry and cocoa flavors tinged with pomegranate, black plum and light caramel notes. The smooth mid-palate flexes with fresh acidity on the long, energetic finish.
Mercer Estates 2015 Reserve Chardonnay, $29.99
Editor's Choice – Outstanding
Production: 362 cases
Alcohol: 13.9%
Fermented in a combo of 50/50 new and used French oak barrels, then hand-stirred on the lees for four months gives this white wine a creamy, luxurious mouthfeel. With enticing, generous aromas, there's an elegance to the silky texture streaked with apricot, papaya, fresh lemon curd and apple flavors. Complex, with teasing hints of butterscotch and almond that meld together neatly on the clean and balanced finish.
Mercer Estates Eagle & Plow 2014 BLOCK 93 Cabernet Sauvignon, $100
Editor's Choice – Outstanding
Production: 336 cases
Alcohol: 14.5%
After Mercer's vineyard manager, John Derrick, lost his best friend on Flight 93 that went down in a Pennsylvania field during the 9-11 terrorist attacks, he and Rob Mercer, a former Captain in the US Marine Corps (who was later re-appointed after the bombings of 9-11 to serve in Iraq), looked for a way to give back to the military community. They planted 911 vines on a premium one-acre plot they named Block 93 in remembrance. It is entirely devoted to charity—100% of the proceeds of the Cabernet bottled from these special vines benefit "everyday heroes" through charities such as Children of Fallen Patriots, Friends of Flight 95, and Semper Fi Fund. As of this writing, they have donated over $35,500 from this wine.
Led by dusty aromas of red fruit and tobacco, the seamless palate gushes with polished, rich and pure expressions of gorgeous ripe cherry, rose petal and hints of caramel lined with ultra-refined tannins. Showing precise balance and acute focus, the lush mouthfeel and pillowy structure extend the harmonious, lengthy finish.
Mercer Estates 2014 Merlot, $18.99
Editor's Choice – Excellent
Production: 1,016 cases
Alcohol: 14.5%
This Merlot is blended with Syrah (11%) and Cabernet Sauvignon (6%) for added complexity. Savory in style, loaded with generous aromas and flavors of black cherry, blueberry, cassis and wet stone, fringed with dried herbs and light caramel notes. Sweet tannins and fresh acidity add depth to the elegant finish.
Mercer Estates 2014 Cabernet Sauvignon, $18.99
Editor's Choice – Excellent
Production: 4,871 cases
Alcohol: 14.1%
A suave and lithe red wine, opening with aromas of pencil lead, red berries and plum notes. There's an appealing swath of fine, gripping tannins wrapped around earthy flavors tobacco leaf, mocha, dark berries and plum, with sandalwood and spice accents on the finish. Refined, elegant and value priced.
Web: www.mercerwine.com