As you venture afield during the summer and fall wine tasting seasons, combine your wine country romp with one of the many interesting tours and activities centered around Washington State vineyards, farms, orchards, museums, wineries, even a craft distillery. Here's a list of our top ten favorites.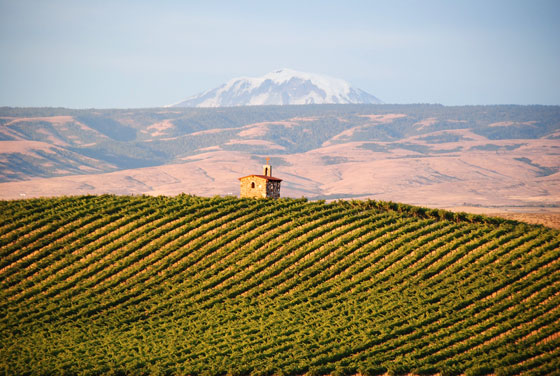 1. TOUR A WORLD CLASS VINEYARD
Vineyard Tour Series, Yakima Valley
Four Yakima Valley wine grape growers will conduct a personal tour of their vineyard during weekends this summer.  At Red Willow Vineyard, the birthplace of Washington's first Syrah, you'll jump in a covered wagon pulled by a vineyard tractor all the way up to the vineyard chapel with 360-degree valley views.  At DuBrul Vineyard, you'll see firsthand the mineral deposits, extensive irrigation practice, and discover why steep rocky soils are so important to wine grapes.  Upland Vineyards is famous for growing the oldest vines in the state, first planted in 1917, and lies in the heart of the Snipes Mountain AVA.  Walk the soil with Dick Boushey at Boushey Vineyards.  He'll talk about what he loves most—the idiosyncratic Syrah grape, as well as conditions that affect the taste of fruit grown on different hillsides, in various soils, and more.  www.wineyakimavalley.org.
2. SQUEEZE FRESH APPLE CIDER
Bill's Berry Farm, Grandview
There's something superbly satisfying about sipping sweet chilled apple cider on a hot day.  Buy a box of crisp juice apples and use one of Bill and Julie Michener's cider presses for free to make gallons of fresh, pure apple juice to take home.  Friendly helpers (including some of Bill and Julie's eight children) are on hand to guide you through the process on their farm in the fertile Yakima Valley just north of Grandview.  Take the family or a group of friends to this 70-acre orchard and enjoy their famous apple cider donuts with your fresh apple cider.  Call ahead to reserve a bin of juicing apples.  Bill and Julie were raised in the valley a few miles away, and Bill is a second-generation farmer with many years of orchard experience. Cider pressing is in the fall only.  Open seasonally, check website for current hours and events. www.billsberryfarm.com
2. SIP SPARKLING HARD CIDER
Finnriver Farm & Cidery, Chimacum
The folks from Finnriver Farm and Cidery on the Olympic Peninsula will show you the art and tradition of fermenting organic apples to make real cider with 6.5%-8% alcohol.  They'll walk you through their entire apple cider-making process that includes a dash and pinch of chemistry, ecology, alchemy, engineering, old world wisdom, and adventurous experimentation—all in their barn.  Take a self-guided walking tour of the farm.  Sip small-batch and seasonal handcrafted sparkling hard ciders and fruit wines in their tasting room.  www.finnriverfarm.com
4. TAKE A VINEYARD HIKE
Terra Blanca Winery, Benton City
You'll get your hands dirty on this vineyard tour held every Saturday from April to October.  The guide starts with a quick lesson on Red Mountain AVA and the ice age floods, explaining why the soil in Eastern Washington is so ideal for growing grapes.  Next the group heads into the vineyard to investigate the vines.  You'll stick your hands in the soil, even try a few different grape varietals right off of the vine.  Once you try a grape, you spit the seeds back into the vineyard—all while the guide explains how they care for the vineyard and harvest the grapes.  Then, on to the crush pad where you get a good look at the grapes being crushed and the juice extracted.  Next, into the barrel caves—the first in Washington—to learn about wine fermentation. After a special tasting in the caves, the tour wraps up with another tasting in the grand tasting room.  www.terrablanca.com. 
5. EXPLORE A WORKING APPLE ORCHARD
Washington Apple Country Tours, Cashmere
Take the "Explore A Core Guided Tour" while you pick your own apples and other fruit.  Guided by a regional agriculture expert, you'll have exclusive access to a working apple orchard while you're in Washington Apple Country.  You'll be personally escorted through the orchard and learn about the risks and challenges that local growers face to provide quality fruits for the national and international markets.  Taste samples of the ripe seasonal fruit: cherries, pears, apples, and more during the June through October growing season.  Make sure you dust off grandma's old apple pie recipe when you get home, or use the authentic recipes found on their website.  www.appleorchardtours.com
6. SLEEP IN A GITE
Monteillet Fromagerie, Dayton
Tucked away in the Walla Walla Valley on a 32-acre farm, Monteillet Farm's Joan and Pierre-Louis Monteillet invite you to stay in their beautifully handcrafted "gite," French for holiday home.  The gite offers three bedrooms, tile floors and an old-fashioned full bathroom where you can soak in a large cast iron tub.  The Monteillets raise goats and sheep to produce handmade cheeses. This farmstead artisanal cheese facility, the first in Southeastern Washington, is a perfect destination for folks who love artisan cheeses paired with wine.  You can combine your stay with a cheese making class on the farm.  www.monteilletcheese.com
7. GO TO DISTILLING SCHOOL
Dry Fly Distilling, Spokane
The dedicated distillers at Dry Fly Distilling offer tours of their downtown Spokane facility and two-day and one-week "distilling school" courses in preparing their award-winning whiskey, vodka, bourbon, and gin.  These classes are for those serious about taking their distilling skills to the next level.  In school, you'll learn everything from material selection to sales and marketing.  Aspiring distillers have come from as far away as Las Vegas to learn this fine art. Dry Fly Distillery was the first craft grain distillery in Washington State. www.dryflydistilling.com
8. VISIT A HOP MUSEUM
American Hop Museum, Toppenish   
The small town of Toppenish boasts the only Agricultural Hop Museum in the nation.  Agriculture grew this town: hops, sugar beets, apples, and other fruits, and this museum tells the story of why hops are so important to this area.  You'll learn how this region developed into the USA's leading beer brewery supplier and a major supplier to the rest of the world.  The American Hop Museum features striking exhibitions and intriguing displays, and a unique gift shop highlighting an array of items devoted to the history and future of hop cultivation. Since the Yakima Valley is where most of the hops in the country are grown, few people outside the area have ever seen the plant.  www.americanhopmuseum.org
9. STAY AT A FARM ON THE LAKE
The Sunshine Farm, Lake Chelan
When you lodge at the Sunshine Farm Lakehouse, you get the best of what Chelan has to offer: a roomy, 3-level home with lakefront deck and sandy beach.  Blue water stretches out before you to spectacular mountain views.  Included with your stay is a guided tour of The Sunshine Farm, complimentary wine tasting at the Tunnel Hill Winery, and complimentary U-Pick Tour tickets. The Lakehouse, with its five bedrooms, three baths, and two kitchens, can accommodate 10-12 people and includes boat moorage and a 40-foot dock. The house is just across the street from the winery and farm, located on the lakeside walking trail.  www.thesunshinefarm.com
10. TAKE A FIBER ART CLASS
Silbury Hill Alpaca Farm, Sunnyside
Let the experts at Silbury Hill introduce you to alpaca clothing, accessories, and yarn.  You'll see why alpaca-made clothing was considered a cherished treasure of the ancient Incan civilization.  The Silbury Hill store doubles as their fiber arts studio, where you can watch demonstrations of spinning, weaving, and knitting with wool sheared from their own alpacas.  And while you're there, shop for finely made alpaca arts, crafts and yarn.  Items made from alpaca fiber are beautiful and functional; warmer than wool, lighter, softer, and without lanolin.  Open June-December: Friday, Saturday, and Sunday, 11am-4pm.  Also open by appointment.  www.silburyhillalpacas.com