Lush gardens, art walks and a resort spa make Willows Lodge an ideal base camp for those in search of superb wine and food.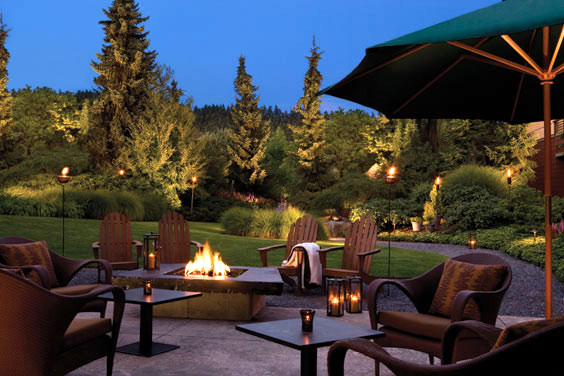 "Where can we put our bikes?" I ask as Sandy and I check into the Willows Lodge.
Operating under the accepted theory that vigorous exercise burns excess calories, we are launching a girlfriend getaway that includes both. We have driven to Woodinville, home to 60-plus fabulous wineries, where we'll indulge in local wines and gourmet food with nary a guilt complex because of the cycling and kayaking that will balance whatever treats come our way.
Operating on the equally well-accepted theory that "we're worth it," we'll indulge in spa treatments and stay at the Willows Lodge, an 84-room boutique hotel that repeatedly receives top accolades for service, style and wine selections.
"We have racks outside, or you can put them on your deck," the front desk receptionist tells us.
This luxe lodge will let us wheel our bikes through the elegant stone and timbered lobby, down high-quality carpets and into our plush rooms?
"Sure, no problem."
A Wet-Nose Welcome
Following that super-service surprise, a wet nose pressed against my calf. Ruthie, the Willow's 9-year-old Basset/Rottweiler mascot, welcomed us canine-style, then moseyed back to her palatial doggy bed next to the floor-to-ceiling windows.
Within minutes, a woman leading a standard poodle descended the stairs and headed out for a walk along the Sammamish River bordering the hotel's lushly landscaped five acres. Not only is the Willows pet-friendly, they offer the WVIP (Willows Very Important Pet) program that includes a welcome note from Ruthie, a doggie bed and evening turndown with a rawhide bone. Room service, too, if Rover gets hungry in the middle of the night.
Woodinville Wine-cation
Dozens of wineries and tasting rooms are scattered within the city limits and most visitors come to Woodinville for wine-cations. This oasis of viticulture heaven is just 30 minutes from Seattle and 15 minutes from Redmond (home to Microsoft and Nintendo). You'll see few vineyards, however, because almost all of Woodinville's wineries grow their grapes in Eastern Washington's Columbia Valley.
Across the street from the Willows, the granddaddy of Washington wineries, 75-year-old Chateau Ste. Michelle, draws thousands to sip its award-winning wines and attend summer concerts ranging from Diana Krall to Tears for Fears. The Columbia Winery, known for innovation, quality and near ubiquity in Northwest grocery stores, is next door to the Willows, making this an ideal tasting-walking hub.
Miles of Nature Trails
Exercise before wine, however.  What's commonly known as the Burke-Gilman Trail (accessible right behind the hotel) is actually a string of non-motorized, paved paths that stretch 42 miles from Issaquah to Fremont. On summer weekends, the trails are packed with cyclists, joggers, dog walkers and families, and on this glorious sunny Sunday, we opt to kayak the Sammamish River and postpone cycling till the next day.
Sandy's friends have offered to supply boats and know-how, and we rendezvous at Woodinville's Wilmot Gateway Park. New to the sport, Sandy has beginner jitters, but her friend Tim—a kayak instructor—settles her nerves with paddling instructions and safety tips.
The Sammamish is more of a gentle canal than river, cutting a swath of green through suburbia from Redmond to Lake Washington. Sometimes we hear distant traffic hum and cyclists on the trail above us, but for the most part we paddle in silence. Small flotillas of ducks scoot along the shoreline, then suddenly a Great Blue Heron swoops out of the reeds, flies over us like a pterodactyl and squawks as if to say, "See, Mother Nature still has a toe hold here."
Next morning, armed with a map from the front desk, we jump on our bicycles and head out for a long trail ride. Once we leave Woodinville, the park-like route takes on an urban/suburban feel as we cycle through Bothell, passing million dollar homes along Lake Washington.
Uncommon Surprises
A 35-mile cycling day deserves at least an hour at the spa. I knew the Willows was an uncommon urban escape when Ruthie nuzzled my leg on check in, and as soon as I leave the main building and enter the North Courtyard, I know more surprises are in store.
The gravel path skirts an alpine pool rimmed with pink Astilbes and blood red Japanese maples.  Hulking green-colored bronze heads reminiscent of Native American totem figures guard the peaceful pocket garden.
Eagle Song, the Willows head gardener, tells me the grounds are completely sustainable and have earned the lodge a top ranking as a 5-Star Environmental Landscape. "I move energy around," Eagle Song smiles and opens the bamboo gate to the enclosed garden.
OK, I think, breathing in the warmth of the outdoor soaking pool surrounded by ferns and sedums, noting the candles discreetly placed on stone outcroppings: the energy here deserves a boyfriend weekend.
Spa Serenity
We head to the spa for rejuvenation. Sandy opts for a 90-minute Swedish massage that she will later pronounce "A God-send after two days of kayaking and bike riding." I go for the Carita™ Facial. After an hour of exfoliation as gentle as a feather to the face, plus a head, neck and shoulder massage, I am silly putty.
A bottle of vino is scheduled in half an hour beside the water-rimmed fire pit outside the Willow's Fireside Room, but I want to hold onto this serenity just a while longer. I plop onto a sunny patch of grass by the alpine pond and attempt to follow the Willow's motto, Find Your Inner Peace.
Melding two days of you-go-girl-friendship, hearty exercise, pampering, fine food and wine have filled me with so much tranquility I think I'm dreaming when another surprise pops into view. Ten feet away, a tiny bunny hops out of the shrubs and nibbles on some grass. It's Thumper, right here in the garden with me, just seven miles from Microsoft.
Written by Linda Hagen Miller