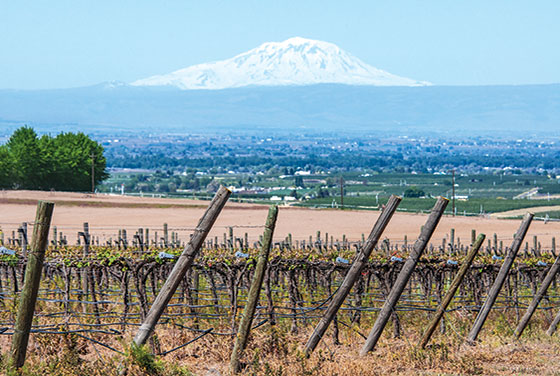 The long hillside of Rattlesnake Hills American Viticultural Area (AVA) stretches from the outskirts of Yakima to the small rural farming community of Zillah along the east side of the Yakima River.  The fertile, lush green belt of orchards in the near distance gradually recedes uphill to the brown sun bleached crest of Rattlesnake Ridge.  Wine lovers can easily spend two or three pleasant days exploring small boutique wineries tucked away on this hillside among miles of cherry trees and apple orchards.
Yakima, a former sleepy apple town that has reinvented itself into a booming tourist destination, is the ideal jumping off point with a number of excellent restaurants and hotels, and enough tourist attractions and recreational activities to provide interesting breaks between wine tasting.  Join us on a two-day wine tour that takes in eight Zillah wineries with detours to good eats, shopping and local sights.
SATURDAY AM
7AM Walk the Yakima Greenway
Ten miles of paved pathway connects three parks, two fishing lakes and three river access landings.  Runners, walkers, bird watchers, cyclists and skaters alike enjoy the flora and fauna native to the area.
9AM Johnson Orchards
Pick your own cherries and apples, and stock up on seasonal stone fruits at this family-owned orchard on Yakima's westside.  Owner Eric Johnson will point you in the right direction to pick your own fruit.  Don't leave without one of their superb fruit pies—they're made from their own orchard fruit and baked on site.
10:30 AM Portteus Winery
You'll find the Portteus brothers, David, Seth, and Brian, all very welcoming.  Located on the upward slopes of Rattlesnake Hills, the tasting room and winery is modest, but don't let that deter you.  Several of their dry red wines positively resound on the palate, such as the Old Vine Zinfandel and Cabernet Sauvignon.  The Portteus Zinfandel is rare; they are only one of a few growing this variety in Washington State.
"We prefer to make low volumes of a wide variety of wines.  We find new ways to make the transition from old style wines to new world wines here," says David Portteus, who's been winemaking since 2007.
It's worth mentioning that Paul and Marilyn Portteus, the parents of the trio of winemaking brothers, planted their first vines in 1982, after looking all over Washington and Oregon, making them the state's 14th winery.
11:30 AM Cultura Winery
Lifelong Yakima Valley residents Tad and Sarah Fewel performed their first Cultura wine crush in 2005.  The winemaking couple produce handcrafted limited edition red wines sourced from an estate vineyard, supplemented with grapes from nearby growers.  The winery is located in a roadside barn, handsomely renovated with farm-style woodwork gracing the interior of the clean, inviting tasting room.
"We produce only red wines, and in very small handcrafted lots.  We strive for lush, powerful yet smooth wines with tons of fruit," says Tad, a former cherry and apple farmer who is enthusiastic to talk with visitors about the wines.  "We do everything here in the winery," he says, pointing to the fact they have no employees and are hands-on from vineyard to bottling.
The Fewels are serious about wine and produce upwards of 600 cases annually of premium Bordeaux style blends, Cabernet Sauvignon, Cabernet Franc, and Merlot.  Don't look for Cultura wines on a store shelf,  they are sold exclusively through the tasting room and often sell out with each vintage.
SATURDAY PM
12:30 PM Lunch at Silver Lake Winery
One of the most upscale—but no less friendly—wineries in the Rattlesnake Hills appellation, Silver Lake at Roza Hills offers seven labels, and produces 50,000 cases each year.
The tasting room's veranda offers an expansive view across Roza Hills Vineyard, currently the largest in the AVA.  Long rows of vines curve gently over the contours of the hillside and spread across the valley making it such an idyllic spot that many couples have their wedding ceremony here.  Set among tall shade trees, the tasting room has an outdoor patio and grassy lawn for picnics.
The patio restaurant is open during weekends during the warmer months until mid-September, serving BBQ chicken, pork, salads and side dishes.  Try the award-winning Roza Riesling, best-sellers Girly Girl Pinot Gris and the Sangiovese.
2 PM Agate Field Vineyard
Named after a field strewn with agates where their vineyards grow, Agate Field Vineyard winery makes a pleasant stop on your Zillah wine tour.  It's hard to miss the distinctive western frontier-style building that sits atop a small hill overlooking Whiskey Canyon.  The upstairs covered deck is a perfect spot for lunch and a glass of wine.
Vintner Bob Radke makes 600 cases annually of five estate grown wines: Cabernet Franc, Merlot, Syrah, Cabernet Sauvignon, and Semillon.  "Bob is very particular when he makes his wine.  If he wouldn't serve it to his family, he won't serve it to the public," his wife Ginger says. Try the Agate Field Dancing Cowboy red blend, Drifter Merlot, and the Moon Rider Cabernet Franc.  The Semillon white is exceptional.
3 PM Explore Yakima's Historic District
The Old North Yakima Historic District remains today much as it was in the late 1800s.  Immaculate restorations of these decorative red brick buildings with their turn of the century architecture make this a walk through the past as you stroll by the old Yakima City Hall, now Bob's Keg and Cork.  Nearby, just across the railway tracks from the Historic District, Track 29 is a series of funky, brightly pastel painted shops and restaurants set up like railcars along the old train tracks.  The original Opera House offers a variety of small shops and fine dining. The 5 North Metropolitan Kitchen and Lounge and Gilbert Cellars was formerly the Alfalfa Saloon, where many a drink was served to its thirsty patrons between 1889 and 1910.
7PM Wine & Dine
Located in a 1915 brick building in the heart of downtown Yakima, the Second Street Grill is a casual, contemporary eatery that the locals keep a secret.  You'll find a number of local wines, and 17 different microbrews on tap here.  The Grill is known for its salads, burgers, sandwiches, pastas, steak and seafood.
SUNDAY AM
9AM Hillside Desert Botanical Garden
The Yakima Valley receives 300 days of sunshine and less than ten inches of annual rainfall, making it not only the perfect climate for wine grapes, but also species of native cacti. Northwest cactus expert Ron McKitrick started his cacti garden as a backyard hobby 28 years ago and now this garden is nationally recognized as one of the finest examples of a desert garden.  Desert plant experts, master gardeners, photographers and cactus lovers come from around the country by the busload to tour his wide array of dry desert plants in Selah.  Both individuals and groups require appointments, by calling 509-248-1742 or email hillsidecacti@nwinfo.net.
10AM Two Mountain Winery
Brothers Matthew and Patrick Rawn produce 3,200 cases annually at this winery named after Mt. Adams and Mt. Rainier seen in the distance.  The unpretentious tasting room is housed in a casual, laid-back environment reminiscent of a World War II airplane hangar.
Like many Zillah wineries, this too is a family affair.  With orchard farming roots that go back over half a century, the amiable brothers helped plant the 26-acre estate Copeland Vineyard in 2000 with their uncle, Ron Schmidt, and crushed their first vintage two years later.  In 2006, the brothers purchased the operation lock, stock and barrel.  "Our wines are a juxtaposition between classic and modern, casual and elegant," said Patrick Rawn, who serves as general manager and oversees vineyard operations for Two Mountain Winery.  "Visitors to our tasting room may enter as guests, but they'll leave as friends."  They produce over half a dozen single varietal wines, including Riesling, Chardonnay, Syrah, Merlot and Cabernet Franc, as well as blends.
11AM Tanjuli Winery
"We make unique boutique wines," says Stephan Schuller, tasting room manager at Tanjuli Winery.  "Our wines are small, specialty varieties, and we are the first in the valley to do a specialty late harvest Orange Muscat."
Co-owners Thomas Campbell and Roger Althoff have seven acres of their own grapes, including Viognier, Mourvedre, Orange Muscat, and Nebbiolo.  Campbell is no newcomer to the wine industry—he helped the legendary Stan Clark set up Quail Run Winery in Zillah back in 1982.  Campbell and Althoff's goal is to eventually become a full estate winery but until then Tanjuli buys all of its fruit from the Rattlesnake Hills AVA.
Sample the savory Petite Verdot while gazing across the tasting room at the enormous life size wall painting of a medieval-dressed maiden in a wheat field interspersed with red poppies, and what look suspiciously like the Rattlesnake Hills in the background.
SUNDAY PM
12PM Hyatt Vineyards
Picnic under the pergola or on the tasting room lawn at this fashionable estate winery.  Hyatt Winery offers yet another great view of the surrounding green Yakima Valley, clear across to Mount Adams and Mount Rainier.
The gift shop showcases all sorts of wine knick-knacks, with large wooden shelves displaying Hyatt's wines.  Hyatt is one of the larger producers in Zillah, producing 20,000 cases each year from their 180-acre vineyards.  Try the 2008 Roza Ridge Cabernet Sauvignon or the 2011 Riesling.
2PM Knight Hill Winery
Converted from a horse barn, Knight Hill Winery has possibly the finest 360-degree panoramic view of any winery in Zillah.  The quaint tasting room is surrounded by vineyards, alfalfa and fruit trees.  Under the winemaking guidance of German-trained Anke Wildman, who also formerly worked at Hogue, proprietors Anne and Terry Harrison offer an eclectic variety of red and whites.
"Our reds are elegant, with good fruit, but not chewy and tanniny," says Anne Harrison, describing the European influences on their wines.  "The blending that Anke does sets our wines apart.  She has an excellent palate.  The Sauvignon Blanc is crisp, with grapefruit, cut grass, citrus.  The Riesling is dry, crisp, deliciously paired with lots of food." This is a picnic friendly winery, with tables set up in a courtyard adjacent to the tasting room.  Don't leave without trying the 2009 Dry Riesling, 2009 Syrah/Petite Syrah blend, and the 2010 Mourvedre.
3PM Yakima Valley Museum
The two-story museum exhibits 38,000 historic artifacts.  Displays include dioramas of early pioneer and city life in the region, American Indian art and culture, and the development of the valley's fruit industry.  Western buffs will appreciate the world-class collection of horse drawn buggies and stagecoaches.  The 1950's style soda fountain serves hearty lunches and ice cream sundaes.
4PM Barrett Orchards
Located west of downtown Yakima on Peck's Canyon Road, Barrett Orchards is more than an orchard: it's a 60-acre cornucopia of freshly picked fruit, locally made jams and palate teasers, and U-pick fruit. Fourth generation fruit farmers Mark and Cheryl Barrett have created an agricultural Disneyland around their Big Red Barn store.  There is even a walking trail through the orchard where visitors can learn about fruit farming.
7PM Dinner at Zesta Cucina 
This restaurant located on Tieton Drive is known for its casual fine dining.  The Italian dishes and pastas are uniformly good, and the wine menu here offers many local wines.
Written by Roy Stevenson
WHERE TO STAY in Zillah
Holiday Inn  The newest hotel in Yakima with comfortable beds, good restaurant, intimate bar, friendly and helpful staff.  Great location a short stroll from downtown shops.
Ph: 877-859-5095
www.holidayinn.com
Orchard Inn Bed & Breakfast  Spacious rooms with custom-made queen beds and private bathrooms, gourmet breakfast in a casual European atmosphere.
Ph: 509-966-1283
www.orchardinnbb.com
Cherry Wood Bed breakfast and barn  Sleep in a bunkhouse or bed down in a stylish teepee. Hearty breakfast, even horseback rides through Zillah vineyards.
Ph: 509-829-3500
www.cherrywoodbbandb.com
Circle 'H' RV Park  Park your motor home or pitch a tent. Amenities include playgrounds, café, miniature golf, horse shoe, basketball courts and outdoor pool.
Ph: 509-457-3683
www.circlehrvpark.com
Visitor & Winery Information
For wineries, lodging, eateries, shopping and more, go to www.visityakima.com, www.rattlesnakehills.org
EXPLORE YAKIMA VALLEY 
On Foot: In and around Yakima you can hike for miles in steep-walled canyons, past waterfalls, and along open ridge tops.
On Bike: You can bike along pathways beside the Naches and Yakima Rivers that converge on Yakima, or ride through the 29-mile Konnowac Pass, or around the 36-mile Wenas Lake Loop.
On Horseback: You'll find ideal horseback riding as you meander through open pine stands and across the quiet plains and gentle slopes of the scrub and tumbleweed filled valley walls.
Cool Down: Float leisurely down the Yakima River Canyon and take in the scenic beauty of the basalt cliffs.
Rod & Reel: Fly fish the higher elevation streams that are teaming with abundant rainbow, cutthroat and brook trout.
Quiet Time: Visit Yakima's unique museums to see historic electric trolleys and railcars, and take in the fascinating pioneer history of the region.