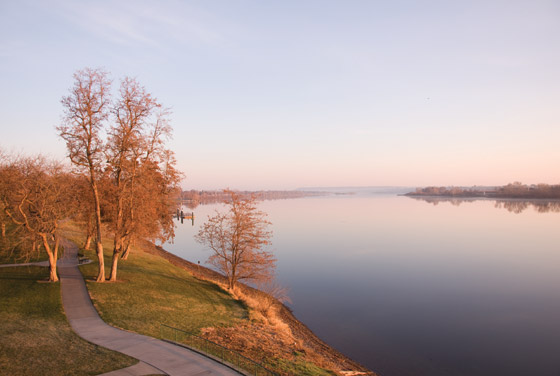 Once you cross over Snoqualmie Pass and descend into the Central Washington steppe, you'll quickly leave behind the signature gray skies of the Puget Sound. It's like entering another world: arid, flat, brown desert with desiccated sage plants tumbling across the road, ancient rocky outcrops of black basalt thrusting up out of nowhere, and massive wide canyons that span the entire horizon.
Then, when you near the booming Tri-Cities of Richland, Pasco, and Kennewick sprawling across the confluence of the shimmering Snake, Yakima and Columbia Rivers, it becomes a mirage of neat suburban arrangements of modern homes, interspersed with lush green belts, parks, and golf courses.
It's a Washington wine lover's nirvana: within a 90-minute drive radius of Tri-Cities are 250 wineries. There are enough wineries, tours, and attractions to keep you busy right here in the Tri-Cities for a solid week. Join us as we tour a few hot spots that newcomers and repeat visitors alike will find worthy of a weekend trip.
SATURDAY AM:
7AM Morning Hike
The short, but steep one-mile hike up Badger Mountain gives you exercise and marvelous views of Red Mountain vineyards, the Horse Heaven Hills, and the Tri-Cities. Go early during warmer months, and be sure to bring water.
9AM Largest Farmers Market
Situated in the heart of downtown Pasco in an open-sided mall, this is the largest farmers market in the state. Choose from an incredibly fresh selection of all sorts of seasonal fruits and vegetables. Local vendors sell jams, fruit juices, honey, and more.
11AM J Bookwalter Winery 
J Bookwalter Winery & J Bistro at the start of Tulip Lane, on Richland's outskirts, is a great place to start your wine tasting experience. Run by John Bookwalter, this amiable, intelligent, shaven-headed gentleman is a no-nonsense businessman, with a sense of humor and a love of wine.  He's a second-generation winemaker, having purchased the winery—lock, stock, and oak barrel—from his parents in 1997.
In 2011, Bookwalter opened the bistro to reflect the farm-to-table experience in a casual, relaxed atmosphere. Small plate dishes are made from fresh organic and local ingredients. The twice-baked truffle potato filled with prosciutto, cheddar cheese and truffle oil pairs well with their supple red blends.
To ensure the quality of his wines, Bookwalter consults with famous French oenologist and wine authority Claude Gros, from the Languedoc-Roussillon wine region, to make sure his Cabernet and Merlot are on track.
The winery is artfully designed with lots of private, cozy, casual little rooms, outdoor patios and gardens, furnished with comfortable deck chairs, and surrounded by tall shade trees. You can sit here with friends and still be within reach of the wine bar.
Bookwalter's love of books and all things literary shows clearly through his wine labels with names like Conflict, Chapter, Protagonist, Couplet, and Anecdote (his wine club is called the Book Club). Try your hand at playing bocce ball in the red gravel pits, always a fun accompaniment to wine tasting. Live jazz and blues music is featured year round, often four nights per week.
SATURDAY PM:
1PM Barnard Griffin Winery
A two-minute walk next door will take you to Barnard Griffin Winery Tasting Room and Glass Art Gallery, a traditional wine tasting experience in an intimate setting, with an art twist. The tasting room, with an ivy-covered entryway, doubles as the art gallery.  Elise Griffin, daughter of winemaker Rob Griffin and his wife Deborah Barnard, loves pouring the family's wine and sharing their proud winemaking tradition.
Barnard Griffin is one of the oldest wineries in Richland, and one of the first 20 wineries in Washington. Rob Griffin grew up one ZIP code away from Napa and was therefore exposed to wine early on. He worked as assistant winemaker at Buena Vista Winery in Napa's Carneros district, and then launched Barnard-Griffin winery in 1983. Producing 65,000 cases of wine each year, it's the tenth largest in Washington, and remains the largest family-owned winery in the state.
Deborah Barnard is an accomplished glass artist and her lively, spectacular glasswork of brightly-colored contemporary plates, dishes, and objects d'art are arranged on tables and shelves around the room alongside small displays of gourmet pastas and relishes.
Outside, a raised rotunda with concrete floor offers a view of the surrounding desert and urban fringe, with several acres of vineyards as a backdrop. It's a great place to sip a glass of the Barnard Griffin Rosé of Sangiovese, Chardonnay or Riesling.
2PM Tagaris Winery 
Tagaris Winery, at the end of Tulip Lane, also boasts Taverna Tagaris, a Mediterranean style restaurant, where you can dine outside on the patio, surrounded by a landscaped desert scene and a large plummeting rock water fountain in the center of the courtyard. Inside, the plush restaurant features modern artwork on the walls and a stone fireplace. In addition to the usual salads and soups, the Tagaris flatbreads (similar to a wide, rectangular thin crust pizza) are their signature dish. Try the shrimp and chorizo flatbread featuring house-made chorizo sausage, feta cheese, caramelized onions, and roasted tomato.
The Tagaris wine list is extensive, but a few varietals stand out: the 2007 Malbec, the 2007 Mourvedre, the 2007 BoarDoe, and 2010 Gewurtztraminer. A popular hangout with the locals, the winery features live rock, jazz, or country bands on weekend nights.
3:30PM Robert O. Smasne
The Robert O. Smasne Tasting Room and Wine Bar is located in the Southridge area of Kennewick alongside boutique stores and gift shops. The upscale tasting room sports an open layout, high ceilings, a patio, and private Reserve Room.
Here you can taste a prolific lineup of wines from veteran winemaker, Robert O. Smasne, who's been making wine for 16 years. He has worked with some of the state's finest vintners including Norm Mckibben and Jean-Francois Pellet, among others. Their skills have clearly rubbed off—his wines have received numerous accolades including "One of America's Best Wines" from Wine & Spirits Magazine.
Smasne sources his fruit from Columbia Valley and Horse Heaven Hills, and produces a number of limited-release premium labels including Robert O. Smasne Cellars, Robert O. Smasne Reserve, Farm Boy, Farm Girl, ½ Ass, Alma Terra and Teres, making up over 20 different varietals.  Smasne Cellars also has a Western Washington tasting room located in the boutique winery warehouse district of Woodinville.
7PM Wine & Dine
If you're staying at the Hampton Inn Richland along the banks of the Columbia River, a hearty meal at Fox & Bear Public House is just steps away. The restaurant and pub features local wines and beers, plus a rotating menu highlighting the Mid-Columbia's bounty of fresh foods.
SUNDAY AM:
8AM Get On The River
Chris and Dorothy Vowels at Columbia Kayak Adventures can customize a kayak tour on the Yakima or Columbia River, whether you are a beginner or advanced paddler. A one-hour cruise upriver offers a chance to view the scenery and see waterfowl in and around the river.
Or take an exhilarating jet boat ride with tour guide Mike White up the Columbia River to the 195,000-acre Hanford Reach National Monument area for sightings of coyotes, deer, giant white pelicans, great blue herons, terns, and beavers, not to mention the spectacular canyons.
11AM Cheese Please
A must-do is cheese sampling at Cheese Louise on The Parkway in Richland. Cheese experts Bill and Tamara Krieger's large selection of domestic, local and international cheeses is superb. The staff will be happy to shave you some cheese samples and make recommendations for wine pairings.
Bill Krieger teaches regular classes all about cheeses and is nothing short of obsessed with finding, enjoying, and sharing the best cheeses from around the world. The store has a wide assortment of cheese plates, platters, and gourmet foods. For lunch, order a salad, cheese plate, Mediterranean platter, panini sandwich, flatbread, or pack a picnic to go.
SUNDAY PM:
12PM Preston Premium Wines
Steeped in tradition, the Preston's planted their first vinifera vines in 1972, making it the first winery in the Tri-Cities and the third licensed winery in the state.
Chenyn Preston-Johnson, the tasting room manager, represents the third generation of the Preston family's winemakers.  Their fruit is estate grown, from which they produce 5,000 cases annually.  Vinifera buffs will be interested to know this was the first winery in Washington to plant and produce the Merlot grape.
The large tasting room offers an impressive view over the vineyards that stretch for miles around—with a little imagination, you could be in France.
Cellar tours are offered and you can see the winery's famous corkscrew collection. They are renowned for their Royal Port wines, along with a variety of Chardonnay, Sauvignon Blanc, Merlot, and Riesling.
2PM Country Mercantile
You'll feel at home the minute you enter the warehouse-sized Country Mercantile. This purveyor of local gourmet foods, drinks, chocolates, jams, preserves, dressings and vinaigrettes, ice cream (try the Cappuccino Chip), fruits, veggies, and so much more, is a local icon.
Located right off Highway 395 outside Pasco, plan on spending some time just browsing the mouth-watering array of delectable foods. Sample two dozen types of homemade salsa; the gourmet chocolates and fudges that are made before your eyes in the chocolate factory; eat authentic tamales, fajitas, enchiladas, wraps, and gourmet sandwiches at the homey restaurant.
3PM Black Heron Spirits
The distillery is inside a large adobe-style building on a rather isolated tract of land in West Richland, but worth the trip.
If you're lucky, you might meet owner Joel Tefft. One of his goals these days is to create an awareness of finely crafted spirits in the state, but Tefft is no stranger to winemaking. An early pioneer of Washington wine, he launched the successful Tefft Cellars in 1991, the first in the state to bring high quality boxed wine to the marketplace.
Among Tefft's creative repertoire of spirits are Ink Vodka, Rayn Anjel Gin, Desert Lightning Corn Whisky and Lemoncello, distilled in a 300-gallon copper pot still made in Louisville, Kentucky.  Sit on the tiled patio out front and sample tastings.
4PM Thomas O'Neil Cellars
An ideal place to wind down the day over a glass of wine and light food fare.
Originally from Detroit, Thomas O'Neil was a winemaker for five years at Chateau Ste. Michelle and has now branched out, making his own wines, especially handcrafted reds with an emphasis on Rhone varietals.
O'Neil opened a year ago and is starting modestly, making 1,000 cases his first year, on site, with fruit from the Yakima Valley and Columbia Valley. His first batch included Chardonnay, Riesling, Cabernet Sauvignon, and Merlot, bottled under his Fahrenheit 100 series.
O'Neil offers free wine tasting to visitors, and has live music playing on Friday and Saturday evenings from 7-10pm (no cover charge). A variety of small plate dishes are served, ranging from bruschetta to chicken flatbread, crab-stuffed mushrooms, and Greek salads.
Written by Roy Stevenson
Click here to preview this article as it appeared in the Spring 2012 issue of Tasting Room Magazine.
WHERE TO STAY IN THE TRI-CITIES
For more visitor information, check out the Tri-Cities Visitor & Convention Bureau
Hampton Inn Richland/Tri-Cities
Located on the banks of the Columbia River, this large hotel has many amenities for a pleasant and relaxing stay. Take walks along the riverfront, picnics in the park, and enjoy quick access to wineries, shopping and dining. Don't forget to bring your clubs, Columbia Point Golf Course is just minutes away.
Ph: 509-943-4400
www.richland.hamptoninn.com
Thompson Hill Cellars
The immaculately kept brick-and-stone Thompson Hill Cellars in Kennewick is a beautiful B&B with an attached wine tasting cellar. A self-serve kitchen, swimming pool, and a magnificent hilltop view of the entire Tri-Cities make it an ideal wine weekend getaway.
Ph: 509-783-3601
www.thompsonhillcellars.com
Columbia Point-Courtyard By Marriott, Richland
Close to Anthony's Restaurant and Richland Yacht Club, with easy access to walking/biking trail and Columbia Point Marina and Park.
Ph: 509-942-9400
www.marriott.com/courtyard