A look at year-end trends emerging on Washington State's evolving wine scene.
Click here to view the actual article pages as published in Tasting Room Magazine.
WASHINGTON GROWERS and winemakers have been on a roller coaster ride the last few vintages. The 2011 vintage was the coolest growing season to date, and 2012 ran just about average.  However, 2013 marks one of the warmest (if not the warmest) vintage on record, with above-average temperatures spring, summer, and fall.  In mid-September, cool and somewhat damp weather came to Washington's growing regions, followed by a mild and dry October.  Look for the 2013 wines to be bigger in style and, in some cases, somewhat higher in alcohol than recent vintages.
Washington Wine Keeps On Growing
The Washington wine industry has seen a period of unprecedented growth over the last decade and shows no sign of slowing down.  The Washington Wine Commission announced that the state bonded its 800th winery late in 2013.  Meanwhile, the Washington Association of Wine Grape Growers said that the state topped 51,000 acres planted.  Finally, growers anticipated crushing over 200,000 tons of grapes in 2013, a record if it stands (final tonnage numbers will be released in early 2014).  Expect each of these numbers to increase next year, as the industry continues to flourish.
Reds Overtaking Whites?
White wine grape varieties have typically led in Washington, with production of Chardonnay and Riesling running neck and neck in the race for the top grape.  Last year's harvest reports indicate that a smidgen more red grapes were produced over white (94,500 tons vs. 93,500 tons), with Cabernet Sauvignon and Merlot leading the charge.  With a growing demand for red wines, look for the scale to tip increasingly in their direction in coming years.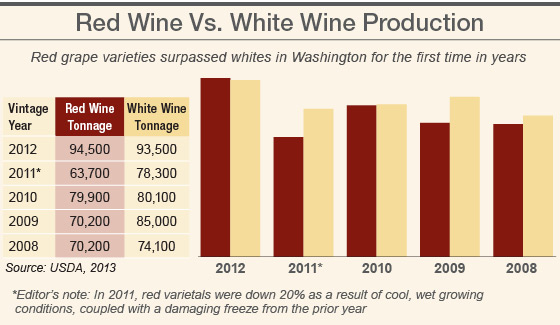 Winemakers Put Down Roots
Since its inception, the Washington wine industry has been marked by winemakers contracting grapes from growers in eastern Washington.  Increasingly, however, a number of winemakers are planting their own vineyards, giving themselves a greater amount of control over their fruit while adding to their winery's bottom line value.  Among these are Force Majeure, Sleight of Hand, Corliss Estates, Balboa Winery and Mark Ryan.  In the coming years, more wineries will follow suit.
Outside Companies Pour In
Starting with the family-owned E&J Gallo's rescue of financially troubled Columbia Winery in 2012, other California wineries continued to invest in Washington this year.  Wine behemoth Trinchero Family Estates, one of the largest family-run wineries in the country, teamed up with Washington's Charles & Charles on an alliance that includes managing sales, distribution and marketing.
Meanwhile Napa Valley's Cakebread Cellars launched its Walla Walla-based Mullan Road brand,  and its neighbor, Duckhorn Vineyards, is in the process of making wine from grapes grown in Washington's Red Mountain AVA. In an unexpected auction bid, Canadian-owned Aquilini Properties, owned by a family who also owns the Vancouver Canucks hockey team, swooped up 670 acres of land on Red Mountain for a reported $8.3 million citing the company's interest in vineyard development. Rumors swirl regarding other companies seeking to stick their toes in the Washington water.  There will be a continued influx of California capital from wineries attracted to the state's reputation for premium quality.
State Celebrates Milestone
Yakima Valley, Washington's first federally approved growing region and the second oldest in the U.S. (behind Napa Valley), celebrated its 30th anniversary (featured here in the Summer 2013 issue of Tasting Room magazine).  The appellation, the engine of the Washington wine industry, currently has over 17,000 acres of grapes planted, making up more than one third of the state's total.  Many boutique winemakers seem to be rediscovering the valley and its sub-appellations of late.  Look for an increasing number of Yakima Valley designated bottles to come as a result.
Breaking New Ground
Washington State University broke ground on its Wine Science Center in the Tri-Cities in September.  This $23 million, 40,000-square-foot building is slated for completion by 2015.  It will include research labs, classrooms, conference rooms and a gravity-flow winery.  This stands to revolutionize the state's industry by providing expanded, Washington-focused research.  With quality already high, this significant investment guarantees to drive it even higher.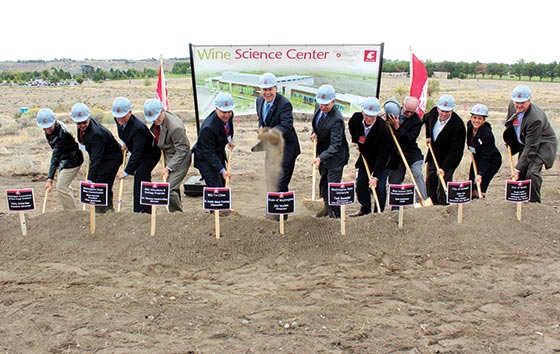 Millennial Women in Focus
Ste. Michelle Wine Estates, the state's largest wine company, made several strong plays targeting millennial women (those aged 21 to 34) in 2013.  It began with the 50,000 case Riesling brand 'Anew' and continued with the more feminine sounding (and looking) rebranding/repackaging of Domaine Ste. Michelle to simply 'Michelle'.  With this large demographic purchasing a significant amount of wine, look for other Washington wineries to cash in.
Winemakers Push Top Tier
Wine prices increased slightly this past year, but more noticeable was the number of winemakers in the state looking to explore the $75 and up price tier.  This stems from an increased confidence in the economic recovery, as well as a desire to enter the quality discussion with international wines at this price level.  Expect prices in Washington to continue to slowly increase and additional offerings in the Ben Franklin range to become more commonplace in the coming years.
Amazon (Finally) Enters the Wine Marketplace
After a couple failed attempts, Seattle-based Amazon began selling wine through its Amazon Marketplace.  The company is currently working with scores of Washington wineries, allowing consumers to purchase wine on an Amazon portal while wineries handle fulfillment and shipping.  Look for more Washington wineries to jump on board and for Amazon to help put more Washington wine into people's hands around the country.
Rhône Varieties On The Upswing
While Syrah has been one of Washington's strongest grape varieties since it was first planted at Red Willow Vineyard in the 1980's, winemakers have recently shown an increased interest in other red and white varieties native to the Rhône Valley, including Grenache, Mourvèdre, Viognier, Roussanne and others.  Expect more Southern Rhône-style, varietally labeled wines and blends in the coming years as winemakers continue to explore this new frontier.
Wineries Go West and East
Since the start of the recession in 2008, dozens of eastern Washington wineries have opened up satellite tasting rooms in Woodinville to be located closer to Seattle's large consumer base.  This trend continued in 2013, with Woodinville now home to over 90 wineries and tasting rooms.  The year also saw Woodinville's Mark Ryan Winery and Prosser's Maison Bleue make the reverse commute, both opening a satellite tasting room in Walla Walla.  Anticipate more wineries looking to relocate closer to the action in the coming year.
Written by Sean P. Sullivan