Under the stewardship of the Sauer family, Red Willow is one of the state's Grand Cru vineyards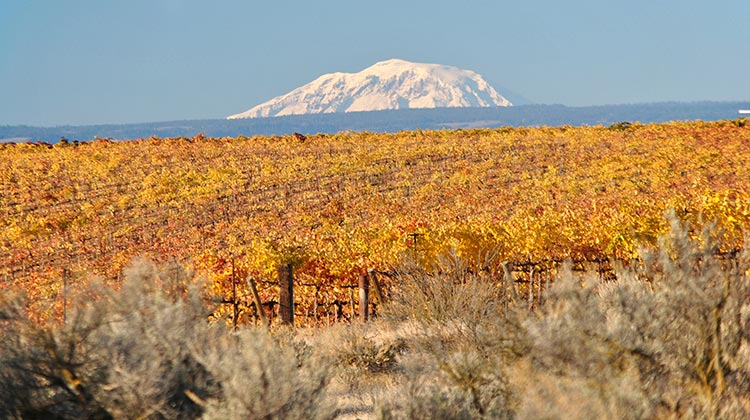 THE fabled Red Willow Vineyard occupyies 140 acres on the western edge of the Yakima Valley AVA (American Viticultural Area).  It's a story about unsung heroes whose efforts make many of today's winemakers superstars.  And the Sauer family—Mike and his two grown sons, Jon and Dan, and son-in-law Rick Willsey—wouldn't have it any other way.
"Much of what we do is about relationships with the wineries," says Jon Sauer, who grew up working in the vineyard.  "This goes back to David Lake.  He always wanted us to feel as if we had ownership in the wines, and we would reciprocate in wanting him to feel ownership of the vineyard."
A familiar story, Mike Sauer, started trial plantings back in 1971.  Consultation in those challenging early years came from famed horticulturist, Dr. Walter Clore.  David Lake, Columbia Winery's revered winemaker and Master of Wine, would become the champion of Red Willow fruit, leaving his influential footprint long after he passed away.  Lake produced the state's first vineyard designated wines in 1981, among them a Red Willow Cabernet, and went on to produce Red Willow's first designate Syrah in 1988.
A stream of vineyard designated wines have been flowing from this sacred ground ever since, including lesser-seen premium bottlings such as Malbec, Dolcetto and Sangiovese.
"A lot has happened since 2009, the year that David Lake passed away, and yet the influence of David still seems to be a significant part of Red Willow's direction and identity," says Jon Sauer.  "Each of the vineyard blocks has different flavor profiles and aromas.  Through wisdom passed on from David Lake, we have tried to match several wineries to these different sites so that they have a greater array of tools to use in coming up with that final designate."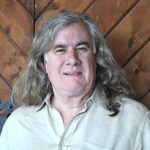 Chris Upchurch of DeLille Cellars & Upchurch Vineyard (who was mentored by David Lake) utilizes those tools in his blends, including a swooning single-vineyard Malbec.  Upchurch points to the elegant and classically structured nature of the wines, especially true of fruit from the older vines. "Red Willow is clearly one of Washington's 'Grand Cru' vineyards, and Mike Sauer and his sons are among our best growers," says Chris.
Tim and Erica Blue of Adams Bench Winery produce a stunning Red Willow Cabernet, citing the benefits of the vineyard's proximity to the snow-capped Cascade Mountains.  "We like the old winemaker adage, the best wine comes from fruit grown at the coolest site which permits the fruit to fully ripen," says Tim.  "The Sauers are great farmers and sincerely care that their work product is the highest and best it can be.  That matches up very well with our approach in the winery and reflects itself in the finished wine."

Kevin Correll of Barrage Cellars is coming off his 10th harvest sourcing grapes from Red Willow.  "I love the quality and condition of the fruit.  It consistently has a great character of red fruit on the palate and great structure on the finish," says Kevin.  "This family is some of the nicest people in the business.  They always find time to discuss everything going on in the vineyard and collaborate to make sure I have the highest quality fruit possible."
Mark Ryan McNeilly of Mary Ryan Winery has been working with Red Willow fruit since 2008.  "Red Willow fruit offers a dark and brooding fruit profile accentuated beautifully by non-fruit aromatics and a remarkably deep and complex structure," he says.  "The Sauer's are true pioneers in Washington viticulture.  Red Willow is a truly iconic vineyard and deserves its place as one of the best vineyards in Washington State."
Story and wine reviews by John Vitale
Photos courtesy of Mike Sauer (Red Willow Vineyard)
Editor's Picks: Red Willow Vineyard Designates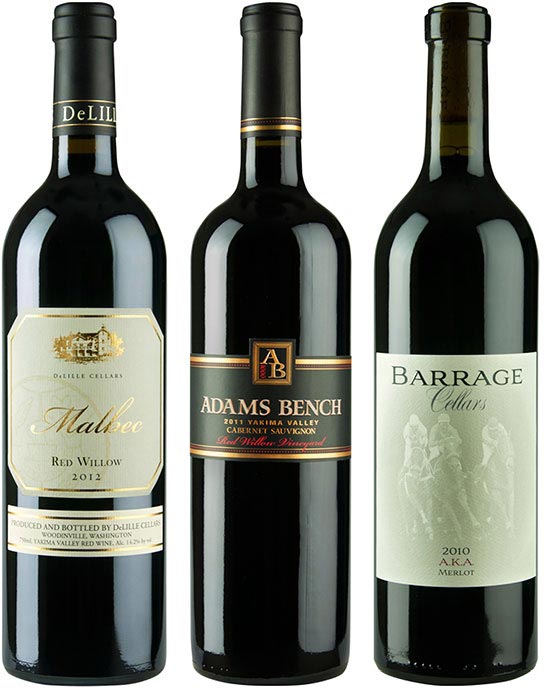 DeLille Cellars 2012 Malbec, $49
Half of the Red Willow fruit that goes into Chris Upchurch's sumptuous Malbec underwent extended maceration for 80 days.
Nose: Dark fruit notes of dark cherry, black plum, flowers, clove and tobacco leaf.
Taste: Voluptuous and polished with strikingly dense layers of black cherry, cassis, blackberry kirsch, blueberry, tobacco, baking chocolate, flowers, and loamy spice. Fine grained tannins amp up on the expressive finish.
Find it: www.delillecellars.com
Adams Bench 2011 Cabernet Sauvignon, $60
This is the 5th vintage of Red Willow designated Cab from Tim and Erica Blue, barrel-aged in 100% new French oak for nearly two years.
Nose: Dark red fruit, fig, violet and grilled portabella mushroom.
Taste: Combining power and refinement, the densely packed layers reveal cassis, loamy soil, mulberry, and black tea; carried by bay leaf, anise, sage and a wave of red plum and currant. Chewy tannins keep a firm hold on the finish.
Find it: www.adamsbench.com
Barrage Cellars 2010 AKA Merlot, $28
Known for his devotion to single varieties, Kevin Correll aged this stellar Merlot for 28 months in a combination of new and once-used French oak.
Nose: Generous notes of red and black fruit, olive, espresso and cedar forest.
Taste: Pure, focused and concentrated, this deep ruby hued beauty is powerfully structured with chewy tannins wrapped around layers of fresh black cherry, dark plum and pomegranate. Baker's chocolate and black tea notes persist on the finish.
Find it: www.barragecellars.com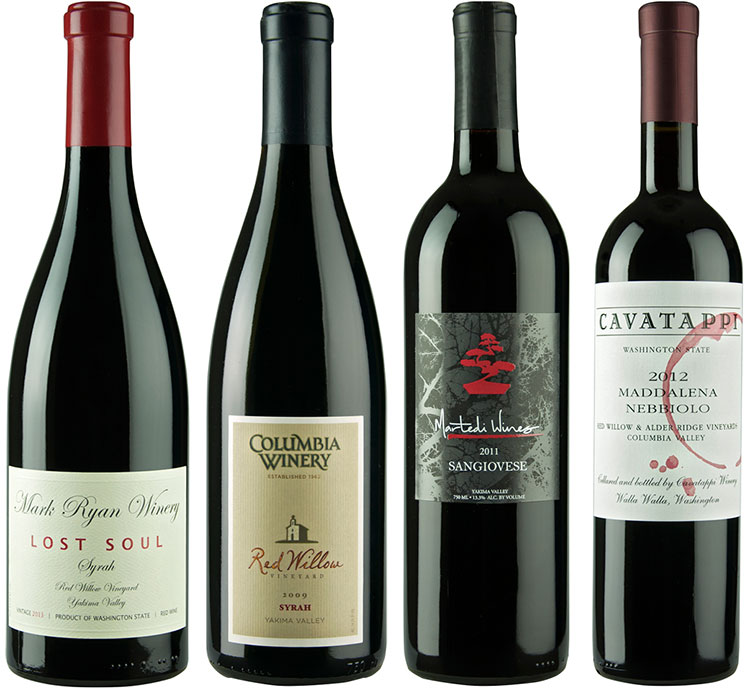 Mark Ryan Winery 2013 Lost Soul Syrah, $48
This minerally driven aromatic Syrah uses a pinch (3%) of Mourvèdre for added complexity.
Nose: Exciting aromas of dark purple and red fruit laced with tar, crushed pebble and spice.
Taste: Svelte, polished and deeply concentrated with rich flavors of blackberry, black cherry, plum and vanilla streaked with minerality, savory herbs and anise on the mouth coating finish.
Find it: www.markryanwinery.com
Columbia Winery 2009 Syrah, $38
Columbia Winery was the first to champion Red Willow Syrah with a vineyard designate under David Lake's guidance in 1988. Nose: Dazzling dark fruit, cocoa powder and crushed pebbles. Taste: Velvety, with earthbound fruit flavors of blackberry, dark cherry and black plum. Layered with loamy soil, saddle leather, violet, café au lait, herbs and spice box. Seamless with plush grained tannins on the finish.
Find it: www.columbiawinery.com
Martedi Winery 2011 Sangiovese, $32
Winemakers John and Joseph Miglino's family roots run deep in Italian heritage. They sourced this food-friendly Sangio from the Les Vignes de Marcoux block of Red Willow Vineyard. Nose: Top notes of pie cherry and earthy aromas of rawhide, olive and spice box. Taste: Well structured with smooth moderate tannins balanced with lively acidity, framed with bright macerated cherry, plum, white pepper spice and tobacco.
Find it: www.martediwinery.com
Cavatappi Winery 2012 Maddalena Nebbiolo, $30
Originally a Northern Italian-style varietal, the firm tannins and acidity make this a solid pairing with hearty pasta or braised short ribs. Nose: Enchanting red fruit, crushed roses, leather and spice. Taste: Appealing and harmonious with firm moderate tannins, dried fruit flavors of cherry and strawberry, accented with floral notes of rose petal, licorice, minerality and spice.
Find it: www.preceptwine.com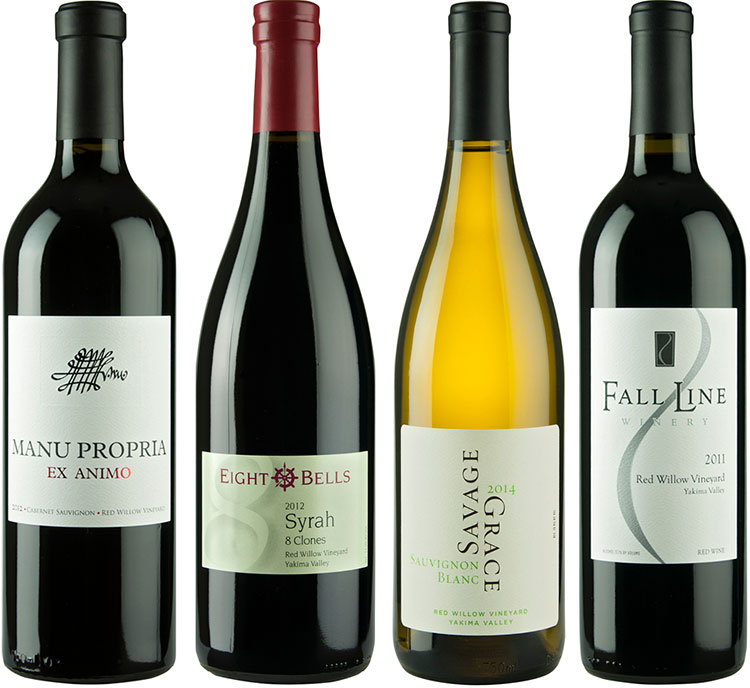 Manu Propria 2012 Ex Animo Cabernet Sauvignon, $40
Meaning "from the heart" in Latin, Mike Macmorran makes his lush, concentrated single-vineyard wine from predominately Cabernet Sauvignon.
Nose: Generous aromas of black and red fruit, tobacco, graphite and dried clove.
Taste: Dense, powerful and open-textured, with a chewy core of black cherry, blackberry and cassis, layered with violet, loamy earth and dried herbs wrapped up in polished tannins.
Find it: www.manupropriawinery.com
Eight Bells Winery 2012 Syrah 8 Clone
Tim Bates uses grapes from the clonal block of Red Willow planted in 2005 that contains 8 different clones of Syrah. Nose: Fresh asphalt, game, orange tea and wild herbs intermingled with black and dark blue fruit.
Taste: Opulent, dense and plush textured with tarry-edged flavors of meat, blackberry kirsch and blueberry. The mid-palate infuses caramel, Cameroon wrapper and orange peel citrus. Finishes long.
Find it: www.8bellswinery.com
Savage Grace 2014 Sauvignon Blanc
Michael Savage was inspired to craft this clean-cut white from a "field-blend" of several Sauvignon Blanc clones such as the Sauvignon Musque clone from France's Loire Valley.
Nose: Lovely aromatics of citrus, minerality, sun tea and fresh cut hay.
Taste: A zesty white with a tense and concentrated citrusy core of grapefruit and lemon flavors. Powerful mineral driven spices notes drive forward on the clean finish.
Find it: www.savagegracewines.com
Fall Line Winery 2011 Red Blend
Aged in French oak for 18 months, Tim Sorenson blended this complex red from Cabernet Franc, Merlot and Cabernet Sauvignon.
Nose: Bright red fruit, violet, cigar box, gravel and sagebrush.
Taste: Supple and refined, with white pepper spice and slate minerality behind a gamut of fresh raspberry and blackberry-tinged fruit. Loaded with earthy characters of tobacco, garrigue and loamy soil with integrated tannins that stretch out on the finish.
Find it: www.falllinewinery.com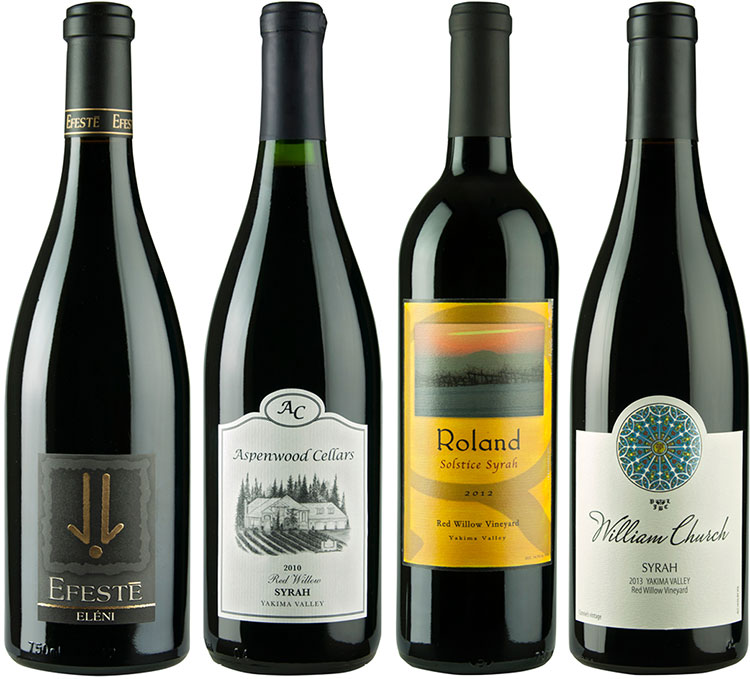 EFESTE 2012 Eléni Syrah, $54
Somewhat Northern Rhône in style, this Syrah plays to the relatively cool growing site of Red Willow Vineyard.
Nose: Dark black and red fruit, tobacco, graphite and smoke.
Taste: A svelte polished red built to impress, offering up generous flavors of blackberry coulis, fresh black cherry, olive, black licorice, tea leaf and slate. Voluptuous velvety tannins reign over the long persistent finish.
Find it: www.efeste.com
Aspenwood Cellars 2010 Syrah, $37
Jim Petty aged this Syrah in French oak barrels for 22 months. The fruit-forward flavors are beguiling; ranging from robust to mellow.
Nose: Fresh baked Marionberry pie, fig paste, plum, leather and vanilla bean.
Taste: Supple, juicy and expressive, with complex layers of blackberry kirsch, plum, black tea and anise. Bittersweet chocolate and orange essences permeate the finish laden with well-integrated tannins.
Find it: www.aspenwoodcellars.com
Roland Wines 2012 Solstice Syrah, $26
Marc Roland made this single-vineyard designate during a warmer vintage and aged it in neutral Hungarian oak barrels. Pair with barbecue pork, lamb or spicy Asian cuisine.
Nose: Red and black fruit, cherry bark, exotic spice and loamy earth.
Taste: Fresh, vibrant and fine-tuned, with enticing flavors of ripe red cherry, plum, currants, licorice and spice. Finished long with tame tannins and balanced acidity.
Find it: www.rolandwines.com
William Church 2013 Syrah, $40
This full-bodied, deep violet-hued Syrah strikes a nice balance between fruit, earth and spice.
Nose: Brilliant red fruit, ground coffee, cedar box and loam.
Taste: Rich and elegant with refined tannins and complex layers of fresh dark cherry and plum, interspersed with plump currants, tobacco and a minerally spice note that adds to the intrigue and pushes through the finish.
Find it: www.williamchurchwinery.com