Spearheaded by the Marcus Whitman Hotel, Walla Walla's inaugural Friends of James Beard Benefit Weekend showcases the region's rich food and wine culture.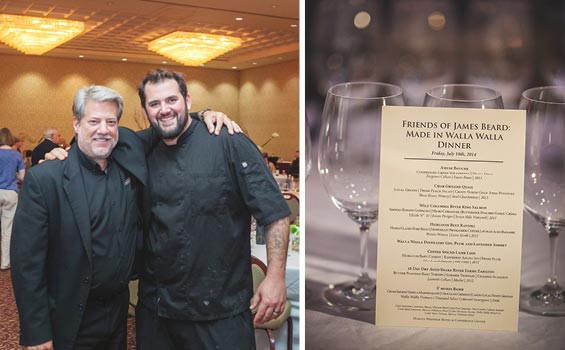 The Marcus Whitman Hotel presented their inaugural Friends of James Beard Benefit Weekend in Walla Walla on July 18-19, 2014, providing guests with a world-class food and wine experience. The two-day benefit was an idea conceived by The Marcus Whitman Hotel owner Kyle Mussman, who assembled a brilliant troupe of chefs and winemakers for the event.
"The weekend was devoted to celebrating Walla Walla's unique culinary and viticultural talent and created as a benefit to fund scholarships for Walla Walla Community College students," says Mussman, an ardent supporter of the college's culinary and enology program. The hotel's former executive chef Antonio Campolio, who had the honor of cooking at the James Beard House in New York City in 2012, rose to the challenge.
During the weekend, the affable Campolio and his staff partnered with other talents including Wine Country Culinary Institute chef Dan Thiessen, as well as winemaker Tim Donahue, the instructor at College Cellars. Chef Michael Kline of the Walla Walla Bread Company also lent his creative abilities for the weekend. Together, the team created superb menus that showcased fresh, locally grown ingredients. A number of the valley's premium wineries also embraced the cause and poured their wares for guests.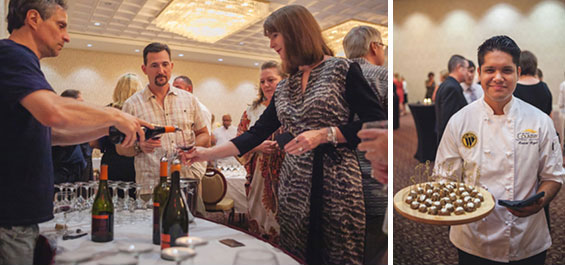 Three Events Over Two Days
Three outstanding foodie events were presented during the benefit weekend:
•  Tour, lunch, and wine tasting at the Wine Country Culinary Institute
•  Epicurean 6-course wine-paired meal at the ballroom in the Marcus Whitman Hotel
•  Tour of the culinary garden at Three Rivers Winery, followed by wine tasting and lunch
The following is a detailed account of each event:
Staff and Students Excel at the Wine Country Culinary Institute
Guests arrived at the Wine Country Culinary Institute's restaurant housed inside the Center for Enology and Viticulture, and listened to an overview presented by the culinary director, Dan Thiessen. The institute is part of Walla Walla Community College and is provides a well-rounded, quality professional culinary education, preparing students who graduate to enter the workforce as a fundamentally trained team member. Students bake their own breads, cure their own bacon and learn kitchen and cooking essentials. The program even has it's own food truck, where students have the opportunity to work onsite at the Walla Walla Farmer's Market serving up lunch-time delights like grass-fed beef burgers, pulled pork sandwiches on Hawaiian bread, and fresh fruit trifles. The food truck is also used for event catering, which brings a sustainable revenue stream to the program.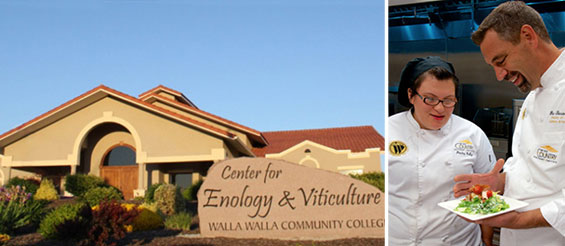 Next, the guests heard from Tim Donahue, the winemaker and instructor at College Cellars. College Cellars of Walla Walla is a teaching winery also located at the Center. Here, students participate in the winemaking as part of their course studies of the science of winemaking. Tour guests had a chance to taste wine as Donahue shared insights about the students' successes and challenges.
Valley Harvest Lunch
After the tour, an ultra-foodie fresh lunch buffet was prepared and served by the culinary students and the program's chef staff.  The students serve lunches on a regular basis at the restaurant, and the menu features uber-local ingredients. This buffet lunch included locally cured meats and artisan cheese, heirloom tomato and fresh mozzarella caprese, and grilled focaccia bread with feta and roasted tomatoes. A Mediterranean platter of house-made pita, hummus, baba ghanoush, tzatziki, and tabbouleh grilled sweet corn salad was hearty and satisfying. Meat eaters noshed on Red Boar Farms pulled pork tacos and Lostine Cattle grilled strip loin sandwiches. Petite fresh berry tartlet's and freshly made dulce de leche ice cream was served for dessert. All the while, guests sipped on lovely wines crafted by the students at College Cellars.
Friends of James Beard Benefit Wine-Paired Dinner
The Grand Explorer Ballroom at The Marcus Whitman Hotel was the scene of an extraordinary wine-paired benefit dinner. The evening menu was created and collaborated by chef Campolio, along with chef Thiessen, hotel sous chef Erik Johnson, chef Kline of the Walla Walla Bread Company, and hotel pastry chef Troy Tipton.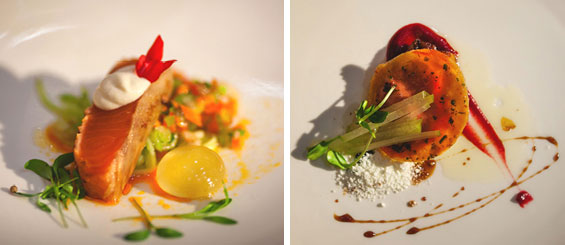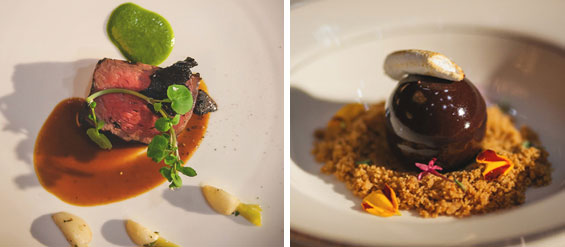 For starters, hand-passed hors d'oeuvres of dry aged beef briskets, cold smoked rainbow trout, sweet onion tarts, heirloom baby tomatoes', and spicy Upper Dry Creek Ranch mini lamb koftas were served. Winemakers from several Walla Walla Valley wineries poured premium wines at stations around the regal ballroom.
When it was time to sit down for the six-course dinner, guests found their assigned seats and were treated to thoughtful keepsakes of locally grown canned fruits and veggies personalized with their individual name. Candelabras, fresh flowers and candles graced the tables.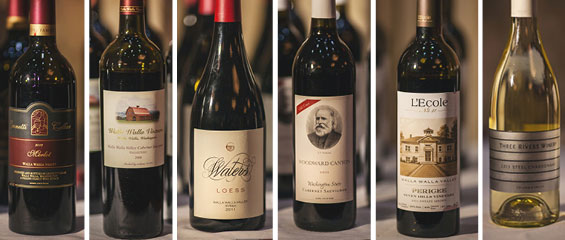 The first course was an amuse-bouche of compressed green strawberry and micro mint in a champagne flute with Forgeron Cellars 2013 Façon Blanc. The second course featured chargrilled quail served with local green, fresh peach salad, and crispy Yukon potatoes paired with Three Rivers Winery 2013 Steel Chardonnay. Next was a dish of wild Columbia River king salmon with smoked tomato gazpacho, micro coriander and buttermilk poached garlic crèma, paired with L'Ecole No 41 2011 Estate Perigee Seven Hills Vineyard. The fourth course was heirloom beet ravioli (one of our personal favorites) with maple glazed pork belly, Monteillet Fromagerie chèvre and 18-year aged balsamic paired with Waters Winery 2011 Loess Syrah.
Mid-course, a refreshing sorbet palate cleanser arrived with a crowd-pleasing act to boot, as chefs marched from the kitchen into the ballroom and prepared a Walla Walla Distillery gin and plum lavender sorbet. As guests watched in amazement, the chefs combined ingredients with liquid nitrogen, the only substance cold enough to actually freeze alcohol. The temperature of the nitrogen is minus-196 degrees, and when added to the mixture it created a visually stunning steaming cauldron effect that permeated across the ballroom floor.
The fifth course featured coffee spiced lamb loin with heirloom baby carrot, raspberry ancho jus and fresh plum paired with Woodward Canyon 2011 Old Vines. The sixth course was 28-day dry aged Snake River Farms zabaton, which is a special cut of American-style Kobe beef. The zabaton was served with baby turnips, summer truffles and charred scallion and paired with Leonetti Cellars 2012 Merlot.
Dessert was a deconstructed s'more called a "s'mores bomb," made of cedar-smoked vanilla marshmallow chocolate, chocolate cremeux and Caruso local honey graham paired with a finely aged Walla Walla Vintners 2006 Vineyard Select Cabernet Sauvignon. As the festive evening came to an end, the chefs took a bow to a hearty round of applause from dinner guests.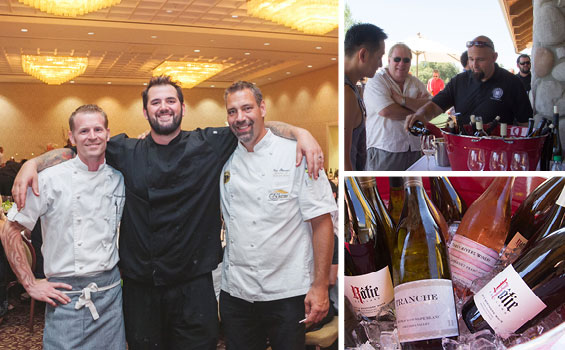 Tour of the Culinary Garden, Lunch and Wine Tasting
On Saturday mid-morning, guests traveled a few miles north of downtown to the Three Rivers Winery for a tour of the Three Rivers culinary garden accompanied by chef Antonio Campolio and assistant winemaker Andy Slusenko. The garden is a collaboration between the two, and provides a source of fresh produce for Marc Restaurant at the Marcus Whitman.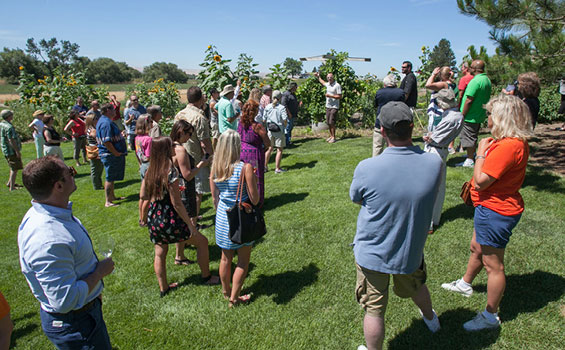 A family-style country luncheon was served, with dishes that included a platters of grilled freshly-picked vegetables, fire roasted chicken with chimichurri, peach barbecue glazed local pork loin, warm fingerling potato salad, and local apricot and peach tart with fresh whipped cream and berries. White wines and Rosé were poured from College Cellars, Flying Trout Wines, Long Shadows Vintners, Three Rivers Winery, Tranche Cellars, Rotie Cellars and Waters Winery
The inaugural Friends of James Beard Benefit Weekend at The Marcus Whitman Hotel was not only memorable, it once again demonstrated that Walla Walla is home to a rich heritage and friendly culture where people from all walks of life share camaraderie, gourmet cuisine and worldly acclaimed wines.
Written by John Vitale