Wine in a can, surges in Cabernet Sauvignon and the planting of lesser-known varieties are just a few of the latest trends impacting the Washington wine scene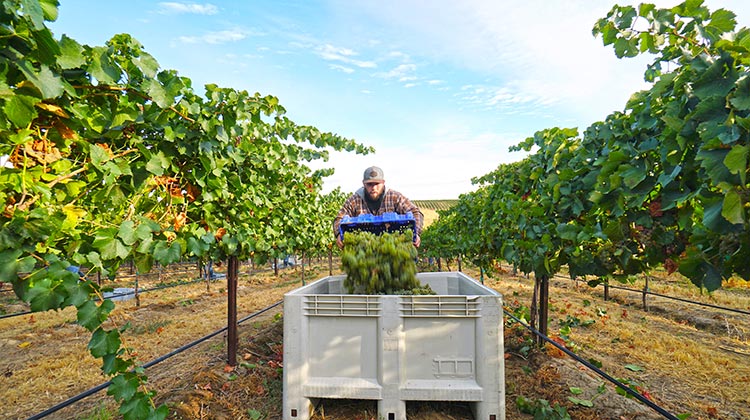 WASHINGTON STATE continued a string of favorable growing seasons in 2017, with warm weather throughout the eastern part of the state during the summer months. Early reports from growers and winemakers indicate another high quality vintage is in store for Washington wine consumers. Reflecting back over the past 12 months, here is a look at some of the current highlights and trends we saw taking shape in the state's wine industry.
Record Grape Harvest
It's not uncommon for Washington to break grape harvest records. Planted vineyard acreage in the state, currently listed at 56,882 (according to Washington Winegrowers Association), is increasing, generally resulting in higher and higher grape tonnage numbers. Still, by any stretch, what happened in the last recorded vintage (2016) was notable.

Grape production went from 222,000 tons in 2015—down 5,000 tons from the record set in 2014—to a whopping 270,000 tons, an increase of almost 22%. Growers attributed the increase to a warm season the previous year, a lack of winter freezes, and favorable growing weather in 2016 that resulted in larger than average grape cluster sizes. Despite these larger clusters, quality remained high.
Although records are made to be broken, it seems like 2016 could remain the high-water mark for grape production in Washington for some time.
Cabernet Is King!
What grape benefitted the most from last year's bountiful harvest? While white grape varieties increased by a modest 3%, red grape varieties increased by an epic 39% proportion. Cabernet Sauvignon led the way, with tonnage increasing by a staggering 50%.
As we've noted previously, in 2013 Cabernet Sauvignon edged out Riesling and Chardonnay to become Washington's most produced grape variety. However, in 2016, Cabernet accounted for a full 26% of Washington's total grape production, a truly astonishing number.
While the stratospheric numbers for Cabernet Sauvignon in 2016 seem likely to come back toward earth in 2017 as cluster sizes return to normal, a large number of additional Cabernet plantings are also coming on-line. Expect this variety to increasingly dominate production in the state for years to come.
Outside Interest Continues
The last five years have seen a strong series of investments in Washington by outside groups. These include California-based wine giant E&J Gallo purchasing Columbia Winery in 2012; Napa Valley's Duckhorn Vineyards launching a Washington brand called Canvasback in 2014; and Constellation Brands purchasing Charles Smith Wines in 2016.
The trend continued in 2017, with Chicago-based firm Terlato Wines International purchasing Red Mountain's famed Klipsun Vineyard. Terlato is a leading wine importer and marketer, and owns Napa Valley brands that include Chimney Rock, Jack Nicklaus Wines, and Greystone Cellars.
As Washington continues to develop its reputation as a growing region highly capable of producing top quality wines, expect outside investors to look for additional opportunities in the state.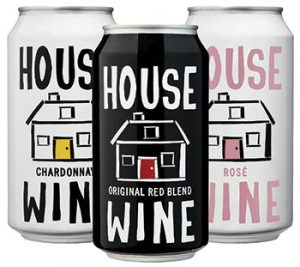 Wine In A Can Comes To Washington
Wineries have been experimenting with alternative packaging for wine for decades, most notably with boxed wine and more recently with keg wine. The latest innovation? Wine in a can. Numerous wineries have been exploring this alternative in recent years but the trend really took off nationally in 2017. Precept Wine, the largest privately owned wine company in the Northwest, threw its hat into the ring with its House Wine brand, featuring two of the brand's best-selling varietals, original red blend and Chardonnay, and a brand new Rosé.
Cans guarantee fresh wine and cater to the grab-and-go lifestyle of busy, active wine consumers, allowing wine to travel to places where glass bottles are inconvenient, such as the beach, boating and camping, and places where glass is highly undesirable, like stadiums or poolside.
Are we going to see a rush of Washington wineries making canned wines? Not likely. With the state full of small producers, the economies of scale don't necessarily make sense. However, if the growth in this segment continues, additional players may well enter the market.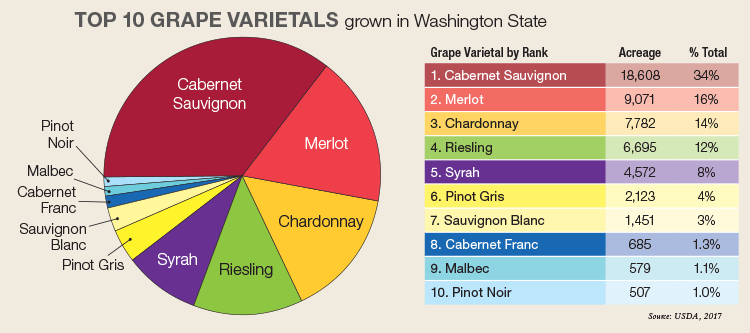 Varietal Exploration
While the "big five" grape varieties—Cabernet Sauvignon, Chardonnay, Riesling, Merlot, and Syrah—continue to dominate the state in terms of production, over 70 different grape varieties are planted in Washington, with most every variety seeming to thrive.
Growers and winemakers are showing no inclination to slow their curiosity in trying new varieties. In recent months, I have tasted or talked to winemakers who are planning to vinify new-to-the-state French varieties like Alicante Bouschet, Picardan, and Clairette Blanche, as well as Italian varieties like Sagrantino and Aglianico.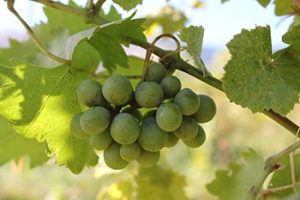 Whereas laws in certain countries restrict what can be planted where, in Washington as with the rest of the country, it's still the Wild West where anything goes. There's no doubt more varieties you've most likely never heard of will be coming to tasting rooms near you in the years to come.
Here is a small sampling of unusual varieties being grown in Washington, each with a corresponding example of a wine that has already been released:
Aglianico: A red grape variety grown in Southern Italy. Example: Leonetti Cellar Sangiovese (included in the blend in 2014)
Auxerrois blanc: A white grape variety most commonly found in Alsace. Example: Lobo Hills
Charbono: A red variety that originated in Italy but is now more frequently found in Argentina. Example: Tero Estates
Clairette Blanche: A white grape that is one of the thirteen permitted varieties in the Châteauneuf-du-Pape appellation in France. Example: The Walls Vineyards Grenache Blanc (included in the blend in 2014)
Souzão: A Portuguese variety most frequently used to produce Port-style wines, though it can make table wines as well. Example: Sun River Vintners
Tannat: A French-born red variety now considered the national grape of Uruguay. Example: Bartholomew Winery
What's Old Is New Again
While oak has long been used as a vessel for aging wine, more recently Washington winemakers have been testing with various other fermentation and aging vessels as well. Though long used in Old World regions such as France and Italy, over the last five to seven years a number of Washington wineries have begun fermenting and aging wine in concrete. These range from small egg-shaped vessels to large cylindrical tanks. More recently, several wineries have also begun working with amphora, large earthenware vessels that were used to store wine in antiquity.

Aging wine in vessels made of concrete, terra cotta or other such composition, give winemakers a way to minimize the aromatic and flavor impact of traditional oak barrels while continuing to allow for some of the oxygen exposure that "breathable" vessels provide to enhance development. More to the point, as with planting new varieties, we live in a period of grand exploration in Washington. With the state's wine industry still in its infancy, don't look for Washington winemakers and growers to stop exploring new boundaries any time soon.
Is Leavenworth The New Woodinville?
Ever since Chateau Ste. Michelle planted its flag in Woodinville in 1976, the town has been one of Washington wine's epicenters. However, the pace of the area's evolution quickened considerably around the Great Recession, when scores of Eastern Washington-based wineries opened up satellite tasting rooms in Woodinville to be closer to Seattle's large population of wine consumers.
Wineries are now exploring opening tasting rooms in other areas as well, most notably in the town of Leavenworth, which now has 30 wineries and tasting rooms. A number of these are satellite tasting rooms for wineries located in Eastern Washington and Woodinville, which most recently include Patterson Cellars, Sigillo Cellars, Basel Cellers, Isenhower Cellars, Obelisco and Napeequa Vintners (see Openings column on page 14 for details on a few of these). The interest in Leavenworth is obvious, with year-round tourist traffic centered around the Bavarian style village hovering around three million visitors each year.
Look for wineries to continue expansion in Leavenworth and explore other high traffic areas of the state, driven in part by a law passed in 2017 increasing the number of allowable satellite tasting rooms from two to four.
Written by Sean P. Sullivan
Sean is editor of Washington Wine Report, an independent blog on the wines of Washington State founded in 2007. He writes for magazines that include Wine Enthusiast and Vineyard & Winery Management. Sullivan resides in Seattle, Washington.