Washington wine blends (reds and whites) took center stage at the 2nd annual BLEND Seattle event on September 18, 2011.  Held at Bell Harbor International Conference Center on the city's waterfront, the event featured 40 or so Washington wineries pouring more than 130 different wines, all blends.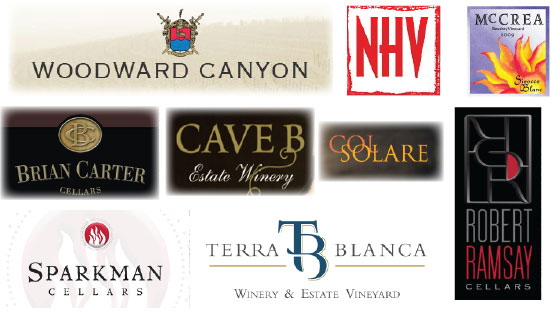 The Bubble Lounge was a new addition to BLEND this year, featuring sparkling wines from Washington wineries including Treveri Cellars, Cave B, Domaine Ste. Michelle, Waterbrook, Mountain Dome and a selection of sparkling wines from France, Italy and Spain courtesy of Wine World Warehouse of Seattle, the largest wine store in the Northwest.
Also courtesy of Wine World were four different tasting tables spread throughout the event that featured international blends from France, Italy, Spain and Argentina.  These tables were quite popular with event goers and contributed a fun, global dimension to the well-rounded event.
"In order for people to make a deeper connection with wine and food, it is critical that events offer a key educational component or focus. The art of blending isn't something the general public understands…yet. Showcasing only wine blends and incorporating blending stations where winemakers can pour the components of a blend helps to drive that education and get people to that 'aha' moment with wine – that is what BLEND Seattle is all about," said Jamie Peha, the event producer and owner of Peha Promotions.
Guests at the event were given the opportunity to vote for their favorite wine blends of the night. Tallied results were as follows:
2011 People's Choice Awards
1st Place – 2007 Terra Blanca ONYX
2nd Place (TIE) – 2008 Cave B Cuvee du Soleil
2nd Place (TIE) – 2007 Col Solare Red Blend
A panel of nine judges, composed of wine bloggers, freelance writers, and sommeliers, voted amongst themselves for the 2011 Blend Awards, awarding honors to their top three white and red blends picks of the day:
Judges White Blends:
1st Place – 2009 McCrea Cellars Sirocco Blanc
2nd Place – 2009 Brian Carter Cellars Oriana
3rd Place – 2010 Naches Heights Vineyard Can Can
Judges Red Blends:
1st Place – 2006 Woodward Canyon Estate Reserve
2nd Place (TIE) – 2008 Robert Ramsey Cellars Mason's Red
2nd Place (TIE) – 2008 Sparkman Cellars Stella Mae
Savory food bites showcasing the talent of their chefs were provided by the following resorts: Salish Lodge & Spa, The Inn at Langley, Cave B Inn & Spa, Kenwood Inn and Spa.  Seattle's The Cheese Cellar kept people coming back with a selection of artisan cheeses.
Blend Seattle is collaboration between Columbia Hospitality, Inc and Peha Promotions, bringing wine and food to the forefront through festivity and education.  To access the list of wines and the menu provided at Blend Seattle please visit www.columbiablend.com.