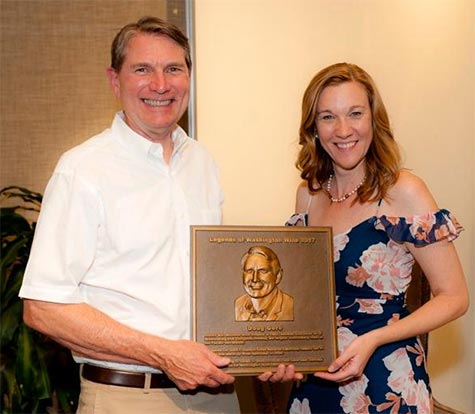 Prosser, Wash. — September 1, 2017 — The 11th Annual Legends of Washington Wine Hall of Fame Induction & Gala held on August 11, 2017 at the Walter Clore Wine and Culinary Center raised $105,000 for their annual programs and services that promote and support the Washington wine industry. This was the Center's most successful fundraising event in its history.
Over 300 guests from the Washington wine industry enjoyed a social and entertaining evening of food and wine.
With a new layout from past Legends galas, guests this year enjoyed a cocktail hour reception with entertainment by Kira Palm Trio, a formal program on the patio at sunset, and concluded with entertainment by the Mel Peterson Collective. The evening wrapped up with dessert from Layered Sweet Boutique, and beverages provided by Barracuda Coffee Company.
The highlight of the evening came as Doug Gore, vice president of winemaking for Ste. Michelle Wine Estates, was inducted into the Legends of Washington Wine Hall of Fame. Doug's 25 years of significant contribution to the industry was celebrated with family, friends, and colleagues in attendance. Memorable remarks were made by Juan Munoz-Oca of Columbia Crest, Bob Bertheau of Chateau Ste. Michelle, and Ted Baseler, president of Ste. Michelle Wine Estates.

Gourmet foods were prepared by Anthony's at Columbia Point, Budd's Broiler, Chateau Ste. Michelle's Chef Kurt Olsen, Chef Frank Magana, Castle Event Catering, and CG Public House Catering. Wine pairings were provided by Premier Sponsor, Ste. Michelle Wine Estates, with several wines appearing from their String of Pearls.
The Clore Center would like to thank all those who made this wonderful evening possible including: Ste. Michelle Wine Estates, Inland Desert Nursery, Alegria & Co., Bleyhl Co-op, Sagemoor Vineyards, Northwest Farm Credit Services, Port of Benton, Love's/Holiday Inn Express, Yakima Valley Community Foundation, Stokes Lawrence Velikanje Moore & Shore, Canton Cooperage, Burrows Tractor, Heritage University, Northwest Public Radio, Washington Winegrowers, Yellow Rose Nursery, Rustic Barrel, Duval Images, and the numerous in-kind contributors. Your generosity ensures that Washington wine and food continues to be enjoyed, celebrated, and shared.
Save the Date For The 2018 Gala
The 12th Annual Legends Gala, is set for Friday, August 10th, 2018. The nomination process for the Legends of Washington Wine Hall of Fame will open later this year.
Photos provided by the Walter Clore Center (courtesy of Duval Images)