The Horse Heaven Hills grape growing region is home to 25% of Washington State's vineyard acreage and one of the most beautiful places imaginable. It's 'big sky' farming country, warm and dry, and the oldest vineyards here date back to 1972 when Don and Linda Mercer planted what is today known as Champoux Vineyards. It's not hard to see why it's called "Heaven" as you drive past gently rolling hills and vast flatlands blanketed with greenbelts of vineyards and other crops that dot the landscape as far as the eye can see.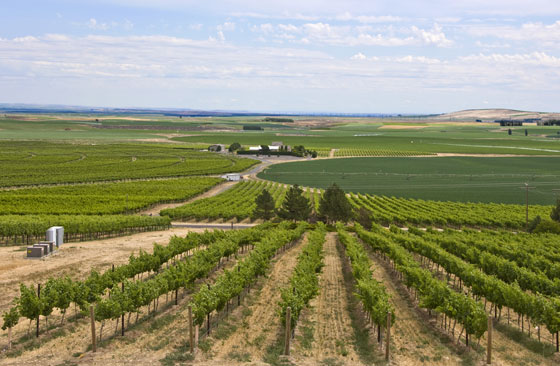 Once a year, this slice of Heaven opens up for a touring and tasting event called the Horse Heaven Hills Annual Trail Drive. On Saturday, July 20, 2013, you can tour eight vineyards on the loop, where you can taste a variety of wines, visit with vineyard growers and winemakers, and enjoy a rare drive through this scenic countryside. There are different ticket options to select from, and one of them includes a bus ride to the various locations.
The Horse Heaven Hills are easily accessible from the Yakima Valley and Tri-Cities which border the AVA to the north, or you can arrive from the Columbia River Gorge to the south. The self-guided vineyard tour loops from Alderdale to Paterson, located just 30 miles south of Prosser, WA.
The tour this year will include Chateau Champoux, McKinley Springs Winery, Mercer Canyons Vineyard, Coyote Canyon Vineyard, Columbia Crest Winery, Chateau Ste. Michelle Canoe Ridge Estate, Canoe Ridge Vineyard, and Alexandria Nicole at Destiny Ridge Vineyard.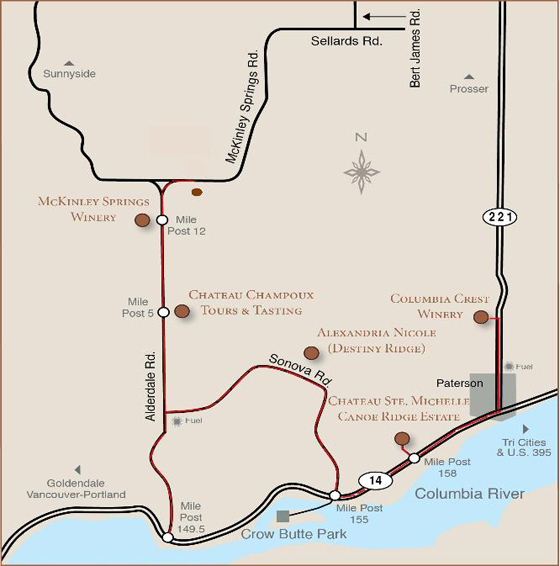 The wineries will be open from 11am to 4pm.  Allow at least 3-4 hours to complete your tasting tour in order to enjoy most, if not all the stops.
At the end of your touring afternoon, savor a BBQ dinner from 5-7pm (prepared by Castle Catering) and taste even more Horse Heaven Hills wines being poured by Martinez & Martinez, Robert Karl, Mercer Estates and others.  Live music will be performed by Flat Possum Pickers next to the mighty Columbia River at Crow Butte Park.
For motel information, contact Best Western Prosser Inn at (509)786-7090 or check the Prosser Chamber's website for other lodgings.  If you are looking for a campsite, reserve your space early at Crow Butte Park Camping.
Ticket Prices (click here to purchase tickets):
$75/Adult (Presale through July 10, 2013) includes wine tastings/bus/BBQ (tickets are limited)
$50/Adult (Presale through July 10, 2013) includes wine tastings/logo glass/BBQ
$60/Adult- After July 10, 2013
$35/Adult – Trail Drive Only (includes wine tastings/logo glass)
$30/Adult 21 & over BBQ only (includes logo glass & tasting)
$20/Kids-BBQ only ages 11 – 20
$20/Pre-registered designated drivers
Free BBQ:  Kids 10 yrs & under
$25/Adult Bus Seat (Available thru July 10, 2012)
Tickets for event and limited bus transportation are available online here or call 1-509-894-4528.  For questions or inquiries, contact sandy@mckinleysprings.com or angela@mckinleysprings.com.  Tickets can be picked up at McKinley Springs, Columbia Crest, or Canoe Ridge Estate the day of the event.
There will be limited BBQ tickets at the park, cash only.
Driving maps will be provided for directions & info.  Ice chests are suggested for any wine purchases.  Bottled water will be provided at stops and designated drivers are encouraged.