Walla Walla, Wash. — August 30, 2013 — Doug Roskelley and Mike Tembreull, owners of TERO Estates and Flying Trout Wines, have acquired Waters Winery, an award-winning Walla Walla producer most known for their single vineyard Syrahs, but also for acclaimed red blends, white wine blends, and Rosé. Included in the sale was the Waters' interest in 21 Grams. Subsequently, Greg and Pam Harrington agreed to sell their interest in 21 Grams bringing 100% ownership of the brand under one roof.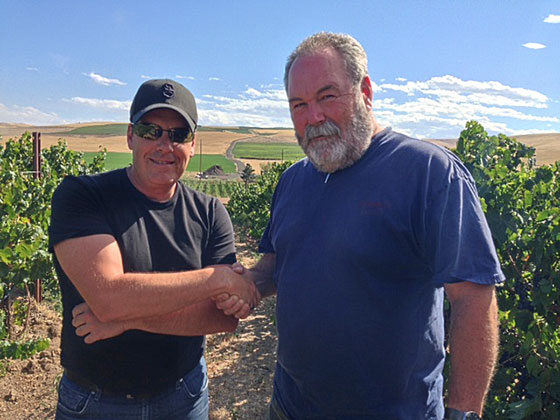 Waters winemaker Jamie Brown (left) standing with TERO Estates & Flying Trout Wines winemaker Doug Roskelley.  Roskelley is the new owner of Waters Winery and 21 Grams.
"We saw this as an incredible opportunity to add diversity to our already established brands," says TERO Estates and Flying Trout Wines co-founder and winemaker Doug Roskelley. "I couldn't have asked for better labels to bring on board."  Roskelley has enlisted Waters' original winemaker, Jamie Brown—a veteran and ambassador to the industry—to return as winemaker. "Jamie will be a fantastic addition to our team," says Roskelley. "He has a solid reputation in the market, and is dedicated to producing exceptional wines." Greg, having been an integral part of the 21 Grams project, will surely be missed.
TERO Estates and Flying Trout Wines produce limited estate wines (approximately 1600 cases per year) that reflect the ultimate expression of Windrow Vineyard, an historic site that Roskelley and his partner, Tembreull, have passionately revived and improved, garnering Salmon Safe and Oregon LIVE certifications. Windrow Vineyard is half of the first commercial vineyard planting in the Walla Walla Valley appellation, located just west of Milton-Freewater, Oregon.
Roskelley uses the TERO Estates brand to showcase the estate Windrow Vineyard planted primarily to Cabernet Sauvignon, Cabernet Franc and Merlot varieties. Under the Flying Trout label, Roskelley focuses on Malbec and Malbec blends from a number of Washington and Oregon AVA's.
"All four brands are intensely terroir driven," says Roskelley. "Waters has an outstanding reputation for all their wines, but particularly the vineyard designate Syrahs, something we don't produce. The 21 Grams collaboration with Makoto Fujimura and his International Arts Movement is a way for us to give back to the wonderful communities that support us."
TERO Estates, Flying Trout Wines, and Waters Winery wines will continue to be poured at both the winery by appointment and during specials events, and at the downtown Walla Walla tasting room located inside the Marcus Whitman Hotel, which is open daily.