Walla Walla, WA, January 16, 2012 – The only thing better than a tennis camp with nationally recognized coaches is one that involves great wine and food.  The Walla Walla Tennis & Wine Camp is set against a backdrop of the Blue Mountains, rolling wheat fields, and naturally, vineyards.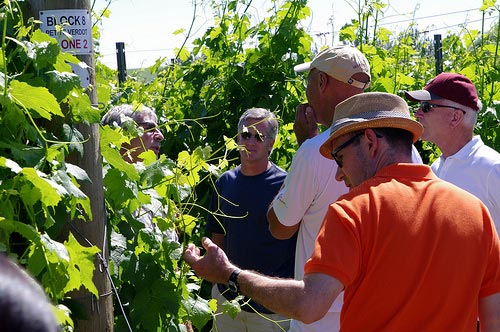 After its sold-out inaugural year in 2011, the camp will expand to three sessions this summer.  The camp serves up three days of tennis for players of all levels with instruction from some of the nation's most revered coaches including Jeff Northam and John Hein from Whitman College, and Greg Patton from Boise State, at the prestigious campus of Whitman College.
Off the courts, campers will meet some of the valley's top winemakers with chauffuered winery and vineyard tours, and guided tastings.
Exciting additions for 2012 include dinners at the award-winning Whitehouse-Crawford restaurant, tastings at the exclusive Figgins Family Estate with winemaker Chris Figgins (Leonetti), and a winemaker dinner with Ashley Trout, who produces outstanding Malbec in both Walla Walla and Argentina (Flying Trout) and big Bordeaux blends in Walla Walla (Tero Estates).
Campers will also enjoy a cooking class with celebrated chef Gene Soto, where they'll dine on their creations John Freeman of Waterbrook, who has prepared special pairings. Additonal VIP "Dinner with the Winemaker" meals are included. Campers will also receive a tour of the Viticulture and Enology Center, and learn about regional wines and geology from renowned geologist and wine enthusiast, Kevin Pogue.
The 2012 camp dates are June 21-24, July 12-15 and July 19-22.  Camps are limited to 24 participants to keep the winery events intimate.  Visit the website for more information on the camp itinerary, participating wineries and winemakers, and registration.