Prosser, Wash. – Mike Hogue, founder of The Hogue Cellars and owner of Hogue Ranches, has been selected as the 2013 inductee into the Legends of Washington Wine Hall of Fame.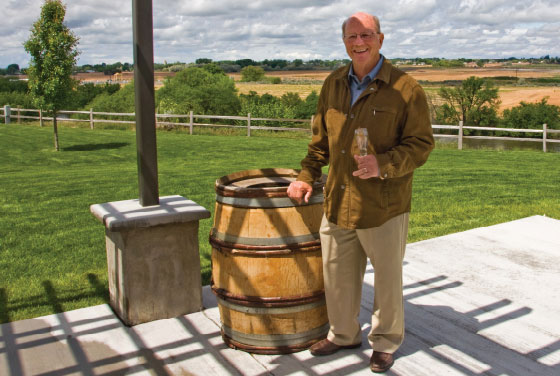 Mike Hogue, 2013 Washington Wine Hall of Fame inductee, photographed at the Walter Clore Vineyard Pavilion.  Photo ©Tasting Room Magazine
Hogue will be honored by the Walter Clore Wine & Culinary Center at their annual Legends of Washington Wine induction gala, which will be held the evening of Friday, the 9th of August, at 6:30pm on the grounds of the Clore Center in Prosser.
Mike Hogue joined parents Wayne and Shyla Hogue in the family's farming business in 1964, at which time there were no wine grapes planted on the family's ranch. However, with Mike's belief in the potential of Washington State vineyards and fruit, he took a chance and planted six acres of Riesling in the Yakima Valley in 1974. The high quality of the grapes he grew on those six acres led to more plantings; and today, Hogue Ranches farms 1,200 acres of wine grape vineyards in the Yakima Valley and Horse Heaven Hills.
In 1982, Mike and his wife, Dora, started The Hogue Cellars. Their first commercial bottling was 2,000 cases of 1982 Riesling and Chenin Blanc. Three years later, Mike was able to get a further glimpse of the true potential of Washington Wine at the Kapalua Wine Symposium of 1985 when his 1983 Fumé Blanc placed second in a blind tasting of 52 similar white wines, mostly from California. The Hogue Cellars took 'Best of Show' at the Atlanta Wine Festival the following year for their 1983 Cabernet Sauvignon. These successes opened access to national markets for The Hogue Cellars and other brands that were previously out of reach.
Mike and his partner in the winery, Norm McKibben, eventually purchased their marketing company, Vintage New World. The synergy created by this new company helped The Hogue Cellars grow to a 500,000 case winery by the 1990's and enabled other Washington brands represented by Vintage New World to succeed in the national markets as well. By 2001, The Hogue Cellars was the largest family-owned winery in Washington state.
In addition to all Mike's success with The Hogue Cellars, he is known to be generous with his time in support of his industry and community. Notably, Mike is a past chairman of the Washington State Wine Commission, on which he served for ten years. Currently, Mike is a member of the Prosser Rotary Club; has served as a director for the Sunnyside Valley Irrigation District since 2001; and has been a board member of the Walter Clore Wine & Culinary Center, including serving a Co-Chairman, since 2005.
Mike credits most of his success in the wine industry to Dr. Walter Clore and Washington State University Research Center in Prosser. Dr. Clore was instrumental in educating Mike and other growers about varietals, plant material and site selection. This enabled early vinifera growers in Washington to avoid many of the pitfalls that could have doomed the young industry and helped them get off on the right foot with quality, attention-grabbing wines. Mike considered Dr. Clore to be not only a mentor, but also a neighbor and friend.
Legends of Washington Wine are selected for their contributions of historical and lasting significance to the community and the wine industry. Nominations are received from the public, and an industry-based selection committee evaluates and scores recommendations based on specific criteria.
Previous inductees include: S.W. "Bill" Preston, Preston Premium Wines; John & Ann Williams and Jim & Pat Holmes, Red Mountain pioneers; Stan Clarke, a 30-year industry veteran; John Anderson, a visionary and mentor to the Washington wine industry; Guy W. "Bill" Powers, whose Badger Mountain Vineyard was the first Washington vinifera vineyard to be certified organic; David Lake, Master of Wine and long-time winemaker for Associated Vintners/Columbia Winery; Myles Anderson, Co-Founder of the Institute for Enology and Viticulture at Walla Walla Community College; and George Carter, WSU Research Winemaker, who worked side-by-side with Dr. Walter Clore.
Tickets and sponsorships for the Legends Gala, supporting the Clore Center, are available via PayPal at www.theclorecenter.org or by downloading a reservation form from the website.  More information is available by calling the Clore Center at 509-786-1000.  Reservations may also be made by calling the same number.
About the Walter Clore Wine and Culinary Center
Named after the late Dr. Walter J. Clore, the Walter Clore Wine and Culinary Center will be a centrally located, must-see learning center that promotes Washington State wine and food by actively engaging visitors to experience and realize the quality and diversity of Washington's wine and food products. The Clore Center site is located in Prosser, Washington on 24 acres overlooking the Yakima River and is easily accessible from I-82, Exit 82. The site also offers views of the Horse Heaven Hills and Rattlesnake Ridge. Prosser is home to the largest irrigated agricultural research center in the United States (WSU-IAREC) where Dr. Clore performed his research.
Dr. Clore began his life's work in 1937 studying vinifera grapes and their potential for growth in Washington soils.  His research, a cornerstone of the industry's development, earned him official recognition from the Washington State Legislature as the "Father of the Washington Wine Industry". Still in its infancy, Washington state has much more to reveal in planting areas and suitable varietals.
The Walter Clore Wine & Culinary Center is being developed in partnership with the Port of Benton, as well as a large contingency of private supporters. Fundraising for the Clore Center is ongoing and contributions are welcome and appreciated. To make a donation, or for more information, call 509.786.1000 or visit www.theclorecenter.org.