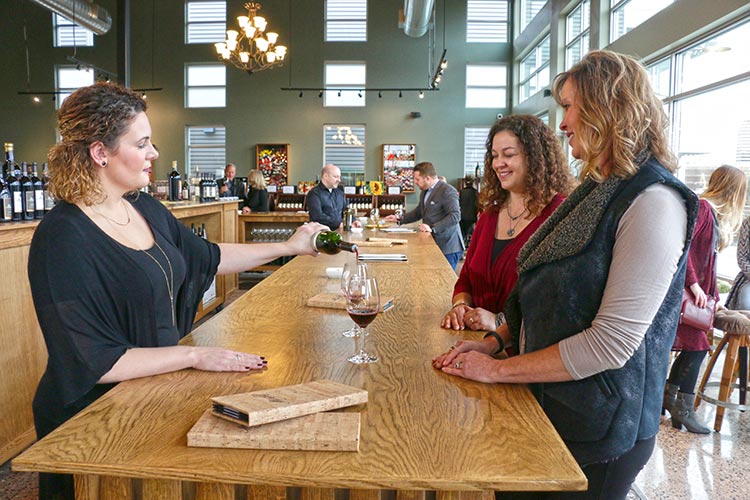 It is said the best fertilizer for a business is the owner's footprint, so it's little wonder that one of the state's largest wineries has remained one of the Pacific Northwest's most endearing. Started nearly two decades ago, Maryhill Winery's amiable and hard-working founders, Craig and Vicki Leuthold, have remained accessible to their loyal following, growing the brand with their footprints all over it.
Now they bring that personal touch to their hometown of Spokane with a beautiful, modern 5,000-square-foot tasting room that opened in November of 2017. It is located at Kendall Yards, an urban community on the site of a former rail yard owned by Charles Kendall.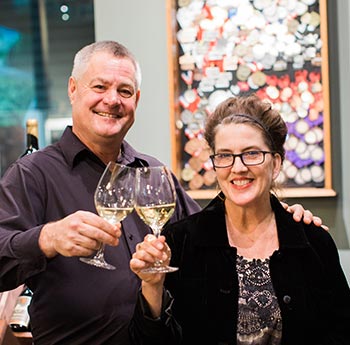 "While we're deeply tied to the Columbia River Gorge, we're also very rooted in Spokane," says Craig Leuthold, whose winery and concert venue on the Gorge draws over 75,000 visitors annually.
The Leuthold's designed the new tasting room to include panoramic views of the area, overlooking the Spokane River and downtown Spokane, from an outdoor balcony. Wine club, public and private events, as well as live music will be hosted at this location too, a five-minute stroll along the Centennial Trail from the city's downtown hub.
Maryhill continues to turn out high-quality wines year after year, with annual production now at 80,000 cases. Sourcing from 20-plus different vineyards, their proprietary reserves and single-vineyard designates are liquid assets that have helped build their wine club into one of the most popular anywhere, like this Tempranillo featured in a recent issue of Washington Tasting Room magazine:

Maryhill 2012 Painted Hills Vineyard Tempranillo, $34
Editor's Choice – Outstanding (91-95 pts.)
This gem is available only in the Reserve Room and is a Premium Wine Club exclusive. Complex, rich and open-textured, with pure seamless expressions of Baker's chocolate, graphite and mineral notes enveloped with red cherry and black plum flavors. Fine chalky tannins gain traction on the ultra-polished finish.
Spokane tasting room: $10 or $20 tasting fee, depending on which tasting room experience you choose; 1303 W Summit Parkway, Ste 100, Spokane, WA; open daily 12-8pm, (509) 443-3832
Goldendale tasting room: $10 or $20 tasting fee, depending on which tasting room experience you choose; 9774 Hwy 14, Goldendale, WA; open daily 10am-6pm, (509) 773-1976
Visit online: www.maryhillwinery.com
Written by John Vitale