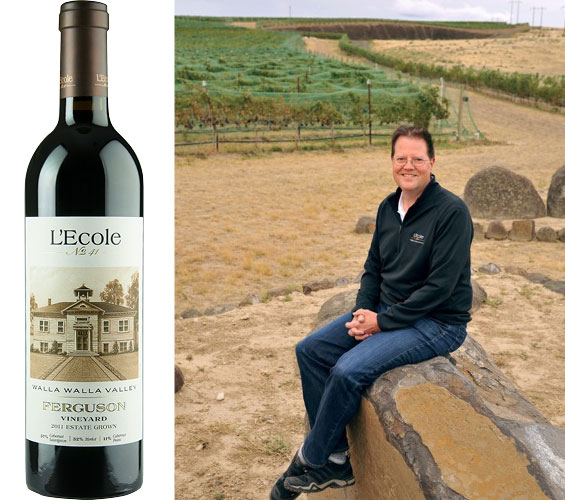 By John Vitale — June 27, 2014 — In a landmark win against the world's top Bordeaux producers this week, L'Ecole N° 41's newest red blend, the 2011 Estate Ferguson, proved to be a tour de force at the prestigious Decanter World Wine Awards in London, walking away with the coveted International Trophy for best red Bordeaux varietals in the over £15 classification (over $25 US).
Beating out many of the world's most renowned—and expensive—Bordeaux varietal wines for the top international spot at this competition is a big feat.  The Decanter Awards is considered one of the most authoritative and largest worldwide competitions, recruiting a judging panel that is highly esteemed by the wine industry, buyers and critics.
This year, 224 wine professionals assembled from around the globe, including 66 Masters of Wine and 18 Master Sommeliers, judging a total of 15,007 entries from which only 0.22% earned an international trophy.  UK wine critic Steven Spurrier, the instigator behind the 1976 'Judgement of Paris' and undisputed unsung hero of international wines, highlights the Decanters as "the most important awards in the world."
Wine entries were organized for tasting by country, region, color, grape, style, vintage and price. Gold medal winners were re-tasted to select a Regional Trophy. Regional winners were then split into grape varieties and style, and then into their respective price classification of under or over £15, from which the top International Trophies were selected.
The secret results were revealed at a red carpet event in London on Tuesday, June 24, 2014, where Marty Clubb, L'Ecole's owner and managing winemaker, was on hand to personally accept the award. "It's very significant for Washington State because it's an international endorsement from some of the most respected wine critics in the world.  It's also an endorsement for Walla Walla and L'Ecole," Clubb told Tasting Room Magazine in an interview just minutes after stepping off a return flight home from London.
"L'Ecole is a broad-spectrum winery that has evolved with an emphasis on the Bordeaux varieties," explains Clubb. The 2011 Estate Ferguson ($59 retail) is just the latest example of the winery's adroitness in this department, an exciting blend of 57% Cabernet Sauvignon, 32% Merlot and 11% Cabernet Franc sourced solely from Ferguson Vineyard, a newer higher elevation site in the Walla Walla Valley AVA.
"My personal tastes and interests have evolved in the single vineyard wines. For me, site-specific blends are about capturing that specificity of location, and over time you begin to have an appreciation for what that is," says Clubb, who tackles every task with fervor.
He adds, "We strive to bring out the best of each site, down to the individual blocks—and you get to learn it like a chef preparing a dish. That part of it is fun. We're proud of all our wines but doing single vineyard wines is part of our interest."
L'Ecole has been producing award-winning single-vineyard blends such as the Apogee from Pepper Bridge Vineyard for the past 20 years, and the Perigee from Seven Hills Vineyard for the past 12 years—long enough for Clubb to gain insights into the subtle nuances that every block and row of fruit contribute to the final blends.
Although Marty Clubb and his team at L'Ecole N° 41 are the new world champions of Bordeaux red blends, they are not likely to slow down anytime soon.
"I think it's more than one wine," says Clubb in retrospect of the big win in London this week.  "We have this incredible climate and soil that is producing spectacular wines all over the place. It's a testament to what a spectacular region we have. We are still in our infant stage and it's going to be exciting to see how this industry evolves over the next several decades."
Click here to read the whole story behind L'Ecole N° 41 and the 2011 Estate Ferguson as published in the Summer 2014 issue of Tasting Room Magazine.