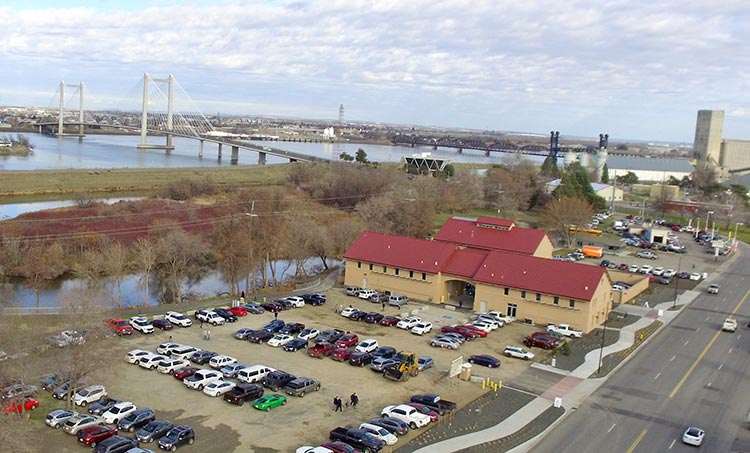 Kennewick, Wash. — February 11, 2018 — A celebratory crowd that Kennewick officials estimated at 450 to 500 people turned out on a sunny February 9th day to welcome two new wineries to their town.
Buoyed by a bevy of brief speeches from officials from the Port of Kennewick, the City of Kennewick, Benton County and winemakers Bart Fawbush of Bartholomew Winery and Victor Palencia of Monarcha Winery, they eagerly rushed into the two wineries after the opening ceremony and ribbon cutting.
The 300 commemorative wine glasses purchased for the event quickly disappeared into tasters' hands, and at Bartholomew, the staff hustled to keep up by reaching into the winery's stemware.

At Monarcha, where state paperwork has delayed its grand opening until March 3, Palencia and his staff gave tours, offered soft drinks and served salsa, chips and other treats in lieu of wine.
The two winemakers marveled at the turnout and warm welcome they felt.
"I feel blessed, I'm speechless because there are few words that can describe the love and support I felt today," Palencia posted on his Facebook page, along with 11 photos.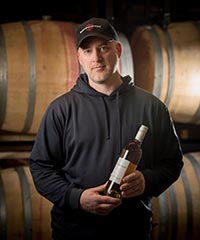 Fawbush praised the port and the city for "putting this all together" once he finally took a breather a couple hours later as the crowd thinned. And he confirmed sales had been brisk once the ribbon was cut.
The Port of Kennewick's Columbia Gardens — officially dubbed "an Urban Wine & Artisan Village" — is a collaboration between the port and city to revitalize the city's historic downtown waterfront. The wineries occupy a three-building cluster housing tastings rooms, winemaking and crush pads.
Bartholomew has been open weekends from noon to 5 p.m. since mid-December, with plans to expand to five days a week once weather warms. Monarcha will be open from 11 a.m. to 6 p.m. Thursday to Sundays to start, said Palencia.
The port and city also are partnering with Benton County, which earmarked rural capital development money for Phase 2 of the project — paving, concrete work and utilities to support an adjacent food truck pavilion, a covered area to rest and munch on food truck fare.
That work is to begin in late spring, aiming to be done before a late summer or early fall bid opening for construction of a 2,500-square-foot building to house tasting rooms for wineries looking to attract the wine lovers among the Tri-Cities' 280,000 people.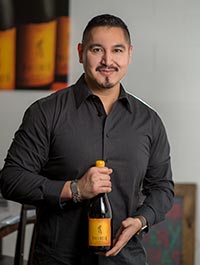 A hiking and biking trail meanders along the property's north side, next to a freshwater pond that once was part of the nearby Columbia River. During the celebration, waterfowl paddled peacefully on its surface and birds flitted in trees and shrubs lining the water's edge.
The path leads west to the causeway to Clover Island, another port development dotted by restaurants, a hotel, a brewpub, a lighthouse, marina and a scenic shoreline painstakingly restored with native shrubs and plants. Graceful sculptures of eagles, tribal people and early settlers dot public areas connected by spacious walkways.
Phase 3 will be built at next to the island causeway's entrance, where Columbia Basin College plans to house its culinary arts programs to supply graduates ready to take the numerous jobs resulting from new wineries, restaurants and hotels.
In opening comments, Port Commissioner Don Barnes noted the addition of the Columbia Gardens loop road, more parking and space for food trucks should continue the project's momentum.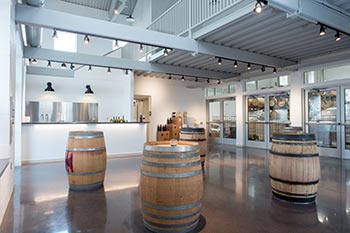 So far, about $6 million has been invested or earmarked for the project, with the first three buildings constructed under a $3.4 million port contract, $1.5 million spent by the city for a pretreatment system to manage winery wastewater and for a new "streetscape" — meandering sidewalks, landscaping and new bus stops – along Columbia Drive, the project's south boundary. The balance is city and county rural capital development money.
Fawbush moved from his South Seattle location and will do his winemaking and have a tasting room in Kennewick. His original tasting room in the old Rainier Brewery complex remains open.
Palencia will keep the Palencia Wine Co. operation at the Walla Walla Airport. At his Monarcha winery and tasting room in Kennewick, "I'm excited to host food trucks, food and culture nights and other events tailored around the wineries."
Contributed by Ken Robertson, retired editor of the Tri-City Herald, who has been sipping Northwest wines and writing about them since 1976. He also has worked as a consultant for the Port of Kennewick since 2014.