June 15, 2016 — It's been five vintages since Betz Family Winery was purchased by Steve and Bridgit Griessel. Founder Bob Betz told Washington Tasting Room Magazine today that he will be further transitioning into the role of Consulting Winemaker for Betz Family. Louis Skinner, the winery's Assistant Winemaker since 2014, officially takes over Betz' former role as Winemaker.
"This isn't so much about passing the torch as it is writing the future pages in the winery's story," says Betz.  "I'm stepping back, not away, and will stay aboard for another three years [or more], continuing my work in vineyard and cellar strategy, sensory analysis and creating the wine blends. I get to do the fun stuff. The heavy lifting will be done by the Griessels and Louis Skinner, who now assumes the role and responsibility of Winemaker."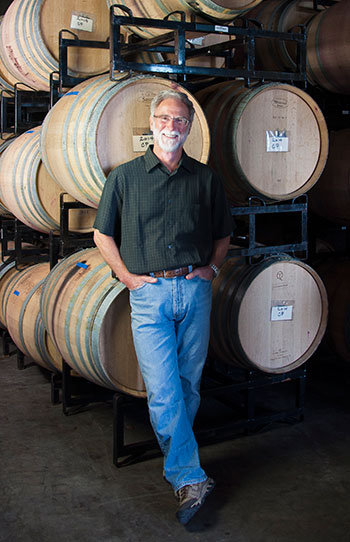 Skinner interned at Betz Family in 2010 after completing his degree program and went on to become Enologist at nearby DeLille Cellars where he continued to refine his skills.  He returned to Betz Family in 2014 where he has since worked alongside Bob Betz.
Owners Steve and Bridgit Griessel have immersed themselves in every aspect of the winery since the acquisition in 2011. Steve is heavily involved in the winemaking team, having completed the Certificate program in both viticulture and enology at Washington State University, and has spent countless hours in the vineyards.  Bridgit oversees the business management side of the operation.
As the winery moves forward, Betz shares his plans with Tasting Room Magazine to stay active in the industry.  "I'll retain my seat on some industry boards, mentorship and grading work for the Institute of Masters of Wine, and provide any support I can for the wine industry," he says.  "I don't see a back porch swing in my future."