Woodward Canyon Winery has returned to its agricultural roots with the opening of the Lazy S Arrow Market and the Reserve House restaurant.  Founder Rick Small grew up on a ranch in Woodward Canyon where the family grew grains, vegetables and raised beef and hogs.  For the past five years, Lazy S Arrow has been growing produce at the base of the Woodward Canyon Estate Vineyard.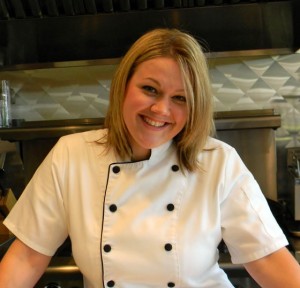 Photo: Chef Heidi Varney of Woodward Canyon's Reserve House restaurant.
Up until now, the locally grown produce has been used for various events at the winery and sold to local restaurants.  In May 2012 that all changed when the Lazy S Arrow Market opened to the public (at the winery) and sells produce, as well as vegetables and fruit from other local growers, specialty foods, and other items for wine country picnics.  Both the market and the sustainably grown garden at the Estate vineyard are named Lazy S Arrow to reflect the brand used by Rick's family on the nearby ranch where he was raised, helping to tend the beef that bore the brand.
Woodward Canyon Winery also opened the Reserve House restaurant, which serves lunches featuring Lazy S Arrow produce and locally sourced ingredients.  Co-owner Darcey Fugman-Small notes, "Our wine is made to accompany food and we are growing this incredible produce, so the decision to share these both on-site seemed to be a natural progression, as did the decision to procure much of our ingredients locally.  It really puts an exclamation point on the sense of place that makes the Walla Walla Valley so special."
Currently on the menu are cold pea vine soup, a Cypress Grove chèvre tartelette with a sweet onion jam, Blue Valley lamb and beef meatballs with rhubarb compote, red wine sausage with sauteed greens, steak chimichurri sandwich and a vegetarian pasta served cold, complete with local asparagus, sweet onions and chard.  They also offer a cheese plate and a charcuterie plate.
That local emphasis includes Chef Heidi Varney from Walla Walla Community College's Wine Country Culinary Program.  Chef Heidi's interest in regional cuisine fit well with what the Small's had in mind.  "It's a treat to be able to prepare and serve a guest a dish which contains ingredients that came out of the garden only an hour or two ago or directly from the kitchen garden outside of the door," says Heidi.
The Reserve House features a revolving menu of small plates and is currently open seasonally, Friday through Sunday beginning at noon.  Diners can enjoy interior seating at communal tables or individual tables on the covered porches with views of the garden and neighboring vineyard.  Reservations are not required for groups of five or fewer;  groups of six or more should email shari@woodwardcanyon.com or call the winery at (509) 525-4129 to make a reservation.
About Woodward Canyon Winery
Woodward Canyon Winery in Washington's Walla Walla Valley was founded in 1981 by Rick Small and Darcey Fugman-Small.  It makes wine under the Woodward Canyon, Nelms Road and Charbonneau labels which is sold domestically and internationally.