The legendary Woodward Canyon in Walla Walla is making strides to reduce its carbon footprint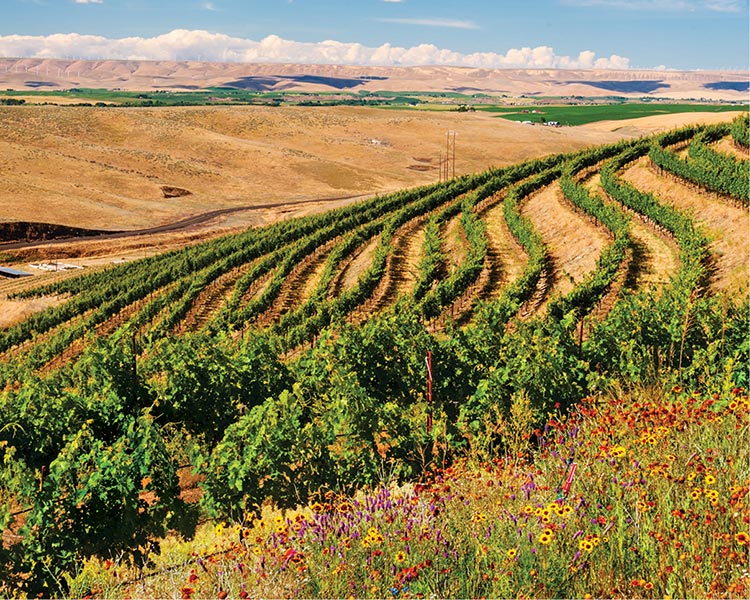 WOODWARD Canyon Winery is legendary.  Director of production and owner Rick Small an icon.  Along with his wife (and general manager for the winery), Darcey Fugman-Small, visionaries.  And yet, with all their success since launching in 1981, the Small's refuse to succumb to the state of inertia that often accompanies resting on one's laurels.
Five years ago, the dynamic duo starting growing and selling produce from their farm, built the Reserve House, and opened a restaurant.  But it's the way they've done these things that's of particular significance: sustainably.
"Sustainability and green have occasionally become catchphrases; some call it 'greenwashing', but we've been committed to these practices for a long time," says Small.  "Sustainable farming is philosophical for me; I simply believe that it's the right thing to do—for your company, for your employees and for the land."
Though Small is encouraged by more individuals and companies going green, he holds himself to the highest standards of what this really means.
"If you talk the talk, you have got to walk the walk.  Otherwise it's just an empty marketing thing," Small says.

The Lazy S Arrow Farm
"When I was a little boy we had a garden and I remember the potatoes.  They were so fresh and they tasted so good, the carrots too," says Small.  "So I planted some potatoes."
"You know Rick," Darcey says laughing.  "He got a little overenthusiastic and we had like three tons of potatoes!  That's when we started selling to restaurants and giving as many as we could away to employees."
Restaurants responded, and quickly Small developed a following for those potatoes, both for the quality and his infectious personality.  But before that, it was actually the vineyard crew that planted chile peppers and tomatillos at the bottom of the vineyard, both for their use, and for employees at the winery.  It was the perfect storm of sorts.  The farmland wasn't suitable for grapes because it was too low, but there was plenty of water—water that needed to be used to protect the company's water right.  Turns out things grew really well there, so the Small's continued to plant.  Today they grow blue corn, Mexican corn, Greek tomatoes (thanks to seeds from a friend in the wine business), garlic, shallots, Spanish peppers and even asparagus.  The farm is at one acre and expanding.
The biggest client is The Marc restaurant at The Marcus Whitman Hotel and Conference Center in Walla Walla.  In addition to a handful of local restaurants putting Lazy S Arrow produce on their menus, Anthony's in Richland, and Seattle restaurants Café Presse (where Darcey and Rick's son is a cook), Spanish Table, and Café Flora have drawn from the farm's bounty.
Though the estate vineyard and Lazy S Arrow have Salmon Safe certification, Rick is pursuing more.
"I'm going through the paperwork now for organic certification," he says.  "The first time through was a bit intimidating but reading into it further, it's not that much more than doing the record keeping for a certified sustainable farm."  In keeping with Small's tenacity, he says excitedly, "I'm a process guy so I can do this.  In fact, I'm actually looking forward to it!"
In some ways, the farm is returning to Small's roots.
"I came into the wine thing as a farmer first," he says.  "When I was younger I didn't appreciate just how important soil fertility is.  It's my job now to leave our farm in better condition than when I found it."
And for Darcey, the farm (and gardens she planted at the winery) is also a coming home of sorts.
She says, "My mother was a flower gardener.  People would stop and take photographs of her incredible garden.  In fact, I have things here from her that I've transplanted along the way.  And, I had a little vegetable garden as a kid."  In college, Darcey started out majoring in botany, which isn't a surprise when you see the flowerbeds, herbs, greens, berries, tomatoes and other plantings that surround the tasting room and Reserve House.
Sustainable Practices
"Yes, we are pursuing organic farming, but we apply sustainable practices to our entire operation," says Small.
Woodward Canyon has recycled cardboard forever, and has purposely avoided using large, heavy bottles for their wines, which take more energy to produce and ship.  The winery participates in a cork-recycling program called ReCORK by Amorin, which partners with SOLE to produce cork-blended footwear and packaging materials.  Woodward Canyon is also part of the Blue Sky renewable energy program through Pacific Power, and within a year, the winery avoided the release of 23,252 pounds of CO2, the equivalent to not driving 23,590 miles in a car.
Woodward Canyon uses bio-diesel in several vehicles, and their winemaker Kevin Mott is provided a hybrid, though he bikes to work when he can, as does Small and sales director Thomas Woodley.
"When we planted the lawn and garden at the winery, no herbicides or pesticides were used.  Prior to planting, the soil basically had no life.  There were no worms, there was no wildlife, and very few beneficial insects," says Small.  "Now you'll find worms galore when you dig, bees and butterflies, songbirds, quail, hawks (including a resident red-tailed hawk depicted on their 2004 Artist Series label), and killdeer."
These are just some examples of Woodward Canyon's efforts towards sustainability (you can find more by visiting the winery website).
The Reserve House
"It was a natural progression for us actually," says Rick Small, referring to the fact the Smalls had land and water available to farm produce, a commercial kitchen in the Reserve House, wines to pour, and viticulture students from the Wine Country Culinary program at Walla Walla Community College hungry for summer employment.
"We now have this wonderful building with the commercial kitchen, and plenty of produce," says Small.  "We've always made wine that is meant to pair with food so this seemed perfectly logical."
The Reserve House is run entirely on solar power, and when the restaurant is open (seasonally for lunch Friday though Sunday), it's a lesson on the locavore movement, serving only what's in season.
"We were in D.C. for a wine event and ate at a highly regarded restaurant that was all farm-to-table," recalls Darcey.  "Which it was, served with wine from Virginia, but it also had one item raised in Connecticut and another flown in from Alaska, and I'm thinking, yikes, how far are these farms from this table?"
As a contrast, ingredients from the Small's farm and garden could end up on the menu the same day.
"I'll go out and pick berries or artichokes or herbs, wash them, and they'll be on the plate in 15 minutes," says Darcey.  "You don't get much more farm-to-table than that."
Written by Kirsten Telander & photographs by Richard Duval
Editor's Top Picks
Woodward Canyon 2010 Walla Walla Valley Estate Reserve
Like an opera, this fine wine unfolds in perfect pitch and finishes on a high note.  A profound Bordeaux style blend, voluminous in depth.  Nose: Rapturous aromas swirl in the glass with dark-toned berries, earth, coffee bean, vanilla and cedar box.  Taste: Chewy black fruit accentuated with tobacco, cassis and earthen notes. Rich refined tannins perfectly balanced with acidity on a harmonious finish. $79
Woodward Canyon 2010 Artist Series Cabernet Sauvignon
Predominantly Cab that is blended with small amounts of Merlot, Cabernet Franc and Petit Verdot. Extraordinary now, it will continue to develop with cellaring.  Nose: Complex aromas of wild berries, currants, violet flower, crushed pebbles, tobacco leaf and cedar.  Taste: Crafted with elegant structure and balance, exhibiting supple rich red and black-toned fruit with dried herbs and ripe tannins on a lingering finish. $54
Woodward Canyon 2010 Columbia Valley Merlot
This Merlot embodies the best of what Washington is capable of. Powerful and graceful with bold tannins that endure throughout. Nose: Richly aromatic dark cherry, plum, sage, cedar, vanilla and spice. Taste: Seamless black and red fruit glide through the palate joined by black currant, dried black cherry, cassis and a bit of dark espresso on the lengthy finish. $44
VISIT & TASTE
Woodward Canyon Winery
11920 W Hwy 12, Lowden, WA
Wine tasting daily: 10am-5pm (last tasting at 4:30pm)
Ph: 509-525-4129
www.woodwardcanyon.com
The Reserve House Restaurant
Serving flavorful lunch plates that highlight the homegrown Lazy S Arrow produce raised
at the base of the Woodward Canyon Estate Vineyard
Open seasonally, May-October
Hours: Fri-Sun, 11:30am-3pm