Winemakers and growers share insights about this acclaimed appellation that has long attracted wine fans, and now too, big league investors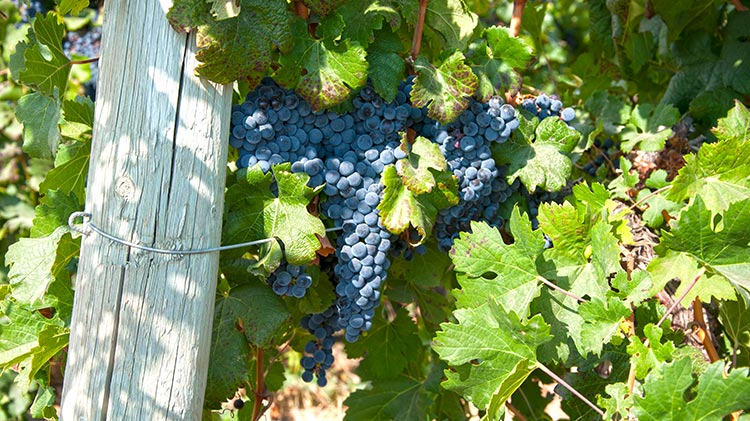 Written and photographed by John Vitale
WASHINGTON'S tiniest appellation, Red Mountain, is receiving a towering amount of attention these days. Along with the high demand for fruit sourced from this particular American Viticultural Area (AVA), Red Mountain itself is becoming a quasi-international wine growing community.
In 2013, Canadian-based Aquilini Investment Group surprised the local industry when they swooped up 518 precious acres of the AVA at a land auction—the majority of which was quickly planted with Cabernet Sauvignon. That same year, Duckhorn Winery out of Napa, Calif. put down roots on Red Mountain when it purchased 20 acres of prime land for its Washington-based Canvasback label—they too put in predominantly Cabernet vines.
Earlier this spring, Terlato Wines acquired and added Klipsun Vineyards' 120-acre vineyard estate to their gigantic portfolio of 85-plus wine brands in over a dozen countries.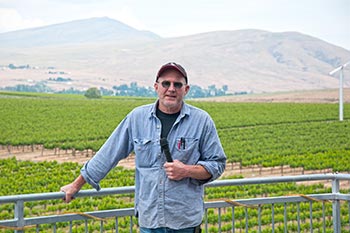 Humble Beginnings
A sub-AVA of Yakima Valley, Red Mountain started under humble auspices. Scott Williams of Kiona Vineyards and Winery helped plant the first vineyard on Red Mountain in 1975 (along with his father, John, and Jim Holmes, both pioneers of the AVA). He's watched growth and fame arrive to the region at a glacial pace over the decades—until now.
"Kiona was the very first vineyard on Red Mountain. It took us a couple years prior to drill a well, get a patch of sagebrush cleared, and bring in power. It didn't look like much then," says Scott. "Now what catches the eye and strikes one as being unusual are the few remaining undeveloped patches of desert in a sea of green vines."
Today he manages 242 acres under vine, spread among three distinct vineyard sites on Red Mountain: Kiona Estate, Heart of the Hill, and Ranch at the End of the Road. While the majority of Kiona's estate wines are made with Bordeaux grape varieties, Williams produces small quantities of many other varieties sold only in their tasting room or wine club. Similar to his neighbors, Cabernet Sauvignon grapes represent two-thirds of their overall plantings. "Red Mountain is a great location for a diversity of varieties, but Cabernet is undisputedly special here," Williams says.
Rise in AVA Designate Wines
There are numerous producers using Red Mountain fruit, and in fact, Williams sells grapes to more than 50 of them. "In the past many used it as a component to increase blend quality whereas now we are seeing a lot of AVA-designated wines that celebrate and shout out their Red Mountain heritage," he says.
Kiona's Estate Red Mountain Reserve is a finessed blend of all six Bordeaux varietal grapes, impeccably balanced and velvety smooth.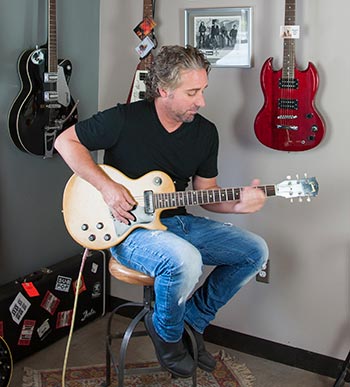 Chris Gorman of Gorman Winery in Woodinville has been a cheerleader for Red Mountain since his first vintage in 2002. He agrees wholeheartedly with Williams' assessment. "Winegrower Scott Williams was kind enough to sell me some Ranch at the End of the Road Syrah and '96 Cabernet Sauvignon from Kiona," he says. "These are still very important parcels to Gorman Winery today.  This will be the 16th year I have purchased this fruit." Gorman focuses mainly on Cabernet Sauvignon and Syrah, but also uses a touch of Petit Verdot, Merlot, Cabernet Franc, and occasionally Grenache, Malbec and Mourvèdre.
"Red Mountain has it all—power and beauty. Structurally, it is unmatched in the Northwest; the grapes are dense, structured and really have a sense of place," says Chris Gorman describing the distinctive fruit profile behind the wines. "I find it an awesome challenge to coax the delicious fruit portion of the grape and balance it with the sometimes heady structure of Red Mountain." Gorman's lush and visceral Pixie Syrah is a flawless example of this balance between beauty and power.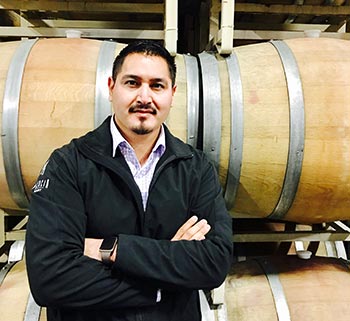 Victor Palencia of Palencia Winery (scheduled to open in Kennewick in late 2017) has worked with Red Mountain grapes the past eight vintages. "With ripe supple tannins, Red Mountain offers the opportunity to really explore the intensities of Washington wine country," he says. "The structure and finesse the wines deliver in Red Mountain reds are my stand out characteristics." His El Viñador Red Mountain Cabernet Sauvignon, a reserve red wine, delivers power and elegance in every sip.
Having spent much of his career among the vines, Victor Palencia understands the technical factors that contribute to the uniqueness of the region. "A combination of soil profiles, increasing the intensity of the deficit irrigation practices, elevation, and the aspect of the vineyard site make all the difference," he explains. "Soil profiles can really impact fruit intensity and berry size, elevation can influence skin thickness and protect during spring frosts, and vineyard aspect will ultimately allow you to maximize sunshine morning vs. afternoon exposures."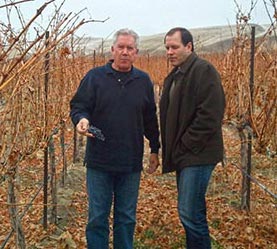 Enthusiasm For Cabernet
In 2004, Doug Long of Obelisco Estate began planting thirty acres of Bordeaux varieties on Red Mountain with an emphasis on Cabernet. He zeroed in on the site after meticulous research. Long's background was in the production of intense full-bodied reds and he was looking for a small AVA that was similar to his experience in the Pritchard Hill area of Napa.
"Red Mountain was very close, it had a nice elevation off the valley floor, good heat, was predominately west/south sun exposure and the soils were ideal," he says. "After completing 80 or more test holes on the property the real magic of Red Mountain began to show—deep alluvial soils covered by four or more feet of wind blown loess. This was just perfect for growing the grapes I wanted."
Doug Long has noticed the trending popularity of the area's grapes. "Definitely the demand for fruit outstrips the production," he points out. His Electrum Cabernet strikes a poised balance between the powerful structure and meaty red and black fruit flavors.
Larry Pearson has been growing fruit on Red Mountain since the mid-1980's when he planted three and a half acres of Cabernet. He has since expanded Tapteil Vineyards to over 45 acres, still focusing on Cabernet yet with the addition of Merlot and other Bordeaux varieties, as well as several red Rhône grapes. "And, with our Cabernet Sauvignon planting of last year along Old Inland Empire Highway just east of the Chandler Pump Station, we'll be adding some Aglianico, the Italian varietal from the regions of Campania and Basilicata," says Larry.
When he's not tending vines, Pearson keeps busy producing several hundred cases of boutique wine annually. He cites a lengthy list of growing area characteristics that make the AVA unique, including a dominance of Cabernet Sauvignon acreage. "Perhaps it is this strong grower and winemaker enthusiasm for Cabernet Sauvignon on Red Mountain that makes it seem so special," he suggests.
Pearson further points out that in addition to being the smallest AVA in Washington State at 4,040 total acres (equivalent to a little over six square miles), Red Mountain also has the highest proportion of grapes planted.  "This year's statistic indicates almost 1,700 planted acres, but looking around Red Mountain, that number may now have surpassed 2,000 acres and more are planned!" he says.
Tapteil's Merlot is a full-bodied red wine best described as a Cabernet-lover's Merlot, offering zen-like harmony between the mineral and dark stone fruit flavors.
Still In Its Infancy
After 26 crops, Tom Hedges is a true believer in the AVA, whose 110-acre Hedges Estate Vineyard is farmed to Demeter Biodynamic standards. "Many people can detect the Red Mountain dust," he says, referring to the distinctive taste present in so many of the wines.  "Cacao and lead pencil from the Cabernet Sauvignon.  And when farmed, harvested, and processed correctly, the tannins can be firm, but elegant."
Hedges believes the small geographical footprint of the AVA also makes it unique. "Piero Antinori [of Col Solare] told me about twenty years ago that they had selected Red Mountain partly because it is a small region, and so you can get everyone to agree on important issues," he says.
Indeed, it seems most all winegrowers in the AVA agree on the viability of Cabernet Sauvignon. "Cabernet Sauvignon provides the perfect balance between suitability for the AVA, and ability to market easily," says Tom. "Having said that, Merlot can be fantastic in two years out of three, and Syrah and Malbec are very easy to grow, and the results are as good as anywhere in the world." All of those varieties go into Hedges Family Estate Red Mountain red wine, a Cabernet-forward blend with exciting berry flavors and powdery tannins.
"In the end, Red Mountain is still in its infancy," says Tom Hedges. "The infrastructure that makes Walla Walla and Woodinville very famous is yet to be built.  Fun times watching all this happen in my thirty-one years in the industry!"
Read on and discover 16 reviews on Red Mountain designate wines as featured in the Summer 2017 issue of Washington Tasting Room magazine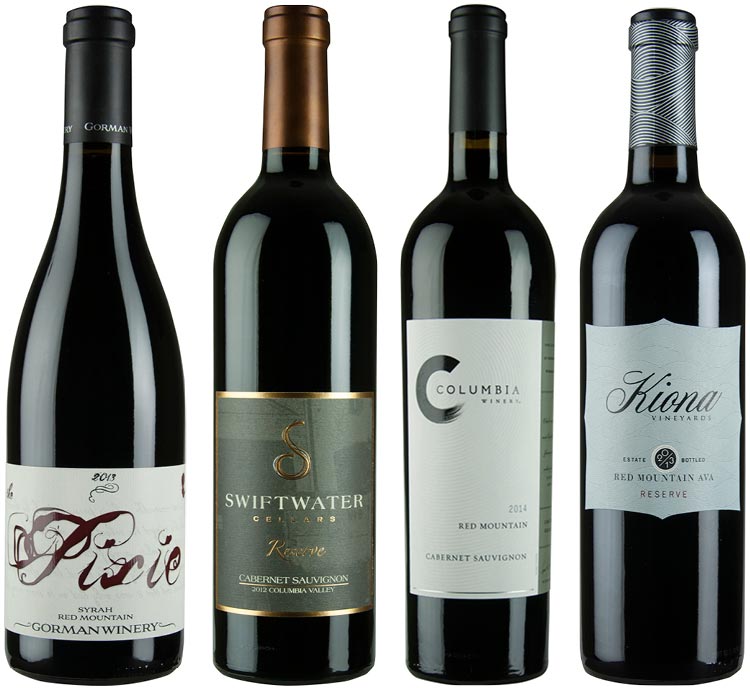 Gorman Winery 2013 The Pixie Syrah, $45
Editor's Choice – Extraordinary (96-100 pts.)
Syrah sourced from four vineyards: Ciel du Cheval, Kiona's Ranch at the End of the Road Block, Boushey and Klipsun. Visceral layers of boysenberry, dark cherry and blackberry flavors mix with alluring violet, currant, gravelly earth and baker's chocolate. Deeply concentrated without being overly weighty, there's mouth coating rapture to the lush, extracted flavors and gripping tannins that push through the finish.
Swiftwater Cellars 2012 Reserve Red Mountain Cabernet Sauvignon, $85
Editor's Choice – Extraordinary (96-100 pts.)
100% Cabernet Sauvignon sourced from Red Mountain fruit. Powerfully structured with brilliant balance and energy flowing through dense chewy tannins, lushly layered with cassis, blackberry, dark plum, meat, espresso and tobacco flavors. The lengthy finish reveals intricate notes of blueberry, loamy earth and crushed pebbles.
Columbia Winery 2014 Red Mountain Cabernet Sauvignon, $42
Editor's Choice – Outstanding (91-95 pts.)
Mostly Cabernet (90%) with a sprinkling of Malbec, Cabernet Franc and Petit Verdot for balance and depth. Satiny, rich and focused, loaded with bold juicy red fruit flavors tinged with strawberry, cassis, cocoa powder and sage. The flavors flow seamlessly from front to finish, with well integrated tannins, mineral notes and fresh acidity on the appealing finish.
Kiona Vineyards 2013 Estate Red Mountain Reserve, $42
Editor's Choice – Outstanding (91-95 pts.)
Scott Williams helped plant the first grapes ever planted on Red Mountain in 1975. This estate blend of all six Bordeaux varietals (includes Carménère) shows impeccable balance and finesse, with cassis, cherry, plum and red currant flavors interwoven with fine tannins on a velvet-smooth frame. Concentrated and rich, with mineral and spice lingering on the aftertaste.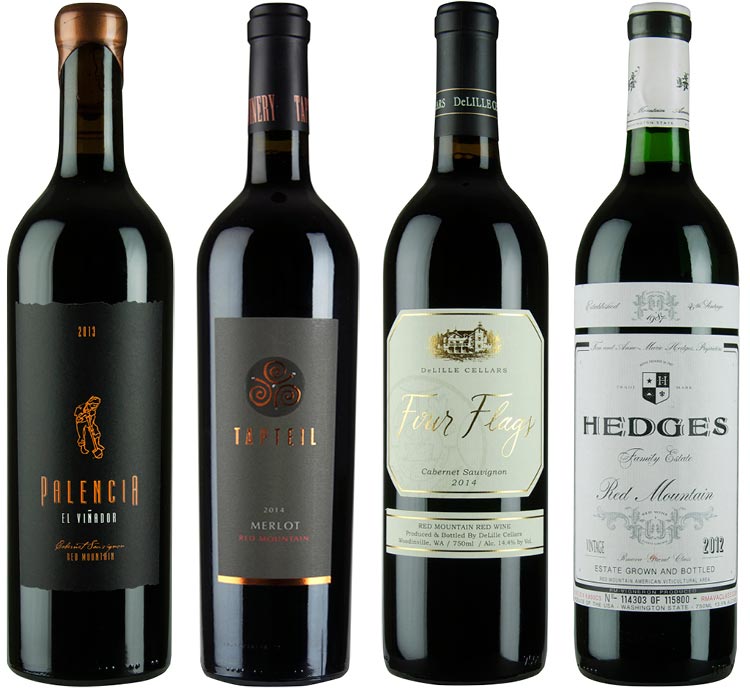 Palencia 2013 El Viñador Red Mountain Cabernet Sauvignon, $50
Editor's Choice – Outstanding (91-95 pts.)
Victor Palencia aged this polished Cabernet for 26 months in 100% French oak. Power and elegance combine in this gorgeous reserve red wine, with pillowy supple tannins deftly layered with cassis, black cherry, and vibrant red currant flavors, backed by baker's chocolate, espresso, earth and mineral spice on the structured and focused finish.
Tapteil 2014 Estate Merlot, $42
Editor's Choice – Outstanding (91-95 pts.)
Larry and Jane Pearson operate a grower-owned winery on Red Mountain with a mix of old and new plantings. Refined and balanced, with earthy complexities that strike a zen-like harmony between the mineral and dark stone fruit flavors. Fine tannins stretch out on the powerful, sleek structure adorned with black cherry, dark plum, tobacco, cocoa and granite.
DeLille Cellars 2014 Four Flags Cabernet Sauvignon, $69
Editor's Choice – Extraordinary (96-100 pts.)
This Cabernet was blended from four renowned Red Mountain vineyards: Grand Ciel, Ciel du Cheval, Upchurch, and Klipsun. Sublimely elegant and flawless, there's uplifting structure behind the firm tannins and seamless core of red plum and currant paste. Focused and beguiling, with savory spice, anise and mineral notes that stand out on the infinite finish.
Hedges Family Estate 2012 Red Mountain, $26
Editor's Choice – Outstanding (91-95 pts.)
With 31 years in the wine industry, veteran Tom Hedges is at the helm of this iconic brand. This estate-grown red blend is mostly Cabernet Sauvignon (60%) and Merlot (26%) with Cabernet Franc, Syrah and Malbec. Fluid, fresh and expressive, with earthy aromas and powdery tannins that glide through red berry, leather and juicy black currant flavors with a flickering of light spice on the long, seamless finish.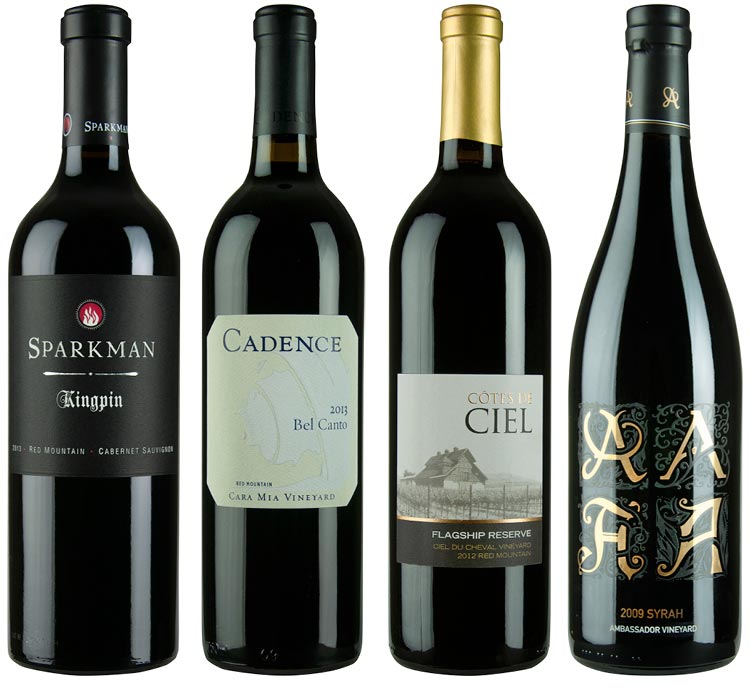 Sparkman Cabernet Sauvignon 2013 "Kingpin" Red Mountain, $62
Editor's Choice – Extraordinary (96-100 pts.)
The Cabernet Sauvignon has a touch of Petit Verdot blended in, and was aged 22 months in 76% new French oak. Polished, sleek and muscular, with deep aromas and mouth filling flavors of pencil shavings, violet, cassis, blackberry, wild blueberry, anise and granite. Solidly structured, there's a freshness to the black and blue fruit that echoes on the towering finish.
Cadence 2013 Bel Canto, $60
Editor's Choice – Extraordinary (96-100 pts.)
Ben Smith and Gaye McNutt's stunning blend of Cabernet Franc (75%) and Merlot (25%). The hallmark of this red wine is its cavernous depth and graceful power. Mouthfilling tannins are followed by rapturous, concentrated red cherry, plum and red currant flavors streaked with intriguing blueberry, anise, savory herbs and floral notes. Gorgeous crushed rock notes linger on the aftertaste.
Côtes de Ciel 2012 Flagship Reserve, $60
Editor's Choice – Outstanding (91-95 pts.)
A Bordeaux style blend from the Holmes family winery, managed by Richard Holmes using fruit from the family's Ciel du Cheval Vineyard. Gleaned from the vintage's 12 best barrels, this red wine is suave and supple boasting a seamless core of black and red fruit allied to nuances of anise, cacao nib, fresh earth and graham flavors. Granular tannins meld together effortlessly on the fine finish.
Almquist Family Vintners 2009 Syrah Ambassador Vineyard, $35
Editor's Choice – Outstanding (91-95 pts.)
Mike Almquist has been making wine since 2008. He runs a 10,000-square-foot working urban winery minutes from downtown Seattle, including a distillery and restaurant. This aging beauty is full, lush and textural, stacked with blueberry, plum, caramelized brown sugar, allspice, peppercorn, currant and tea leaf. Firm tannins and woodsy accents lead to a focused finish.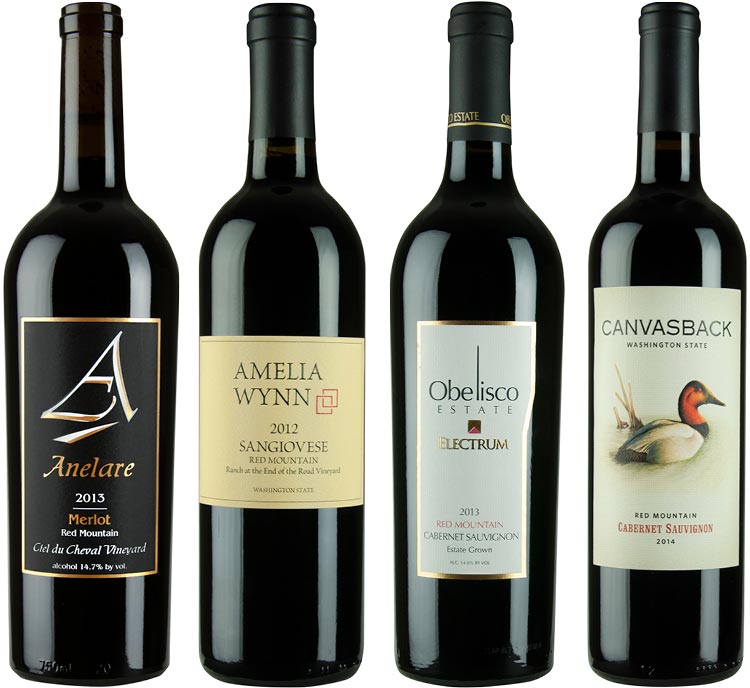 Anelare 2013 Ciel du Cheval Merlot, $45
Editor's Choice – Outstanding (91-95 pts.)
Sourced from Ciel du Cheval Vineyard on Red Mountain, where the Holmes family has been growing premium grapes since 1975, this rich and gorgeous single-vineyard red wine shows powdery fine tannins and powerful structure, backed by a fusion of marionberry, black cherry, leather and violet flavors that gain traction on the long finish, joined by mineral and earth notes.
Amelia Wynn 2012 Red Mountain Sangiovese, $32
Editor's Choice – Outstanding (91-95 pts.)
Entrepreneur and vintner Paul Bianchi founded this Bainbridge Island-based winery in 2008 and raises the bar with every vintage. This 100% Sangiovese is a beauty, aged for 30 months in new and used American oak. A complex version with a rich core of red cherry layered with currant, vanilla bean, pretty lavender and violet. Silky in texture, refined tannins and spice notes linger on the finish.
Obelisco Estate 2013 Electrum Cabernet Sauvignon, $70
Editor's Choice – Outstanding (91-95 pts.)
Wine grower and vintner Doug Long brought his Napa experience to Washington State with his Red Mountain estate wines. This version strikes a harmonious balance between the structure and taut, focused flavors of meaty red and black berries, plum, gravel, cocoa and spice box. The long and persistent finish is extended by firm gripping tannins.
Canvasback 2014 Red Mountain Cabernet Sauvignon, $40
Editor's Choice – Outstanding (91-95 pts.)
Duckhorn Winery out of Napa, Calif. put down roots on Red Mountain and farms 20 acres of prime vineyards for its Washington-based Canvasback label. Lush and vibrant, there's solid depth to the concentrated plum, macerated blackberry, anise and violet flavors with complex underpinnings of tobacco, rock and earth. Granular tannins and pulsating acidity extend the lengthy finish.