Crafting wines with distinct personality, Syncline Winery is founded upon a close connection to the land in the hilly Columbia Gorge AVA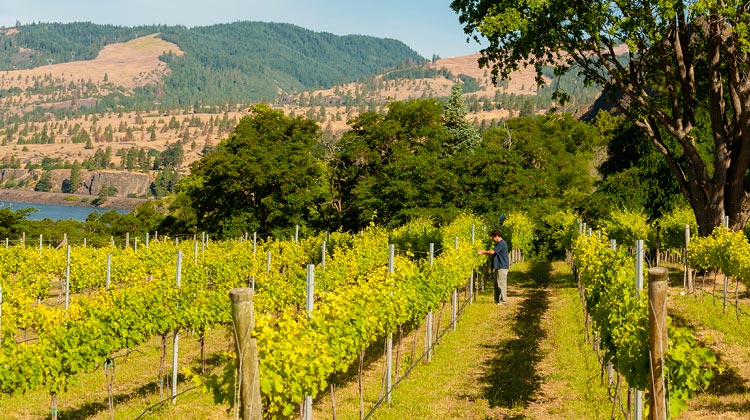 Few wine adventure destinations match the sheer spectacle of the Columbia River Gorge, the 80-mile canyon that serves as the border with Oregon.  With its constant winds, 4,000-foot cliffs and miles of forest trails, the Gorge offers a near-religious experience to scores of windsurfers and hikers who flock to either side of the river.
Here among the kiteboarders, cyclists, long-time fruit growers and newly established biodynamic farmers, you'll find Syncline Winery, one of a small but fiercely independent coterie of winemakers drawn to this rugged, staggeringly beautiful land.
Just off Highway 14 on the hillside above the tiny town of Lyle, owners James and Poppie Mantone work the vineyard, winery and farm where they fully embrace the concepts of biodynamic farming.  When it comes to crafting wines Mantone eschews what he calls the big three—Chardonnay, Cabernet and Merlot—and keeps a main focus on forging singular Rhône style wines that he works like an artist's palette, one color at a time.
An organic chemistry major at Purdue, Mantone started his wine career at various Pinot Noir wineries in Oregon, where he and Poppie met and married.  Driven by a shared passion to craft wines their own way, they looked for a patch of ground where they could incorporate biodynamic methods to live and farm—as well as grow grapes and make wine.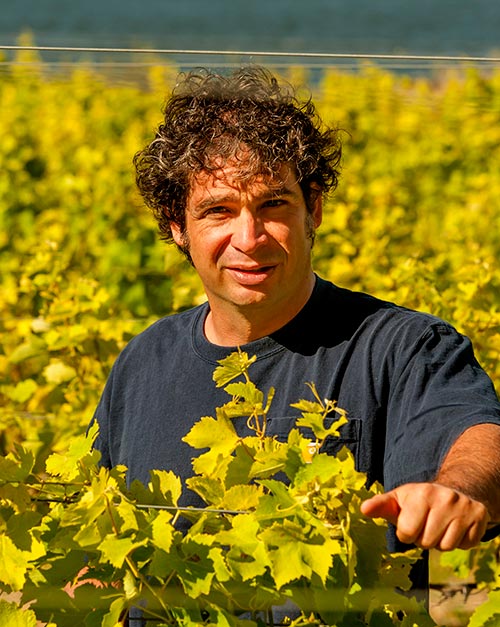 Drawn by Lyle's small town beauty, Mantone studiously researched key factors for vineyard potential in the area, such as soil, topography, growing conditions and weather.  Determining it was the right place to make his wines, he opened the winery in 1999 and quickly found a successful niche.
FARMSTEAD WINERY
Surrounded by the foothills of the Cascade Range, the family farmstead sits in an original old growth oak forest (neighboring trees are over 400 years old) bordered by patches of biodynamic farmed vegetables on one side, and the small but well manicured Steep Creek Syrah vineyard adjacent to the big barn that serves as the tasting room, storage and production facility.  Dotted with hammocks, bocce ball court and a loose collection of chairs and tables, Syncline is near perfect for an afternoon picnic accompanied by their food-friendly wines.
The presence of chickens wandering into the winery area (quickly corralled by Cooper, the border collie on permanent watch) and other farm critters underscore that Syncline is not the typical winery experience.  Guests are welcome but as Mantone firmly notes, this is a functioning farm/winery that is open to the public.
In between the winemaking and the farming, James and Poppie Mantone hike, board and train horses, cure meats and raise their two daughters.
WINES WITH ENERGY
"What I was after was a place to make wines that can't be made anywhere else," asserts James Mantone.  "The ground here does not have uniform soils so it offers interesting challenges.  And it is not a static place.  When I walk the property, it feels very alive; a place where I can make wines with a distinctive personality."
While Mantone is not given to marketing speak, some gentle prodding prompts a well-ruminated philosophy of the chief characteristic of his wines.  In a word, "nerviness."
"It's hard to describe," he acknowledges, "but nerviness is an energy level in the wine.  It's excitement on your tongue.  Our wines slowly present themselves to the drinker with distinct traces of minerals but they're not rocky, not acidic.  I don't want big, round plush flavors—I want edgy."
This focus on achieving and maintaining such a distinct personality in his wines earns Mantone respect from his peers.  "James and Poppie are some of my favorite folks in the industry," noted Bob Betz, one of the deans of Rhône-style winemaking in Washington.  "They've built a terrific reputation for wine quality, and personal character.  I admire greatly what they're doing."
WIND BEATEN GRAPES 
In addition to the compound's small vineyard, just a few miles west of Lyle lies his three-acre Nelson Vineyard of Syrah nestled on the banks of the Columbia River, a vineyard location that he claims is unlike any other in the state.  "The river is 81 feet from the vines," he said.  "In fact, we're in the middle of the Cascade Range here but we're also at sea level.  These factors allow us to grow Syrah grapes distinct to the Gorge."
A stroll through the rows brings quick notice of that relentless Gorge wind so adored by the surfers and kiteboarders.  The visual effect on the vines—all leaning southeast—is unmistakable.  Mantone says such unusual conditions strengthen the grapes to his level of nerviness.  "The wind beats the skins and the result is a dark Syrah that is savory and meaty with good tannins."
Mantone draws on the precision of his early science training to craft his wines.  He or his small team do nearly all the chemical analysis in the winery but after the numbers are crunched, Mantone's instincts take over, guided by the definite flavor profile he has honed in two decades of winemaking.
SCIENCE IS A TOOL
"Science is a tool—necessary, but in the end still a tool," he says.  "I like to say that winemaking is 90 percent intuition and 10 percent tuition.  We gather a great deal of information about our grapes, all designed to help us make decisions about what we want to do and when we want to do it."
In the coming years, he plans to plant 17 acres of Gamay, Syrah, Picpoul, Grenache blanc as well as others, on land a few hundred feet above the compound.  Facing southwest with a terrific view of Mt. Hood in the distance, this vineyard will serve as the next phase of growth for Syncline; one he hopes will be in full swing by the time his daughters take over the winery.
And it will surely add yet another reason to keep Syncline on the list of wine travel adventures.
"We're all about the wine and presenting it to visitors," Mantone says.  "Here you can touch the barrels, sniff the winery, stroll the rows and breathe the beauty of making wine in the Gorge."
Written and photographed by Richard Duval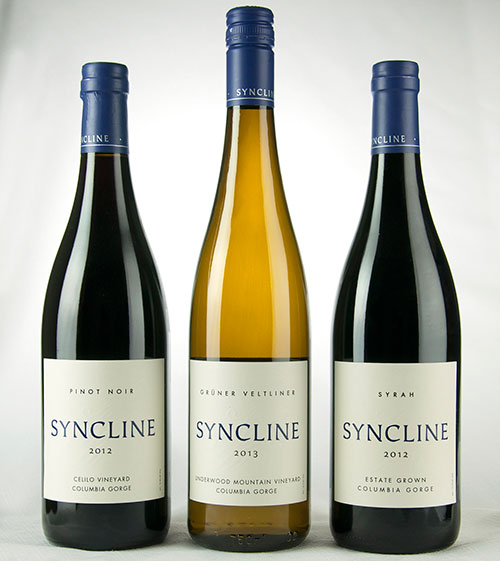 Syncline 2012 Celilo Vineyard Pinot Noir, $30
This terroir-driven Pinot comes from a block of old vines planted by Celilo grower Rick Ensminger in 1972.
Nose: Swirling with expressive earthy aromas of dark plum, black cherry, violets, raspberry coulis and black truffle.
Taste: Minerally-driven flavors of pie cherry, black tea and fennel that lead to a vibrant finish and satiny tannins.
Syncline 2013 Underwood Mountain Vineyard Grüner Veltliner, $20
Sourced from Underwood Mountain Vineyard, this classic Austrian varietal is hailed as an exotic alternative to Sauvignon blanc. Try with fresh chilled shellfish, sushi, asparagus and vinaigrette salads.
Nose: Wet stone and floral hints of white tree blossom.
Taste: Exudes purity of fruit with a piercing underlay of finely-tuned acidity. Seamless herbal and citrus flavors of lemon grass, lime, grapefruit and haricot vert spreckled with fine white pepper.
Syncline 2012 Columbia Gorge Estate Syrah, $50
This striking Rhône varietal displays effusive aromas and distinctive savory flavors.
Nose: Enticing, generous aromatics of game, violets, dark plum, boysenberry, coriander and smoke-tinged herbes de Provence.
Taste: Silky, sleek and elegant, with high-toned and complex earthy flavors of pomegranate, game, red currants and spice. Fine chalky tannins build on the long and richly satisfying finish.
Tour Syncline Winery
111 Balch Rd, Lyle WA
Hours: Thursday-Sunday, 11am-6pm
Ph: 509-365-4361
www.synclinewine.com