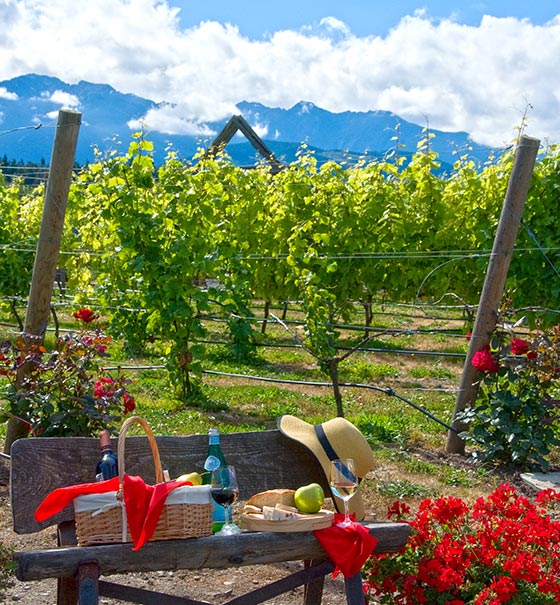 At the women-owned Olympic Cellars winery, complementary skills come together in perfect harmony. Kathy Charlton came to Olympic Cellars Winery to close it down.  The Texas Instruments manager lived in Dallas and was in India on a business trip when her husband called and asked, "How would you like to buy a winery?"  Although it hadn't been on her to-do list, Charlton agreed to the purchase in order to help her mother-in-law, who'd co-signed a loan on the failing business.  It was a big decision, but even Charlton couldn't have predicted just how big it would turn out to be.
With no intention of retiring and embarking on a second career, the only logical option was to close the winery's operations.  Then something happened.  "We only crushed one grape varietal in 2001, and that little wine won a gold medal," Charlton remembers.  "It was like stepping across the line, placing $2 bets and saying, 'We know what we're doing.' "
The truth is they didn't, she admits, but in retrospect, perhaps that was half the fun.  Charlton qualified for an early retirement package from her company by two weeks, so she cashed in her chips, packed her bags, and set up a new home on the Olympic Peninsula, far from the flatlands of Texas.
A decade later, Olympic Cellars Winery is thriving in Port Angeles right off the scenic Highway 101 loop on the Olympic Peninsula.  The winery and tasting room are housed inside a beautifully refurbished majestic barn with stained-glass windows that's hard for passersby to resist.  Originally a dairy barn built in 1890, it's the longest standing barn in Clallam County.
BUILDING A TEAM
To build the winery back into a viable business, Charlton surrounded herself with people who could help.  Charlton, along with partners Molly Rivard and Lisa Martin are known as the "Olympic women in wine".  Together they make a formidable all-female team.  French native and consulting winemaker Virginie Bourgue adds her well-honed expertise to the mix—and a little extra estrogen.
"What's great is that the three of us work really well together and all have different strengths," Rivard says.  She was teaching a cooking class back in 2001 after leaving her job doing food service for the school district when Charlton became one of her students. The two hit it off—Charlton asked Rivard to help with an event, and a partnership was born.
Martin's entrée into the world of wine was just as well-timed.  The day in 2009 the stay-at-home mom submitted her resume to the winery was the very day after Charlton and Rivard decided they needed to bring someone else on board.  She was hired on the spot.  "It was kismet.  I just happened to think about it at the same time they were talking about it," Martin says.
GIRL POWER
What's more than just luck is the way the three women work together to keep the winery thriving. The vibrant gift shop is a team effort, with the ladies traveling to gift shows together to choose which products to carry. "When all three of us think it's perfect, we know it will sell," Rivard says.
In the gift shop, they focus on items from smaller producers and those crafted in an eco-conscious way. "A lot of times it just follows that those items are more unique and interesting than other mass-produced things," Martin says. "We don't want to look like every other gift shop out there."
They all pitch in at the tasting room when needed, and the goal is to make everyone who comes in feel comfortable—no matter whether they're oenophiles or people who've never done a wine tasting before.
"Because we're right off the highway, everybody is at a different place in their wine journey," Charlton says.  "It's always fun to have someone taste the wine, and say, 'Oh my goodness, I like wine.' "
With Charlton's business and marketing savvy, Rivard's tasting room management and food sense, and Martin's assistance with the actual winemaking, their complementary skills all come together in perfect harmony—much as their wine blends.
EVOLUTION OF A LABEL
Olympic Cellars has come a long way since 2001, when the only wine they produced was the Dungeness Red Lemberger.  Today they have three brand labels and produce about 3,500 cases a year.  The Dungeness series is their heritage, and includes a red, white, and Rosé, while the Olympic Cellars series consists of top premium wines produced in small quantities.  Perhaps what they're best known for is their Working Girl series, which immediately connected with people when it first came out in 2003.
"We were all blending—we really had blended a little bit too much—and I said, 'Ladies, I'm exhausted—this working girl has got to go home,' " Charlton recalls.  And so the popular brand was born, with Go Girl Red, Working Girl White, and the now-retired Rosé the Riveter hitting the market with nontraditional labels and an emotional resonance.  At the request of male customers, they later added to the line Handyman Red, a mix of Cabernet Sauvignon and Cabernet Franc.
COMMUNITY-FRIENDLY
While the wines are, of course, the center of Olympic Cellars Winery, it's much more than just a place to swirl, sip, and savor—although it is an incredibly scenic place to do just that.  An August concert series brings 200 to 400 people each go-around, and there's always some sort of fun event on the horizon.
One of the most important goals for Charlton is to give back to the community, a mission she's been passionate about since the beginning.  Although the winery was only able to donate $86 in 2002-03, they're now a charitable force to be reckoned with, having made the Puget Sound Business Journal list of top corporate philanthropists in both 2009 and 2010.
FINDING FRIENDS
With all the giving she does, Charlton has gotten a lot back, too. While running a winery is a second career she couldn't have dreamed up, it's one she thoroughly enjoys, despite the difficulties in the early days and the challenges that always come with running your own business.  "When I worked for Texas Instruments, we were focused on the end goal," she says.  "I didn't make friends until I came here."
That very first blend they made "suckered and seduced" her in, and it's a good thing it did, for now she has a beautiful piece of land with mountain views, an historic barn with a past worth preserving, and a business that's brought her friendships that make work much more than just work.  As she says of her fellow women in wine, "We're sisters through grapes."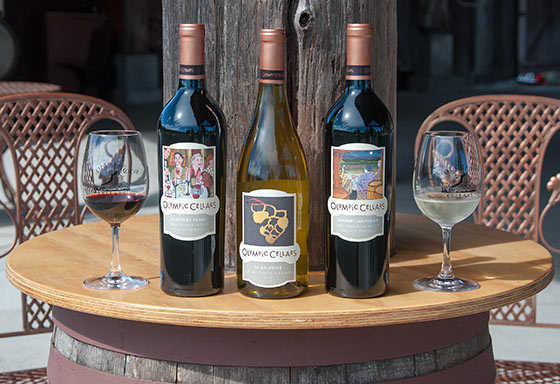 EDITOR'S WINE PICKS
2007 Cabernet Sauvignon Bacchus Vineyard
Rich aromas of blackberry and dark cherry lead to complex flavors of dark blackberry and black cherry, ripe plums with a hint of coffee beans. Bright lengthy finish. Gold medal winner at the Seattle Wine Awards.  $24
2007 Cabernet Franc Boushey Vineyard
Herbaceous nose of sagebrush, tarragon and lavender leads to velvety layers of raspberry and blackberry liqueur. Long finish of plums, cherries and cola. Double gold medal winner at the Seattle Wine Awards.  $25
2009 La Galopine
A 50/50 blend of Roussanne and Viognier.  Striking nose of creme brulee, toasted almonds, lemon peel and apricots.  Creamy mouthfeel offers up soft floral and citrus notes.  $24
Written by Haley Shapley
Click here to view the actual pages of this article as published in Tasting Room Magazine.
Tour Olympic Cellars
255410 Hwy 101, Port Angeles, WA
Open 7 days a week
Ph: 360-452-0160
www.olympiccellars.com
Editor's Note: Read more about Olympic Cellars In The News.