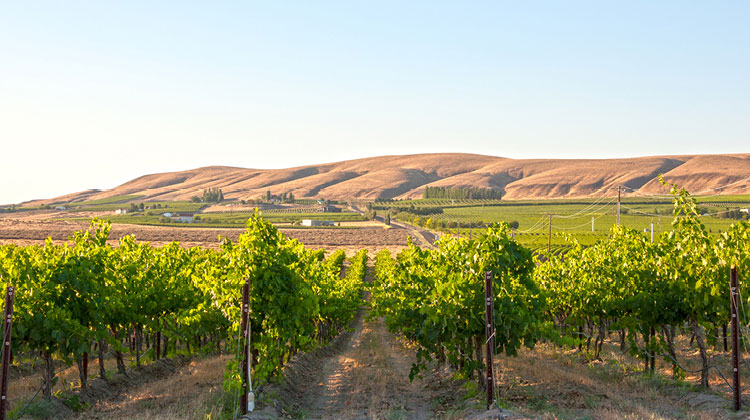 Sunset Road cuts a two-and-a-half-mile swath through the middle of Washington State's smallest appellation, Red Mountain, providing easy access to nine wineries lining the route.  On a viticulture map, it's identified with nothing but a dot of red the size of a pencil eraser.  But Red Mountain, and Sunset Road in particular, is like a grape grower's Rodeo Drive without the pomp and circumstance.  The 4,040 acres of verdant vineyards are planted in what were once essentially dying orchards, sage and cheatgrass, which bathed the mountain in red tones in the spring.
The fruit coming off the mountain has driven devotees to knock on doors, cold call and listen to the advice of friends—all in their pursuit of limited appellation land that even in its infancy held promise for growing some of the finest grapes in the state.  Today, Red Mountain grapes, mostly Bordeaux and Rhône varietals, are among the most expensive—and the source of an endlessly growing list of 90+ scoring wines.
The Dynamic Duo: Hightower Cellars
For Tim and Kelly Hightower, the role as married co-winemakers (the first in Washington State) is not a romantic marketing ploy.  They are tried and true partners in the cellar, balancing out each other's strengths and weaknesses—the perfect blend, if you will.
They met as co-workers at Columbia Winery, where Tim was in-house counsel.  "Tim may have been trained as an attorney, but he's a natural fork lifter," Kelly says laughing.  "The mechanical aspect of winemaking came instinctively to him."
Like so many producers on Red Mountain, Hightower is known as much for their fruit as they are for their wine, selling two-thirds of their annual harvest to other wineries.
"Chris Camarda (esteemed winemaker for Andrew Will) told us early on that if you don't think a wine is the best thing you've ever made, don't even put it out in the market," recalls Kelly.  "I'd like to think we've stayed true to that."
When asked about the camaraderie along Sunset Road, Kelly responds, "This is such a great community to be a part of.  Most of us live on our property, which is unusual.  I think it makes a big difference."
The Convincing Campout: Tapteil Winery
Tapteil's winemaker, Larry Pearson, didn't purchase a piece of land off Sunset Road on a whim.  A former engineer, he researched the area exhaustively, talking to vineyard owners, growers, vineyard managers, and winemakers, along with studying closely the publications of Dr. Walter Clore.  At the urging of Scott Williams at Kiona Winery, he found land on Sunset.
But with all of Larry's careful research and meticulous theories and calculations, buying the property came down to the night he asked to camp on it before deciding: the yes was about how it felt to be on the soil that would birth yet another great vineyard.
"The inside joke when people ask if it's a good year is that it's always a good year on Red Mountain because the fruit always ripens," Larry says with a chuckle.
Originally planning to just sell wine grapes, Larry changed his mind when he started seeing what people were doing with his fruit.  "We've been in every one of Quilceda Creek's 100-point scoring wines," his wife Jane remarks.
Jane, with a background in advertising and marketing, balances out Larry's strengths.  They consider it a match made in heaven.  "What you see," says Larry, waving his arm proudly around the tasting room, "is all Jane."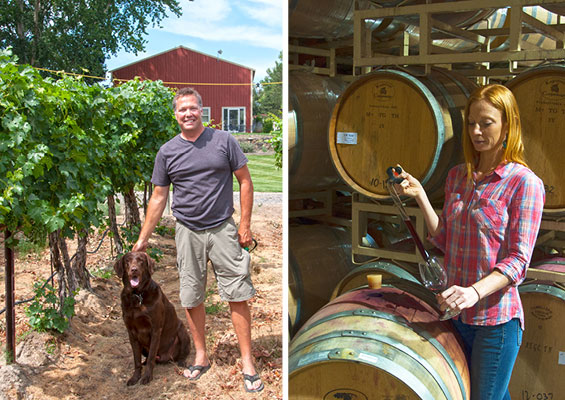 We Are Not Rock Stars: Cooper Wine Company
In 2007, Neil Cooper had a serendipitous run-in with Chateau St. Michelle winemaker Ray McKee.  "You want some advice?" McKee asked.  "Go buy a place on Sunset, hang a shingle and start selling wine."
Cooper promptly purchased land before it went on the market, recognizing Sunset as "beachfront property.  When it's gone, it's gone."
He eventually enlisted Steffan Jorgensen (formerly of Bergevin Lane in Walla Walla, now making wine in the Elqui Valley in Chile) as his consulting winemaker.
Cooper's shared goal is to put the focus on Red Mountain as a brand rather than promote the winemakers as rock stars.  "I wouldn't be in the business if it wasn't for Red Mountain," says Cooper, a third generation farmer.  "It's all about the dirt."
Cooper was most recently paid a visit by Sideways novelist Rex Pickett.  The author was fresh off a trip to Chile where ironically, he spent a day touring with Jorgensen not knowing the connection to Cooper.
When the spirited Cooper realized who it was, he pulled all the wines off the bar and replaced them with every bottle of Merlot that's been made under his label as a mischievous prank in defiance of Pickett's fictitious Sideways main character who was a wine snob that vocally detested Merlot.
Changing of the Guard: Hedges Family Estate
With John Williams and Jim Holmes providing the infrastructure for Red Mountain, it was Hedges founders Tom and Anne-Marie Hedges who took that momentum and initiated the AVA distinction (among other things), awarded in 2001.  After taking the chance with land on Red Mountain in 1990, they were honored as vintners of the year at the 2014 Auction of Washington Wines.
Their label reads "Guardians of Red Mountain," a shared sentiment with Sunset Road folks who defer to Red Mountain as a defining brand based on sense of place in itself.  In the spring of 2015, there will be a changing of the guard: Sarah Hedges Goedhart will take over the role as head winemaker from her uncle, Pete Hedges, the "mobile encyclopedia" as she affectionately refers to him.
As the former assistant winemaker, asked if she finds making 120,000 cases of wine for the Hedges, the Goedhart Family line, and the upcoming biodynamic label daunting, her response was, along with crediting her cellar team: "I've been described as freakishly strong."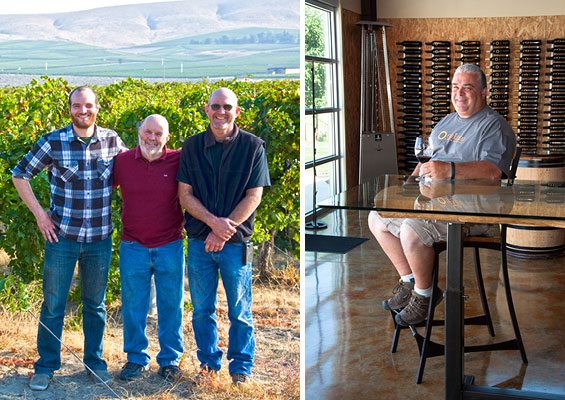 The Legends: Kiona Vineyards and Winery
John Williams of Kiona and Jim Holmes of Ciel du Cheval Vineyard were once Hanford engineers and wine hobbyists who studied Dr. Walter Clore's research.  Subsequently, they found a piece of land and thought planting a vineyard "might be fun," breaking soil in 1975.
Today, Kiona is a three-generation family affair.  John's son, Scott, serves as both winemaker and vineyard manager, and grandson JJ handles numerous operational duties.  JJ refers to Kiona as the "big little winery," referring to the enduring family feel despite Kiona's international presence.  "Our mail still comes to my grandmother's house on the property, and she walks it over to the office."
Kiona has 260 acres of fruit between Kiona Estate Vineyard, Ranch at the End of the Road (where JJ grew up), and their newest and largest planting, Heart of the Hill vineyard, allowing them to sell grapes to 60 wineries.
A recurring theme on Red Mountain is the use of the land.  "It's so scarce and valuable that we don't want to see it used for non-vineyard purposes," says JJ.  "It's a true viticultural area."
The Man: Fidelitas
Fidelitas is a play on a family name, Fidelas, Latin for fidelity.  "We use the three words: faithful, loyal, true," says winemaker Charlie Hoppes.  The name is more appropriate than ever as Fidelitas makes the shift to using only Red Mountain fruit.
Though the theme on Sunset Road is to honor the wine and not the winemaker, it's hard to ignore the impact of Hoppes, who has been making wine since 1988, his most notable tenure with Chateau St. Michelle.
His vast experience and finesse with fruit has attracted the attention of a number of other wineries looking for either a consultant or winemaker, including Frichette Winery and Hamilton Cellars.
Early on, Hoppes knew he wanted a presence on Red Mountain, so he approached his longtime friend, the late Stan Clarke, who agreed to sell him five prime acres on Sunset Road.  "Stan and I had talked about planting this together.  I was going to make wine for him and he was going to have his own label in Waitsburg," says Hoppes.  Clarke passed away unexpectedly, but his widow worked with Hoppes to make the dream come true.
"We actually wanted to call it Stan Clarke Vineyard," says Hoppes, "but the community college in Walla Walla [where Clarke was instructor of the Enology and Viticulture Program] took the name before we could get around to it."
The Art of Aging: Portrait Cellars
Eve and Ed Shaw were living on the west side of the state when Eve's brother, Fred Artz, legendary grower and a household name on Red Mountain, placed a phone call to them that would change everything.  "He said there was a great buy on the hill and that we had to get over here," Eve recalls.  "He said that Red Mountain will be a happening place some day."
So, the land that was home to a dead peach orchard became E&E Shaw Vineyard in 1997.
Eve is a portrait artist, hence the name of the winery.  "The paintings on the labels used to be portraits of my sons but they've been replaced by dogs," Eve says with humor.
Portrait is open by appointment only, and guests are treated like family, tasting wine at the kitchen counter.  "It's kind of a hobby that's out of control," says Ed.
"That is such an understatement," Eve retorts.
Because Ed and Eve didn't start Portrait Cellars to make a living, they are able to age their wines for three years, and another one or two in bottle—a rarity.  "I wouldn't recommend it as a business plan," Ed quips.
The Sunset That Led To Sunset Road: Hamilton Cellars
In 2006, over a glass of wine on a winery terrace overlooking vineyards—with a sunset on the horizon—Stacie and Russ Hamilton looked at each other and said, "Let's do this."
A certified public account, Stacie sold her wealth management firm, where she "would never tell people to start a winery," Stacie says laughing.
Russ was looking to retire from a hugely successful career in the solar industry (thus no surprise the tasting room and production facility are solar powered and zero net energy).  "We're the only winery in Washington that will sell back to the grid," says Stacie.
They had to use some imagination to acquire the property on Sunset Road that they fell in love with—the house was dilapidated, and broken-down cars sat on the land they knew would be ideal for world-class grapes.  And it wasn't for sale.  After approaching the owner six times, their offer was finally accepted.
Huge wine club fans of winemaker Charlie Hoppes, they bought more wine from him than anybody else at a Fidelitas Christmas party in order to get his attention before approaching him.  "We knew he could make world class wine for us," says Stacie.  "We're thrilled he accepted our offer."
Goosebumps That Changed Everything: Frichette Winery
Greg and Shae Frichette left well-paying jobs in Southern California to return to Greg's Eastern Washington roots to start a family.  What they didn't know at the time was that they would birth a winery along with their son, Jaden.
"We wanted to do something that would leave a legacy for our family," Shae says, "and something that gave us goose bumps."
On one of their visits to the area from California, a neighbor of Greg's who was a wine club member at Fidelitas convinced them to wine taste on Red Mountain.  They almost refused because Greg remembered Benton City as a place nobody wanted to go to while growing up and he was not familiar with the Red Mountain appellation.
But wanderlust took root after all.  "We fell in love with the people, the surroundings, and thought why not wine?" says Shae.  "That gave us goose bumps."
When they were looking for Red Mountain land, it was Charlie Hoppes, who they had asked to make their wine, that told them, "You don't wait for a sale sign."
So, they knocked on every single door on Sunset Road before a couple finally agreed to sell to them after recognizing their dream—the start of their legacy.
Written by Kirsten Telander
Take a Red Mountain AVA Tour
GETTING THERE
Drive from Seattle: 3 hours
Fly Alaska Airlines and take advantage of the Taste & Tote program where you can check your first case of wine FREE from Yakima, Tri-Cities/Pasco or Walla Walla on Alaska Airlines. Enjoy waived rental car drop fees from Hertz Rent-a-Car. Show your Alaska Airlines boarding pass for waived tasting fees at participating wineries.
WHERE TO STAY
The Hampton Inn Richland is minutes away on the scenic Columbia River walkway. Complimentary full breakfast buffet and outdoor patio seating are a bonus.
Red Lion Hotels offers  three nearby locations in Richland, Kennewick and Pasco, four blocks from the local airport with complimentary airport transportation.
Find a Red Mountain winery
www.redmountainava.com