No other married couple in the state makes as much wine, collectively speaking, as Juan Muñoz-Oca and Jessica Munnell. In this interview, they talk freely about their influences on wine—and each other.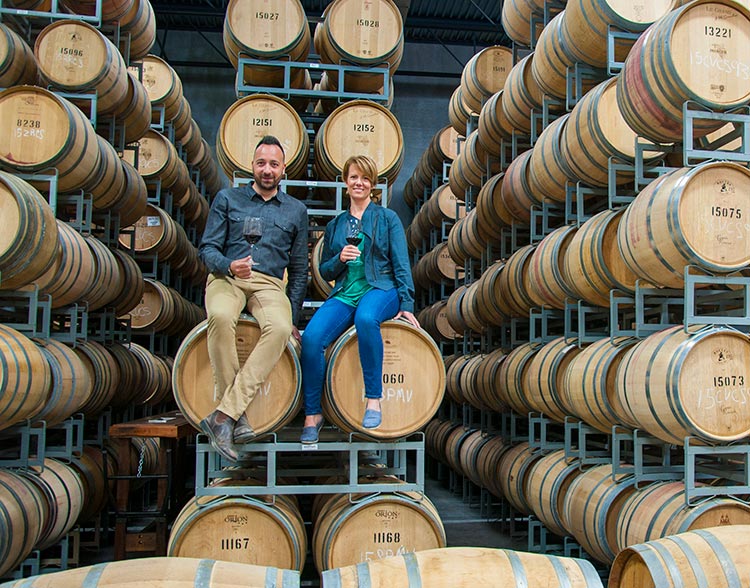 Click here to view the actual article as published in the Fall 2016 print edition
MARRIED ten years now, Juan Muñoz-Oca and Jessica Munnell hold a lot of sway over how consumers worldwide perceive Washington wine, a fact they remain humbled by.  Collectively, the two are responsible for about five million cases of wine each year, give or take a few thousand.
Raised in Argentina's famous wine region of Mendoza, Juan is articulate and gregarious, commanding one of the largest wineries in the Pacific Northwest, Columbia Crest in Paterson, where he attained the head winemaker position in 2010.  Intelligent and astute, Jessica has hit the four-year mark as head winemaker at Mercer Estates in Prosser, an estate-only winery focused intently on wines grown in the Horse Heaven Hills appellation.
The careers of the 40-something married couple personify bookends of Washington's incredibly diverse wine industry.  Juan's duties, in addition to Columbia Crest, include oversight of all wine production for a number of other colossal brands that fall under the umbrella of Ste. Michelle Wine Estates: 14 Hands, Snoqualmie, Two Vines, Red Diamond, Seven Falls, Michelle sparkling wine, and the newly-minted Intrinsic Wine Company.  A former viticulturist for Ste. Michelle Wine Estates, Jessica is responsible for all Mercer Estates' wine production, a highly regarded producer long recognized as a champion of environmentally conscious and sustainable farming practices.  At the other end of the spectrum, she also makes wine for a tiny-scale pet project called Wautoma Wines that churns out 200 cases a year.
Tasting Room Magazine sat down for an interview with this dynamic duo to hear firsthand about their influences on wine, and on each other.
Let's start with a quick overview of your winemaking.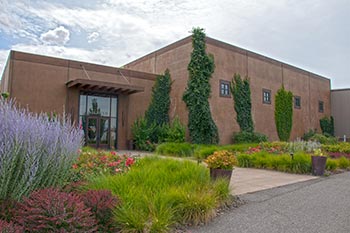 Jessica: I oversee all the wine production at Mercer Estates.  We've been growing, we're now at about 70,000 cases.  I like to call us medium-sized; we're quite a bit larger than the majority [of wineries] but smaller than Ste. Michelle Wine Estates' group of wineries.  We have a tier called Mercer Canyons where the majority of growth is right now.  And we're slowly expanding our Mercer Estates, our core tier of reds and whites.  And we keep our top tier of Mercer Reserves small, 200 cases apiece.
Juan: I am the winemaker of note for Columbia Crest Winery in Paterson.  We shipped a little over a million cases last year.  My responsibilities within Ste. Michelle Wine Estates, which is the umbrella parent company (internally we call it the Paterson group of wineries) center on Columbia Crest and 14 Hands here in Prosser, and include a few other brands—basically every drop of wine we make in Washington State except Chateau Ste. Michelle Winery.  And recently we added a new outlet for a more creative take on winemaking that we're calling Intrinsic Wine Company.
How large is your total production?
Juan: Shy of five million cases.
That seems like an enormous responsibility.
Juan: Yes, it's a large area of winemaking, and we feel like our responsibility includes putting Washington wine's best foot forward.  We feel every time somebody is having a glass of one of our wines it might be the first time they are drinking a Washington wine.  We try to showcase what we feel is spinal to the spirit of Washington as a winegrowing region—that idea that we get the ripeness, the sunny days, that people maybe associate with New World winemaking, and the bright beautiful acidity that frame those flavors from Old World style winemaking that we get from our cool nights.  And we bridge the two of those and Washington feels like a wonderful balance between them.  We're truthful to that spirit, and we try to make every bottle represent that, so people perhaps are inspired by those wines, and then they start digging into nuances of more complex wines in Washington that are made by all 900 wineries in the state.
Where are your company's wines distributed?
Jessica: In 48 states, Canada, South Korea, Japan and Mexico City.
Juan: All 50 states and 47 countries around the world.
Do you spend a lot of time talking about wine together?
Jessica: I'd say over 50% of our pillow talk.  If we're not talking about winemaking strategies, then we're comparing our work calendars.
Juan: I'm lucky enough to be married to a very talented winemaker.  In addition to my relationship with Jessica and our pillow talk about winemaking, which seems to be never-ending, it's about exposure to our friends.  It feels like our closest friends are in the industry and perhaps winemakers.  Our talk always takes us to winemaking and how we better express the uniqueness of our winemaking philosophy.  If Jessica is doing something to her Reserve Malbec, picking at night and sorting the grapes, or whatever the case might be that she feels will improve the quality of the wine, even though her Reserve Malbec might be 200 cases and our H3 Cabernet might be thousands of cases, I want to try to do exactly the same.
(Interview continued below wine reviews)
---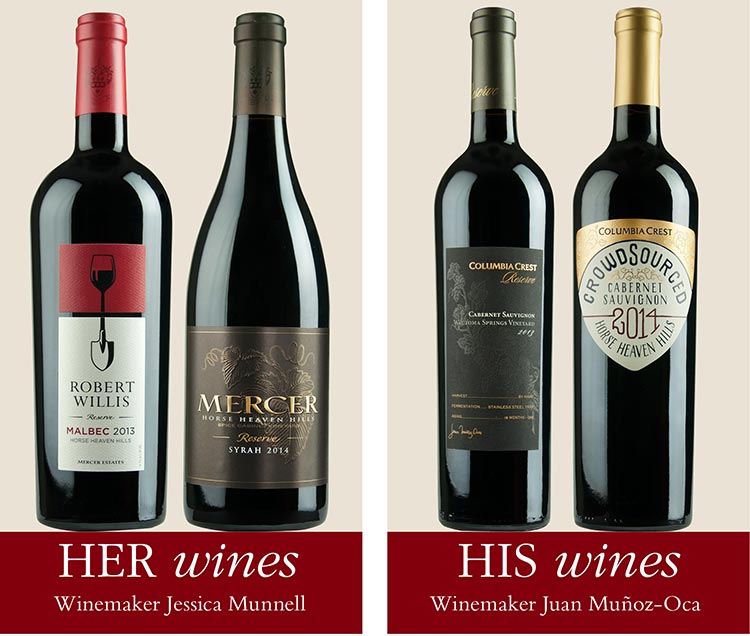 Mercer Estates 2013 Robert Willis Horse Heaven Hills Reserve Malbec, $55
Editor's Choice — Extraordinary
Brooding with aromas of black and red fruit, herbs and spice, there's a captivating velvety plush feel on the palate, with caressing fruit flavors of blackberry, dark plum and cherry all melded together and entwined with bay leaf, toffee, baker's chocolate and crushed rock notes that cascade along the refined finish. Case production: 99
Mercer Estates 2014 Horse Heaven Hills Reserve Syrah, $42
Editor's Choice — Outstanding
Rich, juicy and generous, exhibiting a savory medley of blueberry, raspberry and plum skin flavors layered with earthy sage, bittersweet chocolate and harmonious singed apple wood notes. Powerful and complex, with grainy tannins that linger on the aftertaste. Case production: 108
Columbia Crest Reserve 2013 Wautoma Springs Vineyard Cabernet Sauvignon, $40
Editor's Choice — Outstanding
Suave, elegant and focused, with smooth rich flavors and aromas of cassis, blackberry and spiced cherry, with handsome accents of violets, espresso and pencil shavings. Plushly textured with firm gripping tannins on the flawless finish. Case production: 608
Columbia Crest 2014 Crowdsourced Cabernet Sauvignon, $30
Editor's Choice — Outstanding
Incredibly, this polished version was made based on feedback from hundreds of consumers who voted online during every stage of the wine's development. Fresh, pure and distinctive, offering fleshy edges of ripe blackberry and blue fruit, with notes of vanilla bean, tobacco, loamy earthy and refined tannins on the satiny finish. Case production: 1,000
---
How did you two first meet?
Juan: I came in the summer of 2001 to Washington to do an internship with the viticulture department at Ste. Michelle Wine Estates, of which Jessica was a part.
Jessica: I worked originally as a viticulturist for Ste. Michelle Wine Estates from 2000 to 2003.  I was interested in making wine and I had met Juan by that point.  I was working only on the vineyard side and really wanted to see what happens once the grapes were picked, so I quit my job and went to Australia to work a harvest with Juan.  When I came back to the state I pursued enology and winemaking.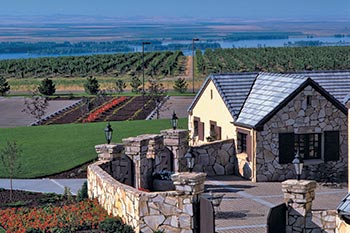 Is the biggest difference between your jobs the sheer size of the operations?
Jessica: Yes, that's really it.  From one day to the next, I could be climbing barrels to pull a sample, writing work orders on a day-to-day basis, and involved in those kinds of details.  There's no way for Juan to be involved at that level.  I would say the difference between us is he's overseeing a lot of winemaking and a lot of people.  We get dressed for work in the morning and he always looks like he walked off a GQ magazine—and I'm in jeans and T-shirt because there's a good chance I'm going to get wine on myself.
Juan: I have 9 winemakers that work with me along with a team of other direct reports.  I feel like I'm support for the winemakers, as in dealing with the logistics of how we make wine, and let each winemaking team deal with the nuances of the craft.  And, perhaps more importantly, during harvest, moving around to make sure everybody is doing what they do best and take care of the things they need.
Juan, do you miss the hands-on winemaking side?
Juan: Yes, however there are two sides to it.  We are a company of winemakers and we are very mindful of that—the idea that as you take more responsibility you may take yourself away from the craft that maybe brought you to the industry.  I have been surprised over the last five years on how well I have adjusted to that separation.  The fact that I don't know what's in every single one of the barrels that we have at Paterson doesn't bother me as much as what I would have thought maybe ten years ago.  So I've taken very nicely to that.  That's the first part of my answer.  So because we are company of winemakers, and because we're gaga over wines, there are certain outlets that allow me to stay in tune with what was incredibly attractive to me about Washington and about winemaking.  That outlet manifests itself in the Intrinsic Wine Company.
You're referring to the Intrinsic Cabernet Sauvignon made with an unusually long maceration period of nine months?
Juan:  Yes, we created a wine that had a very funky winemaking technique.  When a wine expresses itself uniquely, and that expression doesn't fit [any of our other brands] we decided to just bottle it and create an entity to showcase it, the Intrinsic Wine Company.  And, that's intrinsically related to my view of winemaking, and maybe my sensitivities when it comes to winemaking.
What's the concept behind the upper tier of reserve wines at Columbia Crest?
Juan: It feels like we plucked a tiny boutique winery from say, Napa, and we dropped it in the middle of the Columbia Crest facility at Paterson.  It's the philosophy and the idea behind having a winery within a winery.  The winemaking that we do within those four walls informs the winemaking that we do for the rest of the wines like Grand Estate and H3.  And so that attention to detail, the obsessiveness over when we pick, how we crush the fruit, what barrels we use in the reserve program carries through the rest of the portfolio.
Does the concept of a small winery inside a larger winery apply to Mercer Estates too?
Jessica: Certainly.  I worked for Bob Berthau of Chateau Ste Michelle on the red wine team and have that background of playing with the high-end wines, which becomes a trickle down effect.  What you try in your high-end wines, your success stories there, you carry on into your middle and lower tiers.  We do the same thing here at Mercer Estates.  Our reserve tiers are predominantly from our estate Spice Canyon Vineyard.  We do a Bordeaux blend, a Rhone blend, a Cab, a Syrah and others.  With all those fun varietals that we're using in the blends, we create a bunch of small-lot bottlings for our wine club members, like Petit Verdot, Mourvedre, Grenache, varietals that you don't normally find as individual bottlings.
Like Juan, are you also trying experimental techniques?
Jessica: Yes, we're playing with fermentation vessels and techniques too.  Such as small-lot fermentations, temperature, and other things to push the style and create interesting wines, something that's fun and unique for our wine club members that they won't find on the store shelves.  But then, we make such a small amount of those Reserves that a lot of the wine we played with ends up in our Mercer Estates and then in our Mercer Canyons, so it's elevating all the wines.
You're both involved on the vineyard side, too.  How many acres of estate vineyards do you have?
Juan: Columbia Crest has 2,400 acres of estate vineyards.  And then we have vineyards in Walla Walla at Northstar and Spring Valley.  We'll call it 2,500 or 2,600 altogether.  The rest are contracted out.
Jessica: Mercer has 2,500 to 3,000 acres.  The vast majority of that is sold to Ste. Michelle Wine Estates.
Are you getting any of that Mercer fruit, Juan?
Juan: Oh yeah, I get most of it (chuckles).

So you might source the same varietals from the same vineyard blocks?
Jessica: Yes, there are a few vineyards we get the same fruit from.  For instance, almost the entire Spice Cabinet Vineyard comes here to Mercer but he has a block of Malbec there.
Juan: Columbia Crest makes a Reserve Cabernet Sauvignon made with grapes grown at Wautoma Springs Vineyard.  And those blocks are right next to the grapes that Jessica uses for her personal winemaking at Wautoma Wines.  It could be said that we make wine from the very same grapes.
Do you guys ever dream of making a wine together?
Jessica: No. We'd have to put a piece of duct tape down the middle if we ever had a winery.  For his side, and my side.  Although I think we've gotten better over the last decade.  We know each other's quirks and would be able to work together, but it's tough.  Especially when in winemaking, your decision drives the style.  It's like two cooks in the kitchen.
Juan:  I can't see us trying to pick grapes.  In those blocks where we share a block of grapes, our picking decisions tend to be different.  And then the wine expresses itself differently as well.  And Jessica has the more elegant touch.  I can see myself trying to leave the wine on skins for nine months and Jessica would be like, are you crazy?
Jessica: He comes up with these really great ideas that are intriguing and exciting, and I think to myself, I want to try that too.
Juan: Maybe it would be better than what we think it would be.
Jessica: Yeah. We'd probably have to make a lot wine so we can do it one's way, and then the other's way.
If you made a wine together, would it be red or white?
Both: Red.
Personal favorite varietal right now?
Jessica: Malbec.
Juan: Cabernet Sauvignon.
Favorite wine region when you're not drinking Washington?
Jessica: Ribera del Duero in Spain.
Juan: Priorat in Spain.
Are your kids aware of the fact both their parents are winemakers?
Jessica: They are overly aware.  Most of our friends are winemakers and so I think for a good amount of their lives they thought that was the only job a person could have.  Everybody they knew was a winemaker!  Our nine-year-old daughter is old enough she doesn't want to be what mom and dad are, but she's got an amazing palate.
Your daughter tastes the wines?
Jessica: Yeah, and I'm impressed by her willingness to try different foods.
Juan: That's how aware they are.
Jessica: They are very exposed.  They know which wines we like to have, which cheeses we like to have with wine.
What's the most challenging aspect of your job?
Jessica:  Probably being a mom and being a winemaker.  There is the sales side of winemaking where you just need to get out and help the sales team sell the wine.  Being out there as a winemaker is a huge asset to the sales force.  That kind of pull between wanting to be home and be available to our kids for all their events, but wanting to do my job 110%.  Our daughter definitely lets us know how she feels about harvest every year.  We do a good job of trying to limit our travel during weekdays so we're home on weekends for the family time.  So we're always trying to balance that out.
Juan:  I think Jessica touched on it.  I spent the entire week last week flying through Canada and meeting with great folks who love Washington wine.  It was time very well spent, yet it's early July and it would have been perfect for me to be out in the vineyards trying to manage how we deal with canopy growth on these hot days.  And so I think that's a challenge for winemakers in general—as your career or your winery becomes successful, you start being pulled away from what drives you to this profession, that love for the grape, the wine and the craft.  And then you start doing all these other things that have become really important these days, because it's no longer enough to have great wines, you have to eloquently tell people why those wines are the way they are.  Especially in a region like ours.  If you make wines in Bordeaux or Napa, I think there's knowledge behind those names that consumers just know.  And when you step out of the Pacific Northwest and travel to Miami or Chicago, and I tell folks that I make wine in Washington, they ask me if I live in Virginia or Maryland!
What do you love most about your job?
Juan:  I believe we are trying to project to the world that we have the greatest grape growing conditions in the world.  And I know that Washington State will be the most influential wine region within our lifetime.  And having this opportunity to showcase that throughout the world, through the wines we make in Washington is like, priceless.  I get to sit down with folks in Copenhagen, Mexico City, Santo Paulo Brazil, Toronto, all over the U.S. and the world to showcase what we do and what makes our place truly unique.  I love that—the fact that we have that reach, and that we are the vehicle for grapes grown in the Yakima Valley to hit Japan or Korea.
Did you realize that your last answer was the same as your biggest challenge?
Juan:  (Laughs.)
Jessica:  For me, I love working for the Mercer family.  They are farmers.  They are great people.  And they are hands off.  I feel like I have complete autonomy on winemaking.  I constantly taste with them, asking their opinion and feedback, but no one's looking over my shoulder, so it's been a dream job for me.  And here are all these beautiful vineyards that we grow ourselves, so we have complete control.  Getting to work for a family that has put their trust in me.  It's a fantastic position.  It's a dream job for me.
Is there one takeaway you've learned from your spouse over the years?
Jessica: I don't think there's any one thing.  I think Juan really tends to think outside the box.  He comes up with really creative ideas.  He always wants to think of what's the next interesting thing, how he can make wine new and interesting, and something different, which is obviously the birth of the Intrinsic Wine Company.  It's not just, "let's get this wine made"—he's past that—it's, "what can we do different?"  He's a big thinker.  He takes the risks.  And then I think to myself, gosh, that would be pretty cool to try, too!
Juan:  I think Jessica's winemaking is very elegant.  When a male winemaker [like me] takes over a winery that is known for bold and big flavors, I could be out there making very oaky, very extracted, undrinkable wines if it wasn't for her influence.  She keeps me grounded.  Somebody has to drink these wines, you know?  It's not a competition to see who makes the darker, richer wines, like the IPA's these days; it feels like we're trying to outdo each other with triple IPA, imperial IPA.  I take that from her.  Her wines are very light on their feet and very elegant, which are the wines that we like to drink.  And I keep that in mind.
What wines do you open around the dinner table?
Jessica: I like to have a white wine open, something with bright acidity, while I'm cooking dinner and tasting.  And when we sit down to eat, we might gravitate towards a Cabernet or Malbec, and we have so many beautiful Syrahs in Washington, so I think at the end of the day, we're both thinking red is where it's at.  I drink a lot of whites this time of year.  Rosés too, I just can't get enough.
Juan: I will drink sparkling.  If I had to just drink one, I'd pick sparkling.
Jessica: Never say no to bubbles!
Can you describe each other in one word?
Jessica:  He's very memorable because he's so charming.  And he's obviously passionate about what he does.  And at home he's constantly doing stuff to make the kids and I laugh—he's a clown.  He's a charming, passionate clown (giggles at Juan).
Juan:  I think Jessica is loving.  Not only in the way she behaves with her family and friends, but also in the way she behaves in her job, and I think that shines through in the wine as well.  Yeah, I can say it in one word.  And there's no "clown" in there (grins at her).