Lake Chelan is destination travel at its truest—we return to this exciting AVA and tour six more of the 20-plus wineries established around the lake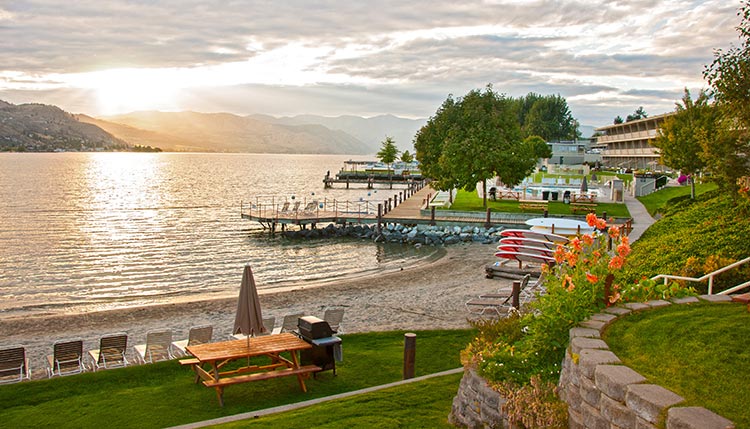 On the eastern slopes of the Cascade Mountains, Lake Chelan is a year-round tourist destination, offering outdoor sports from golf to boating, miles of hiking trails, and of course, wine tasting galore.An officially designated American Viticultural Area (AVA) since 2009, Lake Chelan wineries produce just about every variety, from sparkling wines to German-styled whites to Italian and French-influenced reds.
With an eclectic, rising foodie scene and lodgings to suit any budget, it's the perfect journey's end for a memorable wine-cation.  Join us on a tour of six distinctly different wineries that share the same mantra: come taste this place.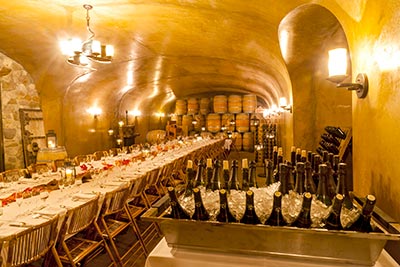 Karma Vineyards
Nestled on Chelan's south shore, Karma's charm is defined by the vineyard that beckons to the inviting deck, the cozily warm tasting room/bistro, an underground wine cave and manicured grounds tailored for lake gazing.
From a Thanksgiving visit in 2004 to check out orchard possibilities, Julie and Bret Pittsinger found a 70-acre estate of what once was an award-winning orchard, ripe with potential.  "We submitted an offer the day after Thanksgiving," she said with a laugh, "and two weeks later, we were in the wine biz!"
Long a devotee of fine sparkling wine, Julie saw the potential for an estate vineyard and winery devoted to producing world-class bubbly.  She and her husband set about converting a 14-acre portion of the land into a vineyard, and three years later Karma (named for her children, Karly and Matthew) established itself as the first Méthode Champenoise house in the Lake Chelan AVA.
Viticulture coursework at WSU followed and, guided by Champagne consultant Claude Thibault, she combined a sustainable vineyard approach with traditional sparkling wine techniques.  Today, working with consulting winemaker Craig Mitrakul, she augments the sparkling wines with estate wines like Pinot Noir and Syrah, and sources other varietals from the Columbia Valley.
With her wine vision firmly set, the perpetual motion machine that is Pittsinger turned her energies to shaping the winery itself.  "I saw early on the direction I want to take Karma," she explains.  From the vineyard to the winery to the cave to the bistro, "the more we did, the more we wanted to do."
Not surprising, the winery hosts over 200 events a year (it's a prime wedding location), which will no doubt increase with the new amphitheatre on the hill just above the winery that offers stunning views of the lake.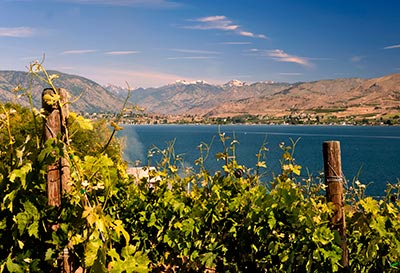 Chelan Estate
Like many of their winemaking colleagues, Bob and Mary Broderick came away from their first view of the land they eventually purchased with a firm belief that great grapes could grow around Lake Chelan; fifteen years later, Chelan Estate thrives from that faith.
"My aim was to make Pinot Noir," says Bob, who spent considerable time in the late 1990s scouting land on either side of the lake with vineyard potential.  A few planting experiments convinced him the south side of the lake had the right mix of terroir for his Pinot and in 2000, Chelan Estate laid in its first vines.  By 2002, he bottled the first of what was to become his flagship Pinot Noir.
The elevation of his vineyard protected by the steady cooling breezes wafting from the lake keeps the temperature down to Pinot-happy levels.  "Good soils and a vineyard that faces the right direction adjacent to a great body of water—those are the key factors," he says emphatically.
He likens Chelan to a great laboratory of grape experiments conducted by members of the lake's wine community.  "Chelan has so much to offer; we're still sorting out all the possibilities."
As the vineyard expanded, the winery added other varietals but remains Pinot-centric.
"I'm happy being what we are: low key, service driven, quality first," he says.  "Every wine we create is a good representation of what we do.  Visitors to our winery will always find a nice bottle of wine that complements this great view of the lake."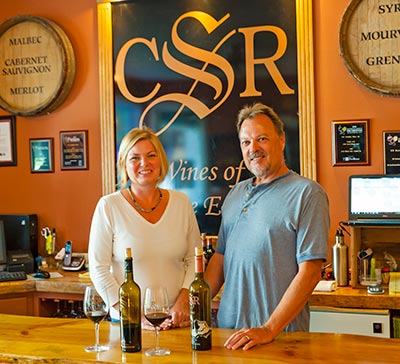 C.R. Sandidge
On the north side of the lake, the community of Manson houses a number of Chelan's wineries.  The tasting room for C.R. Sandidge sits on the town's main drag in a modest building that only hints at the global success of its winemaker.
After a 30-year career that has earned him awards and accolades enough to fill a barrel, Ray Sandidge now crafts his superb wines in Manson, a local boy coming full circle to his origins.  "Back in the early '70s, I used to fish this lake with my father when I was a kid so it's a special place for me," he says.
In the early 1980s, Sandidge was a research scientist at WSU's Prosser station working part-time with another Washington wine legend, Rob Griffin (Barnard Griffin Winery).  Soon he was making wine of complex characteristics that belied his mostly self-taught education.
By 1985, Sandidge signed on as winemaker for New York's Pindar Vineyards; two years later, he was living in Germany, making award-winning wines for the Georg Breurer estate winery.  Again his talent was undeniable; his Riesling took top marks in a major competition, the first ever for the 134-year old German winery.  Sandidge added to his knowledge with lengthy forays to France learning Rhône, Alsatian and Bordeaux styles and techniques.
But news of Washington's emergence as a wine region enticed him back to his home state.  By 1990, he was working alongside the heralded Brian Carter, crafting wines for Apex and Washington Hills.  Carter's deep interest in blends put a stamp on Sandidge's winemaking.
"I couldn't have asked for a better and more generous co-winemaker," Sandidge says of his long-time friend and mentor.  "He has such a big heart, and his blending skills are superb."
Other stints followed until family matters drew him to the Chelan area.  Sandidge and his wife Athena (who has a strong background in wine sales) are focused on carefully growing their winery to fully embrace the potential of Chelan.  A new winery and production facility will start taking shape in nearby Echo Valley.  An investment in vineyards may follow.
"Our wines reflect Ray's focus on quality and longevity," said Athena, "wines that age well and are food friendly."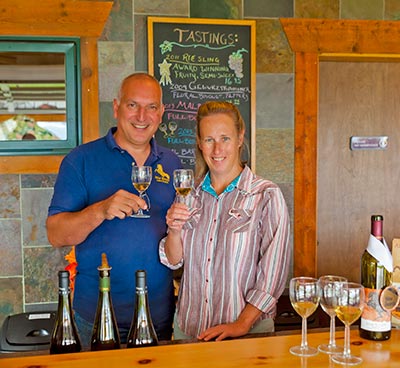 Atam Winery
High in the hills above Manson sits a slice of Germany that is Atam Winery.  As owners Denis and Irmi Atam proudly note, the wines are bilingual, projecting the distinct Chelan terroir via classic German winemaking techniques.
With breathtaking views, Atam Winery seems plucked from a German winery tourbook, complete with an estate vineyard and pasture occupied by Hungarian-Arabian horses they brought over from Europe, anchored by the classic Bavarian log style home that houses the winery and tasting room.
From their native home in Munich, the Atams learned their wine craft but chafed at the formidable restrictions to opening their own winery so they began to study wine regions in America.  Meticulous research resulted in a list of 50 specific factors they sought in a wine region.  A tip brought them to Chelan in 1998, checklist in hand.
"I always wanted to grow my own grapes and make wines in an organic approach," says Atam.  "Chelan soil, climate and weather fit all my requirements."  In 2002, they planted their first Riesling, Gewürztraminer, and Barbera grapes.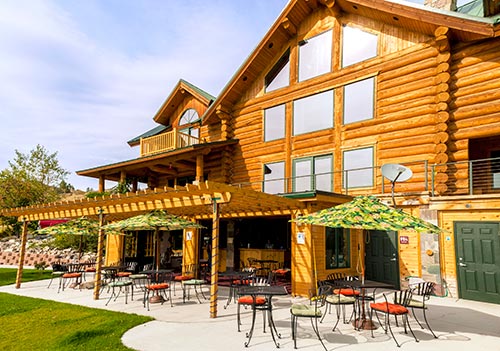 "People say our wines are intense and this is true," says Atam.  "We make wines with strong characteristics that speak about how we grow our grapes: pure and natural."
Organic growing methods are their forte, avoiding all fertilizers and insecticides.  Atam's wines reflect his commitment to natural winemaking practices, shunning additives and chemicals such as clarifying agents, stabilizing agents, aroma additives and enzymes.
Weddings dominate the summer season, drawn by the beautiful setting and magnificent log home structure that include stylized dressing rooms for the bride and groom.
The winery's unique appeal stems from the couple's German winemaking approach and their distinctive estate vineyards in Chelan.  "We brought a piece of the Old World here," Irmi says, "and combined it with this land that represents the New World.  You can taste both in our wines."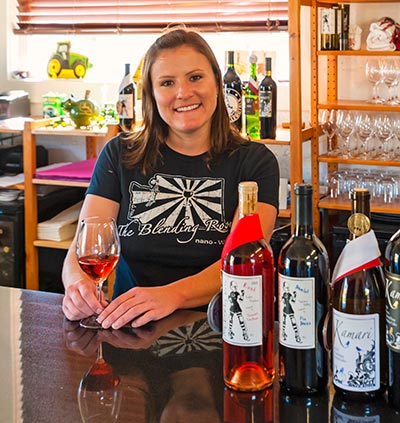 WineGirl Wines
Further down the street from C.R. Sandidge is WineGirl Wines, small in size but big on taste.  Owner/winemaker Angela Jacobs is a veteran of the Washington and Oregon wine regions who came to Manson in 2010 to pursue the potential of Chelan.
Reflecting the work-around-the-clock attitude of its owner, the winery is located in a former garage that combines the tasting room and production.  The bar serves as a vantage point to observe punch down, fermenting or bottling activities.
"My winery and my wines reflect every aspect of my life," says Jacobs.  "I'm not finished and so my wines aren't finished in the traditional sense.  I've learned to let the wine do its own thing.  It doesn't want to be managed."
She holds degrees in biochemistry and cell and molecular biology, though even then, wine was a passion (she titled an undergraduate project the "Wine Levels of Hell" inspired by Dante's Divine Comedy).  Her initial aim for a career in Big Pharma didn't last long.  "It didn't suit me," she said with a dismissive shake of her head.
Instead she followed wine harvests around the world before doing a stint in the Willamette Valley as a winery lab manager.  Driven to make her own wines, by 2008, she was back in Seattle, working in pharma again while she pursued an MBA.  By 2010, WineGirls was in full swing and Chelan was home.
"Chelan offers everything I want in a wine region—a climate that goes hot and then cool, creating higher acidity levels and longer aging potential in the wines."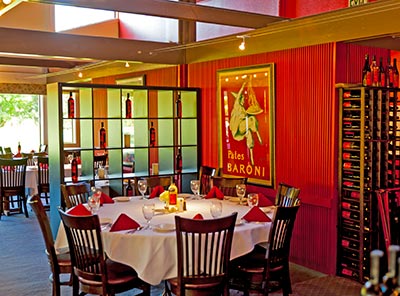 Wapato Point Cellars
If any Chelan resident were born to make wine from Chelan grapes, Jonny Kludt would have to be at the front of the line.
Kludt is son and heir apparent to Steve Kludt who, along with Bob Christopher, responded to a worldwide drop in apple demand by uprooting orchards and planting Chelan's first commercial vineyard in 1998.  Two years later, the Kludt Family bonded the first winery in Chelan County and in 2002, began selling estate wine.  Others followed and thus was born the Chelan wine industry.
Today the family still operates Lake Chelan Winery and has added Wapato Point Cellars, where Jonny Kludt crafts the next generation of Kludt Family wines.  Considering his upbringing, it's hardly a surprise that his wines are made solely with grapes grown in the Lake Chelan AVA.
"I drove a tractor before I could drive a car," he remembers fondly.  "I watched the progress of these vineyards almost from the beginning.  Harvest was a family affair so I knew pretty early on that I wanted to make wine from Chelan grapes."
Course work at WSU and UC Davis augmented his homegrown knowledge along with a stint at Fess Parker wines in California.  He further honed his winemaking style with extensive travels in Tuscany and Piedmont.  "I wanted to know everything I could learn about winemaking from different areas," says Kludt.
When the family opened Wapato Point Cellars, along with the on-site Winemaker's Grill restaurant, Kludt was ready to make his mark with the grapes that he helped grow.  "What we do here is craft wines with food always in mind," he explained.  "It's a vineyard-to-table philosophy that emphasizes an elegant, delicate style.  I strive to blend finesse into our technique."
Written and photographed by Richard Duval
PLAN A CHELAN WINE TRIP
Sleep Tight
Campbell's Resort on Lake Chelan
Lakefront family-friendly resort in downtown Chelan, with upscale rooms, restaurant, pools and hot tubs. PH: 509-682-2561, www.campbellsresort.com
Grandview on the Lake
Waterfront condo hotel with lake or river views from every room. The Grand Pool is open in Summer. PH: 509-888-6910, www.grandviewonthelake.com
Mountain View Lodge and Resort
Boutique mid-priced hotel in Manson. PH: 509-687-9505, www.mvlresort.com
Grab a Bite
Campbells Pub & Veranda
Vibrant atmosphere, Pacific Northwest inspired menu with a twist, award-winning wine list. PH: 509-682-2561, www.campbellsresort.com
Sorrento's Ristorante at Tsillan Cellars
Fine Italian fare surrounded by Tuscan-style columns and both courtyard and lake views. PH: 509-682-5409, www.tsillancellars.com
Vin du Lac Bistro
European-inspired bistro at Vin du Lac winery with fresh and local fare. Jazz and live music. PH: 509-682-2882, www.vindulac.com
Winemaker's Grill at Wapato Point Cellars
Open daily for dinner, dishes prepared from locally grown ingredients. Salads, steak, desserts & more. PH: 509-687-4000, www.wapatopointcellars.com
BBQ in the Vineyard at Lake Chelan Winery
Open seasonally starting in spring, a casual outdoor BBQ style restaurant set amidst the estate vineyard. PH: 509-687-9463, www.lakechelanwinery.com
Go Wine Tasting
Detailed map and info on Lake Chelan Valley wineries at www.lakechelanwinevalley.com. For visitor information, contact the local chamber. PH: 509-682-3503, www.lakechelan.com
Get Caught Up
Read about other wineries from this AVA covered by Tasting Room Magazine:
www.washingtontastingroom.com/travel/a-taste-of-the-lake