The Winery Incubators at the Walla Walla Regional Airport have become a landing strip for promising wineries—and they're taking off in a big way
March 2015 — Piper Avenue near Walla Walla's regional airport is a runway of sorts where startup wineries are able to safely land and take off.  The street is home to a row of winery "incubators" built in the 2000s.
Funded by state grants and Port funds, the Port of Walla Walla built the Incubators as a means of helping fledgling wineries improve their chances of business success during the first few formidable—and normally costly—years.
The concept was initially formed to meet the demands of graduates from Walla Walla Community College's enology and viticulture program (which was founded by Dr. Myles Anderson of Walla Walla Vintners in 2000).  Anderson, along with Norm McKibben (of Pepper Bridge Winery), worked closely with the port authority and played critical roles as architects of the project.
The pair lent their expertise to provide the oversight necessary to ensure each building was specially designed and constructed to meet the requirements necessary to operate a stand alone, 2,000-case production winery and tasting room.  With a cheap monthly rent that slowly increases over time, tenants are allowed a maximum stay of six years.
The distinctive pastel-hued incubator neighborhood has become popular with wine tasters.  Current wineries include Palencia Winery, Walla Faces, Corvus Cellars, J&J Vintners and Burwood Brewing, a local craft brewery.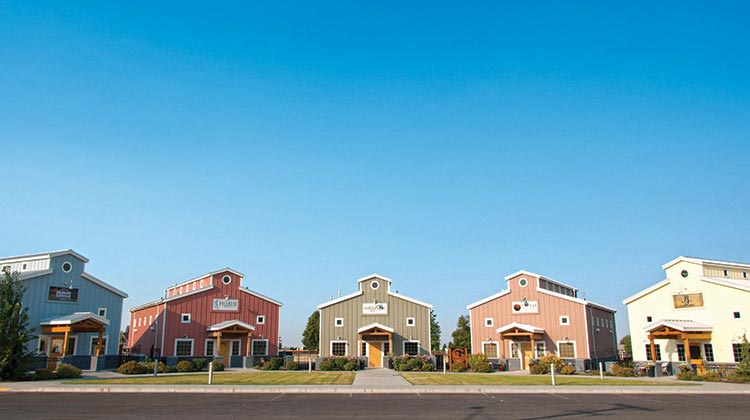 Victor Palencia, who earned a winemaking degree from Walla Walla Community College in 2005, always dreamed of opening his own winery.  He moved in during the summer of 2013.
"The Incubator program put everything I needed in one place, a marketable location, existing nearby winery businesses and a thoughtfully designed production facility I could grow from," says Palencia.  "Since I didn't have to make an immediate investment into retrofitting a building, I was able to focus my energy on growth and expansion, quadrupling production in the first year."
This year, his production will hit close to 2,000 cases between his Palencia brand and Monarcha, a quality-conscious label.  Already marketing his business up to the next level, Palencia has opened a second tasting room in downtown Walla Walla.
When Corvus Cellars' owner Randall Hopkins heard of an opening in 2011, he jumped at the opportunity.  "The Incubator building was pretty much a no-brainer for us given we really had to do very little to get set up.  The Port of Walla Walla was easy to work with and we quickly became part of the Incubator family," says Hopkins.
"The Incubators give tasters an opportunity to park once and taste five times," he adds.
Prior to Walla Faces moving into the Incubator in September of 2012, owners Rick and Debbie Johnson had been custom-crushing their wine at Bergevin Lane winery. At that time, they manned a tasting room on Main Street in the heart of downtown Walla Walla's historic district. Fortuitously, as soon as they moved their tasting room into the Incubator winery, they noticed an upsurge in wine sales.
"We have been pleasantly surprised that tasting room guests appreciate visiting the place where the wine is made—more so than an off-site tasting room," says Rick Johnson, citing a significant increase in sales when the tasting room became a part of the Incubator winery. "This is in spite of the fact that our former tasting room was centrally located in downtown Walla Walla."
Rick wears the title of co-winemaker at Walla Faces, sharing the duties with Victor de la Luz, each contributing different skillsets. Victor worked for years at DiStefano Winery where he gained experience in the lab and cellar; Rick took courses at UC Davis and is currently enrolled in WSU's enology program. Chris Camarda, winemaker and owner of Andrew Will Winery, serves as a consultant/mentor to the winery as well, bringing a bevy of talent to the table.
"The incubator program has helped our business in several ways," Rick points out. "The Port's Incubators allowed us to move into a facility that is already set up as a winery with proper water, drains, floors, heating/cooling, room heights, and electrical capabilities, which saved us a lot of money from moving into a space that was not designed to accommodate a winery. We would rather spend our resources on purchasing winery equipment than making improvements to a property we did not own."
Success of the incubator project can be measured, in part, by the wave of startups that have taken flight and set up shop in the private sector.  The creation of new and decent paying jobs within the industry is a bonus.  Graduates include Kontos Cellars, Lodmell Cellars, CAVU, Adamant Cellars and Trio Winery, all still operating today.
Chris Kontos of Kontos Cellars commented, "We spent our first six years making wine at the Walla Walla Airport in an Incubator.  These were great buildings and I encourage anyone who is considering making their own wine to look into them."
Being part of the Incubator family allowed Chris (and his brother, Cameron) to produce premium wines without skimping on quality.  "The Incubator buildings gave us a chance to build our winery slowly and with very little overhead.  As a result, we were able to focus our cash flow toward some of the best vineyards around and premiere oak sources rather than simply servicing debt from a building that we were likely to outgrow in a couple of years," he explains.
Kontos points out they also benefited by being part of a bigger destination.  "We were constantly building our fan base with the help of the more established Incubator wineries," he says.  "Customers would come up to visit them, then wander over and taste through our wines.  I feel we would not have been able to build our following nearly as quickly if we were even a block away."
The newest Incubator, J&J Vintners, signed a lease with plans to open their tasting room in spring of 2015.  Co-owners Jeremy Petty and Jody Middleton earned winemaking degrees from Walla Walla Community College.
"The Incubator will give us the perfect opportunity to take our business to the next level," says Middleton, whose boutique winery has been making about 500 cases annually for the past four vintages.
"With our tasting room and wine production together in a great location, we can develop a unique identity in the market place and be able to better supply the demand that has been created for our wine."
Written and photographed by John Vitale