Col Solare's winemaker Darel Allwine talks about changes afoot at the once-exclusive winery whose gates are now open to the public for tastings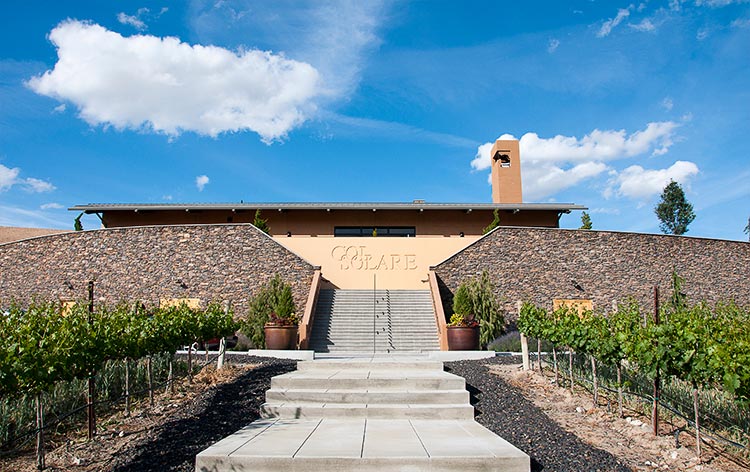 WHEN Ste. Michelle Wine Estates and Marchesi Antinori of Tuscany announced their plans to launch Col Solare with a 1995 vintage, it was as if the wine industry stood still for a moment, and deservedly so.  Chateau Ste. Michelle is the oldest winery in Washington State, and the Antinori family has been making wine for over six centuries in Italy.
The buzz continued as the partners selected the Red Mountain appellation as the place for Col Solare ("shining hill") to call home.  In 2005, Piero Antinori and Ted Baseler, president and CEO of Chateau Ste. Michelle, celebrated breaking ground on land situated high up Red Mountain.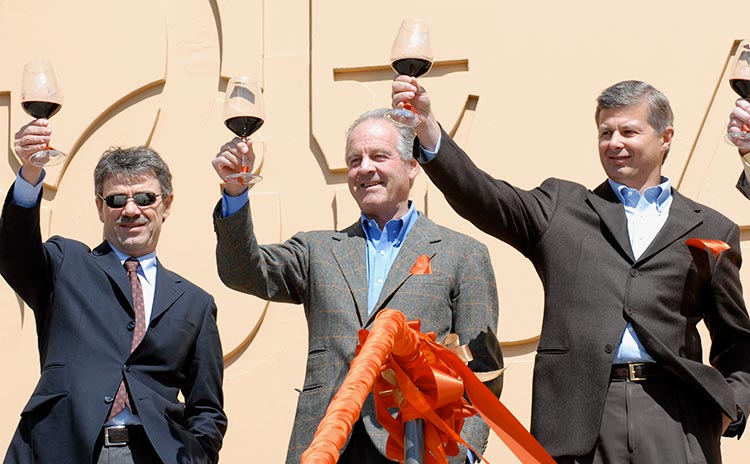 When the state-of-the-art winery opened a couple years later, guests could take in the five star views of the Columbia River to the east and the Yakima River Valley to the west.  The impressive structure is a merging of modernity and Italian old country.  The bell tower is an impressive 56-feet high, and in keeping with European tradition, the cast iron bell is rung at the beginning and end of harvest.
Col Solare continued to ride the hype when the 30-acre estate vineyard was planted below the winery in 2007.  The viticulture team from Chateau Ste. Michelle and the Antinori's deemed ­the land as an unparalleled location for particularly Cabernet Sauvignon (and has since shown tremendous success with other varietals).
"Piero Antinori has always had a real fascination with Cabernet Sauvignon," says winemaker Darel Allwine.  "That's why we're here."  After all, it was the Antinori's that changed the face of the Italian wine industry by introducing Cabernet Sauvignon in the 1970's as a super Tuscan style.
Over time, with their Cabernet and Cabernet blends remaining the focus, Col Solare has welcomed change, in keeping with the dynamic Washington wine industry.  In recent years, they have introduced new players, ingratiated themselves to the public, and are using their highly anticipated estate fruit in all of their wine offerings.
From One Dream Team to Another
When Col Solare's winemaker, Marcus Notaro, became head winemaker at Stag's Leap Wine Cellars in Napa Valley in 2013, the lesser-known assistant winemaker, Darel Allwine (yes, true surname) had the opportunity to step up.  But the promotion wasn't a given.
"I had to apply for the position," says Allwine, "and the interview process was tough."  But Ted Baseler was the final call in naming him winemaker.  It made sense, given that by that time Allwine had a keen sense of working with Red Mountain fruit, a different beast altogether.  Many don't know that Notaro, as a mentor to Allwine, started before Col Solare—the two both got their start at Columbia Crest.  Allwine now works in the cellar with enologist, Will Wiles, another Columbia Crest alumnus.
Col Solare brought on renowned viticulturist, Dick Boushey, to the team as vineyard manager.  "Winemakers make me look good," Dick has been quoted as saying.  Sounds like he and Allwine make for a great collaboration of their own.  It isn't the first time Allwine has ended up working with one of the industry's best.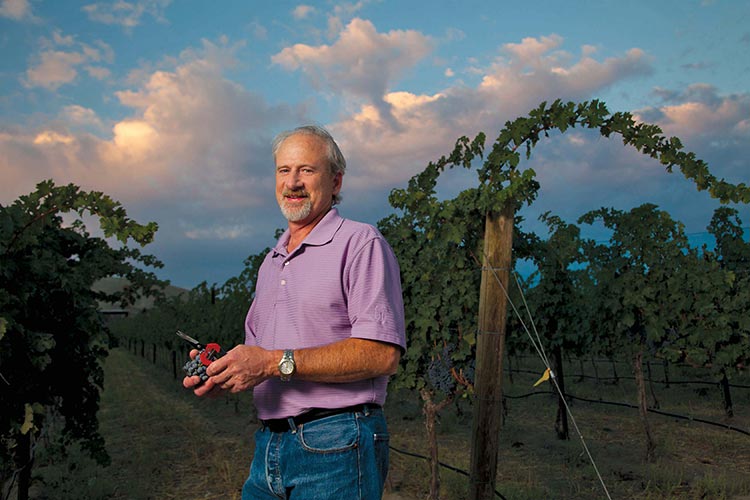 Indeed, Allwine's history in the wine business reads like the American dream.  In 1996, he returned to his native Washington state from Okinawa, Japan, where he was living at the time.  Though he could have slowed down after 20 years of working the U.S. Air Force's Air Mobility Command, he instead answered a classified ad in the newspaper for Columbia Crest Winery.  Though it's easy to poke fun at his name, Allwine claims he was hired at Columbia Crest because of it.
After three interviews over a five month period, Ray Einberger, the immensely celebrated winemaker for Columbia Crest (since retired in 2014), called and asked Allwine to meet him at Starbucks.  After talking for an hour, Allwine went to work for Columbia Crest two weeks later.  "Ray told me after a number of years later that the only reason he hired me was because of my last name," says Allwine with a smirk.
Although Allwine's interest in wine and winemaking soared at Columbia Crest, he had enjoyed wines as an astute consumer for some time.  In addition, while in Germany with the U.S. Air Force, he had the opportunity to tour and taste in the Mosel and Rheingau regions.
At Columbia Crest, Allwine eventually became responsible for the brand's Reserve program, which grew under his tutelage, and his efforts contributed to their 2005 Reserve Cabernet Sauvignon, which ranked No. 1 on Wine Spectator's 2009 Top 100 Wines of the World list.  After working with some of the forerunners of Washington wine at Columbia Crest, the dream for Allwine continued with the move to Col Solare.
A contrast to the stereotype of Italians being over-emotional and loud, with melodramatic hand movements to accompany, Allwine is utterly reposeful.  Yet he still marks his accomplishment as winemaker as pure passion, saving his fervor for fermentation, and perhaps any bravado where it counts the most: in the cellar, taming the explosive tannins while retaining complexity, dark fruit flavor, and brightness.
Embracing the Wine Public
Hiring Allwine hasn't been the only shift in recent years.  Two years ago, the winery's policy of limited appointment-only tastings changed, and the closed gates became open to the public with regular tasting room hours.
"Opening to the public was to offer an experience that was previously considered exclusive," says Allwine.  "I truly think we provide a real thought-provoking tasting for consumers."  Part of that experience is the availability of a gourmet charcuterie and cheese plate to nosh on in the aesthetically refined, yet comfortable tasting room.
"I enjoy talking with people who are visiting," says Allwine.  "I also enjoy talking about the wines and answering any specifics about winemaking, and what we do here at Col Solare."
Tastings include a flight of wine, typically including the current Col Solare release, Shining Hill red wine, and a "component wine," such as Malbec.  All wines contain estate fruit, and provide a variety of styles and price points to meet consumer preferences.
Estate fruit is used in Col Solare, essentially their flagship Cabernet-based blend.  Shining Hill blends are crafted to be a little softer and fruit forward.  The Component Collection offers a chance to taste unique bottlings of single varietals exclusively from the estate vineyard, also used as blending components in the Col Solare wine.
Col Solare now offers a hand-bottled grappa, made from the must of their Cabernet Sauvignon, and only available in the tasting room.
Col Solare also has a Bottega (Italian for "shop") at Chateau Ste. Michelle in Woodinville, a scaled down version of the Red Mountain tasting room, giving those who can't make it to Red Mountain the opportunity to experience the brand.
Old World Vs. New World
The style of architecture mirrors some of the winemaking techniques at Col Solare: Old World sensibility modernized to suit the area.  "We utilize ideas and techniques that the Antinori's have used, especially with Solaia and Tignanello wines from their estate vineyard," says Allwine.  "We look at their different fermentation techniques in particular to control the tannins without losing extraction."
Allwine travels to Italy regularly and works closely with Renzo Cotarella from Antinori winery to continue learning what can be applied to the crafting of Red Mountain fruit.
Allwine doesn't take for granted his relatively quick rise in the industry to the opportunities he's been given at Col Solare.  "It's been phenomenal," he says, shaking his head in what could be interpreted as disbelief.  La bella vita!
Written by Kirsten Telander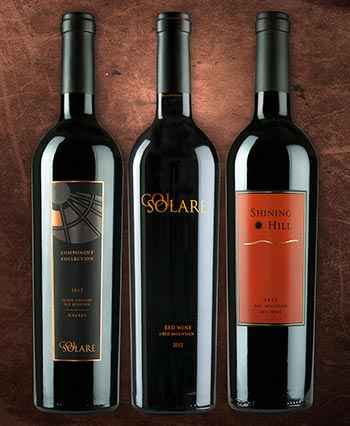 Editor's Picks
Col Solare 2012 Component Collection Red Mountain Estate Malbec, $85
Nose: Aromas of blackberry, boysenberry and dried cherry, baking spice and toast.
Taste: Powerful, rich and dense with assertive black-fruit flavors of blackberry, dark cherry and cassis intermingled with toasted rye, pepper and bold enthralling spice. Plush tannins fill the mouth on the immense finish.
Col Solare 2012 Red Mountain Red Wine, $75
Nose: Bold, earthy aromas of graham cracker, black currant, dark red fruit, leather and cedar.
Taste: Finely-crafted with impeccable structure framed around firm, sweet tannins and well-balanced acidity. The flavors are focused to the hilt, with a rich embrace of black fruit, dried cherry, cassis and cocoa.
Col Solare 2013 Shining Hill Red Wine, $40
Nose: Black and red fruit, mocha and dusty spice.
Taste: Lush and ripe in style, with an upfront core of velvet rich tannins followed by polished flavors of dark cherry, blackberry, plum, tobacco, anise and vanilla. Loads of mineral and soft spice notes roll out on the extended finish.
Tour & Taste
On Red Mountain
50207 Antinori Rd., Benton City WA
PH: (509) 588-6806
Hours: Wed-Sun 11am-5pm
In Woodinville
14111 NE 145th St., Woodinville WA
PH: (425) 488-1133
Hours: Daily 10am-5pm
www.colsolare.com