Consumers have long been in love with Washington red blends. Discover 16 unique proprietary reds as we delve into the decisions winemakers face in creating masterful, sometimes even unconventional, wine blends.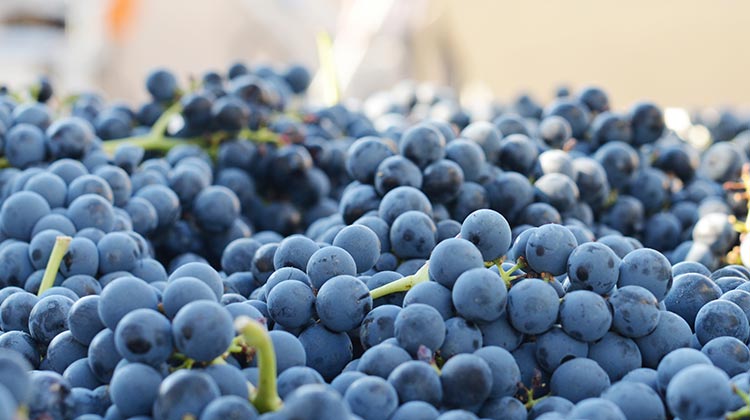 Article and wine reviews by John Vitale
WASHINGTON RED BLENDS have never been more popular, in part because winemakers aren't afraid to break the conventional rules surrounding classic European winemaking formulas. As an example, combining Syrah (a Rhône varietal) with Malbec (a Bordeaux varietal) is prohibited by law under France's highly-regulated appellations (AOC), yet here consumers go wild for the rich bold flavors and textures it brings. Syrah has become such a popular blending component that this kind of blend is often referred by winemakers as a "Washington Bordeaux."
While it requires a deft skill set to blend wines with first-rate balance, once in a while great things can happen serendipitously in the cellar, explains Bob Delf of Northwest Cellars located in Kirkland. "In 2011, we bottled a Malbec from Verhey Vineyard, and a Petite Sirah from Art Den Hoed Vineyard," shares Delf. "The day after bottling, we discovered a barrel of each wine had been overlooked. The result was a blend of 50% Malbec, 50% Petite Sirah, and we called it Oscuro. It is our most expensive wine and has gotten high praise in all reviews. Now, we make it every year."
Delf is quick to point out that masterful blends require a good palate and a strong guiding sense of what the winemaker is looking to achieve. "I work on blending completely by my palate, not based on chemistry or other goals," he says. "Having done it for 12 years, I have a pretty good idea what I am looking for now. I have several blends that have evolved over the years, and some are similar now each year."
Jim Page of Page Cellars in Woodinville is a purist at heart when it comes to appreciating single varietal wines, yet admits blending can often help create wonderfully complex aromatics and flavors. "I enjoy the fullness of a varietal and try to preserve it as an entity. This may be a noble goal in my mind, however somewhat impractical if you want to stay competitive," says Page. "Like cooking, a little of this ingredient and some of that, a pinch of salt adds to the whole and can often result in something savory when it all comes together."
Page also mentions that blending doesn't necessarily mean blending different varietals, it can also refer to the blending of the same varietal from different vineyard sources to achieve balance. "It's all about personal preference and philosophy of the winemaker," he says.
Ray Sandidge of C.R. Sandidge Wines in Manson, believes the greatest hurdles in creating a masterful blend are poor fruit quality and lack of imagination. "I am striving to take the natural treasures my grapes growers have given me in order to create consumate wines," says Sandidge, who has been making wine for more than 30 years.
"In almost all cases it is extremely rare that a single grape variety, much less a single vineyard site, possesses the complexity, structure, flavor and aroma profiles winemakers and consumers seek in a superb wine. The solution is blending," Sandidge asserts. "There are some instances where blending is not necessary—single variety, single vineyard dessert wines can produce stunning wines capable of aging decades."
An avid home chef, Sandidge is passionate about producing wines that age well and are food-friendly. "I love cooking," he says. "The menu may reflect any regional specialty worldwide and blended wines are better suited to handle the various seasonings used to prepare the foods I am serving."
Sandidge explains how he approached the art of blending the current release of his top shelf signature wine, Triumph. "I knew the 2013 Triumph blend would possess Cabernet Sauvignon and Malbec, as these were the vintage's strengths for C.R. Sandidge. After trying combinations using Cabernet Sauvignon, Cabernet Franc, Merlot, Malbec and Petit Verdot, the Petit Verdot won out simply due to the fact it brought the wine into focus," he says. "It completed the flavor and aroma profile we sought. It supplied the additional tannins and acidity the wine required structurally to evolve into a classic for us."
Maryhill Winery's winemaker, Richard Batchelor, produces an incredible array of wines at this destination winery in Goldendale, many of which are bottled as single varietal, vineyard-designated wines, as well as several red and white blends. "We perform blend trials with most of our wines, and as little as 0.5% can really help make something pop in a wine and give it a direction that sets itself apart from a wine that is not blended," he comments, but counters with, "Saying that, we have conducted trials and spent hours to find not even the smallest addition to change the wine for the better."
Batchelor makes a scrumptious Proprietor's Reserve blend of Sangiovese and Cabernet called Tavolo Rosso. "We sought to create a really enjoyable wine to drink as a stand alone or to pair with food. Knowing this gives us more flexibility to be creative, yet also makes it more difficult to narrow down and decide which of the more than 30 different base wines we can use to craft this wine," he says of the daunting challenges involved with successful blending.
Virginia Bloom of Blooms Winery on Whidbey Island, agrees with Batchelor's observations about blending trials. "It's amazing to see how small variations in percentages can create such a change in a blend, so being careful to find the right balance point is always a challenge," she says. "We do barrel samples and mark each barrel when we feel it will make an exemplary single varietal, and which barrels may benefit from blending."
Bloom says she and her husband Ken know they have done their job right when they land on the perfect combination that brings all the components together. "Harmony, balance, boldness and aromatics are all part of the overall package and one reason why blending can be so beneficial," she explains. "One variety might add the bright berry flavor, another brings bold cassis and black cherry, yet another brings earthy warmth and that lingering fruit finish that we never want to end. In short, what we are trying to achieve is the best possible wine we can create."
Read on and discover 16 proprietary red wines as featured in the Winter 2016/2017 issue of the print magazine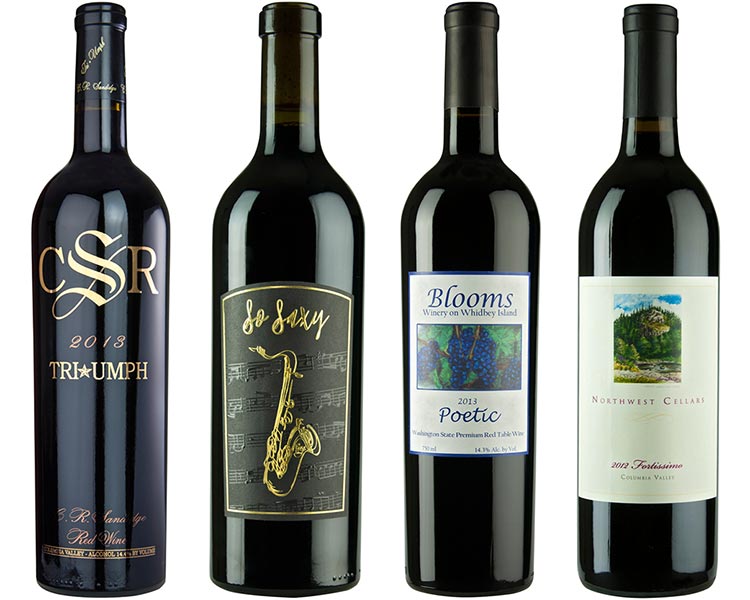 C.R. Sandidge 2013 Triumph, $65
www.crsandidgewines.com
Power and finesse combine with rich, supple textures and complex flavors of black cherry, cassis and red currant, revealing underpinnings of coconut, vanilla and mineral spice that endure on the stunning finish generously lined with powdery fine tannins.
Unique blend of: Cabernet Sauvignon 50%, Petit Verdot 40%, Malbec 10%
Page Cellars 2009 "So Saxy" Red Mountain Red Wine, $33
www.pagecellars.com
Broad and expressive, with a concentrated beam of vibrant red berries, cherry and cocoa powder wrapped around firm tannins that reverberate on the smooth finish, accented with notes of fennel and herbs. Refined and elegant.
Unique blend of: Merlot 55%, Cabernet Sauvignon 35%, Cabernet Franc 10%
Blooms Winery 2013 Poetic, $39
www.bloomswinery.com
Powerful, poised and balanced, with remarkable depth and structure to the concentrated flavors of black fruit, boysenberry and black currant with hints of coffee. Generous spice notes and ample tannins stay sharply focused on the grand finale finish.
Unique blend of: Syrah 45%, Malbec 40%, Petit Verdot 15%
Northwest Cellars 2012 Fortissimo, $24
www.northwestcellars.com
Firm, rich and claret-like with aromas of blackberry, plum, caramel and underbrush, this full-bodied blend is driven by black fruit flavors interwoven with blue plum, mocha, sage and vibrant acidity on the mid-palate, tempered by the gripping tannic finish.
Unique blend of: Syrah 60%, Cabernet Sauvignon 13%, Carménère 13%, Merlot 7%, Petit Verdot 7%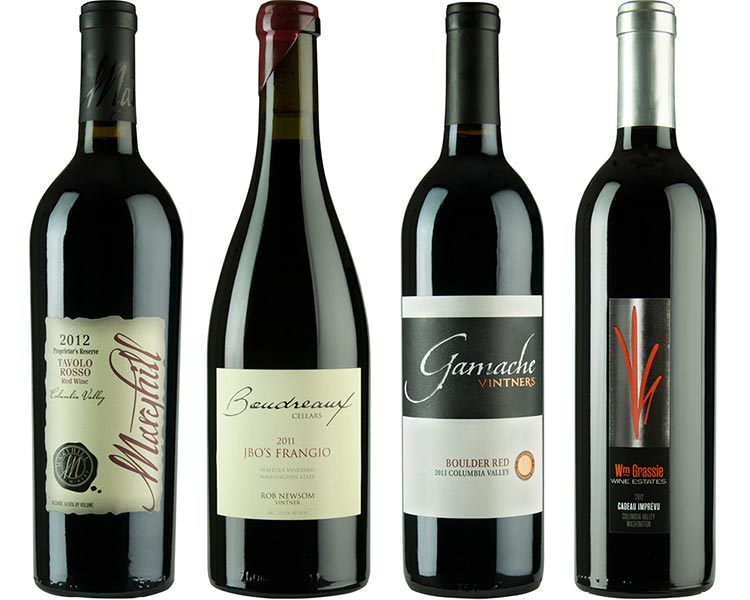 Maryhill Winery 2012 Proprietor's Reserve Tavolo Rosso, $32
www.maryhillwinery.com
Supple, rich and balanced, dominated by aromas and flavors of cherry, black raspberry and dark chocolate leading to vanilla and cedar shavings draped over smooth, glossy tannins on the lengthy finish.
Unique blend of: Sangiovese 75%, Cabernet Sauvignon 25%
Boudreaux Cellars 2011 JBO's Frangiovese, $60
www.boudreauxcellars.com
Intensely aromatic, this red wine is polished, elegant and built on a tight frame. Richly balanced with a dose of raspberry, cherry and black currant leading to tobacco, leather and crushed herbs with floral undertones and sandalwood overtures 
on the finish.
Unique blend of: Sangiovese 50%, Cabernet Franc 50%
Gamache Vintners 2013 Boulder Red Wine, $20
www.gamachevintners.com
Smooth and luscious with heady aromas of dark fruit, loamy earth, vanilla and cedar, and compelling flavors of black cherry, plum and dark berries mingled with graham, vanilla and spice. Refined tannins add depth to the full-bodied finish.
Unique blend of: Malbec 42%, Syrah 23%, Merlot 23%, Cabernet Franc 8%, Cabernet Sauvignon 4%
William Grassie Wine Estates 2012 Cadeau Imprévu, $24
www.wmgrassiewines.com
Lithe, balanced and approachable with firm tannins and wet stone minerality flanked with bright flavors of cherry, black currant and plum skin. An infusion of baker's chocolate lines the long finish.
Unique blend of: Cabernet Sauvignon 57%, Merlot 29%, Syrah 13%, Cabernet Franc 1%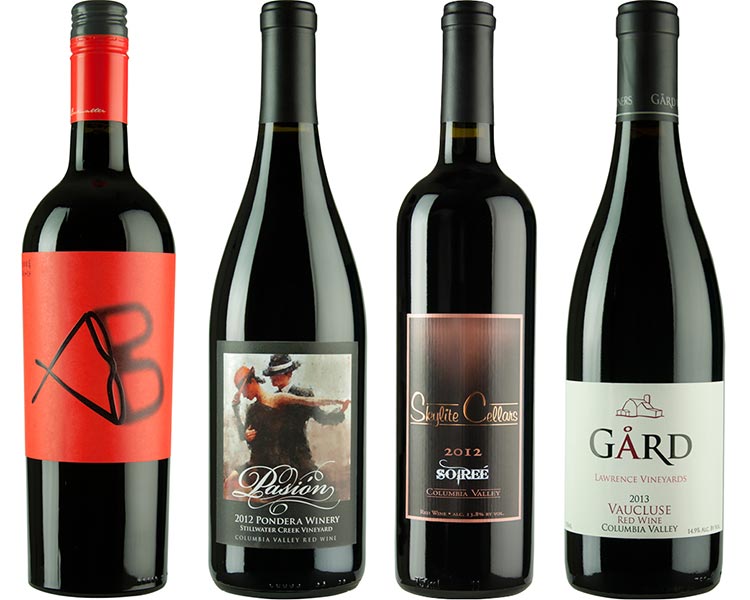 J. Bookwalter 2014 1RDRS4 Readers Cabernet Sauvignon, $28
www.bookwalterwines.com
Full-bodied and concentrated, with rich flavors of blackberry, cherry and red berry that meld symmetrically together. The powerful finish is complemented with complex minerality and firm ultra-fine tannins.
Unique blend of: Cabernet Sauvignon 75%, Merlot 15%, Syrah 10%
Pondera Winery 2012 Pasión, $38
www.ponderawinery.com
Beguiling, vibrant and focused, with a kaleidoscope of juicy black currant, boysenberry, and black stone fruit flavors interwoven with notes of red berries, dark chocolate and tobacco. Dense, well-knit tannins tango with lively acidity on the balanced finish.
Unique blend of: Syrah 51%, Cabernet Sauvignon 44%, Merlot 5%
Skylite Cellars 2012 Soirée, $21.25
www.skylitecellars.com
Smooth with a juicy edge, offering well-balanced flavors of fleshy ripe red fruit and black currant layered with accents of black raspberry, cocoa powder and licorice on the mid-palate. The flavors echo through the finish joined by notes of cut tobacco and dried herbs.
Unique blend of: Cabernet Sauvignon 52%, Syrah 26%, Merlot 22%
Gard Vintners 2013 Vaucluse Red Blend, $35
www.gardvintners.com
Graceful yet powerful, there is a bright uplift of floral and citrusy blood orange notes complemented by earthy flavors of game and boysenberry shaded with plum and olive tapenade. Gentle spice and savory overtones permeate the 
juicy finish.
Unique blend of: Syrah 76%, Grenache 21%, Viognier 3%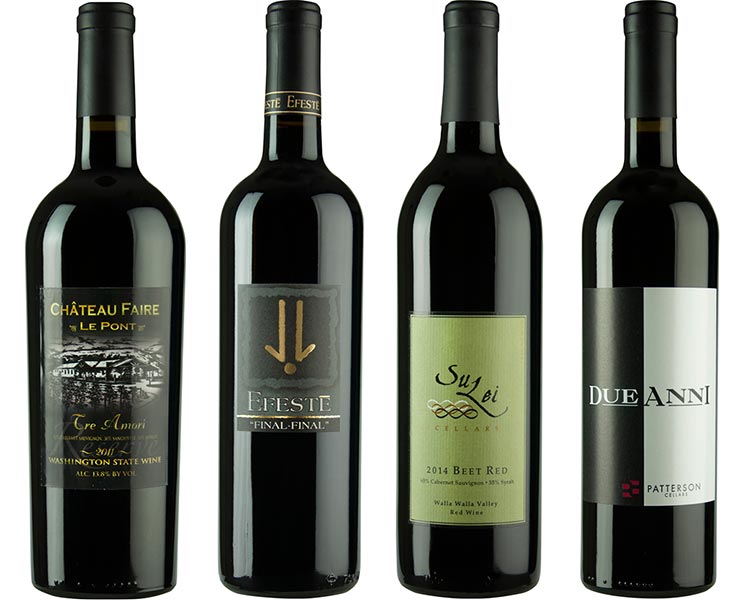 Chateau Faire Le Pont 2011 Tre Amori, $40
www.fairelepont.com
Aromas of cigar box and dark red and black fruit. Dense, ripe and mouthfilling, loaded with steeped currant and blackberry flavors that open to vibrant spiced cherry and dark plum accents. Sleek, firm tannins ride out on the luscious finish.
Unique blend of: Cabernet Sauvignon 52%, Sangiovese 30%, Merlot 18%
EFESTE 2013 Final Final Red Blend, $30
www.efeste.com
Rich, earthy and meaty aromas and flavors abound, revealing dynamic layers of game, mesquite, cassis, blackberry, dried blueberry, violet and tarragon wrapped around a beam of fresh acidity that pulls together on the harmonious and powerful finish.
Unique blend of: Cabernet Sauvignon 58%, Syrah 42%
SuLei Cellars 2014 Beet Red, $30
www.suleicellars.com
Lithe and well-structured, with firm grip to the elegant tannins, giving way to rich juicy flavors and aromas of black cherry, raspberry and cassis layered with underpinnings of vanilla, tobacco and salinity that push forward on the expressive finish.
Unique blend of: Cabernet Sauvignon 65%, Syrah 35%
Patterson Cellars Due Anni (NV), $20
www.pattersoncellars.com
This blend of two vintages displays enticing aromas and bold flavors of swirling dark red fruit, licorice and barrel spice. Cherry and black plum flavors dominate the palate, accompanied by notes of cocoa and smooth tannins on the finish.
Unique blend of: Cabernet Sauvignon 36%, Syrah 17%, Merlot 16%, Malbec 12%, Sangiovese 8%, Cabernet Franc 5%, Grenache 5%, Petit Verdot 1%