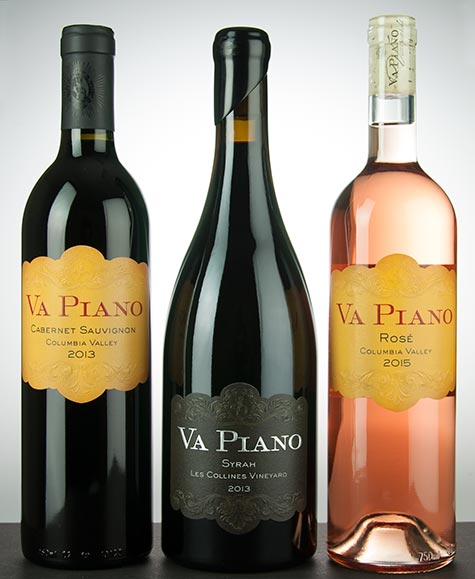 Fourth-generation Walla Wallan Justin Wylie, owner and winemaker of Va Piano, became fascinated with the wine industry literally sprouting up in his backyard. Inspired, he began making wine in his garage, learning from local winemakers, growers and aficionados.
Before long Justin found his palate and his hobby turned into a passion. With the encouragement from friends and family, he began his first commercial crush in the fall of 2003. Today Justin carefully manages the Walla Walla estate vineyards and follows strict standards of sustainable agriculture, adhering to the axiom that exceptional wine comes from exceptional fruit.
His emphasis is on mostly small, premium batches of Cabernet Sauvignon and Syrah at which he excels, however his golden touch extends to his refreshing Rosé as well.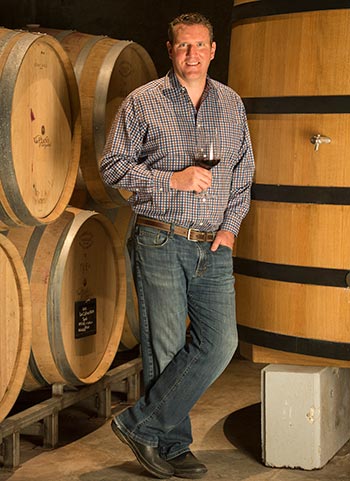 Justin and his wife Liz are expanding beyond their Walla Walla winery with the addition of two new tasting rooms. One is located inside The Historic Davenport Hotel in Spokane and another in the hip town of Bend, Ore. in the Old Mill District, a main attraction for locals and tourists known for its eclectic shops, eateries, and now, wineries. "Bend's popularity as both a place to live and a destination for visitors make it the perfect place for us to share our wines with a larger audience," comments Justin.
Visit Spokane: $10 tasting fee refundable with purchase, The Historic Davenport Hotel, 10 S Post St, Ste 1, open Fri-Sat 12-8pm, Sun-Mon & Thur 12-6pm, (509) 838-0236
Visit Bend: $10 tasting fee refundable with purchase, The Old Mill District, 425 SW Powerhouse Dr, Ste 301, Bend, Oregon
2013 Les Collines Vineyard Syrah, $65
Editor's Choice – Extraordinary
Justin Wylie's long relationship with fruit from Les Collines Vineyard is evident in yet another vintage of his single-vineyard Syrah that emanates with beauty. Appealing aromas of dark red berries, violet and a whiff of forest floor and smoke tease on the nose. Polished, elegant and well sculpted on the palate, with gorgeous plum, dark berry and currant flavors inlaid with crushed pebble and earth-laced florality. Ultra fine tannins extend the long and rewarding finish. This stunner receives our highest rating.
2013 Columbia Valley Cabernet Sauvignon, $45
Editor's Choice – Outstanding
A sterling version, with dark red and black fruit aromas mingled with violet, bittersweet chocolate and graphite. Lavish, rich and focused, with compelling fruit flavors of blackberry and spiced cherry layered with fresh sage, wet earth and herbs. Well-integrated tannins swirl through the vibrant, balanced finish marked by distinctive minerality.
2015 Rosé of Cabernet Franc, $20
Editor's Choice – Outstanding
With aromas of tropical fruit, red berries, honeysuckle, white flower and talc, this gem is well-cut and elegant. Built on a stony frame adorned with white cherry, rose petal and melon rind flavors that taper down on the dry, minerally driven finish.