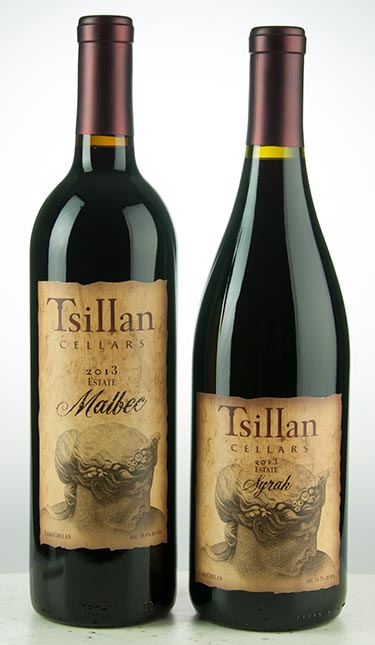 Thousands of visitors flock annually to Tsillan Cellars, the largest estate-grown winery in Chelan. "What you taste at our winery is grown right outside the door," says  founder Dr. Bob Jankelson, the visionary behind the magnificent Italian villa-styled winery, ristorante and tasting room where for a decade he has been producing an incredible variety of award-winning reds and whites.
The fact that nearly 2,000 of their wine club members live in Puget Sound prompted Dr. Jankelson to open a tasting room in Woodinville. Plus, during the winter it can be an intimidating drive over the snowy mountain passes from Seattle to Chelan, so Jankelson felt the new tasting room was a logical move. It's located inside the Gateway Wine facility associated with the new Hampton Inn & Suites by Hilton. "When you enjoy our wines away from the winery, it is my goal to have them bring you right back here with all your senses," says Jankelson.
Tsillan Cellars has been a success from the moment it opened the doors of its elegant tasting facilities on the shoreline of Lake Chelan in 2004. "It's all about Chelan," Jankelson says with reverence, talking about the estate vineyards. "Pristine glacial water from the North Cascade Mountains, glacial soils and high desert Eastern Washington climate combine to bring the unique terroir of Lake Chelan to every glass of Tsillan Cellars wine."
The world-class venue features cascading waterfalls, expansive terrazzos, gardens, dramatic Italian architecture, an elegant indoor/outdoor pavilion and wedding gazebo overlooking Lake Chelan and the Cascade Mountains. Taste in Woodinville—but plan a trip to Chelan.
In Woodinville: $10 tasting fee, 19255 Woodinville-Snohomish Rd, Ste 3, Woodinville, open daily 12-7pm.
In Lake Chelan: $10 tasting fee, 3875 Highway 97A, Chelan, open daily 12-5pm
Website: www.tsillancellars.com
Editor's Picks:
Tsillan Cellars 2013 Estate Malbec, $42
Editor's Choice – Outstanding (91-95 pts.)
Opulent and plush, this smooth red opens with compelling aromas of black fruit, violet, vanilla and spice. There's mouth-filling richness to the core of blackberry and black currant, bolstered by dark plum, mission fig, violet, vanilla bean and peppercorn. Pure and focused, fresh acidity and fine-footed tannins create depth on the powerful, textural finish.
Tsillan Cellars 2013 Estate Syrah, $30
Editor's Choice – Outstanding (91-95 pts.)
Taut and expressive, with youthful energy and earthy umami notes that play around the edges of cherry, plum and juicy red currant flavors. There's a refinement of crushed rock and cedar shavings that linger on the finish.