Tertulia, a Spanish term meaning a gathering of friends, operates three tasting rooms in Walla Walla, Dundee, and most recently, Woodinville. Winemaker Ryan Raber was the first employee when the winery started over a decade ago. "The thing I love the most about winemaking is the intuitive/artistic process," says Ryan. "Working with the wines to get the best out of them, you almost have to see into the future." He sources most of the fruit from three estate vineyards in the Walla Walla Valley AVA, except their Carménère, which comes from the Horse Heaven Hills AVA.
There's an underlying elegance behind the wines, shining with ripe fruit and soft tannins. "At some point it dawned on me the wines I enjoyed were not high alcohol, super concentrated wines," shares Ryan. "I began tasting more European wines with beautiful complexity and balance. We started exploring ways to make wines with the same New World fruit character while adding Old World balance and complexity."
One unique procedure he employs is called soutirage traditionnel, a method of racking and aerating the wine during barrel aging through the use of gravity rather than pumps, which can be disruptive to a wine. The aeration process softens the tannin structure and overall mouthfeel.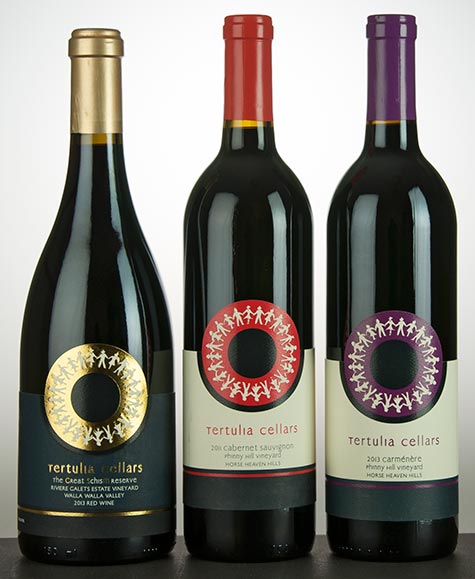 You can find their wines at the new Woodinville tasting room: $10 tasting fee, refundable with purchase of two bottles, 19255 Woodinville-Snohomish Rd, Woodinville, (425) 483-0206, www.tertuliacellars.com
Tertulia Cellars 2013 "The Great SchisM" Reserve, $55
Editor's Choice – Outstanding (91-95 pts.)
Elegant, refined and fluid, loaded with complex minerality, game and earth notes framed over juicy flavors of raspberry, red currant, blood orange and spice elements that forge through the textural yet smoothly sculpted finish. 33 cases produced. Grenache, Syrah, Cinsault, Mourvedre
Tertulia Cellars 2011 Phinny Hill Vineyard Cabernet Sauvignon, $45
Editor's Choice – Outstanding (91-95 pts.)
A medium-weight version, yet poised and well structured. An appealing red wine with aromas of red fruit, spearmint and spice that roll onto the palate joined by wider expressions of cherry, tobacco and mulberry. Firm, polished tannins and fluid acidity complete the elegant, long finish. 340 cases produced. Cabernet Sauvignon, Merlot
Tertulia Cellars 2013 Phinny Hill Vineyard Carménère, $40
Editor's Choice – Outstanding (91-95 pts.)
Deeply concentrated with a muscular spine brimming with lush black fruit and dark plum flavors draped over a savory dimension of roasted red pepper and warm peppercorn. The flavors fuse together on the solid finish with precision, balance and focus.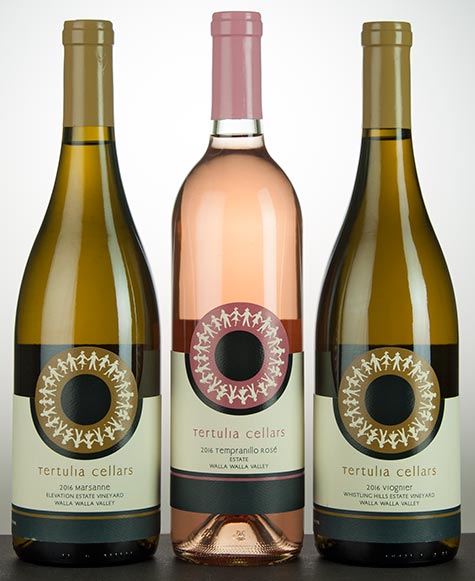 Tertulia Cellars 2016 Whistling Hills Estate Vineyard Viognier, $22
Editor's Choice – Outstanding (91-95 pts.)
This version was blended with Roussanne (25%) and exudes floral aromas of orange blossom, peach, pear and chiffon. Clean and balanced, packed with lemon-lime citrus and nectarine flavors infused with lanolin notes and chalky minerality that resonates through the crisp, dry finish. 225 cases produced
Tertulia Cellars 2016 Elevation Estate Vineyard Marsanne, $20
Editor's Choice – Outstanding (91-95 pts.)
Restrained, clean and minerally charged up front, displaying wetstone-streaked flavors of peach, pear, lemon pitch and lanolin with a floral underlay of white flower blossom. 85 cases produced. Marsanne, Roussanne, Viognier
Tertulia Cellars 2016 Tempranillo Estate Rosé, $18
Editor's Choice – Outstanding (91-95 pts.)
Crafted from Tempranillo that spent just one hour on the skins before being pressed, the juice was stirred on the lees weekly during aging for added complexity. This bone dry version id deliciously refreshing, with watermelon, rhubarb, pink grapefruit and crisp apple flavors framed framed over stony minerality. 180 case produced