It could be said that Succession Wines was born out of the ashes of adversity. Three years ago, Brock and Erica Lindsay experienced two major life-changing events: they welcomed their first child into the world, and not two weeks later, lost their home to the Carlton Complex fire, the largest wildfire in the history of Washington State.
"Experiences such as these cause great reflection and a renewed focus on what is most important in life. For us, family needed to come first," says Erica. "As we prepared to welcome our second daughter, the love for our growing family, a desire to live a more balanced life, and a passion for great wine led us back to North Central Washington and Succession Wines was established."
Under the guidance of trusted mentors, as well as the viticulture and enology courses through WSU, Brock continues to refine his winemaking skills. When he's not making wine, he's busy managing Antoine Creek Vineyards in Pateros, a source of many of his reds. Chances are you may find Brock or Erica pouring wines in the kid-and-dog-friendly tasting room (next door to Cairdeas Winery) with scenic views of Lake Chelan.
The refreshing white wines are perfect for summertime with lovely balanced fruit, crisp acidity and minerality. The 2015 vintage reds were still in barrel as of press time, yet the samples we received are already showing beautifully, displaying outstanding focus, structure, concentrated flavors and typicity.
"Together with our two daughters, we are building a new life, a new legacy, a new succession. We are creating our history," says Brock.
Visit: $8 tasting fee, refundable with purchase, 78 Swartout Rd, Manson, check website for hours or phone (509) 888-7611, www.successionwines.com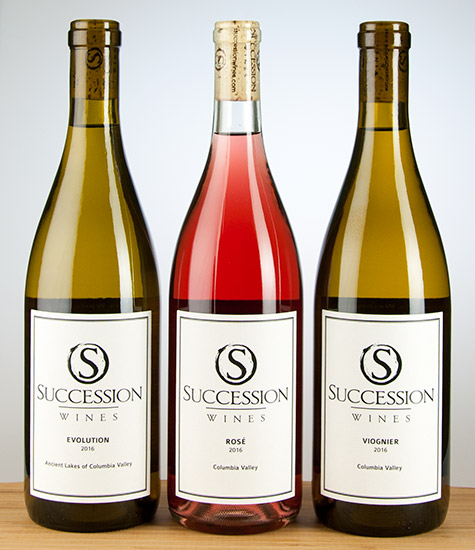 Succession Wines 2016 Ancient Lakes of Columbia Valley Evolution, $24
Editor's Choice – Outstanding (91-95 pts.)
An intriguing blend of Semillon, Viognier and Roussanne offering floral aromas of tangerine essence, white blossom and clover. Smooth and creamy, with rich flavors of pear, star fruit and hints of grapefruit and orange peel backed by lively acidity and spice notes that combine neatly on the clean, crisp finish.
Succession Wines 2016 Rosé, $22
Editor's Choice – Excellent (86-90 pts.)
This medium-dry version was made from Pinot Noir, displaying fuller flavors of rose petal, rich cherry, raspberry and cranberry juice that round out the finish with spright acidic notes.
Succession Wines 2016 Ancient Lakes of Columbia Valley Sauvignon Blanc, $26
Editor's Choice – Excellent (86-90 pts.)
Crisp and zingy, with a citrusy edge running through rich melon and pear flavors. Honeysuckle and meadow grass notes season the mid-palate. Gravelly minerality brings the fruit and acidity together for a well-balanced finish.
Succession Wines 2016 Viognier, $26
Editor's Choice – Excellent (86-90 pts.)
Lively and medium sweet, delivering effervescent flavors of pear, honeydew, ginger, almond paste and hints of orange citrus. Appealing and refreshing, finishing with a lick of minerality.
Succession Wines 2016 Ancient Lakes of Columbia Valley Vixen, $28
Editor's Choice – Outstanding (91-95 pts.)
This medium-sweet white wine is blended from Sauvignon blanc (75%) and Viognier (25%) sourced from Famiglia Vineyards in the Ancient Lakes of Columbia Valley AVA. Refreshing and mineral driven, sporting matching aromas and flavors of honeydew melon, white peach and baked apple streaked with limestone and crushed caliche. Warm baking spice notes line the tantalizing finish.
Succession Wines 2015 Syrah, $35
Editor's Choice – Outstanding (91-95 pts.)
Intensely focused and powerful, packed with boysenberry, blueberry and Italian plum flavors layered with meaty bacon notes, violet, fresh cream and spice notes that come alive on the finish. Barrel sample
Succession Wines 2015 Malbec, $35
Editor's Choice – Outstanding (91-95 pts.)
Broad shouldered and expansive, with full-flavored richness behind the core of blackberry, black currant, tobacco, coffee and warm caramel notes. The dark fruit and black pepper spice notes sing in harmony through the long finish. Barrel sample
Succession Wines 2015 Cabernet Sauvignon, $35
Editor's Choice – Outstanding (91-95 pts.)
Well built and polished, delivery gorgeous red and black fruit, tobacco, cedar box and dried herb flavors. Concentrated, showing solid depth and typicity. Barrel sample
Succession Wines 2015 Pinot Noir, $35
Editor's Choice – Outstanding (91-95 pts.)
With alluring berry aromas and a silky rich texture, this sleek red is seamlessly integrated, overflowing with plum black cherry and wild berry flavors framed with fresh earth and mushroom notes. Firmly structured, with fine tannins that lend good grip to the finish. Barrel sample