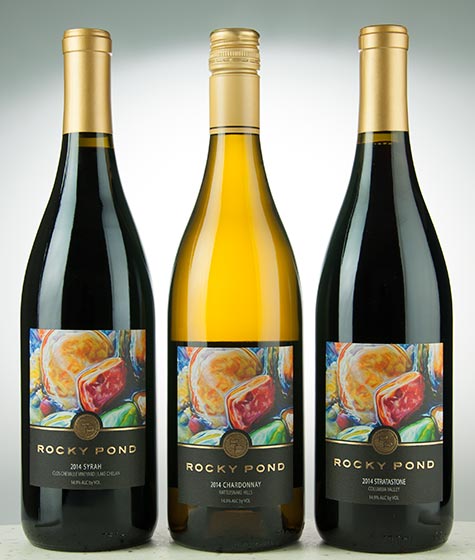 The talented team behind Rocky Pond has been busy. Since first reporting on this winery in 2015, they've since opened a tasting room in the Woodinville Warehouse District and another in downtown Chelan. One gets the feeling they are just getting started.
Owners David and Michelle Dufenhorst's wine story began about six years ago in Orondo, Wash. where they bought land to build a family home on the Columbia River. About the same time, they bought an established 50-acre vineyard, Clos CheValle, located on the south shore of Lake Chelan. When David got the notion to plant a few backyard vines at his Orondo home, he sought advice from local experts, including winemaking veteran Ron Bunnell. Ron instantly recognized the land's potential and at his urging the "Double D Vineyard" project has snowballed into a 165-acre site planted mostly to red varietals; the first estate wines are due to be released in 2017.
Though the winery was not part of the original plan, it has come together nicely. "It has been truly a leap of faith," says Michelle. "When we were teased by Ron Bunnell and vineyard consultant Jim McFarren to make wine, we couldn't back down from the challenge. Especially when Ron was so excited about the unique terroir and offered to postpone semi-retirement and become our winemaker."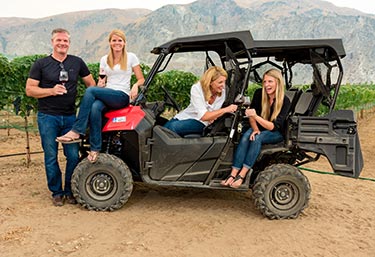 David is focused intently on growing world-class grapes. "The glacial till soil of our Lake Chelan vineyard, and the tumbled granite soil in our Columbia River vineyard create unique terroir for our vines," he says. "As growers, you get excited about soil composition and water supply. With Rocky Pond Winery, the potential of the land makes you more passionate about your own wines."
Editor's note: Look for the inaugural releases from the Double D Vineyard coming in 2017.
Visit Woodinville: Open Sat-Sun. $10 tasting fee refundable with purchase, 19501 144th Ave NE, Ste B-600, Woodinville
Visit Downtown Chelan: Open Wed-Sun. $10 tasting fee refundable with purchase, 212 E Woodin Ave, Ste A, Chelan
Rocky Pond 2014 Clos CheValle Vineyard Syrah, $37
Editor's Choice – Outstanding
Refined, supple and balanced, this Lake Chelan AVA Syrah has alluring scents of blue and purple fruit, tobacco and spice. There's a minerally edge to the dried blueberry and red plum flavors. Expressive, with firm tannins and layers of licorice, dried herb and spice notes that revel on the finish.
2014 Stratastone, $35
Editor's Choice – Outstanding
This medium-bodied Côtes du Rhône varietal blend of Mourvèdre, Grenache and Syrah leads with enticing aromas of berries, crushed roses, white pepper and subtle florality. Fleshy, refined and approachable, with intertwining cherry, plum sauce, blackberry and cassis flavors. Pretty accents of perfumed violet and pepper spice round out the smooth finish.
2014 Rattlesnake Hills Chardonnay, $19
Editor's Choice – Excellent
Beautiful aromas of white peach, nectarine, citrus and spice echo on the palate, layered with lemon pith, honeysuckle, toasted almond and warm spice notes that run through the finish.