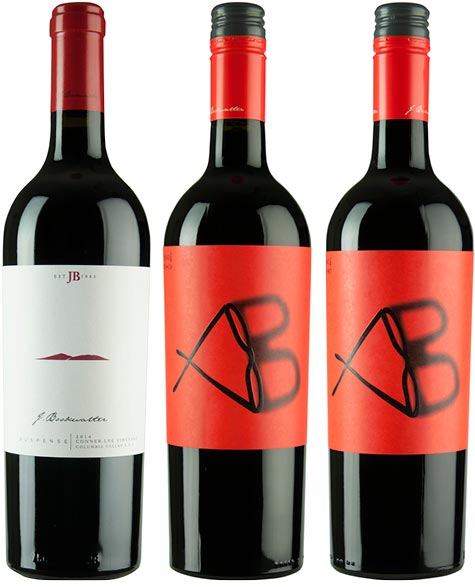 In the nearly nine years that I have been sampling John Bookwalter wines, I can honestly state that I have never been disappointed with a single one, and in fact they typically over deliver and bring about stimulated conversation among the tasting group.  Truth be told, his wines continue to raise the bar with successive vintages, proving him to be among the state's finest star producers.  Three  releases I recently tasted put an exclamation point on that statement.
John is single-minded and purposeful in his pursuit of crafting fine wines that deliver those irresistible qualities everyone is seeking: Bold yet balanced, powerful yet elegant, new worldly yet poised with those familiar old world stylings we all love. John is also a natural-born marketing guy and his talent shines in his recent line of "Readers" red wines (labeled RDRS for short) which in their own right are equally as impressive as his upper tier wines and more than worthy of the fast-growing category of premium wines under $30.
– The Editor
Bookwalter 2014 Suspense Conner-Lee Vineyard $60
Editor's Choice – Extraordinary (96-100 pts.)
This single vineyard blend of Merlot (65%) and Cabernet Franc (35%) was sourced from Conner-Lee Vineyard. Supple, concentrated and voluminous, this rich red wine is perfectly bound with a spine of cassis, black raspberry and dark cherry, stitched together with savory notes of mineral, earth, spice and fennel. Sweet tannins book end this beauty from front to finish. One more in the long line of aha! wines from J. Bookwalter.
Bookwalter 2014 1RDRS4 Readers Cabernet Sauvignon $28
Editor's Choice – Outstanding (91-95 pts.)
Full bodied and concentrated, with rich savory flavors of blackberry, cherry and red berry that meld symmetrically together. The powerful finish is complemented with complex minerality and ultra-fine yet firm tannins. Incredible value, one to write home about.
Bookwalter 2014 1RDRS4 Readers Merlot $28
Editor's Choice – Excellent (86-90 pts.)
Smooth, powerful and broad, with a bold and concentrated core of cherry, dark plum, marionberry and cassis flavors, interwoven with dark chocolate and sandalwood spice notes that linger on the finish. Another beauty, superb value, no reading glasses required.