Winemakers Loft in Prosser has welcomed Ginkgo Forest into its charming complex of tasting rooms in a Mediterranean-inspired courtyard setting (the other wineries are Martinez & Martinez, McKinley Springs and Coyote Canyon). Founded by Central Washington farmers Mike and Lois Thiede, Ginkgo Forest produces a prolific lineup of 34 small-lot wines, plus a wide selection of dessert and Port style wines.
The Thiedes grow more than a dozen varietals on their 36-acre estate vineyard not far from the town of Mattawa in the Wahluke Slope AVA. The vineyards surround the wine production facility and hundreds of cultivated Ginkgo trees. The winery is named for the nearby Ginkgo Petrified Forest, one of the largest petrified forests on the planet.
Getting their start here as orchardists, the Thiedes continue to farm the organic apple and cherry orchards across the road from the vines. "We are currently in the process of converting over a section of our wine grapes to organic as well, and should be able to start production of limited organic wines within the next 16 months," says wine grower and winemaker Mike Thiede.
Visit: $5 tasting fee, refundable with purchase; 357 Port Avenue, Ste D, Prosser (located inside Winemakers Loft), open Tues-Sun 10-5pm, (509) 786-1509, www.ginkgowinery.com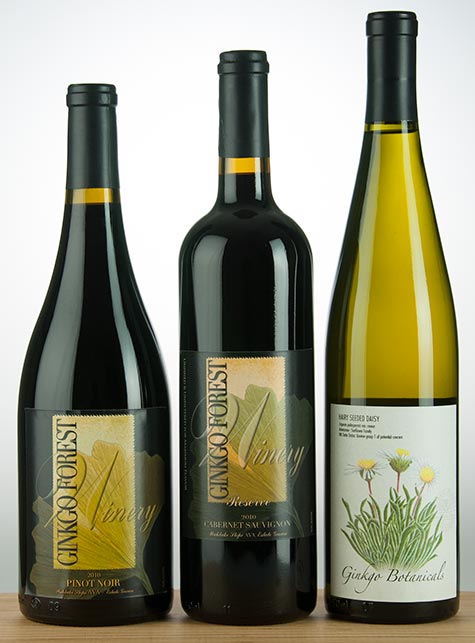 Ginkgo Forest 2010 Cabernet Sauvignon Reserve, $30
Editor's Choice – Outstanding (91-95 pts.)
Refined and elegant, with complex layers of black cherry, raspberry and cassis intermingled with cola, leather, warm stone, licorice and spice notes that meld together on a backbone of juicy acidity easily balanced by smooth, polished tannins.
Ginkgo Forests 2012 Barbera, $24
Editor's Choice – Outstanding (91-95 pts.)
Rich, earthy and structured, exhibiting mineral, spice and warm stone flavors interwoven with cherry, black currant and blueberry fruit. The spice and minerality notes drive the smooth finish accentuated with bay leaf and balanced acidity.
Ginkgo Forest 2011 Cabernet Franc, $30
Editor's Choice – Excellent (86-90 pts.)
Floral and spice aromas lead to vibrant structure and flavors of fresh raspberry, mint, dark chocolate, caramel and white pepper. A flickering of pencil shavings weaves through well-integrated tannins on the finish.
Ginkgo Forest 2013 Carménère, $30
Editor's Choice – Outstanding (91-95 pts.)
This smooth and elegant version shows defined structure and balance, with alluring aromas of black fruit that expand on the palate with burnished flavors of dark plum, black currant, cedar box, vanilla, licorice and violets. Warm peppercorn notes flatter the lingering aftertaste.
Ginkgo Forest 2010 Pinot Noir, $24
Editor's Choice – Excellent (86-90 pts.)
Grown on the Wahluke Slope, this Pinot leads with earthy aromas of dark fruit, currant, forest and leather. Firm and structured, with a broad beam of dark plum, cherry and cranberry flavors enveloped with layers of leather, tobacco leaf, loam and hints of cola. Fine, chalky tannins hold sway on the finish.
Ginkgo Forest 2013 Botanical White, $16
Editor's Choice – Excellent (86-90 pts.)
This full-bodied dry white wine is equal parts Riesling, Viognier and Gewurztraminer, with intriguing flavors of apricot, baked apple, ginger, nutmeg and honeysuckle that weave through citrusy lemon and warm spice notes on the crisp, dry finish.