Travel down a tree-lined country lane on the edge of the Old Highway in Walla Walla and you'll discover a winery surrounded by lush pastures, estate vineyard and a horse farm. Formerly Glencorrie, the winery is now home to Enchanted Cellars and for new owners Will and Debbie Miller, it's a dream come true.
Tastings now occur in the converted tack room, which has received an enchanting upgrade with French country blue paint and burlap swag curtains held in place with horseshoes.
Will's passion for Walla Walla has kept him traveling there the past decade (he even proposed to Debbie at the Marcus Whitman Hotel). "My winemaking began in the kitchen with three winemaking kits," he says, which piqued his interest to take it to a higher level.
"A colleague of mine who had a ranch in Central Oregon suggested I plant a half-acre organic vineyard and thus began the process of viticulture to the future of having my own wine grapes." After three grueling growing seasons the vineyard failed due to a common grape disease brought on by cold weather damage. Undeterred in his desire to control the quality of wine, he doubled down on his education, earning WSU's four-year enology and viticulture certification in two tenacious years, all the while working full-time as the chief technologist for a high-tech startup firm.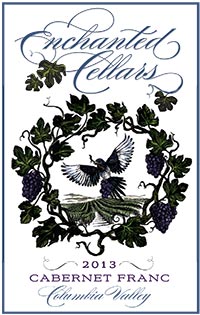 Visit: $5 tasting fee refundable with purchase, 8052 Old Highway 12, Walla Walla, call or check website for hours, (509) 525-2585
Editor's note: At press time, many of the wines were still under the former Glencorrie labels, however Enchanted Cellars reports their new label will grace all future releases.

Glencorrie 2012 Cuvée Marquis Red Wine, $45
Editor's Choice – Extraordinary
Their flagship Bordeaux style blend exhibits fresh aromas of black fruit, anise, dark chocolate, dill and graphite with dense, polished flavors of extracted blackberry and dark cherry layered with cassis, thyme, resin and brine minerality. Fine tannins coat the lengthy finish with notes of dried herb and spice.
2011 Columbia Valley Cabernet Sauvignon, $35
Editor's Choice – Outstanding
Fresh and appealing, with intense brambly spice and a juicy core of blackberry, cherry and ripe currant flavors. Floral edges of violet, sage and bay leaf are intertwined with sweet tannins on the finish.
2011 Cabernet Franc, $35
Editor's Choice – Outstanding
This library wine is a stunner, exuding alluring aromas of plum skin, black currant, leather and crushed pebbles. Mature, expressive and floral-toned with lavender, dried cherry and currant flavors, this Old World styled red wine is rich and focused. Saline and iron notes emerge on the graceful finish.
2012 Walla Walla Valley Cabernet Sauvignon, $40
Editor's Choice – Outstanding
Aromas of black fruit, espresso, cedar and spice notes lead into a firm and finely structured palate. Touting gripping tannins, this bold, powerful version is expansive without being overly weighty. Broody earthy flavors dominate, wrapped in cassis, loamy earth, coffee bean, bay leaf and reticent black fruit. Potent and balanced.
Website: www.enchanted-cellars.com