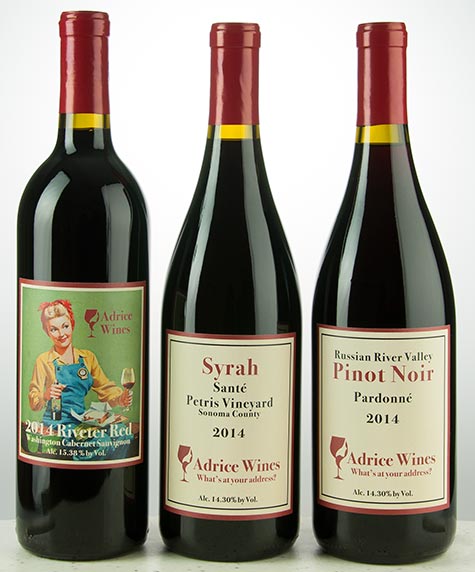 Can you say, "What's at your address?"
That's the clever tagline used by the winemaking team of Pam Adkins and Julie Bulrice to help folks pronounce the name of their winery (an amalgam of their last names). Like yin and yang, the couple devotes their energies to their respective areas of expertise, with Pam as head winemaker and Julie tasked with sales and marketing.
They founded Adrice Wines in the Napa Valley in 2012, which they relocated to Woodinville, Wash. in 2016. Although one of the state's newer faces, Pam is definitely no newcomer to making world-class wine. She got her start at Chateau Ste. Michelle and spent nearly a dozen years working—and mentoring—with prestigious winemakers up and down the West Coast. She worked stretches at Starmont-Merryvale in Napa and Rex Hill in the Willamette Valley (to name but two).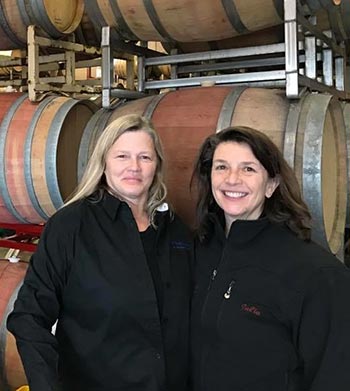 Learning to master Pinot Noir in Oregon and Cabernet in Napa has clearly given Pam a diverse advantage, and her artistry and talent is reflected in Adrice's elegantly nuanced wines.
A trip to the Woodinville tasting room offers a unique opportunity to taste both California and Washington wines. Once Pam and Julie finish selling out of their California varietals, they will focus exclusively on Washington grown wine. "We transitioned to only Washington grapes with the 2016 harvest and quadrupled our production to 12 different varietals," says Julie, who released their first white wines in spring of 2017.
Visit & Taste: $10 tasting fee, 18800 NE 142nd Ave. Suite A-1A, Woodinville (in the Artisan Hill district), open Fri 2-6pm, Sat-Sun 12-6pm, (206) 354-7243, www.adricewines.com
Editor's Picks
Adrice Wines 2014 Riveter Red Washington Cabernet Sauvignon, $45
Editor's Choice – Outstanding (91-95 pts.)
Leading with aromatics of red fruit, espresso bean and cedar, this Red Mountain version shows depth and purity, brimming with smooth dark fruit expressions of black cherry, cassis, ganache and dried sage on the palate. Well-integrated, sweet tannins round out the lengthy finish.
Adrice Wines 2014 Pardonné Russian River Valley Pinot Noir, $35
Editor's Choice – Outstanding (91-95 pts.)
Velvety smooth, this classic California Pinot Noir delivers core flavors of cherry, red currant, loamy earth, leather and river rock framed with good structure. Soft spice and gentle tannins grace the finish.
Adrice Wines 2014 Santé Sonoma County Syrah, $30
Editor's Choice – Outstanding (91-95 pts.)
The nose offers red currants, berries, olives, barrel spice and hints of clove. This graceful and supple-textured effort has a saline edge to the refined dark berry and plum flavors backed with accents of charcuterie and clove spice. There's a fleshy feel to the finish that echoes with savory underpinnings and sweet tannins.